HOOPILI HOMES FOR SALE BY D.R. HORTON HAWAII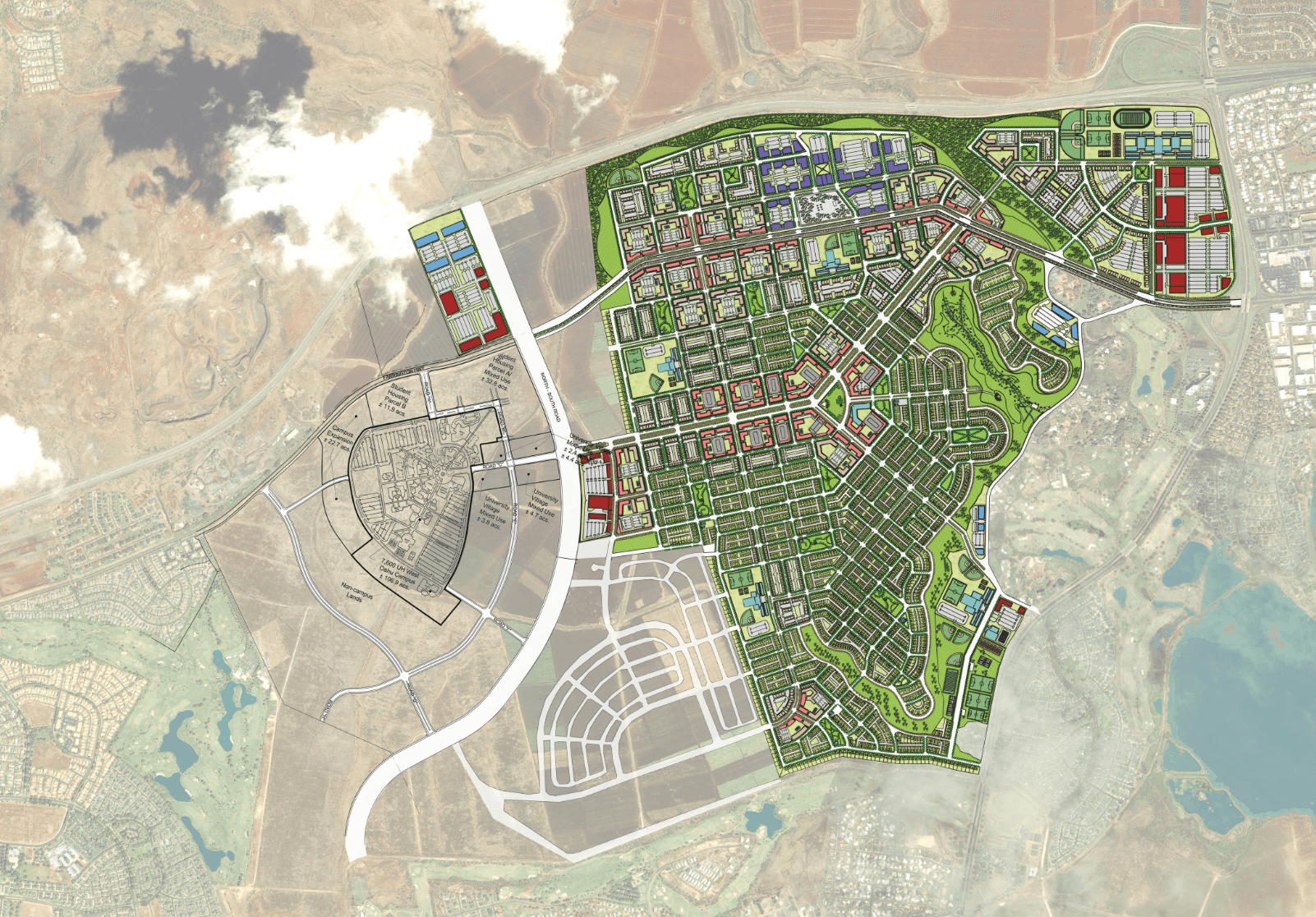 The developer has placed the sense of "Community" at the heart of the Hoopili Kapolei project and we'll see that brought to life through the construction of ample outdoor and active living spaces, access to seven recreation centers with pools, playgrounds, as well as future planned restaurant, retail, and grocery stores. The Ho'opili development will eventually become one of Hawaii's most self sustainable and family friendly neighborhoods in the offering an unmatched lifestyle of ease and convenience.
Where is Hoopili Hawaii?
So if you have been exploring homes for sale in Kapolei or Ewa Beach and wondering which city Hoopili falls in, it's both! Although it currently wears the badge of the Ewa Beach Zip Code of 96706 instead of the Kapolei zip code of 96707. Hoopili is oriented at the heart of Ewa Beach and Kapolei and literally sits on the border between these two thriving communities. Located just north of the newly built Ka Makana Ali'i Mall and White Plains surfing beach, there are a variety of opportunities for entertainment, dining, shopping, and beach activities; all within a mere bike ride's away. Ho'opili owners will have premier access to to three rail stations providing an alternative means of commuting to Honolulu Airport and on to Metro-Honolulu, Kakaako, and Ala Moana for work and play!
New the area? Check out our 2020 Guide to Living in Ewa Beach
Hoopili Neighborhood
Location is by the far the greatest natural amenity to Ho'opili home owners as you have access to all of your everyday needs within a 5 mile radius. Most of which will allow you to ditch the car and jump on your bike to some of the best shopping, dining, entertainment, and beach opportunities that the region has to offer. Here's a look at some of the key geographical insights to help give you the "Lay of the Land" so to speak:
Ka Makana Alii Mall | 2.7mi | Shopping, Theaters, Cheesecake Factory, California Pizza Kitchen, SURA Korean BBQ, 24HR Fitness & MUCH more.
KROC Center | 1.3mi | School, Church, Fitness Center, Pool, Cafe, by membership.
White Plains Beach | 6.4mi | Closest beach to H'opili, Board Rentals, BBQ Pavilions, & more
Costco, Target, Home Depot | 4.6mi
Golf Courses | Hoakalei, Ewa Villages, Hawaii Prince, & Coral Creek Golf Courses all within a 5mi radius
Honolulu Airport | 14.8mi | Roughly 20 minutes without traffic, however, Ho'opili residents will have an on-site rail station providing direct access to the airport, allowing you to leave the car at home as you get away!
Ko Olina Resort | 10.5mi | Marriott, Disney's Aulani Resort, Paradise Cove Luau, Atlantis Resort(coming soon), Four Season Resort, & numerous public beach and dining opportunities
Schofield Barracks & Fort Shafter | 18.7mi
Joint Base Pearl Harbor & Hickam AFB | 14.8mi
Using a VA Loan at Hoopili
If you're planning to PCS to Oahu and hope to use your Hawaii BAH towards a new home purchase at Ho'opili, you're in luck. Ho'opili has received VA approval for their project and currently offers up to $7,000 in closing cost credit should you use their in-house lender for your Hawaii VA Loan. The neighborhood has proven to be a top pick for those opting against Schofield Barracks housing and is an extremely welcoming community for Hawaii Military Families.
Home is where the HART is...
That old cliche was always meant to be taken figuratively but when referencing Ho'opili; it's literally speaking! There are very few houses for sale in Ewa Beach within walking distance to the Honolulu Rail and although it's been a controversial topic, Hoopili homeowners will at least get to take full advantage of every one of the $10 Billion that was spent to build it! This will be the only neighborhood on Oahu to feature 3 of the 21 Honolulu Authority Rapid Transportation(HART) stations spanning a 20-mile long corridor that ends at Ala Moana Center. The Ho'opili stations and the estimated ride time to Ala Moana Center is as follows:
Kualaka'i (East Kapolei) | 42 min.
Keone'ae (UHWest Oahu) | 40 min.
Honouliuli (Ho'opili) | 36 min.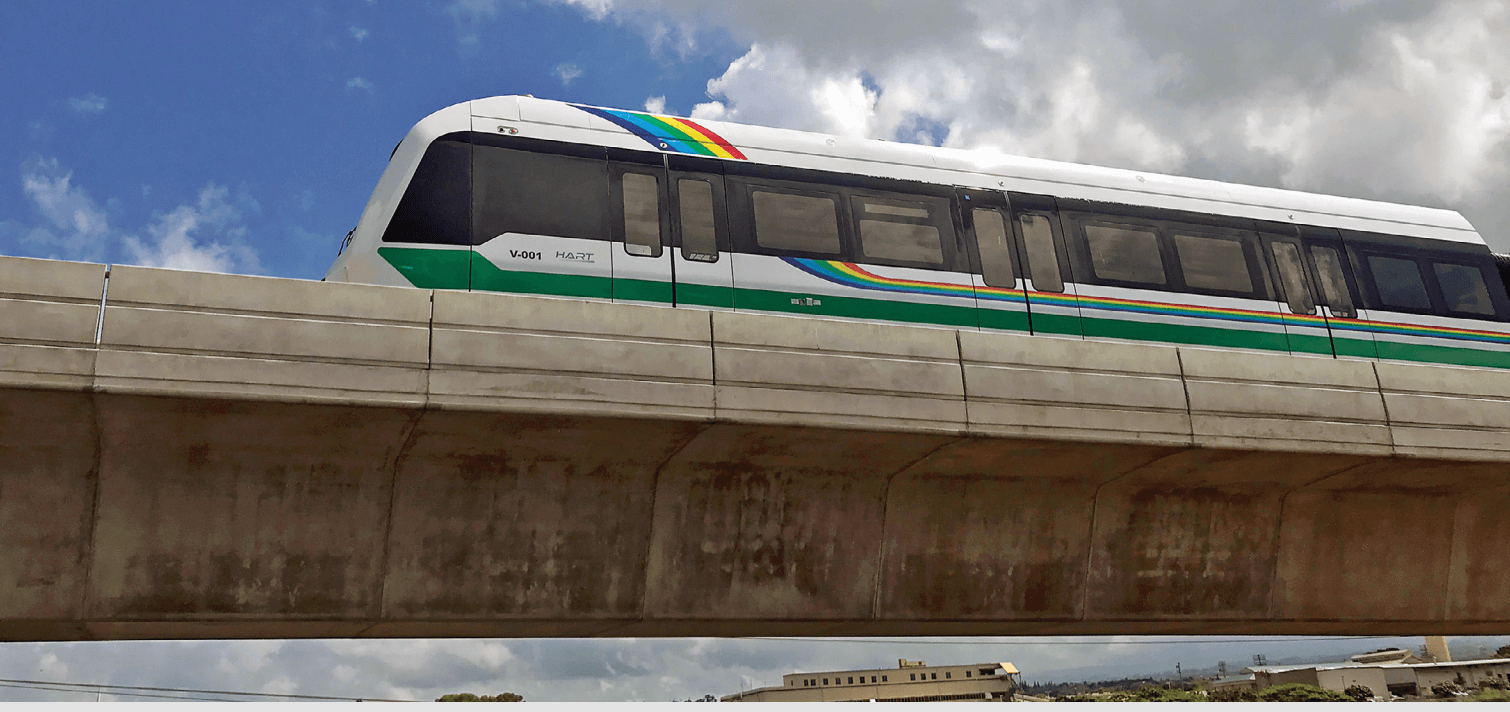 If you have visited the Ho'opili neighborhood in the last year or two then you have undoubtedly seen the HART construction, as the elevated rail track threads the western border of the neighborhood on Kualakai Parkway. Not only does Ho'opili have the most HART Stations, they will see the first completed station, rumored to open as early Q1 2020. This is extremely exciting news for those who live in the region as Kapolei & Ewa is subjected to some pretty frustrating rush hour commutes at times. The Ho'opili rail stations will provide a welcomed alternative means of transportation to key destinations like Pearl Harbor, Aloha Stadium, Downtown Honolulu, Kakaako, Ala Moana, and more.
Take a peek at the artist renderings below as they provide a conceptual idea of what urban Ho'opili may look when the neighborhood fully matures over the next 20 years. The wide, pedestrian and bike friendly side walks coupled with the premier proximity to rail stations provide a more "accessible" community; something the City of Honolulu has been very intentional about as of late through Transit-Oriented Development planning.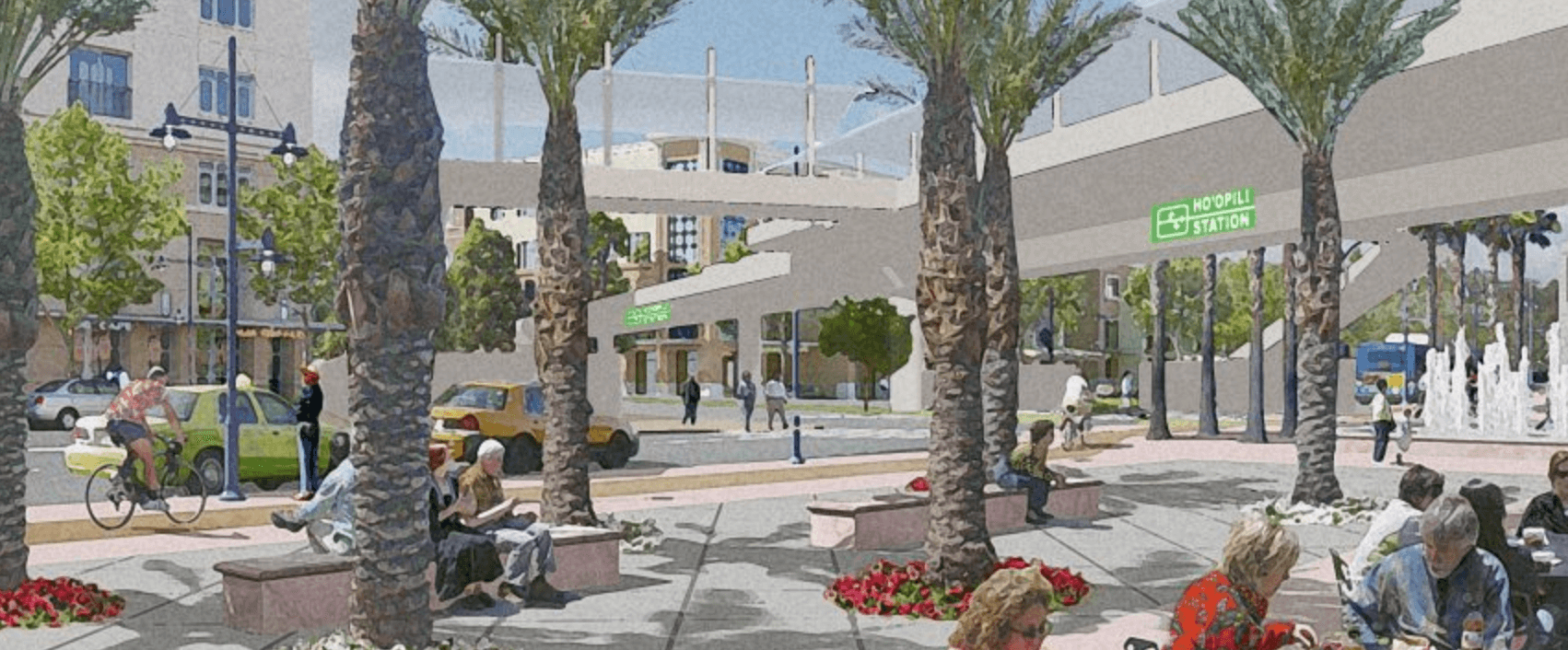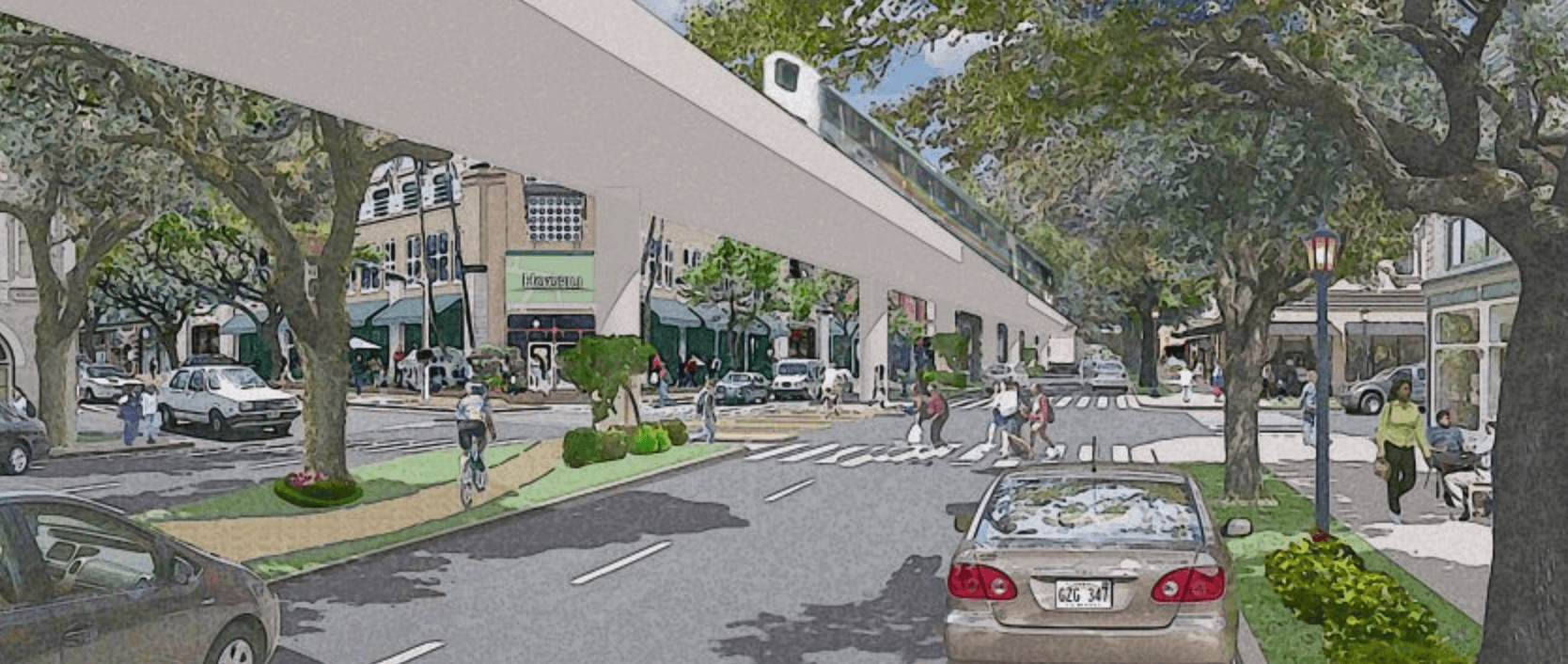 Jump To: Hoopili Overview | Location & Neighborhood | Amenities | Home Types | Join Hoopili Interest List | Contact Us | Create An Account
Amenities
So we've given you some context surrounding the Ho'opili lifestyle outside of the community boundaries, but how about life within the community? Fortunately, developer D.R. Horton Hawaii understands the integral role that Hawaii's natural element plays in our every day lives and they to it. Although we're still seeing Ho'opili in it's infancy, we will inevitably see the the community come alive as the Ho'opili Master Plan matures. Plan for numerous parks, playgrounds, swimming pools, community centers, pavilions, as well as future planned grocery stores, dining, and entertainment within the neighborhood.
This is an active community and why wouldn't it be; Ewa Region provides more sunny days than almost every other region on island. Wide sidewalks and ample green spaces provide miles of bike and jogging paths for the family and pets.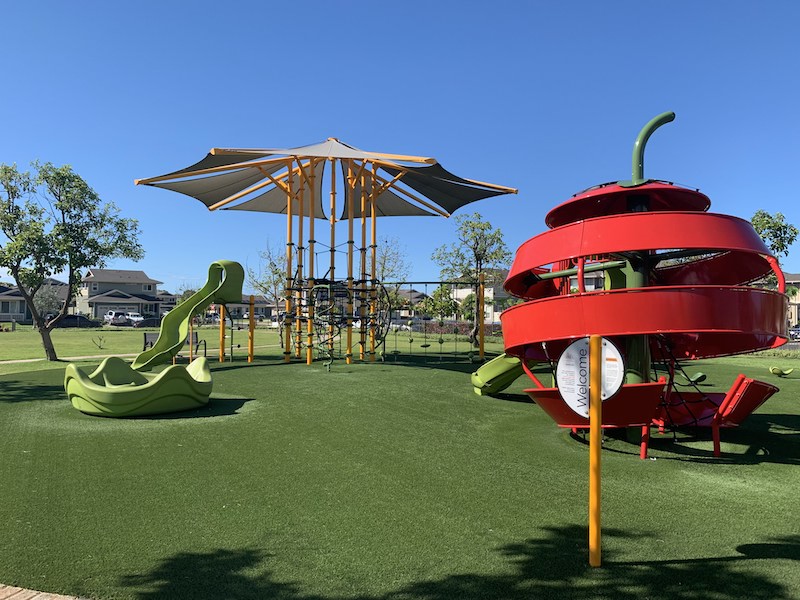 Above you'll see the Hoopili Park named "Konane," which serves as the first park and playground area in the neighboorhood. Featuring various jungle gym equipment and a vast amount of green space for dogs and kids to play. Mark your calendar and join Hoopili Yoga at The Park every Thursday from 5:30-6:30! Picnic tables and water fountains provide ample seating area for a weekend picnic with the family under the sunny Ewa sky! But don't worry, the pavilion area provides a large amount of shaded area for covered gatherings.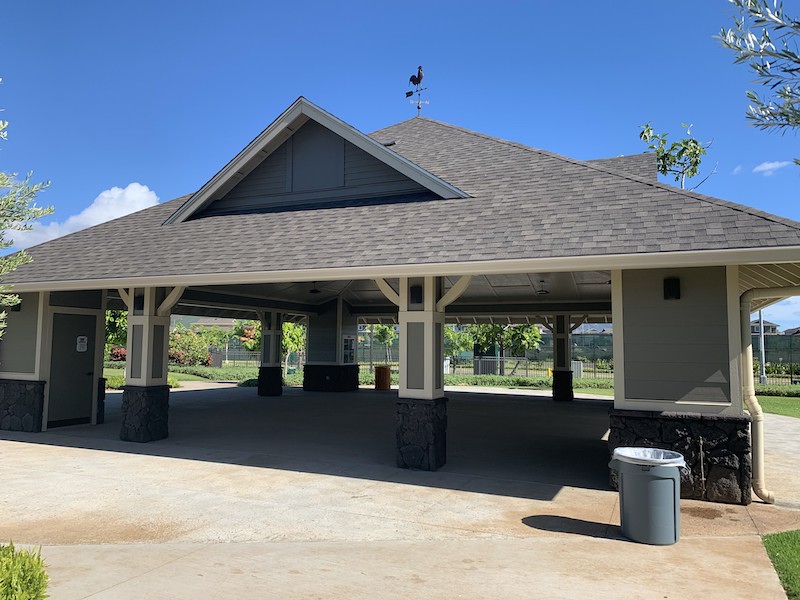 The nearby community garden will be a thing of beauty and residents are encouraged to participate in the effort. Five brand new schools are in the plans, as well as further development of dining, retail, and entertainment spaces that will permit owners a convenient and stimulated lifestyle in a community that has long been pinned as Oahu's "Second City." A master association fee of $59 will persist for all homes in the Ho'opili development.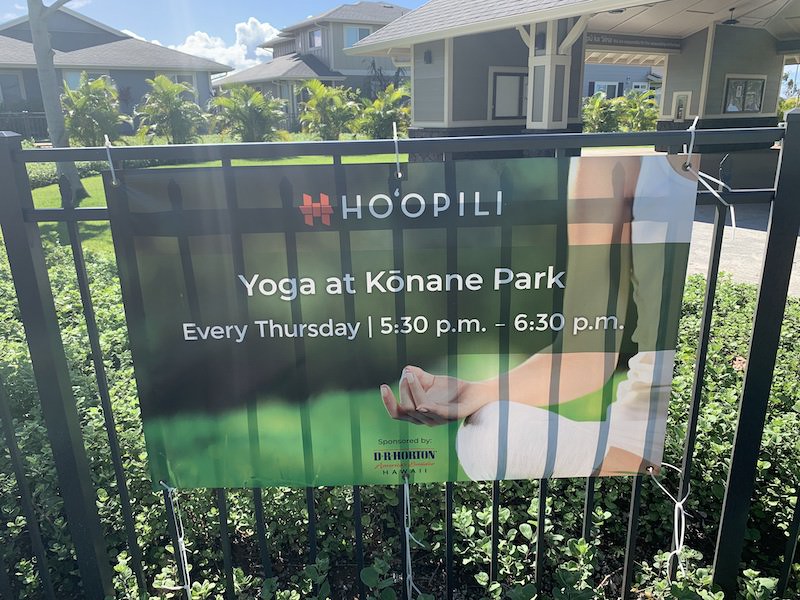 The Ho'opili site was once home to 1,500 acres of agricultural land and to memorialize it, the community promotes one of the most cultural and environmentally innovative features in planting fruit and "food" trees throughout the neighborhood. Take a spin through Konane Park and you'll find Ulu(breadfruit) and Avocado trees planted around the park that are already bearing fruit. Cool, right?
Jump To: Hoopili Overview | Location & Neighborhood | Amenities | Home Types | Join Hoopili Interest List | Contact Us | Create An Account
Types of Homes at Ho'opili
The Ewa and Kapolei real estate markets have been burgeoning with new development over the last decade but no neighborhood has provided this level of home variety to date. Below are the various styles of living within the community and each style typically offers many floor plans with slight variations, both with and without garage options:
Hoopili Affordable Housing Townhomes & Condos
Single level townhomes, upstairs or downstairs
3 story townhomes
FLEX Homes that allow for operation of various business types
Plantation Style Single Family Homes with carports
Single Level Single Family Ho'opili Homes
Split Level Single family Homes
Single Family Homes with ADU* Options
*ADU's or "Accessory Dwelling Units" are a unique and highly desirable home option as it provides a separate living space attached the Ho'opili home. These units have kitchenettes and appeal to families who may have extended family wishing to live on property or, it could be used as a rental unit, allowing the homeowner to offset their mortgage costs.
NOW SELLING AT HO'OPILI
The below communities are those that are actively announcing NEW home lottery releases at the project. We see these released through "phases" throughout the year and we provide Email and/or Text updates to those that sign up on our INTEREST LIST, announcing the Number of Homes Released, Official pricing, as well as the Application Deadline & Lottery Drawing dates. If you would like to stay in the know on all things Ho'opili, be sure to register your interest and let us know if you would like us to schedule a private tour for you at an available Ho'opili Model Home!
A'ulu at Ho'opili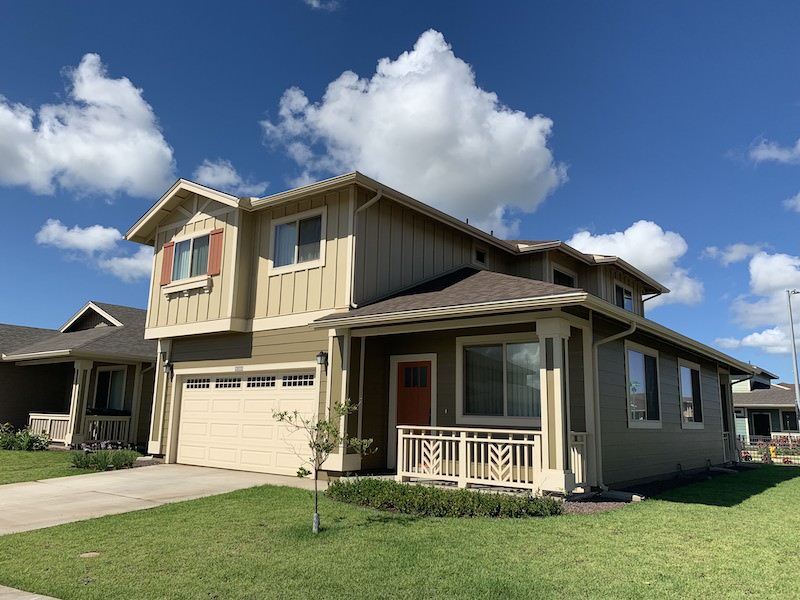 CLOSING OUT FINAL SALES
Aulu at Hoopili is the newest Single Family Home offering that nearly mimics the previous single family phase of Hoopili Iliahi. Plan for spacious, open concept floor plans consisting of duplex style, single level, and split level layouts, with two car garages, smart home features, and Accessory Dwelling Unit(ADU) options. Delivery for these new Ewa Beach homes is expected for Fall 2019. Be sure to register on the interest list within to make sure you're the first to know about future releases and official prices of Hoopili Aulu!
Kohina at Ho'opili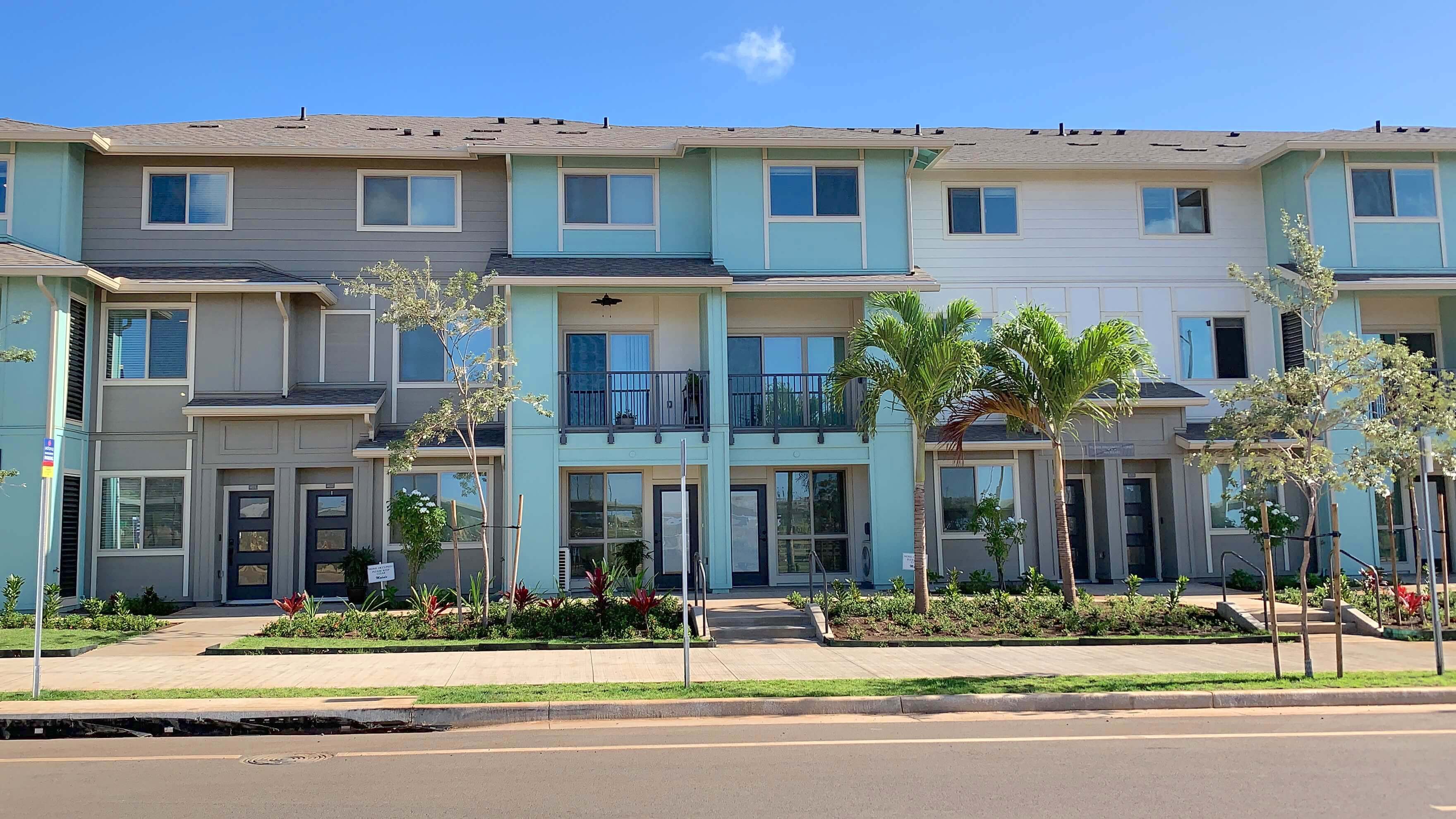 Kohina at Hoopili is the newest release of condominium townhomes in the project and is estimating first delivery of units in early 2019 and through 2020. This Kohina Hoopili project will run along campus road near University of Hawaii West Oahu and will have 3 access points via nearby thoroughfares. We expect to see 7 building types ranging from 3 story townhomes, flex homes, storefronts, 1 and 2 car garage options and prices ranging from $300,000 to $700,000+. In January 2020, developer D.R. Horton Hawaii released the first phase of Hoopili Condos for sale in a 4-story building named the "North Residences at Kohina." We'll see unrestricted Market Priced housing as well as Ewa & Kapolei Affordable Housing options within the Kohina phase.
Olena at Ho'opili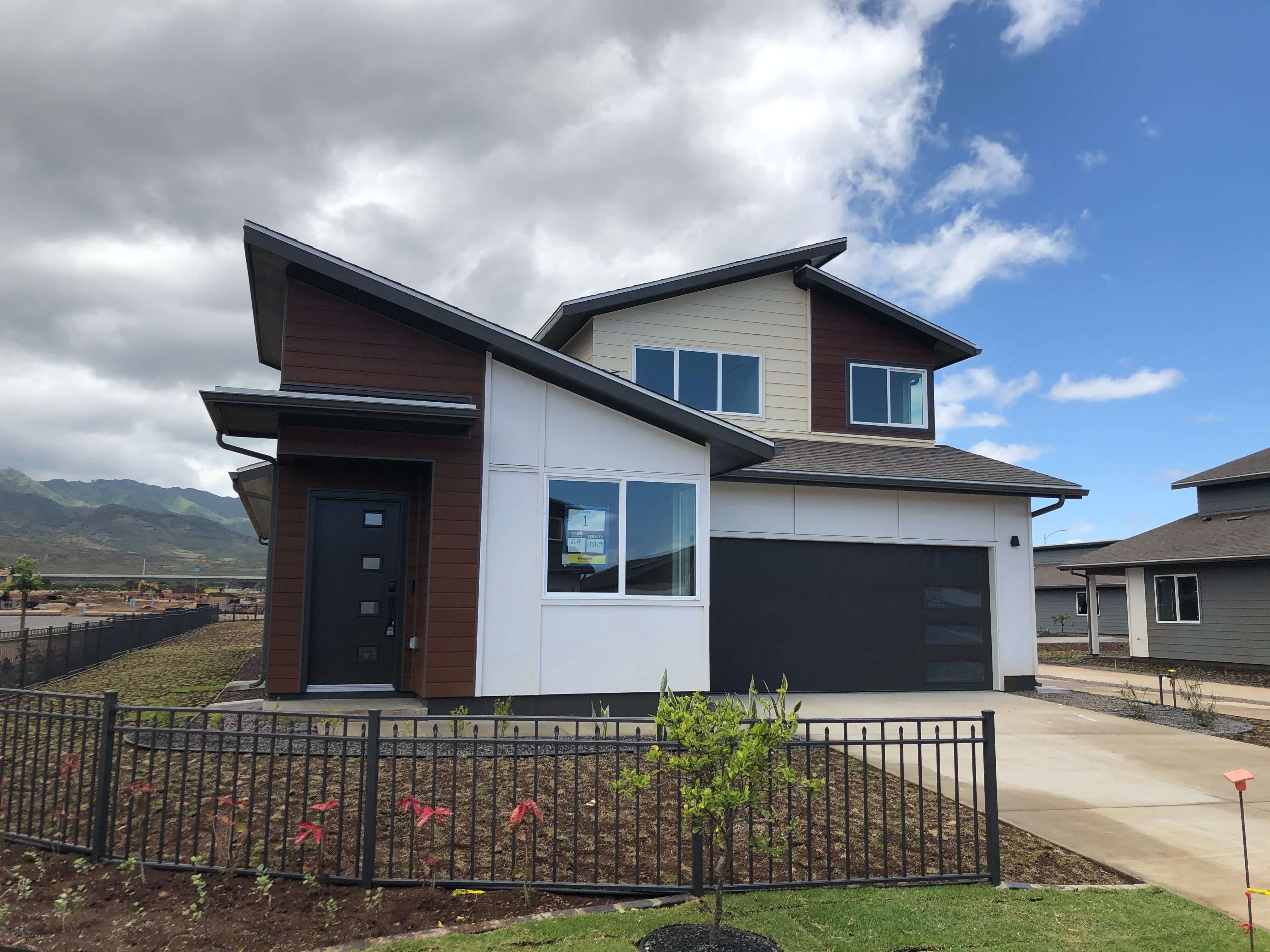 **6/30/20: Inventory still available.
Olena is the newest phase of Ho'opili homes for sale and represents the most striking design we have seen from the developer yet. We're only going to see 32 of the Olena homes and expect them to move quick as they will feature multi-generational living arrangements with multiple master suites; some with separate entries and kitchenettes. Olena is currently offering their 2nd lottery release. *Limited homes available on first-come-first-serve-basis.
Coming Soon
Liko at Hoopili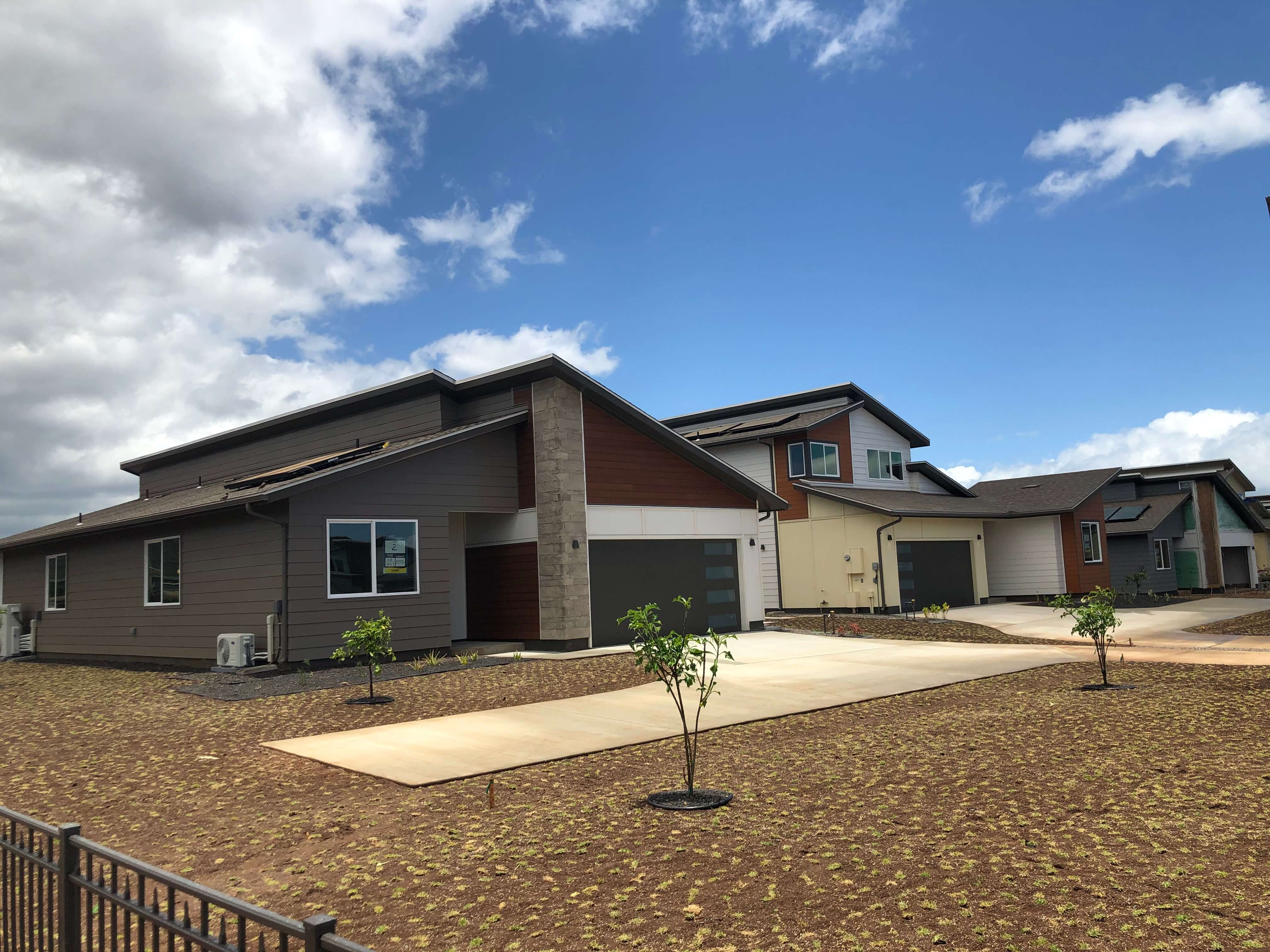 Liko at Hoopili will offer 47 new homes in Ewa Beach and stylings will be a hybrid between the previous Aulu phase and the current Olena phase. It's rumored that Liko homes will closely reflect the Aulu floor plans and interios, whereas the exteriors will feature the contemporary stylings of Olena which is the premier home phase at Ho'opili. Floor plans and prices have not yet been released. Stay tuned for more information Liko at Ho'opili as it's released from D.R. Horton Hawaii!
Hinahina At Hoopili
Hinahina at Ho'opili will be the next condo and townhome phase to follow the close out of the Kohina at Ilima phases. We will see 88 homes for sale via lottery at Hoopili's Hinahina phase that should be released sometime this fall. Being that Kohina is still offering units for sale over various floor plans, I would expect Hinahina homes to be closer to the Ilima phase, meaning they will offer small courtyards instead of lanais.
HOOPILI INTEREST LIST