10 Reasons To Live In North Shore, Hawaii In 2023
Posted by Koa Cassady on Thursday, May 19, 2022 at 10:18 AM
By Koa Cassady / May 19, 2022
Comment
If you've ever traveled to Hawaii, you know it's an incredible and unforgettable place. It's one of those places that you visit, and you never want to leave. It's no surprise that moving to Hawaii is a dream for many.
For all kinds of reasons, various people are looking to move to Oahu to wake up in paradise each day. The North Shore, in particular, is a region that's ideal for residents because it's not a tourist hub like Honolulu and offers some of the best surfing in the world.
The North Shore is a region that is home to two distinct cities: Haleiwa and Waialua. There's so much to love about the region, which you'll hear enthusiastically from anyone who calls either of these communities home. Yet, if you're still on the fence, here are ten reasons why you should live in North Shore, Hawaii.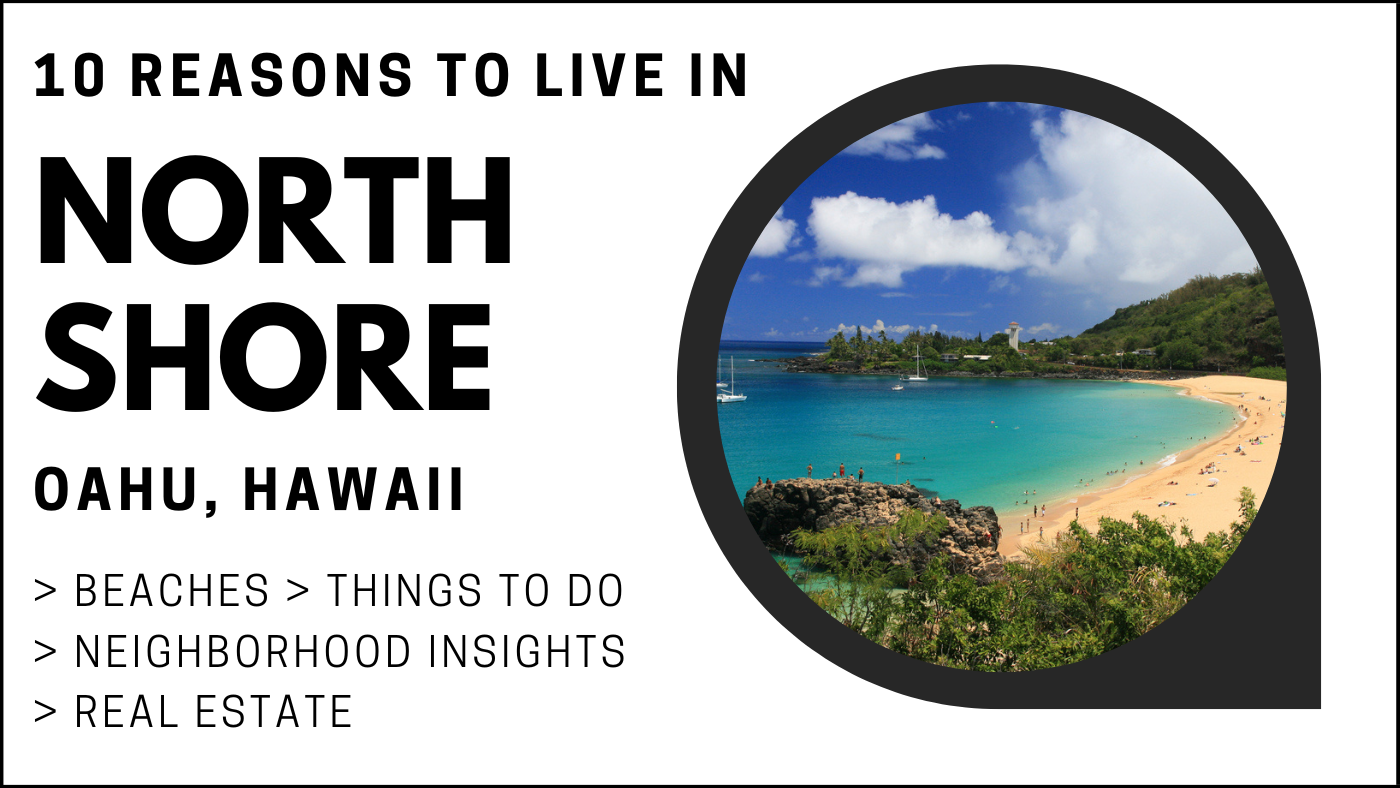 1. Lifestyle
One of the most significant selling points for moving to the North Shore is the lifestyle. We often daydream about laid-back island living while sitting at our desks during the dragging workday. To live in the world's surfing mecca is a fantasy that can easily become a reality.
Life moves at a different pace on the North Shore. Along the sidewalks of Haleiwa, you'll often find barefoot adventurers. The majority of people living in the area are surfers or retirees. Residents are warm, welcoming, and friendly as long as you're respecting the land. Hit the beach and then find a local food truck to serve up some delicious local cuisine. There's not much of the hustle and bustle that you would hear in Honolulu or by Waikiki. Gone are the days of honking cars and congestion.
The North Shore is casual living at its finest. You'll likely see most people donning bathing suits, cover-ups, board shorts, and flip-flops. You'll see people in aloha shirts, khakis, or a sundress for more formal wear. Everyone is relaxed, and it's a beautiful way to live.

2. Things to Do
The North Shore is absolutely jam-packed with fun things to do everywhere you turn. If you love to spend your free time in the ocean or on the beach, you'll be endlessly entertained. The 7 Mile Miracle is a stretch of beaches along the North Shore coast that is extremely popular. Beyond the beaches, there are other things to do. Thus, if you're not really a beach person, don't worry, you'll still find tons of fun.
Haleiwa is packed full of trending shopping and galleries. If you love to shop and support local vendors, this is a great place to spend some time.
The Polynesian Cultural Center might be the best tourist attraction on the island, and it's located on the North Shore. Within the Center, you get to truly experience the Hawaiian and Polynesian cultures with a luau and plenty of history to learn about. It's a must-see for tourists and residents alike. Another great tourist attraction is the Dole Plantation. There's a pineapple maze, tours, products to purchase, and fresh pineapples to snack on. You can stop for lunch at the Plantation Grille and get some famous Dole Whip for dessert.
Alii Beach Park is also a popular spot for families because the beach is shallow, and it's a perfect place to have a family picnic. If you want to teach your kids to surf, this beach is perfect for doing so, and there are often youth surfing competitions held in this spot.
If you've never seen a Hawaiian sunset in person, it's something that should be on your bucket list. Another activity is finding great spots to watch the sunset each day, and the island sunsets are incomparable.
Waimea Valley is another excellent place if you love to explore nature. You can find over 5,000 species of tropical plants, and the native foliage is a sight to behold. The reserve is located across from the bay, and there are over 1,500 acres to explore. There are many activities held here like craft time, hula, and talk story hour.
Waimea Falls is an incredible waterfall that many people travel from all over the island to see. It's just a short walk from the entrance, and you can swim in the pools surrounding the falls. It's so beautiful, be sure to bring your camera.
3. Neighborhoods
You'd be hard-pressed to find an undesirable community on the North Shore, but some notable ones deserve mentioning.
Located in the Turtle Bay Resort, the Kuilima Estates is a condo community located next door to velvet sand beaches and golfing. This community is perfect for those who want a low-maintenance property and to be close to the beach. It's also ideal for an investment property.
Laie is a small coastal community that has some of the best beaches, and is home to the Polynesian Cultural Center. It has a significant religious population, so there's not much open on Sunday. There's no liquor sold in the community.
Sunset Beach is a community that is ideal for families because of its proximity to Sunset Beach Elementary School.
4. Location
When you live on a smaller island, most cities are in a good location. It doesn't take long to drive around all of Oahu.
Haleiwa is located just north of Honolulu, around a 30-mile drive. It can be easy to get there by the I-H-2 S and I-H-2 E, which will take you through the island's center.
If you want to take a more scenic route, you can take the Windward Coastline, which can take you around two hours. If you are traveling into Honolulu, you'll want to make sure you don't head in during peak times, as you'll hit a lot of traffic.
5. Weather
You'll always hear people rave about the weather in Hawaii. On the North Shore, you'll find pretty consistent tropical weather. The average temperature all year long is about 80?, so you'll never have to take a day off surfing and soak up the sun.
The North Shore has the natural air conditioning of the tradewinds, so the climate is not scorching hot and uncomfortable. On hotter days with plenty of wind, it's easy to save on air conditioning costs by just opening a window for the breeze. It can frequently rain during the winter months, but it never usually lasts more than a few minutes. Flooding can happen, but it's not very common.

6. Restaurants
Oahu is home to some excellent restaurants. The best part about living in a tourist spot is that you have access to world-class dining as a resident. On the North Shore, the food truck scene is prevalent, and there are so many fantastic local vendors serving up the freshest meals you'll want daily.
A must-try spot is Matsumoto Shave Ice. Located on the Kamehameha Hwy in Haleiwa, people travel from all over the island for this particular shaved ice spot. If you check out any recommendations for the North Shore, this is bound to be on the list.
The Haleiwa Beach House is one of the spots that locals love. It offers pub food, seafood, and patio dining. There's an upstairs and a downstairs that are the perfect place to grab a bite.
Giovanni's Shrimp Truck is well known across the North Shore. Get yourself a flavourful and tasty shrimp and rice meal for lunch, and you will be craving it for weeks to come.
Haleiwa Joe's is a casual eatery with great views and great food. It's located along the Haleiwa strip and has a diverse menu that includes steak, seafood, and unique cocktails.
Craving tacos? Killer Tacos is a great place to grab some of the best Mexican food you can find on the North Shore.
The Beet Box Cafe is an excellent spot if you're looking for healthier alternatives or vegan options. This spot offers smoothies, burritos, salads, and the option to add avocado to most things.
Sprout Sandwich shop has some of the best hearty and healthy sandwiches around. With fresh ingredients, it's the perfect place to stop for a light meal.
Beyond restaurants, there are plenty of Farmer's Markets on Oahu. You can find some of the freshest ingredients, and fruit grown on the island is the best fruit you'll ever taste.

7. Beaches and surfing
The North Shore is known worldwide as the best place to surf. Beaches along this area like Waimea Bay, Sunset Beach, and Pipeline have some of the best waves you'll find anywhere. Each year, many events are held here, like the Vans Triple Crown of Surfing, and the North Shore welcomes professional surfers to ride the waves.
Even if you're not a surfer yourself, it's certainly fun to watch the daily participants any time of the year. There are smaller waves if you'd like to try your hand at surfing. When there aren't advisories, beginners and intermediate skill levels can succeed on the smaller waves.
Waimea Bay is one of the most popular beaches and most well-known. It is located across from Waimea Falls, and it's the top spot for surfing and cliff jumping.
8. Experiences
There's an endless list of experiences to enjoy on Oahu. The best part is that the majority of them don't cost a lot of money and can help keep you healthy. You can plan something new each weekend for a few years, and you still wouldn't experience it all.
Between the attractions, beaches, and spots only locals know about, there's so much to see and do. Some activities include:
Cliff Diving
Hiking
Snorkeling
Sea Caves
9. Outdoor Activities
It can be easy to live an active lifestyle without even really trying. Many people are in the best shape of their life living in Hawaii because it's so easy to have fun while being active. If you love the outdoors, you'll love living on the North Shore.
With access to all the water sports you can imagine along all the beaches, golfing, hiking, and walking trails, you can explore somewhere new every day. The famous Diamond Head hike is located in Honolulu, so you can travel around the island to explore all the great spots. The North Shore is a haven for surfing, so you must be willing to try it at least once if you're calling this spot home. Regardless of what kind of lifestyle you want to lead, you can find activities and hobbies you'll love.
10. Real Estate
Moving to Hawaii can be quite expensive, and home prices are high. Because Hawaii is an island, there is only so much housing that can be built. Due to this, it fosters a competitive market because there's always a limited inventory. Wealthy buyers want to own the best of the island, so there are many luxury estate homes for sale, driving up the average home price.
While the properties are expensive, they are incredibly beautiful and have fantastic locations. If you want to be a homeowner in Hawaii, you will have a hard time choosing which home you love the most.
Living in Hawaii isn't out of reach, and using an area expert is critical if you're searching for your new North Shore home. Koa Cassady is a 'customer-first' realtor. His 11 years of experience in the industry means that he is poised to bring you the best home-buying experience on the island. He has first-hand experience in the North Shore, Oahu real estate market. He can certainly help you find your dream property in paradise.
Dwell Hawaii's team of knowledgeable industry experts represents the region's finest properties. Whether you're looking at buying or selling, contact Dwell Hawaii as Koa Cassady and his team ensure every client gets exactly what they are looking for.
View All Homes For Sale In North Shore