10 Things You Should Know About Living in Hawai'i
Posted by Koa Cassady on Wednesday, August 17, 2022 at 6:24 PM
By Koa Cassady / August 17, 2022
Comment
What do you really know about living in Hawai'i? Have you considered all angles before making the move? If not, allow us to break down everything we know best about what it's like to live in Hawai'i; from the obvious luxuries of the sand, surf, and sea to the intangibles that only locals would know how to convey!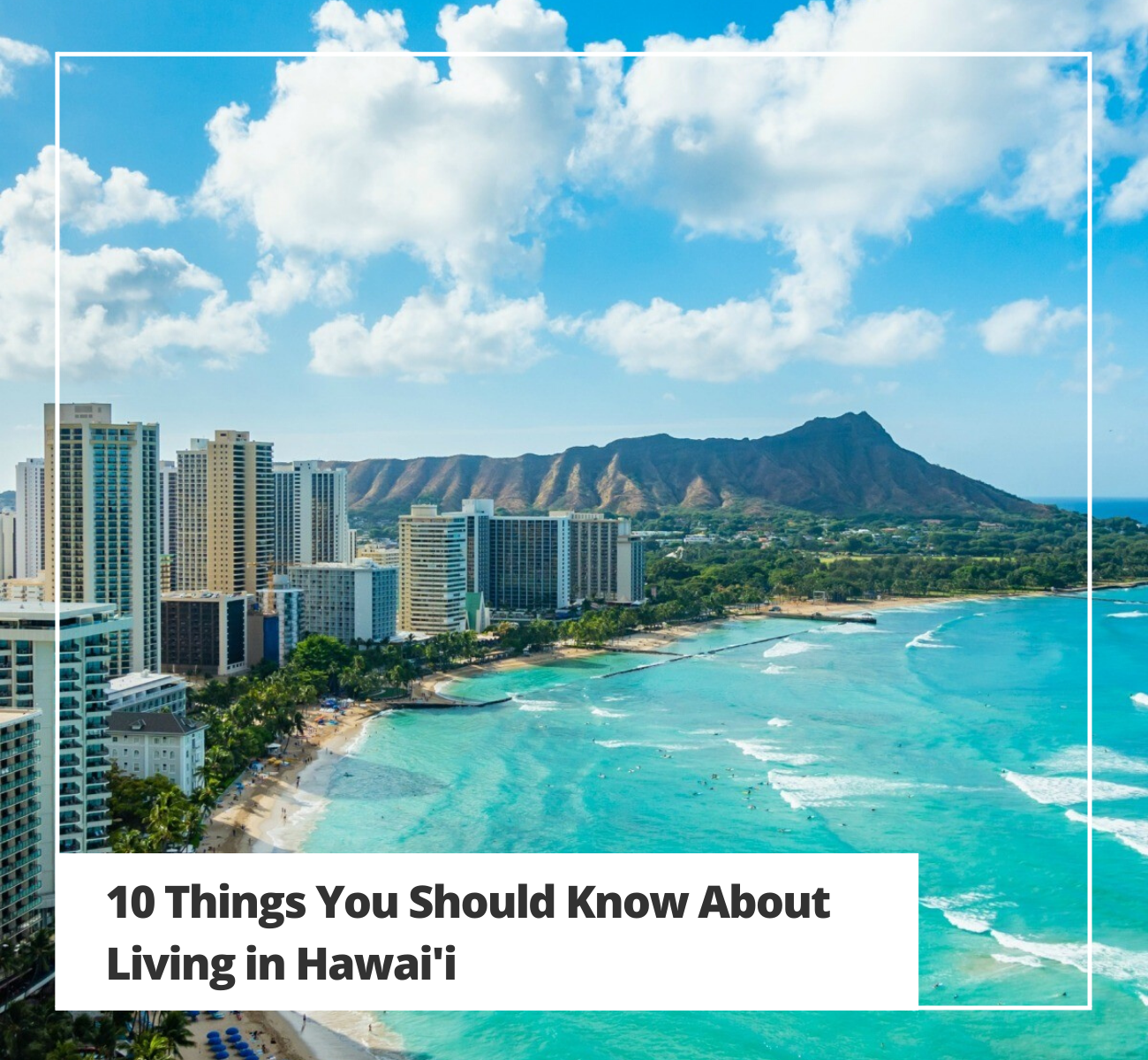 1. All The Islands Are Different
If you're moving to Hawaii, you need to pick an island!
Hawai'i island, or the "Big Island", is about 4,000 square miles across. Given the 8 islands make up 10,900 square miles, this shows you how large the Big Island really is. The Hawai'i Island is known for places like Hilo, a lush and rainy sleepy town that seems like it's stuck in the 60s, Kona, a more desert-like area with some of the more high-end resorts, and Waimea, which is more of ranch life. There isn't anything huge happening with the economy on the Big Island, mainly tourism.
Maui is more of a "bougie" island, with many tourists flocking to locations like Kihei and Wailea, which have more gated-community types of resorts. Areas like Ka'anapali and Lahaina are more like O'ahu's own Waikiki, and locals live in areas like Kahului and Wailuku but also love the "up country" like Makawao. The "up country" is a nice and quiet location to relax and have time to yourself.
Moloka'i and Lana'i both have a very small-town feel to them. Lana'i is now owned by Larry Ellison, so the island has the feelling of being at a wellness retreat. Manele Bay is located at the bottom of the island, and the Four Seasons-run Sensei is located at the middle of island. These islands are mostly tourism, but differ from the agriculture-heavy Big Island.
Kaua'i is lush and beautiful but small, with one main road getting you from one end of the island to another. The people on this island are very friendly and generous, maybe due to their endurance of hurricanes (such as Hurricane Iniki), and this kindness could very well have been passed down through generations.
Finally is O'ahu, which is crowded, tourist-heavy, and full of high-rises. Most of the rest of this information about living in Hawai'i is going to be focused on the realities of living on O'ahu.
2. Each Side of O'ahu is Different
We are going to cover the main 5 areas of O'ahu and their differences, including the Windward Side, the North Shore, the West Side, Central O'ahu, and Honolulu (or the "town" side).
Starting with the Windward Side, the most popular part of this area is probably Kailua. Living in Kailua is a very "Instagram-able" area, including locations like Lanikai Beach with its turquoise water and white sand, the Pillbox Hike, the Mokulua Islands, and cute coffee shops. Also on the windward side is Kaneohe, which has a gorgeous backdrop of the Ko'olau mountains. Moving up the coast towards the North Shore will have a small-town, rainy vibe.
The North Shore is a surfer's paradise. This area is more for the ocean lovers as opposed to those who want a cute Instagram-able experience, and likewise has a very laid-back vibe. Wailua is another area of the North Shore, which is more plantation-heavy but a location where people still enjoy going to the beach. The traffic in North Shore Oahu can be a problem for those who work in Honolulu.
Central O'ahu, home to neighborhoods like Mililani and Waipio, offer cooler climates given the higher elevation and family friendly lifestyles through numerous park, recreation centers, and one of the top public schools on Oahu. This region expects a ton of growth through the Koa Ridge master plan in Waipio with intentions to build 3,500 Oahu new homes in the next 10 years.
The West Side of O'ahu is home to many Native Hawaiians, with lots of homestead land and some of the most gorgeous beaches on island. Here, you can get a lot of house for your money but, like the North Shore, the traffic on the West Side can be a problem for those who work in Honolulu. This neighborhood is also seeing tremendous growth through the Hoopili master plan; a 12,000 home project being developed over the next 10 years.
Honolulu, or simply known as "town", has a lot of "hustle and bustle" with lots of high-rises condos and naturally more congestion than the rest of the island. Houses in this area are going to be smaller and more expensive, but the convenience of living in this area is a big draw. The Kakaako and Ala Moana neighborhoods are seeing as many as 20 new luxury condos in Honolulu that are either under construction, just finished, or planning to start within the next 5 years.
3. Hawaii Cost of Living
Check out our 2020 video detailing the cost of living in Hawaii is a contentious topic and we dive in albeit the information is likely outdated given the extreme housing increase, rampant increases in pricing, and inflation. As a quick example, a gallon of milk at Safeway can cost $8.69.
4. Traffic is Bad
Traffic on O'ahu is some of the worst in the nation, especially in weather conditions like rain. There are many potholes, infrastructure is not quite up-to-par, and water breaks happen quite often.
5. Common Jobs
On O'ahu, it seems like everyone is either a fireperson, a nurse, a police officer, a flight attendant, or a realtor, and most of our economy is run on tourism, military, and government jobs. However, those that are in construction will thrive here, given there is no shortage of work and construction workers are always busy.
6. There Are LOTS of Critters
In Hawai'i we don't have snakes, bears, or rabies (which is why it can be very difficult to travel here with a family pet), but we do have centipedes, B-52 roaches, and geckos everywhere. Get used to seeing these critters in your home!
7. Home Construction & Parking
Vintage Hawaii homes include single-wall construction and jalousie windows, but AC is a luxury (with people opting for split AC as opposed to central AC). There also is not much insulation, and having a garage is also a luxury. Instead, you will likely have a carport with room for a single car.
However, there are regions of Oahu where much these luxuries comes standard. Oahu new homes for sale in regions like Ewa Beach and Mililani will be your best bet for suburban style living but if you're for a condo in a more urban setting, look to the Kakaako & Ala Moana condo markets.
8. Shopping is Expensive
Often due to shipping, shopping here is very expensive. There is also no Ikea nor Chik-fil-A, so best of luck furnishing your house! You'll also suffer the "free shipping" let down once you read the fine print where it says "except for Alaska & Hawaii."
As for malls, Ala Moana Center is in Honolulu is the nation's largest open air shopping center and is a guaranteed one stop shop for all your retail therapy needs.
MALLS ON OAHU
9. Living in Waikiki Isn't All It's Cracked Up To Be
It can be fun to "play tourist" and stay in a hotel on Waikiki, have a beach stay-cation, and enjoy the bustling culture of this area, but generally you do not want to live in Waikiki. The congestion of the area makes it tough for day to day needs like going to the grocery store, running errands etc. If you're someone with a lot of time on your hands and just want to leisurely stroll to an extremely crowded beach, we won't stop you!
10. Viral Social Media Accounts
We have a viral Hawai'i Instagram account which operates like our very own TMZ, so please remember to be respectful of the island unless you want to be plastered all over Instagram! People live here and honor this island and its culture, so remember to be respectful.
Living on the Islands can be very expensive and inconvenient, but if you're living here, you stay for the amazing people, the culture, and the Aloha spirit, which are things you cannot put a price tag on.
Living in Hawaii FAQ's
Is it worth it to live in Hawaii?

Living in Hawaii can be worth it for those who appreciate the natural beauty, pleasant climate, and diverse culture. However, the cost of living and job market may be challenging for some.

What salary do you need to live comfortably in Hawaii?

A salary of around $120,000 per year is generally considered necessary to live comfortably in Hawaii for a family of four.

Is Hawaii expensive to live on?

Yes, Hawaii is known for its high cost of living, primarily due to housing, food, and transportation expenses.
What are the pros and cons of living in Hawaii?

Pros: Beautiful scenery, pleasant climate, diverse culture, and outdoor activities. Cons: High cost of living, limited job opportunities, island fever, and distance from mainland US.

Is it hard to get a job in Hawaii?

Finding a job in Hawaii can be challenging due to a limited job market and strong competition for available positions.

Is living in Hawaii more expensive than living in California?

In general, living in Hawaii is more expensive than living in California, particularly when comparing housing and transportation costs.

Can I live in Hawaii with 50K a year?

It is possible to live in Hawaii on a $50,000 annual salary, but one may need to make significant lifestyle adjustments and live in a more affordable area.

What is middle class salary Hawaii?

A middle-class salary in Hawaii is typically around $60,000 to $90,000 per year.

What is the average price of a house in Hawaii?

The average price of a house in Hawaii is around $800,000, but it varies depending on the island and neighborhood.

What is Hawaii's minimum wage?

As of 2021, Hawaii's minimum wage is $10.10 per hour.

How much is a gallon of milk in Hawaii?

A gallon of milk in Hawaii typically costs between $6 and $8.

How much is a gallon of gas in Hawaii?

A gallon of gas in Hawaii generally ranges from $3.50 to $4.50.

What is the downside to living in Hawaii?

Downsides include the high cost of living, limited job opportunities, island fever, and distance from mainland US.

What do people say the only downside of living in Hawaii is?

Some people believe the only downside to living in Hawaii is the high cost of living.

What is the best place to live in Hawaii?

The best place to live in Hawaii depends on individual preferences, but popular options include Honolulu, Kailua, and Mililani Town.

What part of Hawaii is the cheapest to live?

The Big Island, particularly the Hilo and Puna areas, tends to be more affordable than other parts of Hawaii.

What island in Hawaii is cheapest to buy a house?

The Big Island typically has the most affordable housing options.

How much do jobs pay in Hawaii?

Job salaries in Hawaii vary by industry and position, but tend to be lower than mainland US due to the lower demand for skilled labor.

What is the safest Hawaiian island to live on?

Maui is often considered the safest Hawaiian island to live on due to its low crime rate and strong sense of community.

What is the friendliest island in Hawaii to live?

Kauai, known as the "Garden Island," is often considered the friendliest island in Hawaii due to its welcoming atmosphere and laid-back lifestyle.

What time is rush hour in Oahu?

Rush hour in Oahu typically occurs between 6:00 am - 9:00 am and 3:30 pm - 7:00pm, with peak traffic times varying depending on the specific area.

What time is peak traffic on Oahu?

Peak traffic on Oahu usually occurs between 7:00 am - 8:30 am and 4:30 pm - 6:00 pm.

Which Hawaiian island has the worst traffic?

Oahu, particularly the Honolulu area, is known for having the worst traffic among the Hawaiian islands.

Is Hawaii congested?

Oahu, the most populated island, experiences traffic congestion, especially in urban areas. Other islands are generally less congested.

What time of year is Oahu least busy?

Oahu is least busy during the shoulder seasons of April to May and September to mid-December.

What is the best time to drive to avoid rush hour?

To avoid rush hour, drive outside of peak traffic times, which are typically 7:00 am - 8:30 am and 4:30 pm - 6:00 pm.

Why are 2 Hawaiian Islands forbidden to visitors?

Niihau and Kahoolawe are off-limits to visitors for different reasons. Niihau is privately owned, while Kahoolawe is a former military target and is undergoing restoration efforts.

What Hawaiian island does not like tourists?

While most Hawaiian islands are welcoming to tourists, some residents of Molokai prefer to limit tourism to preserve their traditional lifestyle.

Is it difficult to drive in Oahu?

Driving in Oahu can be challenging due to traffic congestion and limited parking, but it is manageable with proper planning.

Is it worth having a car on Oahu?

Having a car on Oahu can be convenient for exploring the island and accessing remote locations, but it is not necessary if staying primarily in urban areas.

Can you enjoy Oahu without a car?

Yes, Oahu can be enjoyed without a car by utilizing public transportation, taxis, rideshares, or guided tours.

Is there a homeless problem in Hawaii?

Yes, Hawaii has a significant homeless problem, with one of the highest per capita rates of homelessness in the United States.

Why does Hawaii have a homeless problem?

Hawaii's homeless problem is attributed to factors such as high housing costs, limited job opportunities, and lack of affordable mental health and addiction services.

Where does Hawaii rank in homelessness?

Hawaii ranks among the top states in the US for homelessness, with one of the highest per capita rates of homeless individuals.

How do you choose between islands in Hawaii?

Consider factors such as activities, attractions, budget, and desired atmosphere when choosing between islands.

Is Maui or Kauai better?

Both Maui and Kauai offer unique experiences. Maui has a lively tourist scene, while Kauai is quieter and more focused on nature.

What is the least popular island in Hawaii?

Molokai is the least visited Hawaiian island due to its limited tourist infrastructure and focus on preserving local culture.

Which is the cheapest Hawaiian island?

The Big Island is often considered the most affordable Hawaiian island to visit, thanks to lower accommodation and transportation costs.

Which island has the best beach in Hawaii?

Each island has beautiful beaches. Some notable ones include Lanikai Beach on Oahu, Kaanapali Beach on Maui, Hanalei Bay on Kauai, and Hapuna Beach on the Big Island.

Which island is best for first time in Hawaii?

Oahu is often recommended for first-time visitors due to its mix of urban amenities, iconic attractions, and beautiful beaches.

Which Hawaiian island is easiest to get around?

Oahu has the most developed public transportation system, making it relatively easy to get around without a car.

Is it cheaper to fly between Hawaiian Islands?

Flying between Hawaiian islands can be an affordable option when booking in advance and looking for deals, but prices may vary depending on the season and demand.

Which is the prettiest island in Hawaii?

Beauty is subjective, but Kauai is often considered the prettiest island due to its lush, green landscapes and dramatic coastline.

What Hawaiian island does not like tourists?

Molokai is the Hawaiian island with the most resistance to tourism, as some residents wish to preserve their traditional lifestyle.

Are the Hawaiian islands different from each other?

Yes, each Hawaiian island has its unique landscape, attractions, and atmosphere, making them distinct from one another.

What are different Hawaiian islands known for?

Oahu: city life, iconic attractions, and beaches Maui: beaches, outdoor activities, and the Road to Hana Kauai: lush landscapes, dramatic coastlines, and natural beauty Big Island: diverse landscapes, volcanoes, and black sand beaches Molokai: authentic Hawaiian culture and untouched nature Lanai: luxury resorts and seclusion

What is the nicest of the Hawaiian islands?

The "nicest" Hawaiian island depends on personal preferences, but popular choices include Maui for its beaches and Kauai for its natural beauty.