13 Reasons To Love Living In Waimea Bay On Oahu's North Shore
Posted by Koa Cassady on Tuesday, July 26, 2022 at 2:50 PM
By Koa Cassady / July 26, 2022
Comment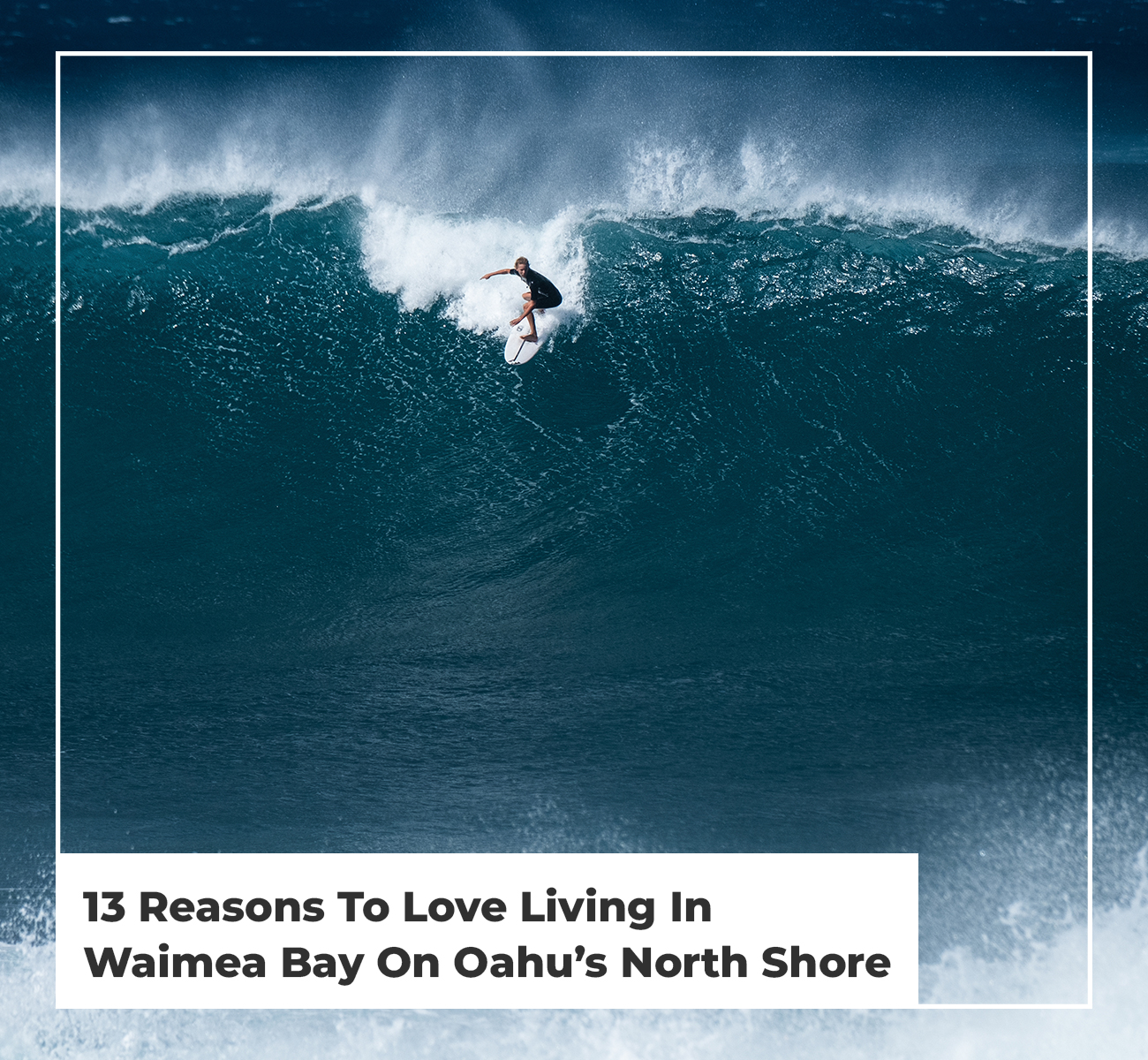 Waimea Bay is a breathtakingly beautiful place to live. Soft sandy shores are kissed by some of the most extraordinary waves, while miraculous rocks stand towering over the water. Surrounding Waimea Beach is a backdrop of lush trees blanketing the mountains. The stunning community located along Oahu's North Shore is a terrific place to enjoy swimming, snorkeling, cliff-jumping, and breathtaking sunsets.
With sparkling waters, world-class waves, unique geological formations, soft sand, and so much more, it's easy to see why many people love living in Waimea Bay North Shore. Our article will take you through some of the reasons to love living in Waimea Bay on Oahu's North Shore.
1. So Many Things To Do
Living on Oahu's North Shore, there is an abundance of things to do. Waimea Bay offers all kinds of recreation for those seeking adrenaline, adventure or rest, and relaxation. Oahu's North shore looks and feels like a tropical paradise. It's abundant with sweeping palm trees, soft sand, and sparkling, clear waters. Here are some of the best, thrilling, and most exciting things to do in Waimea Bay North shore.
Waimea Valley:
Waimea Valley is a historic cultural venue. It is home to many historic structures and enchanting botanical gardens. Waimea Valley is filled with beautiful plants and flowers.
Dole Plantation:
Visiting the Dole Plantation is a thriving and exciting adventure! Take an exciting ride on the pineapple express train tour and travel across two miles while learning about the plantation. Additionally, get lost through the Pineapple Garden Maze and shop for unique gifts.
Zipline Tour On Oahu's North Shore:
Ride the 3-hour zipline-guided tour and be prepared to be mesmerized! The ride is exhilarating, and you'll be greeted with gorgeous, panoramic views of the ocean and the mountains.
Kahuku Farms:
Kahuku Farms is a unique place near Waimea Bay. It houses a charming cafe made with farm-fresh ingredients and exciting shopping opportunities. Visitors can find unique gifts and souvenirs.
Shark's Cove:
Though not actually filled with sharks, Shark's Cove is a beautiful place to see. It features a series of shallow pools, making it an excellent place for snorkeling.

Sunset Beach Park:
Sunset Beach Park is a pro-surfers dream during the winter season. The waves are sky high, and the waters host many surfing competitions. During the summer months, the waters are calm and ideal for swimming and snorkeling.
2. Near Perfect Weather
The weather in Waimea Bay on Oahu's North Shore is spectacular. Summers are sticky and steamy, with warm temperatures all year. The wettest month is typically December, with an average of thirteen centimeters of rain. The driest month is typically June, with only 2 centimeters of rain.
The benefits of living somewhere warm are huge. Increased sun exposure is fantastic because It increases the Vitamin D levels in your body. As a result, people are more likely to be more physical, sleep better, and enjoy a better quality of life. Simply put, the weather in Waimea Bay is one of the best reasons to call the community home.
3. The Restaurants
Waimea Bay is packed with delicious, unique, and amazing restaurants. Oahu's North Shore has a restaurant that you'll love regardless of what kind of cuisine you enjoy. One of the most favorite parts of living in this area is simply exploring and trying all the places to eat. You'll find traditional Hawaiian dishes, American favorites, and much more. So whether you're looking for a great cocktail stop, a restaurant with an unbelievable view, or a new family favorite, Waimea Bay has it!

Waimea Falls Grill - 59-864 Kamehameha Hwy
Waimea Falls Grill is an affordable place to dine. It serves traditional American cuisine, and has fast service, and gives generous portion sizes.
The Proud Peacock - 59-864 Kamehameha Hwy
The Proud Peacock is a unique place to dine. While enjoying the delicious food, you can watch the peacocks wander the grounds. The Proud Peacock is a pub-style restaurant. In addition, the restaurant has a few vegetarian options to choose from.
North Shore Shrimp Truck - 59-063 Pahoe Road
If you're a seafood fan, you must visit the North Shore Shrimp Truck! It has excellent shrimp dishes and delicious shaved ice.
4. The Real Estate Market
Investing in real estate in Waimea Bay is an excellent choice. Home prices are down approximately 20% compared to last year, and they typically sell for below the listing price. As a result, they're an excellent investment. The community has many family homes that sit right on the water, luxurious homes with plenty of bathrooms and bedrooms, and modern condos overlooking the ocean.
5. The Lifestyle
The lifestyle on Oahu's North Shore is infectious. It's bubbly, laid back, and perfectly wrapped into one. Residents enjoy gorgeous homes, oceanside recreation, and satisfying cuisine. In addition, islanders enjoy slow but active living, tons of outdoor adventures, great food, sparkling turquoise waters, and miles of sandy shores. It's a slow way of life, with much time typically being outdoors.
6. The Surfing
Waimea Bay on Oahu's North Shore is one of the best places in the world for surfers. During the winter, the waves are enormous and exhilarating for even the most seasoned surfers. During the summer, the waters are gentle, soft, and slow. The turquoise waters glisten, and the soft sand becomes an inviting place for residents to relax and enjoy water activities. Surfing during the winter brings adventure, thrill, and large waves.

7. The Fresh Fruit
One of the tastiest parts of living in Waimea Bay is the abundance of fresh fruit stands you can shop at! The stands are stocked with bright, freshly picked produce that is organically grown and tastes terrific. Because of the ideal weather and climate, islanders always have access to beautiful fruit!
8. The Hawaiian Culture
The Hawaiian way of life is a little bit different than everywhere else. The community has a certain sense of peace, calmness, and closeness. The Hawaiian culture is rich with certain customs and traditions that embrace what the island believes and passes down.
There are many customs and iconic traditions that islanders enjoy. Waimea Bay is filled with artists, performances, and various festivals. The north shore region hosts many hula exhibitions and musical performances playing traditional instruments. Below are a few iconic Hawaian traditions.
Honi ihu refers to the touching of noses. This is the traditional way of greeting each other because it allows the two people to exchange breaths.
The lei is a traditional piece worn on the top of the head like a crown or around the neck. It's made from shells, flowers, feathers, and other island treasures. The lei is given out ceremoniously and means a lot to the people.
Traditional dinner parties happen frequently. They; 're called a paina or ahaaina. They're a celebration of food and loved ones.
9. The Beautiful Scenery
Waimea Bay is a spectacular scenic beauty. It is dripping with natural beauty every which way you look. There are majestic rolling hills, thick tropical forests, turquoise blue waters, and soft white sand beaches. The region is gorgeous and one of the many reasons to enjoy living there.

10. Proximity To National And State Parks
Living in Waimea Bay on Oahu's North Shore makes you close to many beautiful state and national parks. They are filled with magnificent landmarks, state monuments, and scenic shorelines.
Ka'ena Point State Park
Ka'ena Point State Park is situated on the northwest corner of Oahu. It's a great place for whale watching, hiking, and snorkeling. In addition, it's a great place to spot exotic birds and many other exotic and native animals.
Ahupua'a' O kahana State Park
Looking for a place to enjoy some exhilarating hiking and beachside camping? This state park is perfect for that.
He'eia State Park
He'eia State Park is a great place for picnics. It has a scenic picnic area with pretty bay views and an equipped event space.
11. The Education
Living near terrific universities is another wonderful reason to love living in Waimea Bay! Locals can choose from several excellent education options and research centers. This opens up opportunities for education, employment, and recreation!
The state is home to many research centers in industries ranging from astronomy to earth and ocean sciences. It's a great reason to invest in real estate for the present and the future. Families love the bay area because of its proximity to various educational establishments. The University of Hawai'i, Hawai'i Pacific University, and Brigham Young University are just a couple of the nearby post-secondary institutions.

12. It's Pure Paradise
While everyone's version of paradise might be a little different, Waimea Bay is definitely an outdoor paradise. The homes are amazing, the land is gorgeous, and the water is perfect. The streets are lined with lush swaying palm trees, luxurious homes, and some of the world's most incredible sunsets. Adventure and opportunity await you when you're living in Waimea Bay. There are spectacular historical landmarks, cultural monuments, and so much tradition.
13. Access To Recreation
There isn't ever a dull moment when you live in Waimea Bay on Oahu's North shore. There is a plethora of recreation, including snorkeling, scuba diving, canoeing, kayaking, surfing, breathtaking hikes, and pristine beaches. Whatever kind of recreation you enjoy, you can find it on Oahu's North Shore.
Conclusion
The above are just thirteen of the many reasons to love living in Waimea Bay on Oahu's North shore. Beginning with the satisfying lifestyle, the friendly people, the delicious food, and the magnificent parks, the reasons are never-ending! Living in Waimea Bay brings sunshine, warmth, excellent education, spectacular scenery, and panoramic views.
It's a way of life that is unlike any other! It's calm but vibrant, delicious, and exciting, all wrapped in one fantastic place. From the sparkling pristine waters, sky-high cliffs, gently swaying palm trees, and great education opportunities, Waimea Bay is an excellent place to live!
Dwell Hawaii's team of knowledgeable industry experts represents the region's finest properties. Whether you're looking at buying or selling, contact Dwell Hawaii as Koa Cassady and his team ensure every client gets exactly what they are looking for.
View All Waiema Bay Homes For Sale