15 Reasons To Love Living In Haleiwa On Oahu's North Shore [2022 Edition]
Posted by Koa Cassady on Thursday, May 19, 2022 at 11:48 AM
By Koa Cassady / May 19, 2022
Comment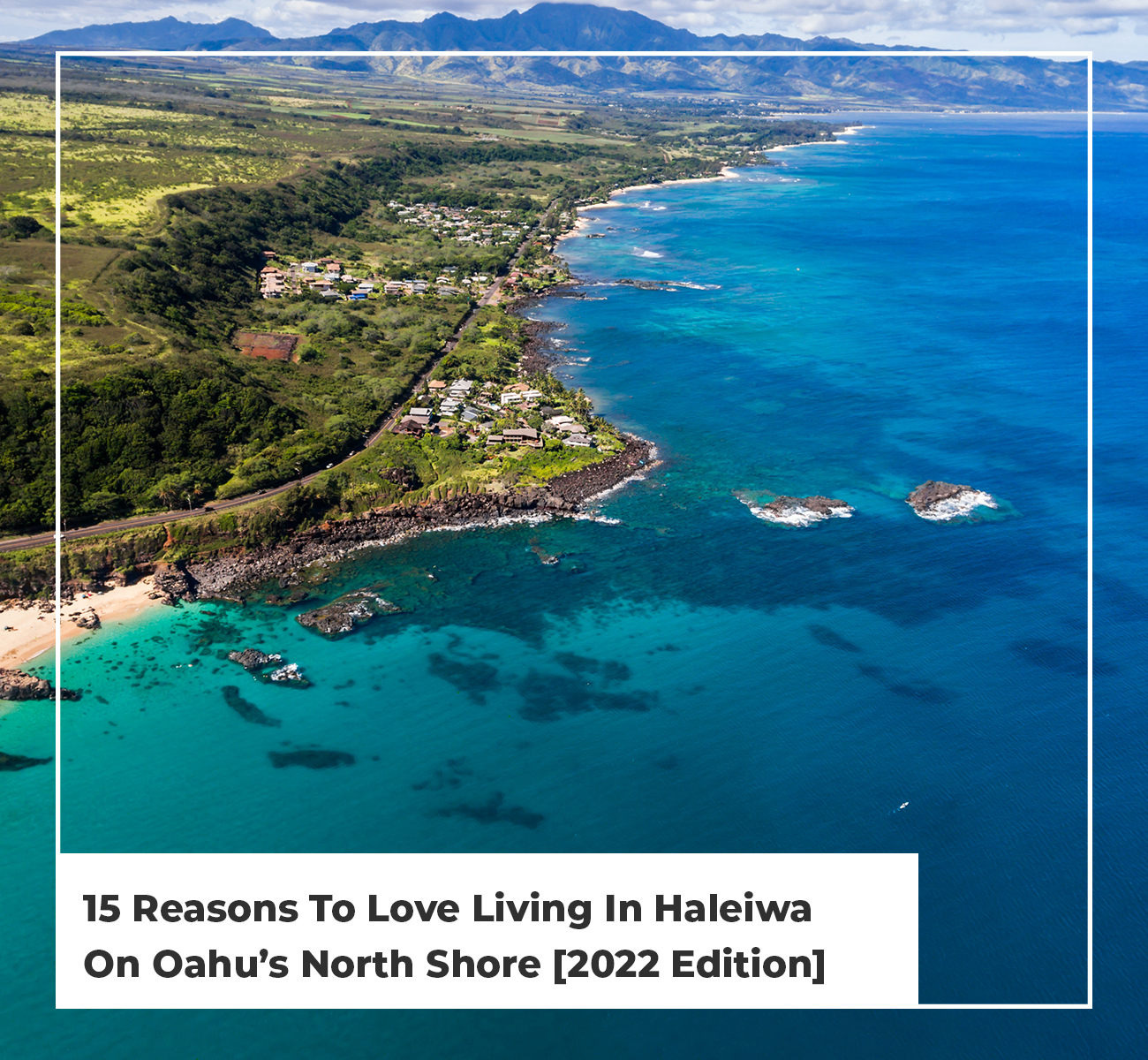 North Shore Oahu is often an unforgettable experience for any visitor that makes the time to venture out Oahu's most isolated region. From Kahuku Point to Kaena Point, the coastline is the selling feature for the region. There are two major cities along the North Shore: Haleiwa and Waialua. Life is more laid-back in this part of the world, and you can fill your days with swimming, fishing, scuba diving, snorkeling, surfing, food trucks, shave iceand soaking up the sun. The list of recreational activities is truly endless.
Compared to Honolulu's absolutely delightful chaos, The North Shore is mellow, and Haleiwa is the hub for all the excitement on this side of the island. As the major attraction on the island, Honolulu is about 30 miles from The North Shore of Oahu, but the region does see a fair bit of tourism as well. The North Shore is much quieter and more laid back.
Haleiwa's housing primarily consists of luxury estate homes, beach houses, and condos. The communities are quiet, and there's no rat race to contend with, no honking horns, and no real rush to get anywhere. However, Haleiwa Town sees plenty of visitors for annual surfing competitions and overall tourism in the winter months.
While Haleiwa has so much to offer in terms of shopping, art galleries, culture, and activities, the island doesn't take that long to get around the island, so you can always take a day trip to the city to have everything you want at your fingertips. Here are 15 reasons why you'll love living in Haleiwa on Oahu's North Shore.
1. Location
Living on the North Shore offers you a prime location to the many North Shore beaches and is only 30 miles from Honolulu. For whatever you can't find close to home, you can visit the big city in around 30 minutes or an hour if you happen to go during traffic. If you prefer a more scenic route, you can go through the island's center and admire all the natural beauty along the way.
Haleiwa is close to great tourist spots like Waimea Falls, hikes, beaches, and shopping. If you want to explore further, you can travel to Honolulu and visit the famous Diamond Head and other natural wonders that the island boasts. The fantastic location of Haleiwa lends itself well to many different lifestyles, so it's an incredible place with quiet communities.

2. Beaches
If there's one thing you already know about the North Shore, it has to be the beaches. The world knows that the North Shore is a surfing haven and where there's excellent surfing, there are outstanding beaches. Visiting beaches in Honolulu or Waikiki can undoubtedly be a challenge during the busy tourist season. The North Shore is much quieter comparatively. You will often find annual surfing events and competitions held here, so tourism isn't totally deserted here.
There's a stretch of coast along the North Shore called the '7-mile miracle,' and it features some of the most popular beaches like Pipeline, Waimea, Sunset Beach, and Haleiwa Beach Park. You'll find some of the best surfing and swimming along this stretch.
Waimea Bay is across from Waimea Falls, and it is simply legendary. For surfers, it's the ideal place to catch some big waves. You can also cliff jump if you're an adrenaline junkie. Some annual surfing events are held here, like the Eddie Big Wave Invitational. Even if you're not a fan of surfing yourself, it's incredible to watch professionals do what they do best.
Just east of Haleiwa is a very special beach that may not look very impressive at first glance, but it's packed full of seaweed. There is limited parking here, so you will want to go early in the morning to catch a good view. The seaweed makes this beach the perfect gathering place for many green sea turtles. You can almost always see one just hanging out enjoying the beach. The state protects these animals, so it's illegal to touch, injure, hunt, or chase them, so give them distance but definitely take some photos.
The sunsets in Hawaii around 6 to 7 pm, and trust us: you'll want to find a good beach spot to soak in the beauty. Sunsets in Hawaii are unmatched, and many residents have the daily routine of watching breathtaking sunsets.

3. Activities
One of the best parts of North Shore living is that you'll likely never run out of things to do. If you're working during the week and plan something new every weekend, you'll be finding new things to explore for years to come.
There's so much to see and do, and the excitement never really ends when you move to Haleiwa, but life moves slower on this part of the island, so take your time and soak it all in.
There is every water sport you can imagine. Partake in surfing, fishing, boating, yachting, snorkeling, swimming, bodyboarding, body surfing, parasailing, waterskiing, jet skiing, diving, paragliding, kayaking, and much more, all on the same beach. While snorkeling and swimming, you can search for shells and admire the extraordinary underwater life. Oh, and don't forget the cliff jumping.
On the beach, partake in a game of beach volleyball, lay on the beach and tan, jog along the beach, and shore fishing. You'll often see people training for bi-athlons or tri-athlons.
There are so many remarkable experiences just being on the island. Once you dive into your list, you'll realize there's so much more than you imagined.
4. Lifestyle
As a significant selling feature of Hawaii, many people get a taste of the lifestyle while they're on vacation and decide they want that for their everyday life. While you're on vacation in Honolulu, it's quite busy because tourism is the main economic driver, so there are plenty of visitors. Life in Haleiwa is very different. It's very quiet, laid back, and casual. The people who call Haleia home are the surfing crowd and wealthy retirees, but you can never tell who is who. There is also a prominent religious community with many active members.
Haleiwa feels easy-going, and the people are warm and welcoming. No one seems to have a bad day when living in paradise. There is a strong spirit of aloha on this part of the island. If you're lucky enough to be able to spend your days on the beach breathing in the salty air, you'll be living a dream many people aim to have.
The North Shore brings a new meaning to casual attire. You'll typically find everyone walking around in bathing suits, board shorts, tee shirts, and cover-ups. For more upscale fashion, sundresses, aloha shirts, and khakis. There's no time or place for close-toed shoes on this part of the island. The community of Haleiwa doesn't have a social hierarchy. At any given time, you could be chatting with a retired CEO who is a millionaire or a local who is out for their daily surf. There's not much stock in material things on this part of the island, and opulence is absent until you visit the luxury homes.
5. Weather
Say goodbye to snow forever. The weather on the North Shore is exceptionally consistent and comfortable. You can enjoy summer temperatures all year long. With a typical temperature of 80? and the trade winds, you'll be comfortable all year long. There are bouts of rain that happen during the winter months, but they don't last long. Flooding can also occur, but it's not very common.
6. You Can Be Active Without Trying
Want to be in the best shape of your life? Move to Haleiwa and spend your time exploring. There are so many hiking adventures and outdoor activities to partake in that don't even feel like exercise. Suppose you spend your weekend on the beach, swimming, hiking, and exploring. In that case, you're sure to be living the ultimate active lifestyle in paradise.

7. Farmer's Markets
The Haleiwa Farmer's Market is a staple in the community. Folks love the farmer's markets available on most Hawaiian Islands, and the North Shore is no exception. This small but mighty farmer's market serves the freshest produce, souvenirs, locally handmade goods, hot food, and much more. Visit the market every Thursday from 2 pm to 6 pm.
8. History
There's so much to learn about the history of this small city. It originated as a hotel in the late 1800s, bringing in a lot of attention. Haleiwa means house of the frigatebird. Once the hotel was built, people were immediately drawn to the area and started relocating here. The spot where the hotel was is where Haleiwa Joe's is in the current day.
The town is a designated historic, scenic, and cultural district by the state of Hawaii. Any new business that wants to come to the area has to meet the architectural design style to maintain the look and feel of the community. Everywhere you go in Haleiwa provides you with that old Hawaii feeling, which is done intentionally.
9. Shaved Ice
Matsumoto's in Haleiwa is a pillar of the community. They rank among the top things to do on the North Shore on practically every list available. Shaved ice is part of Hawaiian culture, so you won't want to skip this delicious treat. Machines shave the ice down to frozen flakes and then get drenched in the syrup of your choosing. It's the perfect way to cool off on a hot day.
10. Nature
If there's one thing that the North Shore has in abundance, it's access to nature. Popular spots like Waimea Beach Park, Chun's Reef Beach, Pua'ena Beach Park, Shark's Cove, Ehukea Pillbox, Pupukea Forest Reserve, and Banzai Pipeline are must-see places when you're a new resident of Haleiwa.
Of course, there are incredible beaches, but there are some beautiful parks to enjoy as well. Alii Beach Park is one of the top spots for swimming. Because the water is so shallow, it's the perfect place to bring the kids to swim, so you'll see plenty of families around the area. It's one of the best places to teach kids to surf, and there are youth surfing competitions held in this spot each year. Even if you don't have surfer children, it's a great event to participate in and show your enthusiasm for kids in sports.
If you want to get up close and personal with nature, Waimea Valley has 1,500 acres of land that you can explore that boasts over 5,000 species of native plant life. If you've never visited Hawaii before, the lush foliage is an incredible sight to see. The reserve also offers activities like ancient Hawaiian crafts, talk story hour, and hula that are fun for all ages.
One of the most beautiful natural attractions in the area is Waimea Falls. People travel from all over the island to see the beautiful waterfall and swim in the pools. It's surrounded by foliage and lush greenery, making this area picture-perfect.
11. Culture
Haleiwa is packed full of culture, and it's evident along the main streets in town. There are some incredible galleries and artwork done by local artists and a rich cultural scene. The Polynesian Cultural Center is located nearby, and it's one of the top attractions on the island. You can learn so much about the culture and history of the Hawaiian and Polynesian people in an entertaining way. It's a must-see when on the North Shore.

12. Fresh Fruit
When you taste fresh fruit from Hawaii, it will be like tasting your favorites for the first time. Something about island fruit is just incredible, and there's so much of it everywhere you go. Start your day with some fresh pineapple, jackfruit, mangos, and apple bananas.
Visiting the Dole Plantation is a bit touristy, but you can get some amazing fresh pineapple during or after the tour. You also don't want to skip the dole whip.
13. Food Trucks
Haleiwa has some great restaurants, but the true gems are the food trucks in the area. If you want some fresh, delicious, and flavourful cuisines, visit one of the many food trucks you'll find around. There are shrimp trucks, taco trucks, smoothie trucks, sushi trucks, and more. It's the perfect way to experience local dishes and a quick and cheap way to get a delicious meal for lunch.
14. Trade Winds
Haleiwa is actually one of the most comfortable places in Hawaii because of the trade winds. The natural air conditioning of these winds lowers the temperature slightly. Compared to other spots on the island, it's incredible. Residents of Haleiwa can save some money on air conditioning costs because opening some windows typically does the trick. Some spots on the island don't get any breeze which can make the sun and heat unbearable, but lucky for Haleiwa residents, that's not the case.
15. Real Estate
Real estate in Haleiwa, Hawaii is quite pricey, but it's not the most expensive on the island. The Waialua and Haleiwa real estate market has been quite competitive over the last few years due to the "Lifestyle Migration" of buyers coming from states like California, Washington, Colorado, and more. Since inventory is low, you'll see these homes move quick and don't be shocked to have to compete with cash buyers, even into the multi-million dollar mark.
North Shore Oahu 2022 Real Estate Market Update: North Shore homes for sale are definitely starting to feel a headwind a headwind due to emerging recession compounded with high prices and interest rate crunches. Get a pulse on the current trending by checking out our North Shore Market Report which highlights all active listings and sales in the last 6months.

Relocating to Hawaii
Whether you're currently a US citizen or not, moving to Hawaii can be a big deal and a big move. You want to be confident that moving to Hawaii is right for you because it's not an easy move, and it would not be an easy move to get back to the mainland if you decided you didn't want to live there anymore. One of the most essential aspects to determine is budgeting and being able to afford the move.
While Oahu is small, the communities on it are diverse and offer very different lifestyles. Determining which area is your preferred location should be your number one task. For instance, if you like to live in a big city and don't mind tourists or traffic, Honolulu would be an excellent option for you. If you want to live a laid back beach lifestyle and a quieter life, Haleiwa is perfect.
Even though choosing your preferred location is vital, the island isn't very big, so you're not far from the excitement of other places. Oahu has so much to offer for cultural resources, natural beauty, and city life that you can have your cake and eat it too. Life in Hawaii can be what you make of it.
Once you've determined where you want to live, you should contact an area expert to help you with the real estate market. It can be quite competitive on an island with limited inventory, so having a professional on your side is critical.
Once you've found a home and you're ready to move, you have a few different options to get your belongings onto the island.
Move Yourself
Suppose you're a minimalist, or you don't have many possessions. In that case, this is the easiest and most cost-effective way of moving to Hawaii.
Suppose you can sell anything that you can replace and check in a couple of suitcases or mail a few boxes. In that case, you'll be saving yourself an incredible headache and a colossal bill. You can then stock up on furniture and essential items once you get to the island. Doing it yourself also means that it's much more manageable if you decide to leave or have to relocate for any reason.
Hire A Moving Company
Suppose you have an entire life that you're looking to relocate with a family. In that case, the most convenient option is to hire a moving company to provide door-to-door service. These companies will pack your home for you, move it to your new home and unpack everything. Of course, you'll be paying a premium price for this service, but it's worth the money, and the time you'll save is likely better spent on the beach anyways.
A third option is a hybrid of the two. There are moving companies that you can hire that you can pack a container full of your possessions and they will deliver it to your new house. You will have to do the packing, unpacking, and heavy lifting, but it's a convenient and less expensive way to get your things to your new home.
Searching for your Haleiwa home should be an exciting endeavor because your life ahead on the island will be a beautiful one. The world-famous surfing, peaceful communities, and incredible history make Haleiwa a special place to call home. When you're on the hunt for your dream Hawaiian home, Koa Cassady should be your first call. His customer-first approach to real estate is top-notch, and he is not satisfied until you are. He can help you find your dream home in no time.
Dwell Hawaii's team of knowledgeable industry experts represents the region's finest properties. Whether you're looking at buying or selling, contact Dwell Hawaii as Koa Cassady and his team ensure every client gets exactly what they are looking for.