4 Types of Honolulu Condos For Sale in Hawaii
Posted by Koa Cassady on Tuesday, May 31, 2022 at 2:31 PM
By Koa Cassady / May 31, 2022
Comment
Honolulu Condo Prices in 2023
Buying a Honolulu condo for sale is no easy feat, especially as median Oahu condo prices escalated to half a million dollars after the COVID real estate pandemonium. There's some relief in sight as Oahu condo prices have finally started to dip in 2023. Check out our recent blog Understanding the Oahu Real Estate Market for the most immersive experience into the latest trends and forecasts.
It's without question that the the pandemic put a magnifying glass on the Hawaii Real Estate Market as residents from similarly high priced real estate markets; namely the West Coast, flocked to our island home as a means of coping with pandemic, or inspired by the pandemic, at the very least.
The buying frenzy over the past two years was catalyzed by three of the following contributing factors:
Remote work. As businesses switched from in-office to work-from-home dynamics, many professionals realized that their jobs were the only things anchoring them to any specific geographical location. Now, anybody on the West Coast with a laptop and a WIFI signal could jump across the pond and continue their work from Hawaii. Granted, work starts 2-3 hours earlier given the timezone change but this also means that work finishes 2-3 hours earlier with plenty of sunshine left to hit the beach!
Lockdowns. A common theme I would hear from many of my new West Coast clients was that they were either looking to escape high-infection zones of the major cities OR they were looking to escape overly-restrictive lockdowns. Hawaii definitely had it's fair share of lockdowns but for the most part, we all still had access to all that we love most about living here; the natural amenities of the beach, the hikes, the weather, and the scenery. Aside from the Cost of Living in Hawaii, they're free!
Wealth & Leverage. Stock portfolios and real estate equity soared during the pandemic while interest rates plummeted to the 2% range. This provided unprecedented access to liquidity and buying power, clearing the way of the two of biggest obstacles in buying a Honolulu condo for sale.

Types of Hawaii Condos For Sale
So since I've spent the last 2 years educating mainland buyers on our unique real estate market, I find this blog to be the easiest one I've written all year. It's fresh on my mind and the words have never flown so fluidly off my fingertips! And while you may have held out longer than others, the "Moving to Hawaii" train is still chugging, and your ticket to understanding the Honolulu condo market is waiting for you below. Without further ado, here's the 5 types of Oahu condos for sale in Hawaii, how they differ, and where you'll find them:
Towhomes
Condo vs. Townhome. We use the verbiage interchangably here but the easiest way to parse between the two is to know that every townhome is a condo because "condominium" represents a legal classification of a type of real estate, while every condo is not a townhome. From the perspective of most, a townhome is generally identified as a single or split-level attached home in a building that is no more than 3 stories tall. Townhomes will typically have garage options whereas condos do not.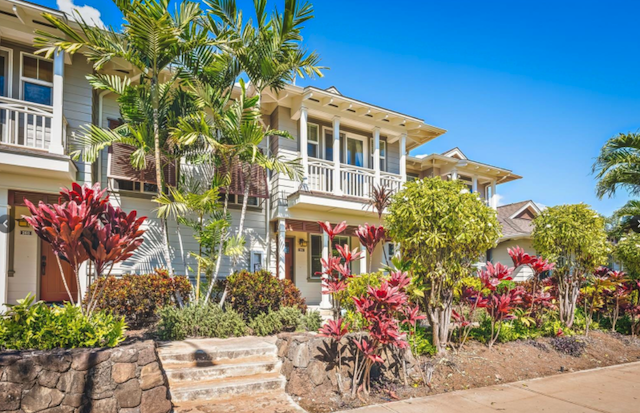 You won't find townhomes for sale in every neighborhood on Oahu as they generally only exist in areas outside of metro Honolulu. They have larger footprints, usually small courtyards, and this type of construction isn't conducive to developing housing density like you can with a High Rise.
If you're looking for a townhome for sale in Oahu, look to suburban areas like Kaneohe, Kailua, Ewa Beach, Kapolei, Hawaii Kai, and Mililani. Prices and sizes will vary subtantially as Oahu home values are driven by which side of the island you live on.
Expect your more entry level options in Ewa Beach, Kapolei, and Mililani -- around $500,000's to start. Kailua, Hawaii Kai, and Kaneohe will provide your more expensive townhome options given their proximity to some of Oahu's best beaches and lifestyles; some that are upwards of $1,000,000+
High-Rise
This one is self-explanatory and represents the traditional interpretation most have of "condo." You'll really own find high rise condos for sale in Honolulu and if you've spent anytime on Oahu, you'll notice this right away when spanning the skyline. Honolulu is the only city on Oahu that is zoned for high rise condos and this is purposed towards the need for a denser housing supply given that most of the jobs exist in Honolulu.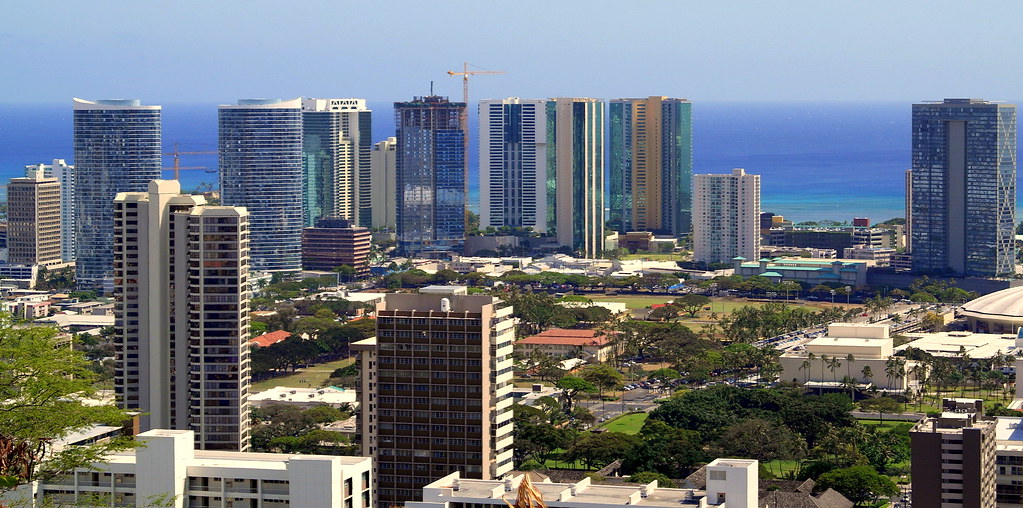 New Honolulu condos have been popping up left and right in areas like Kakaako and Ala Moana that have seen massive transformation over the last decade. Developers from all over the nation have been swooning over Oahu's extreme housing shortage, allowing many developments to sell out before the condo is even built.
Honolulu condos for sale will range from studios and 1-bedrooms around $400,000 to some of the most extraggavant Hawaii luxury condos like Park Lane, Waiea, or the Ritz Carlton Honolulu Penthouse for $19,000,000.
Beachfront
Believe it or not, beachfront condos for sale in Hawaii are very rare and this is due to zoning restrictions that prohibit condos from being built on the beach, dating back a few decades. You'll only find Hawaii beachfront condos for sale in a hanful of areas like the Gold Coast, a short stretch of vintage condo buildings on the Diamond Head side of Waikiki near Tongg's Beach and Kaimana Beach.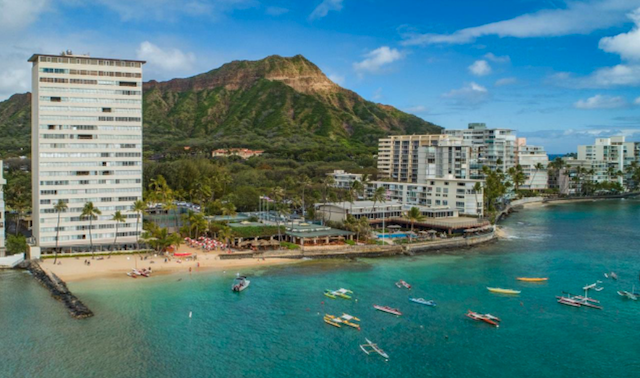 Gold Coast condos provide quite the lifestyle and can be rare. But as you would expect, these luxury Honolulu condos offer phenomenal unobstructed ocean views and due to their angle to the west, you'll catch a glowing Hawaiian sunset every night!
Pro-Tip: Consider joining the Outrigger Canoe Club; one of Oahu's premier country clubs and the only one right on the beach! Enjoy the fitness center, restaurant, beach volleyball, and a phenomenal social dynamic.
There's a few beachfront condos for sale in North Shore Oahu as well; far from Honolulu but as good of a lifestyle or better. It's a much slower pace here, and a much more recognizable "Hawaii" for the purists.
Condotels
Condotels or Condo-Hotels are a unique type of real estate on Oahu where buildings operate as a Hotel for guests as well as a Residential Condominium for owners. While you're away, residents are allowed to legally rent their homes for sale through the in-house Hotel Rental Pool and/or sometimes they're allowed to manage it themselves.

These types of Honolulu condos typically aren't cash cows as any rental income received is heavily offset by Hotel Tax Rates, Maintenance Fees, GET & TAT taxes, and management fees but they can in some cases present a "break-even" scenario.
Buyers looking for a condotel will find entry level options in the Ala Moana and Waikiki neighborhoods starting around $400,000. These are generally studios, with and without fully fuctioning kitchens, but as you increase in price you will find larger options like the Ilikai Building and Trump Tower Honolulu with 1-3br units.
The new development boom in Honolulu is bringing a trend of new luxury condo-hotel projects like the Mandarin Oriental Honolulu, Sky Ala Moana, Ritz Carlton Honolulu, Renaissance Residences Honolulu with most options falling in the $1M-3M range.
Buying a condo on Oahu
If living in Hawaii is on your radar one day and you need the "lay of the land" so to speak, we're just a call away. Stay tuned to our Youtube channel where we detail everything we know and love best about our island home. Moving to Hawaii is a huge committment and our goal is to build you bridge of information for you to get here!