8 Reasons To Love Living In Pupukea, Oahu [2023 Edition]
Posted by Koa Cassady on Friday, June 17, 2022 at 2:41 PM
By Koa Cassady / June 17, 2022
Comment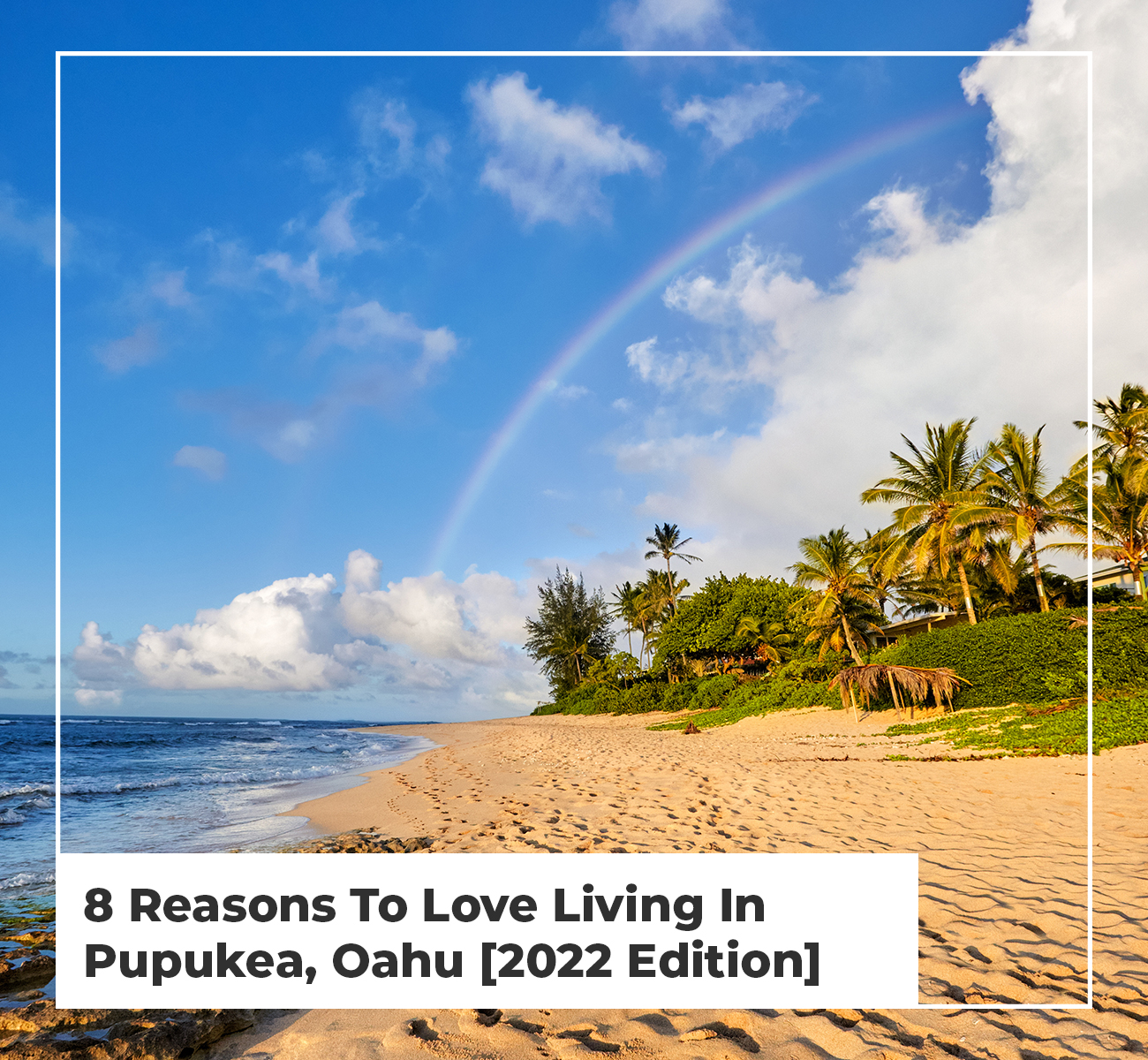 Have you ever dreamed of living in paradise? Buyers looking to move to Pupukea, Oahu will find that the area offers everything they could want in a tropical oasis. From its pristine beaches and turquoise waters to its lush green mountains, Pupukea is truly a piece of paradise.
Plus, with its convenient location just minutes away from Honolulu, you'll be able to enjoy all the best that Hawaii has to offer. So if you're looking for a beautiful and peaceful place to live, Pupukea is definitely worth considering. Come take a look at what it has to offer!
Living in Pupukea, Oahu
Pupukea is a small community located on the North Shore of Oahu. It is known for its beautiful beaches, its laid-back lifestyle, and its proximity to some of the island's best surf spots. While it can be difficult to find affordable housing in Pupukea, the quality of life is well worth the effort. The community is close-knit and there is a strong sense of pride among residents. There are also plenty of opportunities to enjoy the outdoors, whether you want to go for a swim, hike, or just relax on the beach.
In addition to its natural beauty, Pupukea is also home to a vibrant community of friendly locals. There are plenty of great shops and restaurants to explore, and buyers will find that there is always something new to do. Whether you're looking for a relaxing place to call home or an exciting vacation destination, Pupukea is sure to exceed your expectations.
Homes in Pupukea, Oahu
Pupukea is a beautiful neighborhood on the North Shore of Oahu, and is home to a mix of recent builds and established houses, all of which are beautiful one- to two-story homes. The area is unincorporated, which means that it is not subject to the same zoning restrictions as other neighborhoods on the island. As a result, Pupukea has a more relaxed and natural feel than other parts of Oahu.
The homes in this area are well known for having an abundance of unique characteristics such as beautiful hardwood floors, large floor plans, multiple garages, and more. Although there are many homes available there are also many opportunities for new builds in Pupukea, Oahu. No matter what your budget or style preference is, you're sure to find a home that you'll love here.
The Lifestyle in Pupukea, Oahu
Although it is only a short drive from the hustle and bustle of Honolulu, Pupukea feels like a world away. The community is nestled among verdant mountains and overlooks pristine beaches. It is also home to a diverse population of residents, who share a strong sense of community.
Locals can often be seen chatting with one another at the local coffee shop or taking a leisurely stroll through the neighborhood. There is also a strong sense of history in Pupukea. The community has been home to Native Hawaiians for centuries, and many ancient cultural sites can be found within its boundaries.

The Year-Round Weather in Pupukea, Oahu
If you're looking for year-round perfect weather, Pupukea on the island of Oahu is the place for you. Situated on the North Shore, Pupukea enjoys warm temperatures and gentle ocean breezes year-round. The average high temperature is a comfortable 82 degrees, with the average low a balmy 66 degrees.
And thanks to the ocean breezes, the humidity is never too oppressive. Rainfall is also relatively low, so you can enjoy sunny days and blue skies almost year-round. Whether you're looking to surf the world-famous waves or just soak up the sun, Pupukea is the ideal destination.
Schools near Pupukea, Oahu
Pupukea is served by the Hawaii Department of Education. For families looking to move to this area, having more information about the schools in the area is critical. Listed below are some of the schooling options available to the children in this area.
Sunset Beach Elementary School
Sunset Beach Elementary School in Pupukea, HI, is a small school with a big heart. Just over 400 students attend the school, which serves grades Pk-6. The school's mission is to encourage and inspire all students to become problem solvers.
To achieve this, the school provides a supportive and nurturing environment where all students are valued and respected. The faculty and staff work tirelessly to ensure that each student has the opportunity to reach their full potential. Sunset Beach Elementary is truly a special place where children can learn and grow.
Hale?iwa Elementary School
Hale?iwa Elementary School is a Pk-6 school located in Waialua, HI. The school opened in 1871 and has been serving the community ever since. Hale?iwa Elementary is an above-average school, and its efforts have been recognized by the community. The school has a strong focus on social growth, and its efforts have been praised by students and parents alike. Hale?iwa Elementary has a rich history, and its tradition of excellence is evident in everything from its above-average test scores to its school-wide efforts.
Waialua High & Intermediate School
Waialua High & Intermediate School serves grades 7-12 and is located on the beautiful North Shore of Oahu in Waialua. The school has terrific partnerships with the Waialua community, which provides wonderful opportunities for students to learn about and experience the Hawaiian culture. The faculty and staff are dedicated to preparing students for leadership roles in the community. And to top it all off the school has an excellent educational program ensuring students are highly motivated to succeed.
Some of the athletic opportunities here include:
Soft Tennis
Bowling
Cross Country
Swimming
Judo
Golf

Dining in Pupukea, Oahu
Hawai'i is well-known for its delicious food, and Pupukea is no exception. This small town on the North Shore of Oahu is home to some of the best eating in the state. Whether you're looking for fresh seafood, authentic Hawaiian cuisine, or just a good burger, you'll find it all in Pupukea.
For a truly unique dining experience, be sure to check out one of the town's many food trucks. These mobile eateries serve up everything from Korean fusion tacos to gourmet grilled cheese sandwiches. And because they're always on the move, you never know when one might pop up in your neighborhood. So keep your eyes peeled and your tastebuds prepared for some delicious dining in Pupukea.
Some of the best places to eat near Pupukea, Oahu include:
Pupukea Grill l 59-680 Kamehameha Hwy, Haleiwa, HI 96712, United States
Panda's Thai Food Truck l 59-158 Kamehameha Hwy, Haleiwa, HI 96712, United States
Impossibles Pizza l 59-065 Kamehameha Hwy, Haleiwa, HI 96712, United States
North Shore Shrimp Truck l 59-694 Kamehameha Hwy, Haleiwa, HI 96712, United States
Local Shops in Pupukea, Oahu
If you're in the mood for some local shopping, Pupukea is the place to be. This small town on the North Shore of Oahu is home to a variety of unique shops and boutiques. Included below are some of the most visited spots in the area.
The Cove Collection - The Cove Collection store in Pupukea is a must-visit for any traveler to Oahu. The store offers an array of gorgeous items, from local artwork to bowls and purses made by local artisans. The jewelry selection is stunning, and the swimwear is both fashionable and practical. The staff is friendly and knowledgeable, and they're always happy to help you find the perfect souvenir or gift.
North Shore Surf Shop - North Shore Surf Shop in Pupukea, Oahu, is the perfect place to stock up on all your surfing needs. They have a great selection of surfboards, and they also offer surfing lessons. If you're looking to explore the underwater world, they have a variety of snorkeling gear for rent. North Shore Surf Shop is a one-stop shop for all your surfing needs. So whether you're a novice surfer or a seasoned pro, make sure to check out North Shore Surf Shop the next time you're in Oahu.
Seamaids Beach Boutique - If you're looking for the perfect poncho cover-up or a unique piece of handmade jewelry, Seamaids Beach Boutique in Pupukea is the place for you. This tucked-away gem offers a great selection of clothing and accessories, all with a beachy vibe. You'll find everything from flowy maxi dresses to trendy tunics, plus a wide variety of jewelry and accessories. And if you're looking for a special gift, Seamaids has a great selection of items that are sure to please.

Shark's Cove
Sharks Cove is a rocky coastal area with several tide pools perfect for snorkeling. The water is usually crystal clear, making it easy to see the small fish that swim in and out of the rocky crevices. There are also several reefs nearby, providing even more opportunities to see colorful fish and coral. After a day of exploring the underwater world, visitors can rinse off in the showers or use the restroom facilities before heading back to the beach. Sharks Cove is one of the best snorkeling spots on Oahu, and its central location makes it easy to get to from anywhere on the island.
Turtle Bay Golf
Looking for a breathtaking golfing experience on the island of Oahu? Look no further than Turtle Bay Golf. Just 6.5 miles from Pupukea, Turtle Bay Golf offers stunning views of Kawela Bay and the Pacific Ocean. The state-of-the-art facility features two championship courses, beautiful landscaping, and all the amenities you need for a great day on the links. Whether you're a seasoned pro or a first-time golfer, Turtle Bay Golf is sure to exceed your expectations. So come on out and enjoy a round at one of Hawaii's most stunning golf courses!

So there you have it, our top 8 reasons why people love living in Pupukea. From the amazing lifestyle and weather to the great schools and variety of dining options, it's easy to see why this North Shore community is so popular.
And don't forget about those world-famous beaches – nothing beats a day spent surfing or paddleboarding in paradise! If you're looking for your own piece of Hawai'i heaven, be sure to check out the latest listings in Pupukea – we promise you won't be disappointed. Mahalo for reading!
Dwell Hawaii's team of knowledgeable industry experts represents the region's finest properties. Whether you're looking at buying or selling, contact Dwell Hawaii as Koa Cassady and his team ensure every client gets exactly what they are looking for.
View All Pupukea Homes For Sale