GUIDE TO THE BEST RESTAURANTS IN KAILUA
Posted by Koa Cassady on Tuesday, November 7, 2023 at 3:15 PM
By Koa Cassady / November 7, 2023
Comment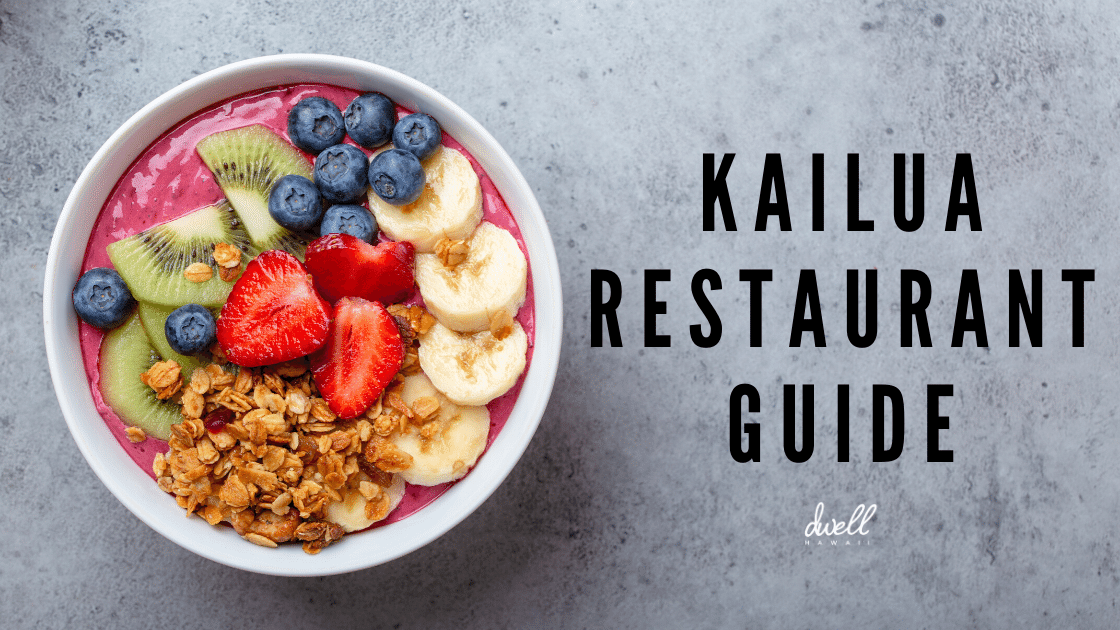 The last decade has seen Kailua, Oahu soar from a quaint, island beach town to one Hawaii's best places to live. The idyllic floury white sand of Kailua Beach and Lanikai Beach coupled with a Dr. Beach shoutout as the 2019 Best Beach in the U.S. has put Kailua on the map. Tour buses and the booming vacation rental market see tourists flocking here in droves for an opportunity to frolic in the Kailua Shoreline and like any top tourist destination, people demand to eat!
RESTAURANT GUIDE: BEST | BREAKFAST | DINE IN | LOCAL | FOOD TRUCKS | SWEETS
Kailua has food options as rich as her beaches. Small town, oceanside charm doesn't have to mean you'll be starving or eating at a Mcdonald's every day. As part of our Living in Kailua blog series, we want to bring you everything we know best about the dining culture of Kailua, Hawaii. For more about the neighborhood, be sure to check out our other posts.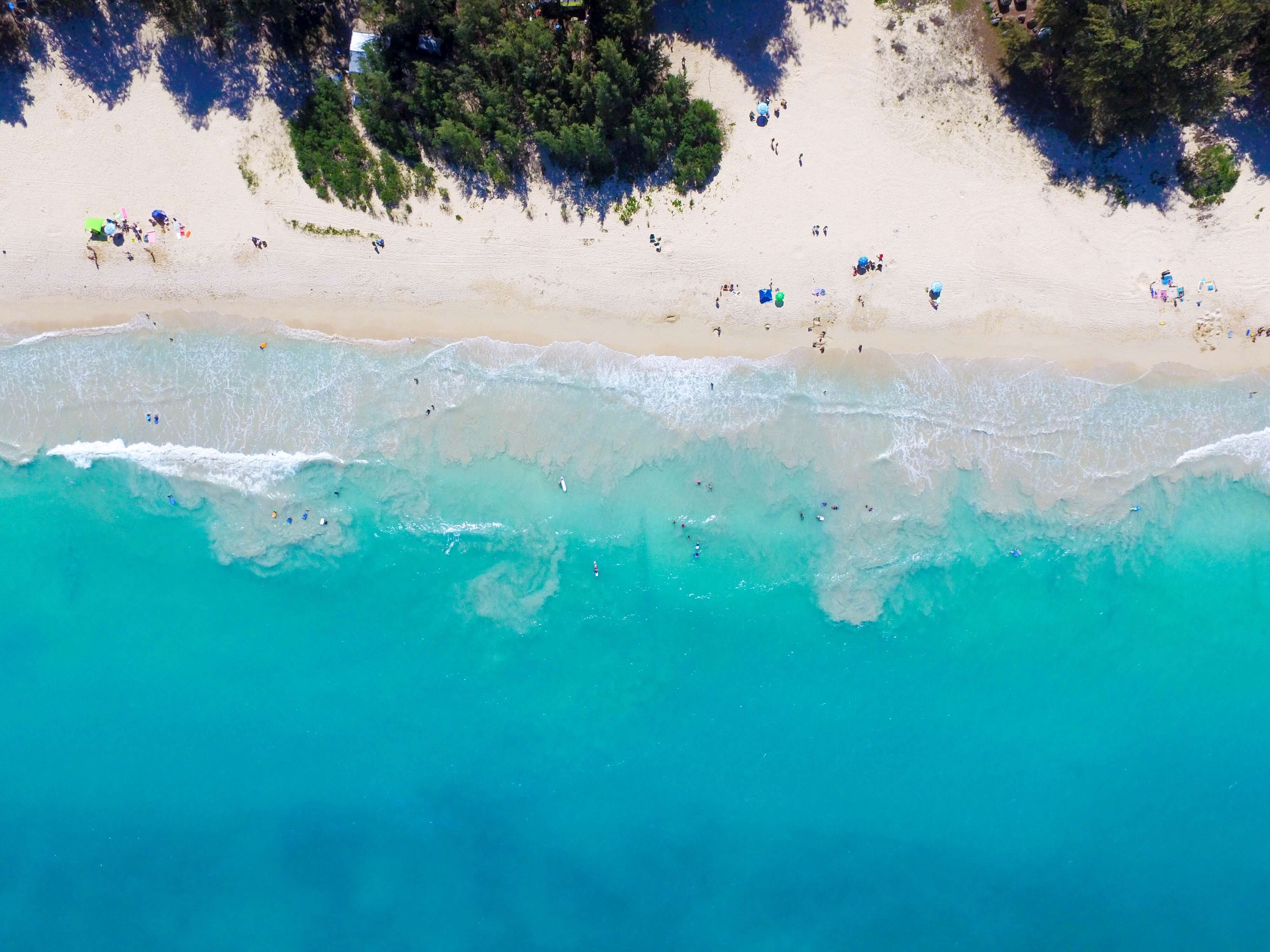 Whether you like coffee shops, Mexican food, Thai food, food trucks, or speakeasies, Kailua has something for everyone! We've put together some of our favorite places to eat, and many of these options are conveniently located in the Kailua Town Shopping Center.
Small businesses thrive on your business and recommendations, so please share and review, and tell the world how much you loved your food. Here are the best places to eat in Kailua, broken down by Breakfast, Coffee shops, Breweries, Dine-in, Local Favorites, Food Trucks, and Desserts. Further down in the guide you'll find insights into nearly every restaurant in Kailua, broken down by category as well. Enjoy!
HEALTHY RESTAURANTS IN KAILUA
1. Nalu Health Bar | 131 Hekili St #109, Kailua, HI 96734
Juice blends, acai bowls, sandwiches and wraps incorporating local ingredients in a cheery, counter-serve space. The Turkey Kale Pesto Croissant, Rainbow Salad, Nalu Bowl and Mango Colada are faves! Nalu has quickly become a cult classic in terms of restaurants in Kailua, due largely in part to having the best acai bowl in Hawaii. Don't leave without one!
2. Lanikai Juice | 600 Kailua Road, Kailua, HI 96734
This Kailua fave is a breezy spot with outdoor tables featuring smoothies and juices with locally sourced ingredients. The Kailua Monkey is our smoothie of choice every time.
3. The Beet Box Cafe | 46 Hoolai Street, Kailua, HI 96734
The selections at this Kailua cafe are vegetarian and delicious, mostly organic and locally sourced with many gluten free options. The best Avocado Toast and Banana Oat Pancakes...and we can never decide between the Green Blend Bowl or the Cacao Bowl. Be on the lookout for freshly baked goodies every day.
4. Over Easy Cafe | 418 Ku`ulei Road, Unit 103, Kailua, HI 96734
Many will drive over the Pali to dine at this popular Kailua breakfast spot. Pair the Kalua Pig Hash or the Over Easy Plate with a Lilikoi Mimosa for a Hawaiian brunch with cocktails. (You can also check out their sister restaurant down the street called Easy `Que for some aloha-infused BBQ in the evenings!)
5. Farmer's Market Sunday | Pali Lanes, 120 Hekili Street, Kailua, HI 96734
Enjoy a lazy Kailua Sunday morning wandering the aisles for the freshest island fruits and vegetables, delicious prepared foods and artist treats. Sundays from 8 am to noon.
KAILUA - A MELTING POT OF EATERIES
1. Nico's | 970 N. Kalaheo Avenue, Kailua, HI 96734
Nico's Kailua showcases the freshest fish hand-selected every morning at the Honolulu Fish Auction. Any one of their local favorites and daily specials will be delicious. Save room for dessert too!
2. Tokoname Sushi Bar & Restaurant | 442 Uluniu Street, Kailua, HI 96734
Classic Japanese fare with quality sushi on the Windward side. You have to try the Lanikai roll! It is a minimalist and intimate setting so make sure to make a reservation!
3. Assagio Ristorante Italiano | 354 Uluniu Street, Kailua, HI 96734
This is the go-to Italian restaurant in Kailua. Start off with the Caesar salad served tableside then pick any of their signature Southern Italian dishes. We love the Chicken Anchovy Olio and the Chef Special Chicken Parmigiana with Ravioli.
4. Willow Tree Korean Restaurant | 25 Kaneohe Bay Drive, Suite 104, Kailua, HI 96734
Fans will drive all the way from town to Aikahi Park Shopping Center in Kailua to get some of their traditional Korean cooking. Every meal starts with turnip soup and a variety of Korean vegetable side dishes called "banchan." We always order their famous Meat Juhn and Sizzling Kalbi, EVERY TIME.
5. 22 Kailua | 22 Oneawa Street, Kailua, HI 96734
A private sushi bar hidden in the back of a coffee shop? Yup! Make your reservations early for this one-of-a-kind culinary Japanese omakase (Chef's choice) experience! The only thing you do is select how many courses you would like and Chef Taka takes care of the rest. This Kailua treasure only has 6 seats with two sittings a night. Take your own party of six or meet some new friends! The experience will transport you to Tokyo!
KAILUA TAKE-OUT
1. The Food Company | 201 Hamakua Drive, Kailua, HI 96734
A Hawaiian cafe offering casual breakfast, lunch and dinner, a takeaway food market and catering. Korean Chicken Bento, Fresh Grilled Garlic Ahi Sandwich and Kalua Pig Quesadillas with papaya salsa!!! Definitely one of the most popular Kailua take-out spots!
2. Fat Boy's | 301 Hahani Street, Kailua, HI 96734
Fat Boy's is famous for its garlic chicken and gourmet plate lunches. With the open lanai for dining at this Kailua location, Fat Boy's is the perfect stop to get your Plate Lunch fix - before or after the beach!
3. Bob's Pizzeria | 130 Kailua Road, Kailua, HI 96734
Every neighborhood needs a great pizza joint. Skip the pizza chains and head toward Kailua Beach and you'll find Bob's Pizzeria - it's Boston-style and the pies are BIG! A simple cheese is amazing but so is the spinach & garlic! They also have subs, calzones, wings and salads…
4. Island Snow Kailua - 600 Kailua Road, Kailua, HI 96734
Right next door to Bob's is Island Snow - where everyone goes for Kailua's favorite shave ice! The flavor combinations are endless but the tropical flavors are always a must. Lilikoi, Melona, Li Hing Mui and Pickled Mango are just some of the flavors to enjoy when you cool off from a day at the beach.
5. Whole Foods Market Kailua | 629 Kailua Road, Kailua, HI 96734
Take Out can be as healthy as you want it to be at Whole Foods Kailua. Buy groceries or take out from the Coffee or Juice Bar, Hot or Cold Buffet, Pizza Bar, Sandwich Bar, Smokehouse or Taqueria. Whole Foods Kailua also has a Raw Fish Bar and Sushi Stand. Whatever you choose, you won't be disappointed. The Windward Bar inside Whole Foods Kailua serves organic wines, draft microbrews and casual American plates. Live music and Monday Night Football make the Windward Bar so much fun!
Breakfast
While there's never truly a wrong time for a fresh loaf of Hawaiian banana bread, breakfast is especially important before enjoying a full day in Kailua. Exploring one of the many world-class beaches or scenic hikes through the jungle calls for the proper fuel!
Start your day with Hawaiian classics like Loco Moco and Malasadas, or go with familiar American fares like scrambled eggs and hashbrowns. Whatever your early morning preferences, Kailua has a breakfast option for you.
Over Easy is a classy but casual brunch restaurant, highly praised on TripAdvisor, Yelp, and Google. Between the fluffy pancakes, custard-filled french toast, and locally roasted Chadlou's coffee, there is always a wait to be seated, so get there early! We recommend pairing the Caprese Avocado Toast with a Mango Mimosa for ultimate island brunch vibes. Address: 418 Ku'ulei Rd Unit 103 Kailua, HI 96734


View this profile on Instagram

Donut King. Who doesn't love donuts? Donut King has been hand-making donuts in Hawaii for over fourteen years, so you could say that light and fluffy deliciousness is their specialty. Fall in love with a craft donut such as classic glazed or maple bacon at Donut King. Address: 609 Kailua Rd Ste 125 Kailua, HI 96734

View this profile on Instagram

Moke's Bread and Breakfast have been an integral part of Kailua Town since two thousand-four. This local-owned breakfast joint aims to make everyone feel like part of the family. Moke's also takes pride in using exclusively Hawaiian-grown coffee, so you can sip with confidence, knowing your money is going right back into the local economy. Order the Loko Moco and get ready for a good day. Address: 27 Hoolai St Kailua, HI 96734



View this profile on Instagram

Boots & Kimo's Homestyle Kitchen. This family owned-and-run restaurant is an excellent breakfast place! They are known for their incredible macadamia nut pancakes that are light, fluffy, and filling. Boots and Kimo's menu has omelets, Portuguese sausage, Hawaiian ground coffee, and more! For fans of the Denver Broncos, the owner of Boots is friends with Pat Bowlen and has a ton of Broncos memorabilia around the restaurant. Address: 1020 Keolu Dr D1 Kailua, HI 96734


View this profile on Instagram

Coffee Shops/ Cafes

Did you know that Hawaii is the only US state that grows coffee? Sipping some espresso is one of the best ways to experience the islands!

We're proud to say, most of the spots on this list feature locally cultivated Hawaiian coffee beans. Tour Kailua via taste at one (or all!) of these cafes, coffee shops, and espresso bars.

Breweries/ Pubs

Oahu's windward shore has some of the best beaches on the planet, and there is no shortage of places to relax after a long day of sun, surf, and sand. Did someone say local brews and nightlife with a tropical flair? We're here for it.

Island life should be easy, so let us take away the guesswork. Here are the best breweries and pubs in Kailua.

Maui Brewing Company is the go-to option for trying out a beer crafted right here in Kailua. This is Hawaii's largest craft brewery, so you can trust that their selection won't let you down. Pair your drinks with a mouthwatering pizza or burger (they also make a mean veggie burger) to be rewarded with the perfect blend of aloha! The Pineapple Mana and IPAs are always a reliable choice. Address: 573 Kailua Rd Kailua, HI 96734.

View this profile on Instagram




The Kailua Town Pub and Grill is Oahu's go-to for an English-style pub atmosphere. The menu ranges from American favorites like the classic burger to the English fish and chips, traditionally made with Samuel Adams beer batter. Residents know this is the place to relax, unwind and enjoy the evening. Address: 20 Hoolai St Ste 1100 Kailua, HI 96734.


View this profile on Instagram

Grace in Growlers. Searching for a fun environment where you can unplug, grab a beer, and play board games? Look no further; Grace in Growlers has you covered. Expect bright, airy ceilings, a relaxed ambiance, and a full menu of local brews, ciders, and craft sodas. Grace in Growlers is a must-stop when in Kailua Town! Address: 143 Hekili St #110 Kailua, HI 96734.



View this profile on Instagram

Dine-in

After a full day in Kailua's rugged and untamed nature, you may find yourself ready for a curated environment in town. Whether you're in the mood for a fine dining experience or a comfy, relaxed atmosphere that feels like home, Kailua has it.

These are the best dine-in options in Kailua, fit for any occasion.

View this profile on Instagram




Daiichi Ramen. If you are craving the tastiest ramen combos on the island, Daiichi Ramen is what you seek. This family-owned Asian restaurant has been serving the local communities since nineteen ninety-nine. Daiichi also has generous portions-the perfect comfort food option. Happy hour specials are from two-thirty PM to five o'clock PM. Address: 25 Kaneohe Bay Dr. Ste. 103 Kailua, HI 96734


View this profile on Instagram

Casablanca Restaurant. Casablanca is a Moroccan restaurant specializing in a prefix type menu, a five-course meal for a fixed price. The decor transports you to the middle east, with Moroccan-inspired scenery, including low tables and couches, fabric ceilings, and intricate tapestries on the walls. In true Moroccan fashion, you'll be eating with your hands! Casablanca is only open from six o'clock PM to eight-thirty PM, and your meal will take that whole time, so plan accordingly and always make reservations. No alcohol is sold here, but you can BYOB. Address: 19 Hoolai St Kailua, HI 96734

Local Favorites

It's no secret that Hawaiian culture is rich in tradition, and many families on the islands have made the same dishes for generations.

The food must be truly superior for a restaurant to pass the local taste test. Once you've earned the approval of the Kupuna or town elders, the rest is a cakewalk! Here are some of Kailus's tried and true favorites, loved by residents and visitors alike.

Cinnamon's; Known for their delicious breakfast, Cinnamon's is a family-owned, local favorite, so expect a wait to be seated, especially on a bustling Sunday. You will fall in love with the light and textured pancakes, skillets, or famous crab cakes. Breakfast is served all day, and a takeout lunch menu is available from eleven o'clock AM to two o'clock PM. Address: 315 Uluniu Street Kailua, Hawaii 96734


View this profile on Instagram

Saigon Noodle House is where you go when you want yummy Vietnamese food at an affordable price. Their spring rolls are confirmed to be delicious! Conveniently located in the Enchanted Lake Shopping Center, Saigon Noodle House has become a staple of Kailua, the go-to for Pho and other Vietnamese classics. Address: 1020 Keolu Dr Kailua, Oahu, HI 96734
Hot Pot Heaven is your source for authentic Vietnamese hot pot meals in a comfortable, sit-down atmosphere. Meals at Hot Pot are made uniquely for you- as in you choose the broth, protein, veggie, starch, and sauce that you prefer to make a personalized meal. Just as exciting, the meals are made fresh at your table, right in front of you! Address: 201 Hamakau Dr Ste A-102 Kailua, HI 96734
Aloha Salads. Since two thousand-six, Aloha Salads has been serving major Aloha in the form of locally cultivated Hawaiian fruits and vegetables, gourmet meats and cheeses, and delectable homemade dressings to suit every occasion. Aloha Salads exclusively uses ingredients that come directly from the island, so you don't want to miss this fresh, healthy option for lunch or dinner. Address: 600 Kailua Road #103 Kailua, HI 96734

View this profile on Instagram




Nico's Kailua offers the best poke and freshest seafood plus local fare, late lunch, sandwiches, and salads. Expect Pacific Rim Cuisine, homemade sauces, dips, and craft cocktails. Catch live, local music six days a week—Hawaiian, blues, and acoustic. Nico's is on the water of the Kawainui Canal, which adds a casual, relaxed space where you can watch canoes glide by. Address: 970 N Kalaheo Ave Kailua, HI 96734

View this profile on Instagram




Zippy's is a family-owned and operated restaurant serving Kailua for over fifty years! They are best known for their malasadas (traditional Hawaiian breakfast similar to a fried doughnut with cinnamon and powdered sugar) and hearty comfort food such as soups, stews, and chilis. From family dinners to post-surf-session munchies to romances sparked, Zippy's is where Kailua comes to eat and create lasting memories. Address: 44 Oneawa St, Kailua, HI 96734

View this profile on Instagram


Food trucks and Counter Service

Nothing says 'easy island living' quite like enjoying good food and watching the sunset beyond the waves. From hiking, shopping, and beaches, Kailua has some of the 'world's best,' and food trucks are no exception.

Here are the best food trucks and counter service joints to grab a quick bite in Kailua:

Leilani's Island Taco's are a food truck favorite! Arriving at the food truck scene in two thousand seventeen, Leilani's serves some of the spiciest bites on the island. They source local ingredients, and everything is made-to-order, including the homestyle sides. Large portions and diverse flavors make Leilani's Island Taco's a must-visit! Address: 167 Hamakua Drive Kailua, HI 96815



View this profile on Instagram

Maria Bonita Lunch Wagon is a food truck known for serving up some of the best Mexican food on the windward side of Oahu! The chicken chimichanga and enchiladas are incredible, and the rice and beans are somewhat of a Kailua legend. They specialize in high-quality food, served with a trendy, social media-worthy presentation. Address: 50 Kihapai St Kailua, HI 96734

View this profile on Instagram

Maui Taco. Think traditional Mexican food, but with a tropical flair full of classic Hawaiian flavors- this is Maui Tacos. The fish tacos are always a big hit at this counter-service joint, but you'll also find vegetarian options, such as veggie tacos or fajitas. On Taco Tuesdays, Maui Tacos quickly fills up with locals, so prepare for a wait. Address: 539 Kailua Rd #102, Kailua HI 96734



View this profile on Instagram

Mahaloha Burger was breathed into existence by local Hawaiian Jesse Aguinaldo. He envisioned opening up a burger joint that serves only grass-fed beef and fresh, natural, ingredients without breaking the bank. Mahaloha also specializes in island-style hotdogs, Pau Hana Pupu's, and fries with a Hawaiian touch. Address: 143 Hekili St Ste 150, Kailua, HI 96734

View this profile on Instagram




Nalu Health Bar and Cafe is a sandwich shop that specializes in juice blends, acai bowls, and wraps. They pride themselves on using fresh, organic, and locally sourced ingredients, and we can see why- order the 'Cool Me Down,' on a hot day. They have beautiful murals on their walls, perfect for a fun photo. Nalu Health Bar is an excellent stop for a quick bite to eat or meet up with a friend! Address: 131 Hekili St Ste 109 Kailua, HI 96734

View this profile on Instagram




Paniolos is a newer restaurant dreamed up by the same owners of Aloha Salads. Savor Big Island grass-fed beef, Hawaiian-grown fruits, homemade beans, salsas, and guacamole. Choose between a burrito, tacos, or a bowl, and pick all the fillings to suit your taste, for a completely customizable experience. Address: 600 Kailua Rd #104 Kailua, HI 96734



View this profile on Instagram

Uproll Cafe is an unpretentious little space with a thoughtful and minimalist design that primarily serves sushi burritos and bowls. You can also order a Kona coffee, check your email with the free wi-fi and stay awhile. Uproll also has a small gift shop corner with a few beach essentials plus a painted mural. Address: 665 Halekauwila St C101 Honolulu, HI 96813

View this profile on Instagram

Steak Rave may throw you off, as it's a hole-in-the-wall steak place, but don't be fooled; their food is outstanding. Significant portions and affordable steaks are cooked to perfection and sprinkled with juicy spices. Do you hear what I hear? Steak Rave serves the best cheap eats! Address: 49 Oneawa St, Kailua, HI 96734
Sweet Treats
Hawaii is a sweet land, blessed with pristine beaches and unspoiled nature. But another sweetness pervades Kailua- infinite dessert possibilities!
When dreaming of tropical treats, think of blends of Coconut, Pineapple, Banana, Guava, and other locally grown ingredients. Shaved ice, Haupia, or Butter Mochi make the perfect companions for a sunny day at the beach. Here are the best options for dessert in Kailua:
Lanikai Juice Founded in nineteen ninety-seven, Lanikai Juice Hawaii is a health food and juice joint that serves smoothies, fruit bowls, freshly squeezed juices, and cold presses. The Pitaya Bowl and Monkey Bowl are a hit with every crowd! Make Lanikai Juice your stop when looking for something sweet and cold to take to the beach on a hot day. Address: 600 Kailua Rd Kailua, HI 96734
View this profile on Instagram
Nene Goose Bakery is one of Kailua's hidden gems, often missed by tourists but much adored by locals. This mom-and-pop bakery is known for their in-house breads made daily, apple turnovers, brownies, and other baked favorites. When you're in the mood for sweet treats and comfort bread, you're looking for Nene Goose Bakery. Address: 1090 Keolu Dr Ste 111, Kailua, HI 96734
Banán turns Hawaiian-grown bananas into plant-based frozen goodness. Expect locally grown ingredients and a craftsmen's touch to create a yummy dairy-free, plant-based dessert. Think of a combination of a smoothie bowl and fo-yo! Banán's signature is Banán's topped with strawberries, papaya, pineapple, puffed quinoa, shaved coconut, and honey…need we say more? Address: 609 Kailua Rd. Kailua, HI 96734



View this profile on Instagram