The Ultimate Guide to Building an ADU in Hawaii
Posted by Koa Cassady on Friday, December 23, 2022 at 10:24:49 AM
By Koa Cassady / December 23, 2022
Comment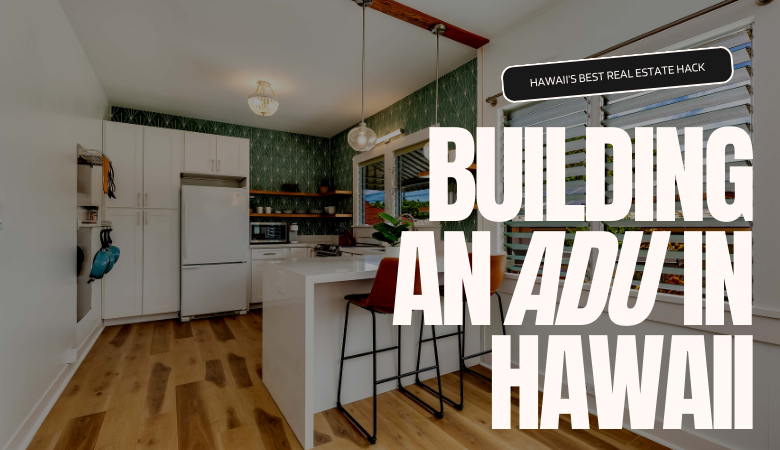 Page Guide: Types of ADU's | Benefits | Eligibility | How to Build an ADU | FAQ's | Inquire
Hawaii ADU's | Tiny Homes, Big Rewards
Building an ADU, or accessory dwelling unit, in Hawaii can be a great way to add additional living space to your property while also potentially increasing its value. An ADU is a small, separate living space that is built on the same lot as a single-family home. They can be used as a rental property, a place for aging family members to live, or as a home office or studio space.
ADU's provide a means for Hawaii residents to have legal 2nd dwelling on their property either by converting an existing non-conforming space or Ohana unit OR building a brand new unit from scratch. Hawaii ADU's come in many shapes and sizes ADU's can be used as rental units or they can be converted into a family home. There are many different types of ADU's on the market such as guest houses, casitas, in-law quarters and granny flats. The state of Hawaii has become more progressive in recent years and has allowed more housing options to come available to home owners. This includes granny flats, mother-in-law quarters, and cottage homes
My Own Hawaii ADU
In 2018, I used an ADU permit to converted an "Ohana Unit" on my Kailua home into a 616sq ADU. This allowed me to add a full kitchen instead of the wetbar which increased the functionality and desirability of the home. I actually lived in this unit with my wife and daughter while renovating the main home in the back of the property and when that was finished, we moved into the main home and rented the ADU for $2200/mo -- a huge benefit to our financial situation! Here's a few of the pictures below: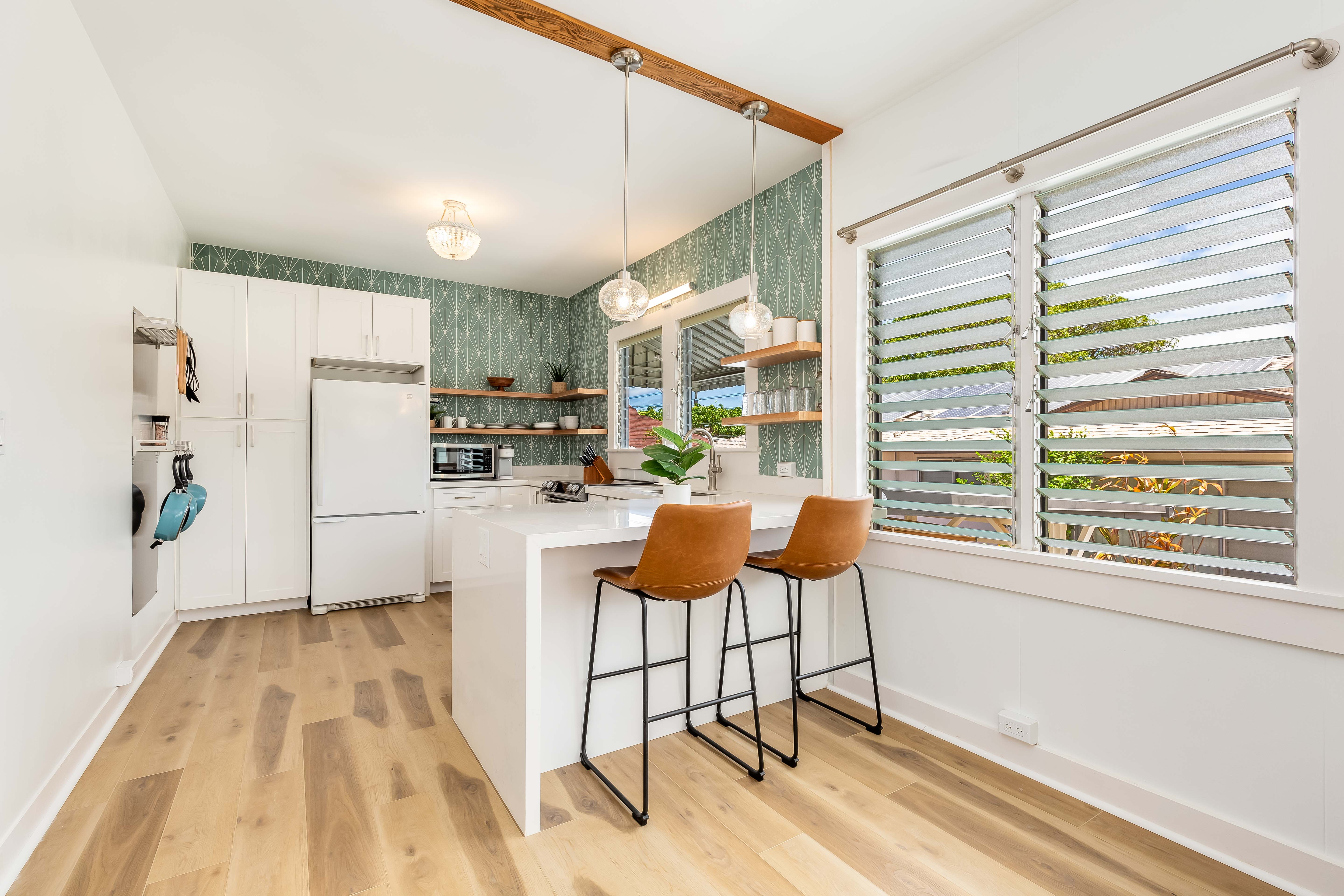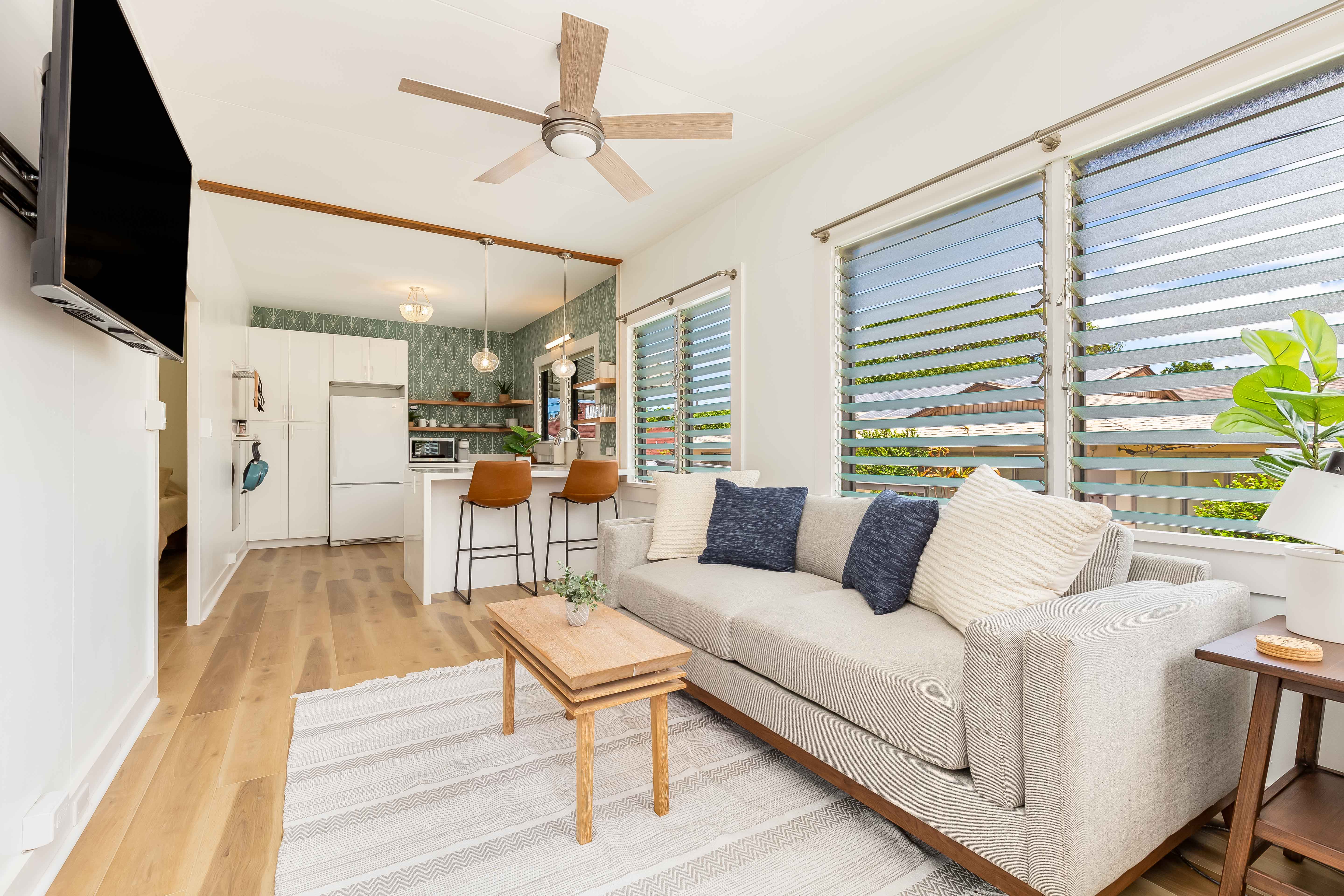 Types of ADU's
Hawaii ADUs come in many different sizes, floor plans, and orientations. It may be attached to your home or serve as a completely detached structure. Another purpose of the ADU designation was to provide homeowners an opportunity to convert any non-conforming illegal 2nd dwellings into legal 2nd dwelling units with full kitchens, bedrooms, and bathrooms.
Benefits of Building an ADU in Hawaii
In recent years, ADUs have gained popularity as a way to add additional living space to a property, particularly in areas where land is at a premium. ADU's have especially caught fire given the Tiny Home movement of late, inspiring millions across the nation to live simpler, more sustainable lives.
I'm often asked about building Tiny Homes in Hawaii, with most wishing to construct their own DIY versions or build them on trailers but unfortunately, the ADU process is the only legal means of constructing a Hawaii tiny home at the moment without risks of fines or removal. Aside from trendiness and minimizing your carbon footprint, Here are some of the other benefits of building an ADU:
Extra income: An ADU can be rented out to generate additional income, which can be a financial benefit for homeowners. Before looking into purchasing an investment property in Hawaii, give some thought to building an ADU. Since you already own the land, you've removed the most expensive part of the real estate acquisition which means the only barrier between you and some new passive income is the cost to build. This is why building an ADU is one of the best strategies for investing in Hawaii real estate.

More space for loved ones: An ADU can provide a comfortable and private living space for relatives or friends who are visiting or need a place to stay.

Flexibility: An ADU can be used for a variety of purposes, such as a home office, a studio, or a rental unit. This flexibility can be beneficial for homeowners who have changing needs.

Increased property value: Adding an ADU to your property can increase the value of your home, particularly in areas where demand for housing is high. Hawaii properties with legal 2nd units are intensely popular due to the flexibility and income opportunities. Should you ever choose to sell your property, you'll be happy you built the ADU!

Energy efficiency: ADUs can be built to be energy-efficient, which can lead to lower energy bills and a smaller carbon footprint.

Aging in place: An ADU can provide a comfortable living space for elderly relatives who want to maintain their independence, while still being close to family.

Affordable housing: In areas with high housing costs, ADUs can provide a more affordable housing option for renters.
ADU's in Alleviate Oahu Housing Shortage & Affordability
The island of Oahu has been facing a housing shortage for some time now. According to data from the Hawaii State Department of Business, Economic Development, and Tourism, the median price for a single-family home on Oahu in 2023 has risen to $1,100,000 for single familly homes and $500,0000 for condos.. This represents a significant increase from just a few years ago, when the median price was around $750,000.
One of the main factors contributing to the housing shortage is the limited availability of residential land for Oahu new homes construction. Oahu is a small island with a relatively high population density, which means that there is not a lot of available land for new housing developments. As a result, developers have been struggling to keep up with the demand for new homes.
To address the housing shortage on Oahu and relieve some of the pressure on the cost of living in Hawaii, there have been a number of initiatives put in place by local and state officials. Most of these efforts are geared towards increasing the supply of for sale housing through new construction and the development of below market priced homes offered under Honolulu Affordable Housing guidelines. In addition, there have been efforts to encourage more people to live in multi-family dwellings, such as apartments and condos, in order to reduce the demand for single-family homes.
The housing shortage on Oahu has had a number of negative consequences for residents and visitors alike. Many people are finding it difficult to afford the high cost of living in Hawaii, namely housing, and many tourists are struggling to find affordable accommodation. The shortage has also led to increased competition for rental properties, with many people competing for the same units, which highlights the importance of allowing ADU's on existing residential properties. ADU's provide a direct benefit to the Hawaii rental market which has seen signficant upward pressure over the last few years.
Despite these efforts, the housing shortage on Oahu remains a significant issue, and it is likely to continue to be a challenge for the foreseeable future. It will require continued efforts from both public and private sector organizations to address the issue and ensure that everyone who wants to live on the island has access to affordable housing.
Eligibility
ADUs are governed on the island of Oahu by the City and County of Honolulu's Department of Planning and Permitting (DPP), which gives permits for their construction. There are eight major regulations that must be followed in order to create one of these complementary tiny homes:
The following zones must apply to your lot: Country District: R-3.5, R-5, R-7.5, R-10, and R-20
The minimum size of your property is 3,500 square feet. An ADU of 400 square feet can be constructed on lands that are 3,500 to 4,999 square feet in size. An ADU with a dwelling area of 800 square feet can be constructed on lands with 5,000 square feet or greater. If you have the space and a larger unit won't encroach on your enjoyment of your property, then I definitely recommend maxing out the ADU size. You never know how/when life will change for you or your family. Perhaps YOU will want to occupy the ADU space in the future and offer your main home for rent. The other consideration would be if the city one day decides to limit the size of ADU footprints which could prohibit you from adding onto it in the future.
On your land, there must already be one finished house. On lands where there are already duplexes, apartments, or more than one house, an ADU cannot be constructed.
Your lot must at least have a driveway connecting it to a road; otherwise, your lot cannot be landlocked. Another option for this driveway is an easement through a neighboring lot.
Within the parking spaces of the lot, you must have room for one more off-street parking space. If your lot is less than half a mile from a proposed Honolulu Transit Rail stop, this condition is waived.
After the ADU is built, the landowner or a member of the landowner's family must reside on the property, either in the primary residence or the ADU. Non-family members may rent the ADU as well but must be designated as the "Manager" of the property.
On your lot, there can be no covenant limitations that forbid an ADU. A homeowner's association (HOA) may forbid the development of ADUs if you reside in a planned master community, such as those in Ewa by Gentry Community Association. A quick title search from a local Title & Escrow Company can help you discern this.
Once you have finished building the ADU, you will be required to file an Affidavit with the State of Hawaii's Land Court or Bureau of Conveyances acknowledging that the ADU and the lot cannot be separated into two distinct properties or sold separately. The ADU is allowed on the land since it is an ancillary building to the main structure.
How to Build an ADU in Hawaii
ADU Precheck Form
One of the first things you will need to consider when building an ADU in Hawaii is the location of your property. In order to build an ADU in Hawaii, you must own a single-family home or a duplex on a single lot. The ADU must also be located on the same lot as the primary residence and cannot be built on a separate lot or in a commercial or industrial zone.
Whether your neighborhood can support the construction of an ADU will depend on the results of an ADU Precheck (below). This form is submitted to the Honolulu Department of Permit and Planning and will be used to determine if your neighborhood and lot conforms the zoning, size, parking, and sewer capacity needed to achieve ADU Approval.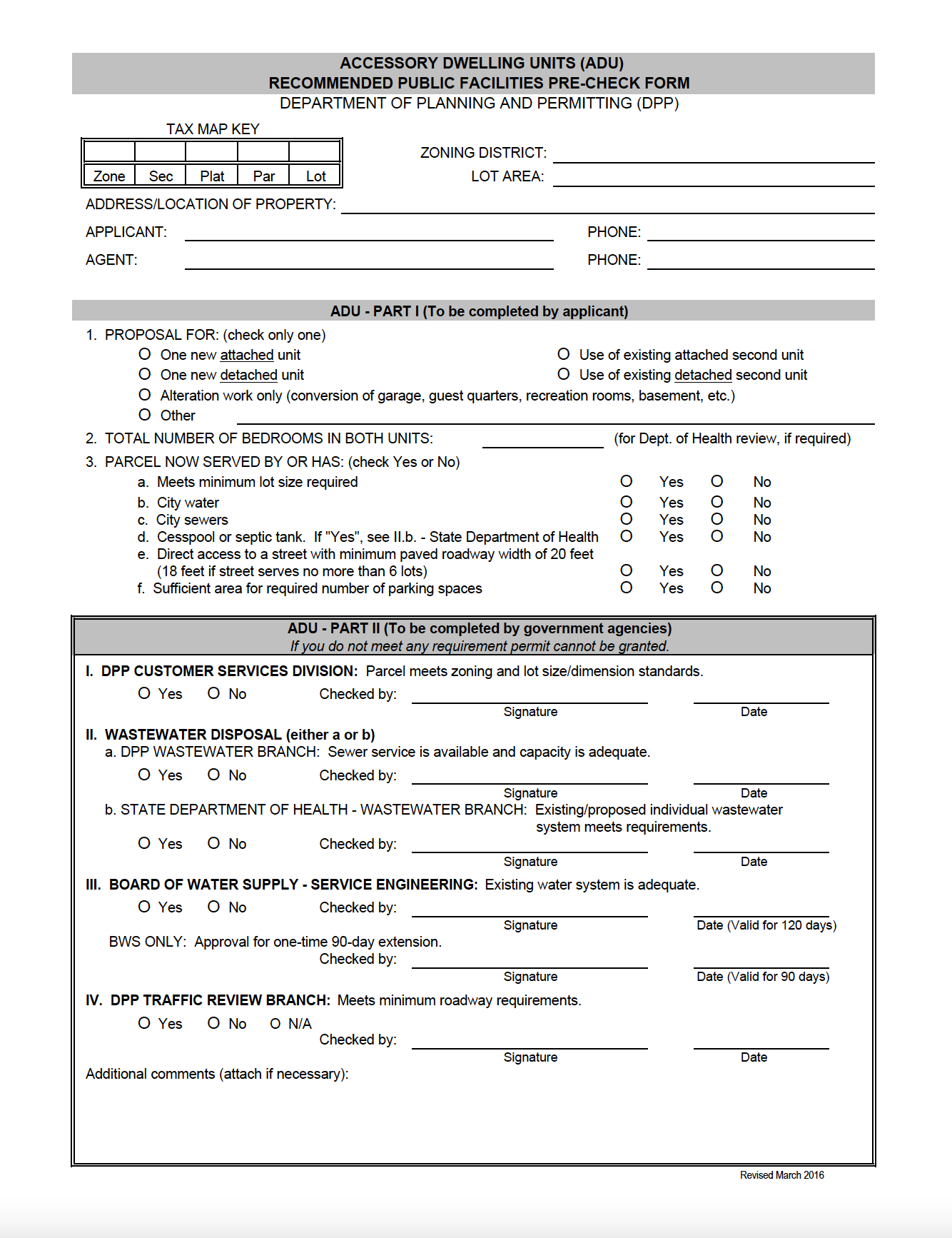 Hire An Architect or Draftsman
Next, you will need to consider the size and design of your ADU. In Hawaii, ADUs are typically limited to a maximum of 800 square feet, although there may be some exceptions for properties on larger lots. You will also need to ensure that your ADU complies with all local zoning and building codes, including requirements for things like setbacks, height, and parking.
Hiring a good architect or draftsman can help you streamline the planning, design, and permit process. They do all the heavy lifting for you by creating drawings or that best reflect your floor plan and design wishes; combining your imagination with their own to put "plans" on paper that will be used to inform your Contractors on how and what to build.
ADU Kit Homes
There are a few of vendors on island like Hardware Hawaii & Honsador that provide ADU Packages that include templated plans, designs, pre-fabricated home kits that include all necessary construction materials. These can be a great budget friendly option for those who require very little customization.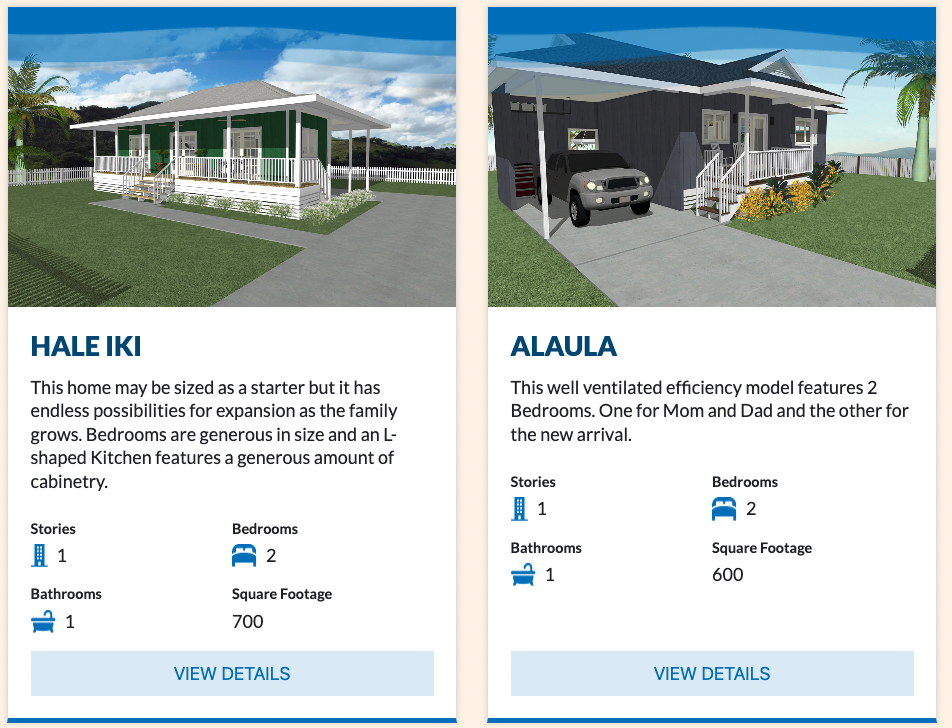 Apply For a Permit
Once you have a clear idea of what you want your ADU to look like and where it will be located, you will need to apply for a building permit. This process will typically involve submitting a detailed plan of your ADU, along with any necessary supporting documentation, to the local building department. The building department will review your plans and may request changes or additional information before issuing a permit.
Hire A Contractor
Talk to your architect about acquiring bids to construct your ADU. I recommend starting these conversations as soon as you have a set of preliminary drawings or renderings of what you intend to build. Acquiring construction bids and interviewing contractors can take place before you receive your final set of plans and your approved permit.
You approved permit is just needed to start construction. Once you have your building permit in hand, you can begin construction on your ADU. It is important to keep in mind that building an ADU in Hawaii can be a complex and time-consuming process, so it is a good idea to be patient, yet efficient, working closely with your architect and contractor to ensure that your project is completed timely and to your satisfaction.
Design the ADU with Future YOU in Mind
Think about the future: If you're building an ADU with the intention of renting it out, it's important to consider the long-term viability of the rental market in your area. You'll also want to think about the future use of the ADU, whether it be as a rental property, a home office, or a place for aging family members to live.
Building an ADU in Hawaii can be a rewarding experience, but it's important to do your research and plan carefully before starting the project. By following these tips, you can ensure that your ADU is a success and a valuable addition to your property.
Hawaii ADU FAQ's
What is an ADU?
An ADU or Accessory Dwelling Unit is a means of adding or converting an existing space of your Hawaii home into a legal 2nd dwelling unit of no more than 800sq.
How much does it cost to building an ADU in Hawaii?
Construction costs depend on many factors including size, finishes, construction demand, and flucuating materials costs. To ballpark it, plan on spending between $250 - $300/sq which tends to be the general consensus on the average cost to build a house in Hawaii.
Can I rent my ADU on Airbnb?
The Honolulu ADU program is rooted in creating more affordable living options for Hawaii residents which makes operating an Airbnb from your ADU a big no-no in the eyes of the City. If you're interested in buying an Airbnb in Hawaii, visit our comprensive Investor's Guide to Hawaii Airbnb.
Can I have more than one ADU on my property?
Unfortunately not!
Can and ADU be attached to my home?
Yep! It may be a detached standalone unit as well.
Who can live in the ADU?
The property owner, family member, or renter.
Do ADU's increase the value of my home?
Absolutely. Not only will your home value benefit from the added square footage, the sheer presence of a legal second dwelling will increase the desirability and the amount the average buyer is willing to spend for a home. Two is better than one, right?
Need a Recommendations for a Hawaii licensed contractor or acrhitect to start your project? Inquire below!