Cost of Living in Hawaii in 2023 | Hawaii Real Estate & Rentals
Posted by Koa Cassady on Friday, January 6, 2023 at 11:38:06 AM
By Koa Cassady / January 6, 2023
Comment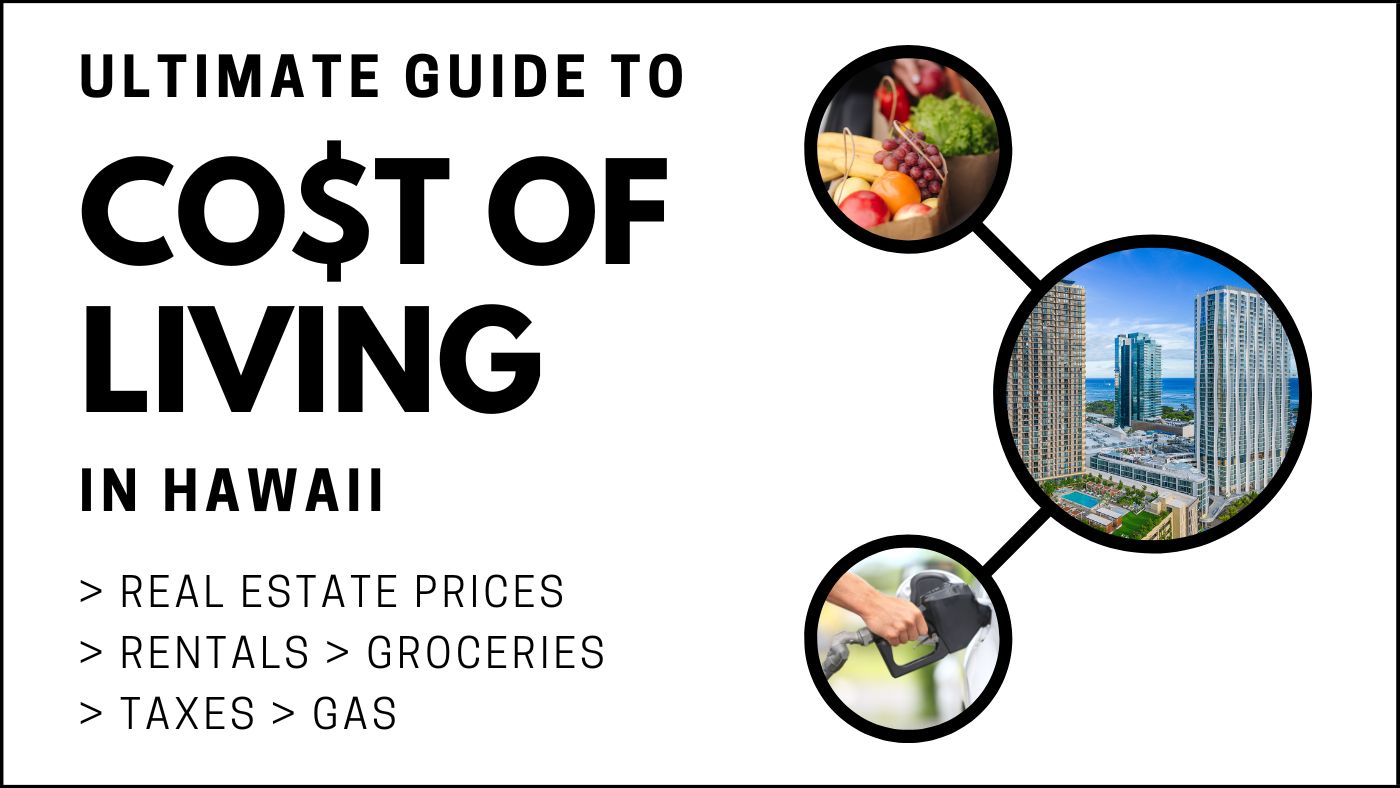 Hawaii Cost of: Homes | Rent | Gas | Groceries | Taxes
There are few places in the world that share quite the same brand recognition as Hawaii does except for maybe New York City, London, Paris, Los Angeles, and other iconic destinations made popular by historic culture or Hollywood. I think it's safe to argue that if "Name The Top Vacation Destinations" or "Name A Place You Would Live if Money Were No Object" were Family Feud questions, "Hawaii" would roll off the tongue most frequently.
That being said, it's no secret why Honolulu is often ranked in the Top 3 Most Expensive Cities in the U.S. According to a study by the Missouri Economic Research and Information Center in 2019, Hawaii has the highest cost of living in the nation with an index of 191.8. The national average index was set at 100 and Hawaii absolutely crushed it with the closest 2nd being the District of Columbia at an index of 159.
Hawaii is a trophy destination, a never-in-a-lifetime or once-in-a-lifetime experience for too many. Some calculations suggest that the average Hawaii trip cost per person is roughly $1,899 a week for fun in the sun. Idyllic white sand beaches, mountainous backdrops, and the crystal blue Pacific Ocean are things of post cards and hard for some to imagine as every day lifestyles. Trust me when I say I wouldn't trade it for the world, but that doesn't mean there aren't concessions to be made.
So if you have ever wondered, "what is the cost of living in Hawaii?" allow me to break it down for you but from the perspective of a Missouri-born Hawaii transplant. I've run the spectrum of being born and raised in the 3rd cheapest state in the nation to starting a life, family, career, and real estate estate investment portfolio in one of the most expensive. I'll cover the dollars and cents on the topic but to close it out, I think it's responsible to shine light on the intangibles; the true costs of living in Hawaii and how it sees some local families brought together, or if you're family is like mine, how it pulls some apart.
How much does it cost to live in Hawaii
Studies have the cost of living in Honolulu requires residents to have an income of $200,000+ are required to live comfortably in the state's capital. This is subjective of course, but according the U.S. Census, Honolulu's median household income was around $80,000 in 2019. Subjective or not, that's a pretty wide delta and it shows that many Honolulu residents aren't living very comfortably. According to a study by Payscale.com, the cost of living in Honolulu, Hawaii is 88% higher than the national average with housing clocking in at 202% higher than the national average.
What is considered low income in Hawaii?
In 2020 the U.S. Department of Housing and Urban Development (HUD) concluded that "low income" for an individual living on Oahu is considered $93,000. That's a staggering considering it's nearly double the national average income of a full time salary earner is around $48,672.
What is state income tax for Hawaii?
Compared to the national average, Hawaii's top income tax rate of 11% is high but the state also has the lowest effective property tax rate of just .27% annually. There is no literal state sales tax but businesses must may a 4% general excise tax on all business activities, plus an 0.5% override for Honolulu County. Below are the Hawaii income tax brackets for Single Filers and Married Filing Jointly. Click here For Married, Filing Separately and Head of Household.
Income Tax Brackets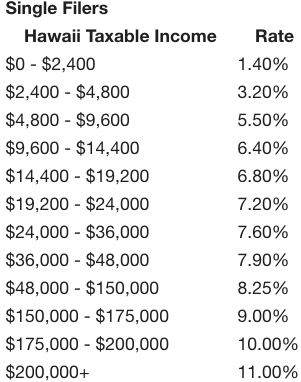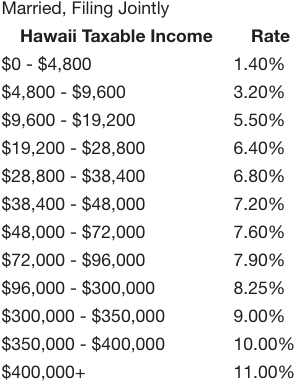 Everyday Expenses
Using the above scenario of a "low income" earner of $93,000 -- we'll compute their net wages using federal tax rate of 22% and the Hawaii income tax rate of 8.25% per the chart. The individual's net wages, after taxes, pencil out to $64,635 annually which equates to $5,386/mo for housing and everyday expense. Let's take a look at some of the every day expenses one can expect and see how the individual budgets out.

Hawaii Apartments
Rent prices for Apartments in Hawaii are some of the highest in the nation but how much exactly depends on which island you're on, and which side of each island you're on. Honolulu Apartments taking the prize of the highest in the state and this is due largely in part to their proximity to the business district and majority of the Honolulu jobs.
Here's the average rent to expect for apartments in Honolulu and/or single family home rents:
Studios | $1,000 - $1,300
One-bedrooms | $1,400 - $1,700
Two-bedrooms | $1700 - $2,100
Three-bedrooms | $2,100 - $2,600
These are mere average ranges and these numbers can fluctuate significantly depending on the presence of ocean views or proximity to the ocean. Here's the top 10 most expensive apartments for rent in Honolulu to give you some context.
The Big Island of Hawaii sees substantially lower rent prices than Honolulu rentals and this is again attributed to the amount of commerce, jobs, and proximity to jobs. Hawaii Island is much slower and much less dense in population and job opportunities which in turn sees less demand for rentals and homes for sale, hence the lower prices.
Average Home Price in Hawaii
It's important to point out that each island of Oahu has it's own unique real estate market and median prices. According to resales figures released today by the Honolulu Board of REALTORS®, 2022 data shows single-family home sales on Oahu island fell 23.2% and condos declined 11.8% compared to 2021. As inflation and interest rates continued to skyrocket, Hawaii home prices in 2023 will start the year at $1,105,000 and $510,000 for single-family homes and condos, respectively. Both increased from January 2022.
Given the lack of affordability and adequate housing on Oahu, residential developers have been flocking to the islands to capitalize on the demand. Neighborhoods like Kakaako and Ala Moana have seen developer erecting New Honolulu Condos for the last 6-7 years. Developers are also entrenched in the West Oahu neighborhoods of Hoopili and Koa ridge that will see nearly 15,000 Oahu new homes over the next 15 years. Rumors of a development named Makaiwa Hills in Makakilo may add another few hundred as well.
Hawaii Electricity
The average cost of electricity in Hawaii runs about $50/mo higher than the national average. The average electricity bill in Hawaii of $342/mo pins the Hawaii electricity cost at the highest in the nation according to the U.S. Energy Administration.
How Much is Gas in Hawaii?
Gas prices in Hawaii largely depend on what island you're living on. The island of Hawaii gas prices hover around $5.30/gallon in 2023 with the average gas prices in Honolulu, Hawaii around $4.90/gallon.
Groceries in Hawaii
You'll be hard pressed to find a wider variety of groceries anywhere in the world compared to Hawaii. Considering our geography of being halfway between the U.S. and Asia, as well as the tropical fruits native to the islands, Hawaii's food choices are abundant. Our geographical location also puts a steep price on groceries due to the costs of shipping them here. The aforementioned study done by the Missouri Economic Research and Information Center concluded that Hawaii groceries ranked 164.6 compared to the national index of 100. The closest 2nd was California at 119.3.
Often times we hear visitors gasp at the Hawaii price of milk that can reach heights of $8.99. If you live here, obtaining a Costco membership is imperative so you can buy in bulk to scale your costs down. Plan for average of $4.79.
The Local Perspective | How to make it
With the right perspective, days off from work as a Hawaii can feel like the vacation of dreams but we're still human and and it's easy to lose that perspective while being subjected to some of highest home prices in the nation, and some of the worst traffic in the nation(if you're on Oahu). I tell all of my clients, both locally and from abroad that maintaining a comfortable lifestyle in Hawaii requires intention, and lot of it. Applying intention to every dollar spent, every financial decision made, and every job you apply for is going to go a long way in determining if you can continue to comfortably live here, or if you will inevitably be "priced out of paradise."
I even goes as far as to suggest that people be extra intentional about their relationships; the words they say and the way they resolve conflict with their other halves. Sure I want people to have healthy relationships but if that's not incentive enough, then you should know that it's just good business in Hawaii. Your boss will never give you bigger promotion or demotion than what you can give yourself by securing or destroying a healthy relationship with another income earner.

Aside from the benefits of companionship, raising a family, and stability, the term "it's cheaper to keep her"(and vice versa) has never rang more true while living anywhere else in the United States. Two income earners working towards a common goal is a surefire way to "level up" your financial situation while living in Hawaii. If you're hoping to make it on your own here, make room in your pantry for ramen noodles and rice!