Hawaii BAH | How Much Will You Make in 2023?
Posted by Koa Cassady on Tuesday, September 5, 2023 at 3:25 PM
By Koa Cassady / September 5, 2023
Comment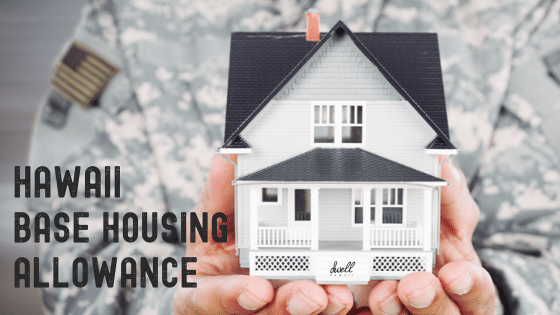 Jump to: 2023 BAH Rates | Pay Calculator | Neighborhood Tours | Hawaii VA Loans | Contact Us
What is BAH?
As a military service member in Hawaii, one of the essential benefits you receive is the Basic Allowance for Housing (BAH). This monthly allowance is designed to help you cover the cost of housing when government quarters are not provided. Whether you're new to the military or a seasoned veteran, understanding how BAH in Hawaii works and how it can benefit you is crucial for making informed decisions about your housing situation. In this comprehensive guide, we'll dive into the details of Hawaii BAH, including eligibility, calculation, and tips for maximizing your allowance.
Where to use your BAH in Hawaii
We understand Moving to Hawaii is a daunting task so to help, we've created numerous Oahu Neighborhood Video Tours where we share everything we know best about living in Hawaii, assimmilating to the culture, and understanding the differences and lifestyle of each community on Oahu. Below you'll find the hottest neighborhoods for Hawaii Military personnel; which are generally closest to Oahu Military Bases.
Eligibility
BAH is available to active duty military personnel, National Guard members, and Reservists on active duty for more than 30 days. The allowance is intended to cover housing expenses for service members and their families when government-provided housing is not available. In general, BAH rates are based on your rank, dependency status (with or without dependents), and duty station's zip code.
How BAH is Calculated
The Department of Defense (DoD) determines BAH rates annually based on extensive research and data collection. This includes surveys of local rental markets in areas where military personnel are stationed. The process takes into account the average rent and utilities for various types of housing, including apartments, townhouses, and single-family homes.
Three factors primarily determine your BAH:
Paygrade: Your paygrade or rank directly impacts your BAH rate. Higher-ranking service members receive a larger allowance to accommodate the higher standard of living often associated with increased responsibilities.
Duty Station: BAH rates are location-specific, reflecting the cost of living in the area surrounding your duty station. This means that service members stationed in more expensive regions, like Honolulu, receive a higher allowance than those in more affordable areas.
Dependency Status: The DoD considers whether you have dependents when calculating your BAH. Service members with dependents (spouses, children, or other qualifying family members) receive a higher allowance to account for the additional housing needs of their family members.
2023 Hawaii BAH | Types and Rates
There are two main types of BAH rates: BAH With Dependents and BAH Without Dependents. As the names suggest, these rates are determined by whether a service member has dependents or not.
BAH Hawaii With Dependents
This rate is higher and designed to accommodate the needs of a service member's family. It is important to note that the number of dependents does not affect the allowance – the rate remains the same whether you have one dependent or multiple dependents.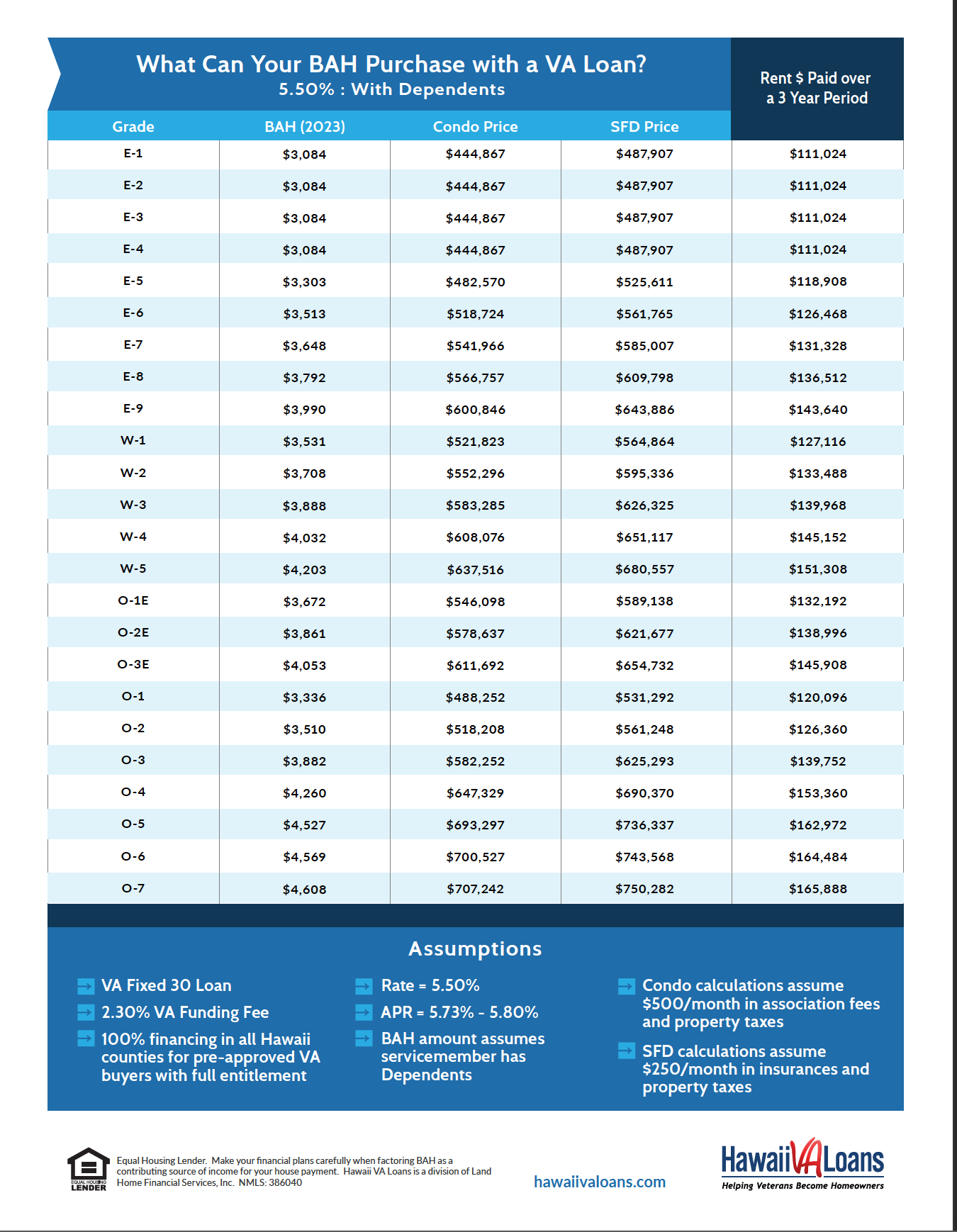 BAH Hawaii Without Dependents
This rate is lower and applies to service members who do not have any dependents. It is intended to cover the housing costs for a single individual.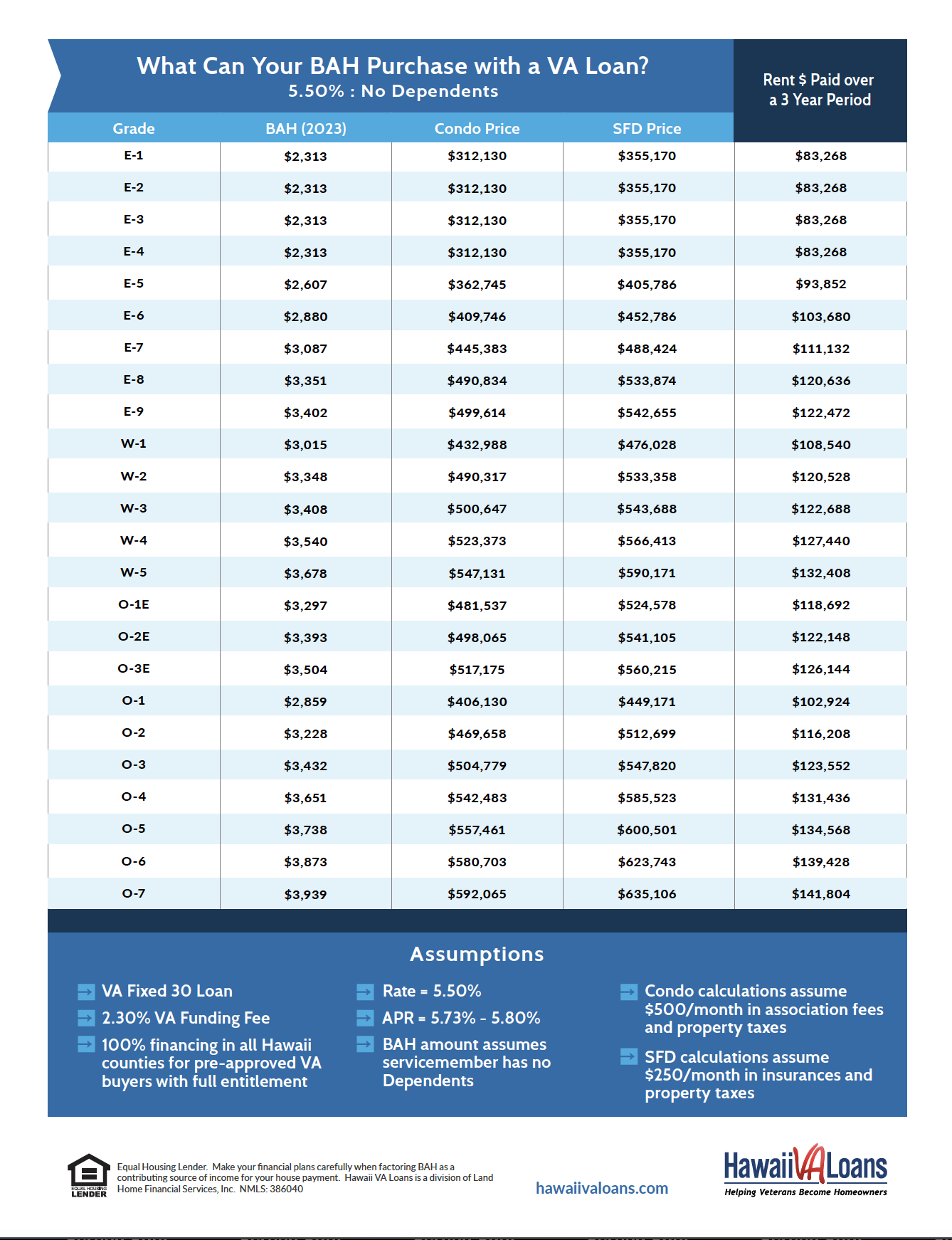 BAH is also subject to cost-of-living adjustments (COLA) based on fluctuations in local rental markets. The DoD typically adjusts BAH rates each year to ensure they remain in line with current housing costs.
Hawaii BAH Calculator
Curious how much you will make once you PCS To Hawaii? Use Zip Code 96789 to calculate for Honolulu County (Oahu Island) BAH rates and input your rank, years of service, number of dependents to determine your Basic Pay, Basic Housing Allowance (BAH), and your Basic Allowance for Subsistence (BAS).
Maximizing Your BAH in Hawaii
To make the most of your BAH Hawaii, consider the following tips:
Choose your housing wisely: While you are not obligated to spend your entire BAH on housing, selecting a rental property within your allowance range can help you avoid out-of-pocket expenses. Take the time to research the local rental market and find a place that meets your needs without exceeding your budget.

Budget for utilities: BAH is meant to cover both rent and utilities. Keep in mind that utility costs can vary greatly depending on the size, age, and efficiency of a property. When searching for a rental, factor in estimated utility costs to ensure you stay within your BAH limits.

Save for unexpected expenses: Set aside aportion of your BAH for emergencies or unexpected housing expenses, such as repairs or maintenance. Having a financial cushion can help alleviate stress and keep you prepared for any unforeseen circumstances.

Take advantage of military housing resources: Many military installations have housing referral offices that can provide valuable information on local rental markets and available properties. These resources can help you find a suitable home within your BAH range and ensure you're aware of any military-specific housing benefits or programs.

Consider roommates: If you're a single service member without dependents, sharing a rental property with a roommate can help you save on housing costs. By splitting rent and utility expenses, you can potentially live in a more desirable area or a larger home while staying within your BAH limits.

Reevaluate your housing needs periodically: As your career progresses and your personal circumstances change, your housing needs may also evolve. Regularly assess your living situation to ensure it still aligns with your financial goals and BAH limits. This can help you avoid overspending or living in a space that no longer meets your needs.

Understand your BAH rights as a tenant: Familiarize yourself with the Servicemembers Civil Relief Act (SCRA), which provides legal protections for service members in various situations, including housing. For example, the SCRA allows military personnel to break a lease without penalty if they receive orders to deploy or relocate. Knowing your rights can help you navigate the rental market more effectively and protect your interests.
Understanding your Base Housing Allowance is crucial for making informed decisions about your housing situation as a military service member. By familiarizing yourself with the eligibility requirements, calculation process, and strategies for maximizing your BAH, you can better manage your finances and find a living arrangement that suits your needs and budget. Remember to take advantage of military housing resources and regularly assess your living situation to ensure you're making the most of your BAH benefits.
What is COLA?
The Cost of Living Allowance is a non-taxable allowance purposed towards off-setting the costs of non-housing goods and services for higher priced areas both domestic and foreign. For more information on Hawaii COLA, use the Overseas COLA Calculator to select your location.
Hawaii Military Housing | Buy, Rent, or Stay on Base?
The answer to that question is going to be a very personal decision, unique to your situation. Oahu homeownership has historically proven to be very lucrative to Hawaii VA homebuyers, as average appreciation rates over the last 40 years pencil out to roughly 6% per year. Some choose to sell their homes at the end of their tours while many convert their homes to investment properties or future retirements homes, with plans to return to their island home.
Using your Hawaii VA Loan
If you're curious how your BAH applies to qualifying for a Hawaii VA loan, reach out to us. We'll connect you to VA mortgage specialist to help you truly understand the advantages of the VA loan and how much you qualify for.
As a military realtors in Hawaii, we encourage you to be thorough in your pursuit of housing on Oahu and strongly suggest sitting down with us so that we can equip you with all of our Oahu Real Estate Market knowledge so you can approach your renting vs. buying with confidence. Give us a call, text, email, or schedule a VA Homebuyer Consultation with us by filling out the form below.
Hawaii Base Housing Allowance FAQ's
How does basic housing allowance work?
Basic Allowance for Housing (BAH) is a U.S. military entitlement given to service members to help them with the costs of housing when they are not provided government quarters. It's based on the local costs of rental housing markets and varies depending on the member's pay grade, dependency status, and duty location.
How much housing allowance do you get in the military?
The exact amount of BAH a service member receives varies depending on their rank, whether or not they have dependents, and their duty station location. BAH rates are recalculated annually to reflect changes in housing costs in various locations.
Is BAH paid monthly or bimonthly?
BAH is typically paid monthly, along with the service member's regular pay.
Does housing allowance count as income?
For federal income tax purposes, BAH is not considered taxable income. However, it is counted as income when calculating loans or other financial services.
Who has the highest BAH rate?
BAH rates vary by location, rank, and dependency status. Typically, high-cost areas like San Francisco, New York City, or Honolulu might have some of the highest BAH rates.
How does BAH work when living on base?
If a service member lives in government-provided housing on base, they typically do not receive BAH. Instead, the housing is provided at no cost. If they are given the option and choose to live off base, they would then receive BAH to help cover their housing costs.
Does everyone in the military get a housing allowance?
Not everyone automatically gets BAH. Service members who live in government-provided housing do not receive BAH. It's typically those who live off base in the local community that receive the allowance.
What military branch pays the most?
All branches of the U.S. military follow the same basic pay scale, which is determined by rank and years of service. However, certain special pays and bonuses might be available in one branch and not in another based on job specialty or operational demands.
Can your wife live on base with you?
Yes, if you are married, your spouse can live with you on base in family housing if it is available. If on-base housing is not available or you choose to live off base, you will receive BAH to assist with housing costs.
Is the BAH increase permanent?
BAH rates are recalculated annually and can increase, decrease, or remain the same based on housing market conditions in a specific area. So, an increase one year does not guarantee rates won't decrease the following year.
Is basic housing allowance taxable?
No, BAH is not considered taxable income for federal income tax purposes.
Where is the lowest BAH?
BAH rates vary annually and by location. Typically, areas with lower costs of living will have lower BAH rates. You'd need to check the current BAH charts to see which location has the lowest rate for a given year.
Which branch of the military is hardest to get into?
This can be subjective and varies depending on specific job specialties and current recruitment needs. However, many consider the U.S. Air Force Academy or the U.S. Naval Academy to be among the most competitive entry points.
Which branch promotes the fastest?
Promotion speed can vary based on needs of the service, specific job roles, and performance of the individual. Historically, the Army and the Marine Corps have had faster promotion timelines in the earlier stages of a military career compared to other branches.
How much does a Navy SEAL make?
Pay for Navy SEALs is based on rank, time in service, and additional special pays for their skills and duties. They receive the same base pay as other service members of the same rank, but they can also qualify for various bonuses and special pays due to the demands and risks of their job.
What is the BAH trend for 2023?
BAH increased 14.3 in Hawaii in 2023.
Why is my BAH lower than it should be?
Several reasons could cause this discrepancy: clerical errors, changes in dependency status, or changes in duty station. It's essential to contact your finance or personnel office to clarify any discrepancies in your pay.
Schedule a VA Homebuyer Consultation