Ko Olina Beach Guide
Posted by Koa Cassady on Tuesday, December 20, 2022 at 9:24:11 AM
By Koa Cassady / December 20, 2022
Comment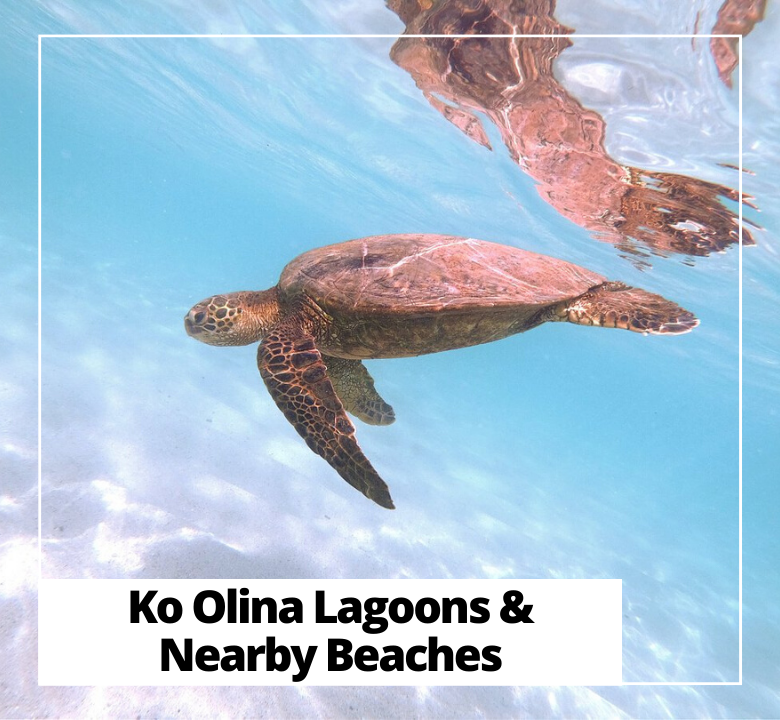 Photo: April S on Tripadvisor
Whether you are visiting the Ko Olina Resort or planning a move to Ko Olina, or are just in the area, beach culture is likely something that has crossed your mind. Especially since this community is located on the Western coast of O'ahu, the Ko Olina properties (and neighboring areas) have easy access to the ocean and great beaches. Whether you have young children or are in the mood to go snorkeling and paddle boarding, there is something for people of all ages and experiences- To learn more about the various lagoons and beaches in the Ko Olina area, check out our list below!
Ko Olina Lagoons
The most popular beaches in Ko Olina are the man-made lagoons lining the coast of the resort community that feature stunning light sands that surround clear, ultra-calm waters perfect for children and inexperienced swimmers. Due to the strategically-placed rock formations separating the lagoons from the greater Pacific Ocean, these waters receive very little to no wave activity and thus are incredibly relaxing and a reliable place for even children to play in. Green belts are placed between each lagoon and offer hundreds of trees for shaded lounging, picnics, or exercise. There's a jogging path that connects each lagoon; no bikes allowed but it's a dream for walking and jogging, or a nice jog/swim!
Even though these lagoons are associated with their respective resort properties, they do not require you to stay at the resort in order to utilize the beaches. In fact, each of these beaches has some form of public parking near the entrance of the beach, though you may need to pay a fee in order to park within the lots. These parking lots tend to fill up quickly due to the popularity of these lagoons, so it is recommended that you arrive early so you have the chance to grab a spot.
Ko Olina Lagoon 1 "Kohola" is attached to the Four Seasons Resort O'ahu and Disney Aulani Resort properties. Public Parking will be limited and whatever you do, don't park at the shopping centers. You'll get towed!
Ko Olina Lagoon 2 "Naia" is attached to the Beach Villas at Ko Olina, a luxury condominium building that allows for Hawaii Vacation Rental ownership.
Ko Olina Lagoon 3 "Nai'a" is attached to Marriott's Ko Olina Beach Club, a timeshare resort. The public is still welcome to this beach with added perk of Longboards; a beachfront restaurant bar that sits just off the walking path above the lagoon.
Ko Olina Lagoon 4 "Ulua": treated as a separate public lagoon that is instead attached to a parking lot and Ko Olina Beach Park. This lagoon will offer you the best shot at finding parking.
Honu Lagoon, Nai'a Lagoon, and Ulua Lagoon
, those being Kohola Lagoon, Honu Lagoon, Nai'a Lagoon, and Ulua Lagoon. Though three of these are attached to specific resort properties and often treated as part of those properties, . On the other hand, , Honu Lagoon is attached to the Beach Villas at Ko Olina, and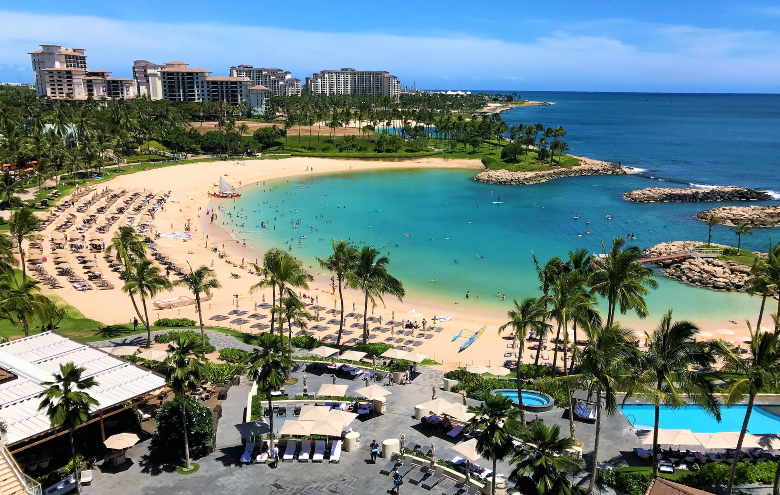 Photo: Turning Left For Less
Paradise Cove Public Beach
Though smaller than the main Ko Olina lagoons, Paradise Cove Public Beach is nonetheless a popular spot for spending time with family and is set up very similarly to its sibling lagoons. These waters are, like the other lagoons, protected by rock structures that break the crashing waves and allow the lagoon to be incredibly calm. In fact, Paradise Cove is a popular spot for sea turtles and monk seals to enter and rest, and many visitors to the beach note that they can be observed either by snorkeling in the lagoon (which is one of the most popular activities at this beach) or just watching them sleep on the sands. Although the sea animals may be friendly, please remember to give them as much space as possible and not feed them.
Parking has been noted by visitors to be very limited with around 12-15 spots dedicated to Paradise Cove, so keep this in mind when planning your trip.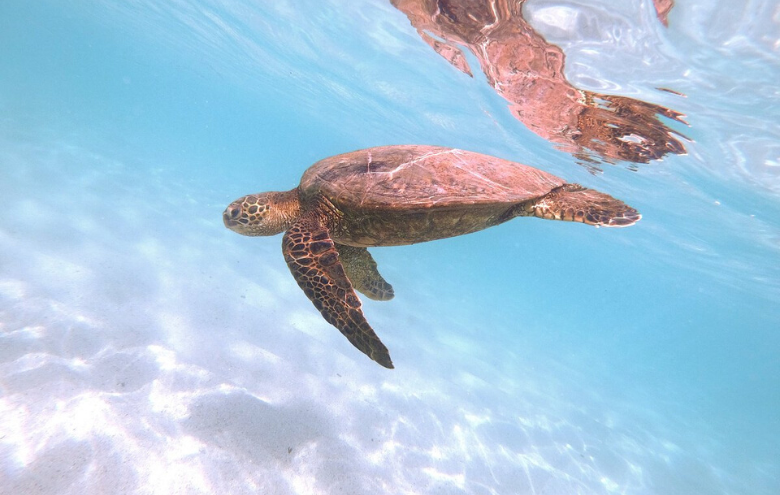 Photo: April S on Tripadvisor
Lanikuhonua Lagoon
Tucked away between Paradise Cove Beach and Kohola Lagoon is the last of the Ko Olina lagoons- Lanikuhonua Lagoon or the "Secret Beach at Ko Olina." This lagoon is a modest and quiet beach strip with a small body of water (once again protected by a rock boundary )hidden and requires you to take a "secret pathway." Thus is separated from the surrounding resorts and establishments. Lanikuhonua Lagoon is one of the most popular places on the island (especially for locals, who are often the only ones who know about this small beach area) to view the gorgeous O'ahu sunsets, as it features unobstructed views of the open sky. For those who are interested in escaping the noisier and busier main lagoon locations, this may be a spot worth looking into.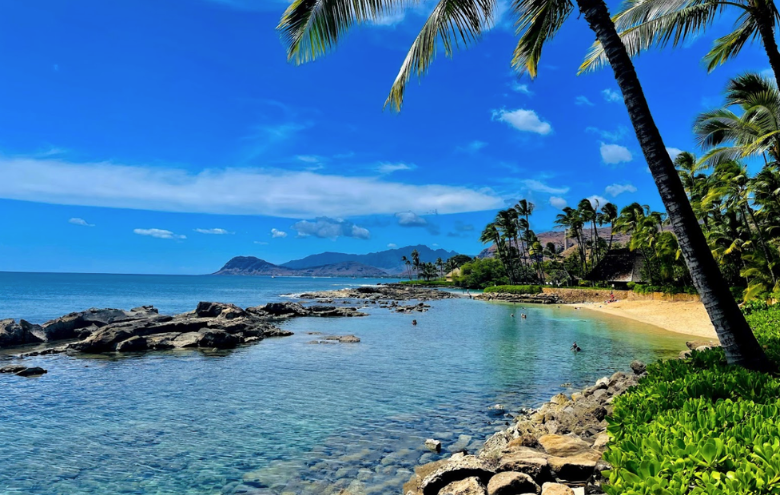 Photo: Tommy Famsworth on Google
Tracks Beach Park
Though not technically located in Ko Olina, Tracks Beach Park (sometimes referred to simply as Tracks) is located just North of the Ko Olina properties and is a long, narrow beach strip with open access to the Pacific Ocean. This is a beach popular for paddle boarding and swimming, given that there are more waves compared to the lagoons in Ko Olina. Something important to note about this beach, though, is the presence of rocks and reefs, which make it somewhat of a less child-friendly beach than the others in the area. However, these aspects make this beach popular for snorkeling as there can often be turtles and various species of fish swimming around the reef areas. Not to mention, due to the nearby electric plant, the water is warm.
Parking is relatively limited and there is only one public restroom facility with showers on the property, so keep this in mind if you want to visit this beach. Otherwise, this is a nice beach apart from the Ko Olina properties where you can swim, snorkel, have a picnic, and spend time outdoors.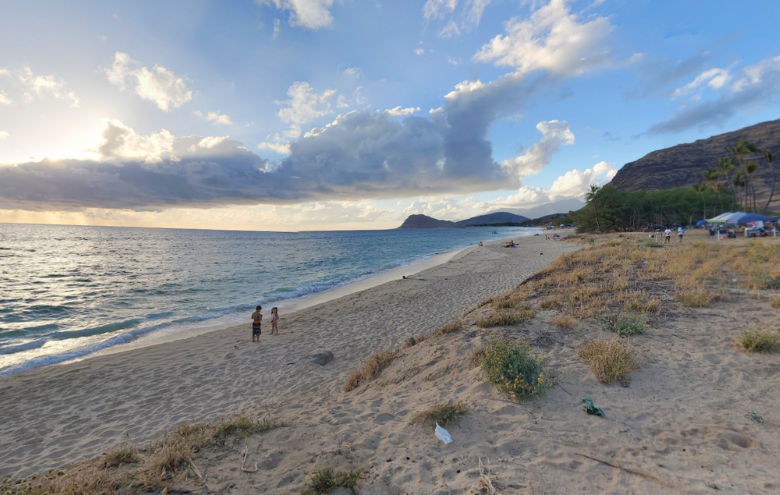 Photo: Google Maps