The Ultimate Guide to Living in Honolulu | Restaurants, Attractions, & Real Estate in 2021
Honolulu, Hawaii has also become synonymous with the hustle and bustle on Oahu, a stark difference from much of the rest of the island's more relaxed atmosphere. Honolulu traffic has then become the stuff of legend, with travel times predictably worse during morning and afternoon rush hours. It's important to note, however, that the Honolulu population - approaching 400,000 county wide - is nowhere near that of larger cities on the mainland like Los Angeles and New York City, both with very heavy traffic. Many residents who live in Honolulu also work in Honolulu, cutting commute times drastically, often to nearly nothing.
Honolulu itself offers easy access to the best of Oahu, from the Honolulu airport nearby to all the city has to offer, including beautiful beaches, hiking opportunities, and anything you'd need on the retail market. By living in the city, residents will also have more access to healthcare options, multiple stations of the Honolulu Police Department, and extensive offerings in the school system there. Whatever is on your Hawaii wish list, Honolulu likely has a solution for you. Honolulu is then an excellent choice for those seeking convenience and access to the island's amenities, and the population of Honolulu is quite happy because of it.
Where is Honolulu?
Honolulu is Hawaii's largest city. As the capital of Hawaii, Honolulu is often considered the gateway to the Hawaiian islands, and the first spot for visitors looking to get a taste of that Aloha spirit.
What island is Honolulu on?
Honolulu is found on the island of Oahu, and well-known for its tourist scene, offering a plethora of dining and shopping options, luxury hotels, and the famous Waikiki Beach.
Waikiki itself is known for being a mecca for surfers. Visitors see obvious evidence of that not only off the beach, observing the surfers riding the waves, but the prominent bronze statue of Duke Kahanamoku, considered the father of modern surfing. Kahanamoku was a Honolulu native and Olympian who grew up on all of the water sports available in Waikiki, including surfing, but also swimming and canoeing.
See all Honolulu Homes For Sale
See all Honolulu Homes For Rent
How Far is Honolulu From…
Honolulu International Airport (Daniel K Inouye International Airport) | 6 Miles | 10 Minutes
Pearl Harbor National Memorial | 9 miles | 16 Minutes
North Shore | 27 miles | 36 Minutes
Polynesian Cultural Center | 32 miles | 56 Minutes
All of the above driving times suggest ideal traffic conditions. Honolulu traffic is known to be some of the worst in the nation
What Does Honolulu Mean in English?
The word "Honolulu" translates to "sheltered harbor" or "calm port." As the gateway to Hawaii from the mainland, Honolulu is certainly an important port, and major international business center for the United States and worldwide.
Weather in Honolulu
As with the rest of the Hawaiian islands, Honolulu has nice weather year round. The coldest month of the year is February, where temperatures dip to a comfortable 65 degrees on average. The warmest month is August, with average temperatures approaching 89 degrees. The rainy season is November through March, although residents still enjoy many sunny days within that time frame. Honolulu weather is then quite ideal. Even those rain storms are welcome, as they keep the island's green spaces lush and vibrant.
Honolulu Time
This isn't a reference to taking one's time while on the island, but to answer any time zone questions around "What time is it in Honolulu?" Honolulu's time zone operates under Hawaii Standard Time. The time in Honolulu is not dependent on daylight savings time, however, as the state overall does not observe it.
What to Do in Honolulu
Honolulu offers easy access to a range of activities. Whether you're looking to spend the days lazing on the beach, interested in a shopping spree, or seeing some of the island's natural wonders while burning some calories from the delicious eateries in town, you'll find lots of things to do in Honolulu.

PC: Daniel Ramirez
Diamond Head State Monument: One of the most popular Honolulu hikes, Diamond Head State Monument leads hikers to not only beautiful views, but through an area of historical and geological importance. The crater you visit here was created by a volcanic eruption an estimated 300,000 years ago. At the top, you'll see remnants of an old fort and navigational lighthouse. It's a perfect spot to work up a sweat, or perhaps train for the annual Honolulu Marathon.
Honolulu Zoo: Perfect for families, the Honolulu Zoo features more than 1,200 animal species and educational programs in support of animal conservation. When looking at your Honolulu map, the zoo is located in the heart of Waikiki, making it an easy stop that is surrounded by amenities.
Waikiki: When people think of Honolulu beaches, Waikiki will likely come to mind. Known as the beach where celebrities play, Waikiki Beach was also where Hawaiian kings and queens would come to spend time at the waterfront. Waikiki Beach is an iconic spot in not only Honolulu, but across the Hawaiian islands.
Honolulu Museum of Art: This museum is the largest in the state, with a permanent collection of more than 50,000 pieces. Works of art include a focus on Hawaiian life and landscapes. Book tickets for the Honolulu Museum of Art here.
Pearl Harbor National Memorial: Just a short drive from the Honolulu city center, Pearl Harbor is an important historical site honoring the events that took place there toward the end of World War II. Areas of note include the USS Arizona Memorial, which visitors can take a boat tour to, and an impressive aviation museum.
Shopping in Honolulu
Honolulu itself is essentially a one-stop shop when it comes to options, no matter what you're looking for on the island. You'll find mega malls like Ala Moana Center with everything you need, urban retail like SALT at Kakaako, in addition to specialty shops if you're looking for something specific, or a gift. While you may need to drive there and back, the shopping on the island doesn't get more extensive than what you'll find in Honolulu.
Grocery and Drug Stores
Costco Honolulu | 525 Alakawa St, Honolulu, HI 96817 | Fans of the members-only wholesale store will find great deals at Costco Honolulu. There is an additional location in the Hawaiʻi Kai Towne Center.

Longs Drugs | 1450 Ala Moana Blvd #2004, Honolulu, HI 96814 | The Longs Drugs chain, now part of CVS, includes not only a pharmacy but access to basic goods, as well.

Target Honolulu | 4380 Lawehana St, Honolulu, HI 96818 | The retail chain is centrally located just north of the airport, offering easy grocery access after your Honolulu flights. There is an additional location inside the Ala Moana Center, as well.

Walgreens | You'll find a number of Walgreens locations in Honolulu for your pharmacy and quick shopping needs, including shops on Beretania Street, School Street, Nuuanu Avenue, and Piikoi Street.

Whole Food Honolulu | 388 Kamakee St Ste 100, Honolulu, HI 96814 | The organic grocery chain has a location just north of Ala Moana Regional Park. You can find an additional location in Kahala Mall.
Honolulu Pet Stores
Calvin & Susie | Kilohana Square, 1016 Kapahulu Ave #125, Honolulu, HI, 96816 | This local pet shop has a wide variety of natural pet treats and raw foods for pets on special diets.

The Public Pet | 3422 Waialae Ave, Honolulu, HI, 96816 | This urban pet supply store offers pet treats and accessories, including gifts for pet owners, as well.
Honolulu Hardware Stores
Home Depot Honolulu | 421 Alakawa St, Honolulu, HI, 96817 | The home improvement chain offers everything you'll need for at-home fixes.

Lowe's Home Improvement | 411 Pacific St, Honolulu, HI, 96817 | Another home improvement chain, Lowe's also has all of the hardware supplies you'll need for home projects.
Honolulu Gyms
You have options when it comes to gyms in Honolulu, and if you need to mix things up, local Honolulu hikes are always an option, too.
24 Hour Fitness | 1680 Kapiolani Blvd, Honolulu, HI 96814 | This gym chain is a great option for residents who like working out at off hours. There are additional locations in Honolulu on Bishop Street and in the Koko Marina Center.
Iron Hawaiian Fitness | 1727 Republican St #3112, Honolulu, HI 96819 | This local gym option describes itself as both intense and hardcore, so those looking for a challenge may like the warehouse experience at this gym. Hours are limited on the weekends, but extended on the weekdays.
Planet Fitness | Center 1450, Ala Moana Blvd, Honolulu, HI 96814 | This fitness chain offers memberships at competitive prices, with no commitment options available for those who'd prefer to try the gym out first.

UFC Gym | 805 Pohukaina St, Honolulu, HI 96813 | Holding down the name of former Hawaii legend and UFC Champion BJ Penn himself. This Mixed Martial Arts inspired gym offers an array of yoga and martial arts classes, as well as traditional top of the line weight and training equipment.
Restaurants in Honolulu
Honolulu is known for a diverse mix of eateries to satisfy any palate. From the casual to more fine dining, beachfront restaurants to quick stops, Honolulu has something for everyone, including every budget.
Duke's Waikiki | 2335 Kalakaua Ave #116, Honolulu, HI 96815 | This beachfront restaurant is known for not only its setting and the ambiance - these are true Hawaiian vibes here - but the delicious menu offerings, as well. You'll find both surf and turf here, along with a cocktail menu of umbrella drinks.
Helena's Hawaiian Food | 1240 N School St, Honolulu, HI 96817 | Helena's is a well-known classic serving up diner-style Hawaiian comfort food to hungry locals and visitors. Just make sure to bring cash along with you to cover your meal, as this restaurant, a James Beard America's Classics award winner, won't take your credit cards.
Liliha Bakery | 580 N. Nimitz Hwy, Honolulu, HI 96817 | You'll enjoy a fine breakfast here, but the real draw is the coco puffs, so make sure you take a box to go. If you find that the Nimitz Highway location is too busy, there are two additional locations on Kuakini Street and in the Ala Moana Center.
Maguro Brothers Hawaii Chinatown | Kekaulike Market, 1039 Kekaulike St #113, Honolulu, HI 96817 | This Chinatown counter service eatery is known for its sushi and poke platters at more reasonable prices than you may be used to when dining out for this level of fresh sushi. There is a second location at the Waikiki Hotel, as well.
Merriman's Honolulu | 1108 Auahi St, #170, Honolulu, HI, 96814 | Merriman's is a popular eatery in Honolulu that offers not only delicious seafood and a farm-to-table style menu, but an extensive wine list and live music. Daily specials typically include a catch of the day.
The Pig and the Lady | 83 N King St, Honolulu, HI 96817 | This fun eatery is a Vietnamese fusion restaurant in Honolulu's Chinatown neighborhood. The inventive menu includes new twists on classic pho and fun twists on fried chicken. Both are not to be missed.
Schools in Honolulu
Honolulu has numerous public and private school options. The schools below are listed by rating with scores of 9 or above on Greatschools.org.
Honolulu Elementary Schools
King Liholiho Elementary School | 3430 Maunaloa Ave, Honolulu, HI, 96816 | Public district | PK-5 | 467 students
Moanalua Elementary School | 1337 Mahiole St, Honolulu, HI, 96819 | Public district | PK-6 | 638 students
Major General William R. Shafter Elementary School | 2 Fort Shafter, Honolulu, HI, 96819 | Public district | PK-6 & Ungraded | 471 students
Salt Lake Elementary School | 1131 Ala Lilikoi St, Honolulu, HI, 96818 | Public district | PK-6 | 741 students
Admiral Chester W. Nimitz Elementary School | 520 Main St, Honolulu, HI, 96818 | Public district | PK-6 | 706 students
Aliamanu Elementary School | 3265 Salt Lake Blvd, Honolulu, HI, 96818 | Public district | PK-6 | 592 students
Waikiki Elementary School | 3710 Leahi Ave, Honolulu, HI, 96815 | Public district | PK-5 | 587 students
Nuuanu Elementary School | 3055 Puiwa Ln, Honolulu, HI, 96817 | Public district | PK-5 | 370 students
Noelani Elementary School | 2655 Woodlawn Dr, Honolulu, HI, 96822 | Public district | PK-5 | 474 students
Manoa Elementary School | 3155 Manoa Rd, Honolulu, HI, 96822 | Public district | PK-5 | 535 students
President Abraham Lincoln Elementary School | 615 Auwaiolimu St, Honolulu, HI, 96813 | Public district | PK-5 | 341 students
Kalihi Uka Elementary School | 2411 Kalihi St, Honolulu, HI, 96819 | Public district | PK-5 | 238 students
Honolulu Middle Schools
Moanalua Middle School | 1289 Mahiole St, Honolulu, HI, 96819 | Public district | 7-8 | 238 students
Kaimuki Middle School | 631 18th Ave, Honolulu, HI, 96816 | Public district | 6-8 | 988 students
Honolulu High Schools
Moanalua High School | 2825 Ala Ilima St, Honolulu, HI, 96818 | Public district | 9-12 | 1,942 students
Kalani High School | 4680 Kalanianaole Hwy, Honolulu, HI, 96821 | Public district | 9-12 | 1,383 students
Henry J. Kaiser High School | 511 Lunalilo Home Rd, Honolulu, HI, 96825 | Public district | 9-12 | 1,141 students
Residents seeking higher education will find options in Honolulu, as well. Those include Honolulu Community College, the University of Hawaii at Manoa, Kapiolani Community College, and the private options of Hawaii Pacific University, Remington College, and Chaminade University of Honolulu.
Honolulu Public Transportation
Honolulu continues to make improvements in its public transportation offerings. Oahu's system of buses is known as TheBus, with stops throughout Honolulu, making the city better connected by public transit than the rest of Oahu. Travelers interested in the tourist route in and around Honolulu may also be interested in the Waikiki Trolley, an open-air scenic tour that picks up and drops off in Waikiki.
Honolulu Hospitals & Healthcare Facilities
Honolulu has several options for healthcare facilities. The top facility as ranked by U.S. News & World Report is Queen's Medical Center, a teaching hospital with high marks across eight adult specialties. The residents of Honolulu Hawaii also have access to Kaiser Permanente Moanalua Medical Center, the Kapiolani Medical Center for Women and Children, the Kuakini Medical Center, Leahi Hospital, and Straub Medical Center.
There are also over 160 dentists practicing in Honolulu, as well. Over 120 of those are practicing general dentistry. You'll certainly have options when it comes to your health and dental care while in Honolulu.
Honolulu Hotels
Honolulu has no shortage of accommodations for visitors to Oahu if you have family and friends who need a place to stay. From luxury hotels to more budget options, including AirBnb Honolulu rentals and vacation rentals in the plethora of Honolulu apartments available, Honolulu has options no matter what a visitor may be looking for. Below, see several great options for well-respected, well-situated hotels that would satisfy any guest.
Hilton Hawaiian Village Waikiki Resort | 2005 Kalia Rd, Honolulu, HI 96815 | Visitors interested in a resort-style stay will be hard-pressed to find a complex with more to offer guests than this Waikiki property. It's described as a village because it's exactly that, 22 acres of not only accommodations, but beachfront, dining options and live entertainment.
The Modern Honolulu | 1775 Ala Moana Blvd, Honolulu, HI 96815 | This five-star hotel offers visitors a view of Waikiki Beach on top of several on-site bars and restaurants. The focus here is on a modern aesthetic with upscale amenities, so guests looking for a luxe experience will enjoy this one.
Surfjack Hotel and Swim Club | 412 Lewers St, Honolulu, HI 96815 | Visitors looking for a boutique-style hotel will enjoy the Surfjack. Choose between bungalows or suites at this curated hotel, and enjoy the on-site restaurant, swimming pool and cabanas, and swim club programs for the more active visitor.
Honolulu Real Estate
Honolulu real estate prices continue to steadily rise, as city amenities with an island feel aren't going out of style anytime soon. The housing supply, however, has been trending downward, so with demand (and those amenities) comes higher cost. Expect to pay more than in other towns on the island that are away from the city limits. The median sale price for single-family homes in November 2020 was $872,500; the median sale price for Honolulu condos in November 2020 was $425,000. The Honolulu real estate market is then a highly competitive one.
The average cost of Honolulu rentals is around $1,600 per month. Rental prices have actually decreased a little over the previous year, although 2020 is a difficult year to base trends on. Rental prices overall vary dramatically, based on things like size, amenities, and location.
Best Neighborhoods in Honolulu
Honolulu will always be a popular place to move to, thanks to all that it has to offer within a short drive, even a short walk depending on your location. Prospective residents have options within Honolulu, too, as far as the best neighborhoods to consider for a move. Here are our top three picks based on what they have to offer those new to Honolulu, including those considered a more exclusive Honolulu zip code:
Kāhala: Kāhala is an upscale neighborhood that offers some of the most expensive luxury homes for sale in Honolulu; minutes away from Diamond Head Crater. Homes for sale in Kahala are synonymous with exclusivity, seclusion, and beachfront homes on Kahala Avenue. Prospective residents looking for a Honolulu condo won't enjoy as big of a sticker shock as those interested in their limited inventory of single-family homes. Two-bedroom condos in the neighborhood start around $600,000 while the median price for Kahala homes for sale in 2021 is $2.3M.
Kakaako: This is the new urban epicenter of Honolulu that transforming the city's skyline as we speak. Bordered by Waikiki and Downtown Honolulu and fronted by Ala Moana Beach Park; Kakaako condo living is Honolulu's premier urban lifestyle. Condos for sale in Kakaako range from $500,000 studios, up to $36M ultra luxury Kakaako condos for sale in Ward Village. The median price for a Kakaako condo is $763,000.
Kaimukī: Homes for sale in Kaimukī boast more of a neighborhood feel for those coming to Honolulu and seeking more of a community. It's much quieter here, with dozens of options for coffee shops, boutiques selling unique goods, and delicious eateries. And if you move here, you'll be able to say you live in the neighborhood that well-known Hawaiian musician Israel Kaʻanoʻi Kamakawiwoʻole grew up in. The Median price of Kaimuki Homes for sale in 2021 is $970,000.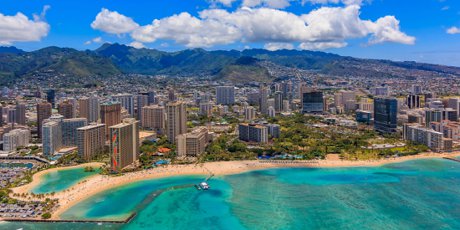 Waikiki: It would feel strange to leave off the iconic Waikiki, home to some of the world's most well-known beaches, luxe accommodations and hundreds of options for when the hunger strikes. Home prices in Waikiki vary widely, but you may be surprised to find the neighborhood does have some budget options if the timing is right, and if you're interested in purchasing condos for sale in Waikiki. Even townhomes start around $250,000. Single family homes are extremely rare, skewing median home prices due to low inventory so if you're exploring homes for sale in Waikiki, prepare for condo living.
If you have further questions about Honolulu neighborhoods or want to discuss your best options for your upcoming move, please don't hesitate to contact us at info@dwellhawaii.com| Koa Cassady (RA) at 808.777.0588.