Final 3 Ward Village Condos Announced by Howard Hughes
Posted by Koa Cassady on Thursday, June 15, 2023 at 2:40:04 PM
By Koa Cassady / June 15, 2023
Comment
There's been a lot of press in Ward Village this week as developer Howard Hughes' announces plans and early renderings of the final 3 towers to be constructed in the illustrious Ward Village Master Plan. This announcement comes just a few months after announcing the 11th tower, The Launiu, with plans to start sales in 2024.
Mahana Ward Village | Tower 12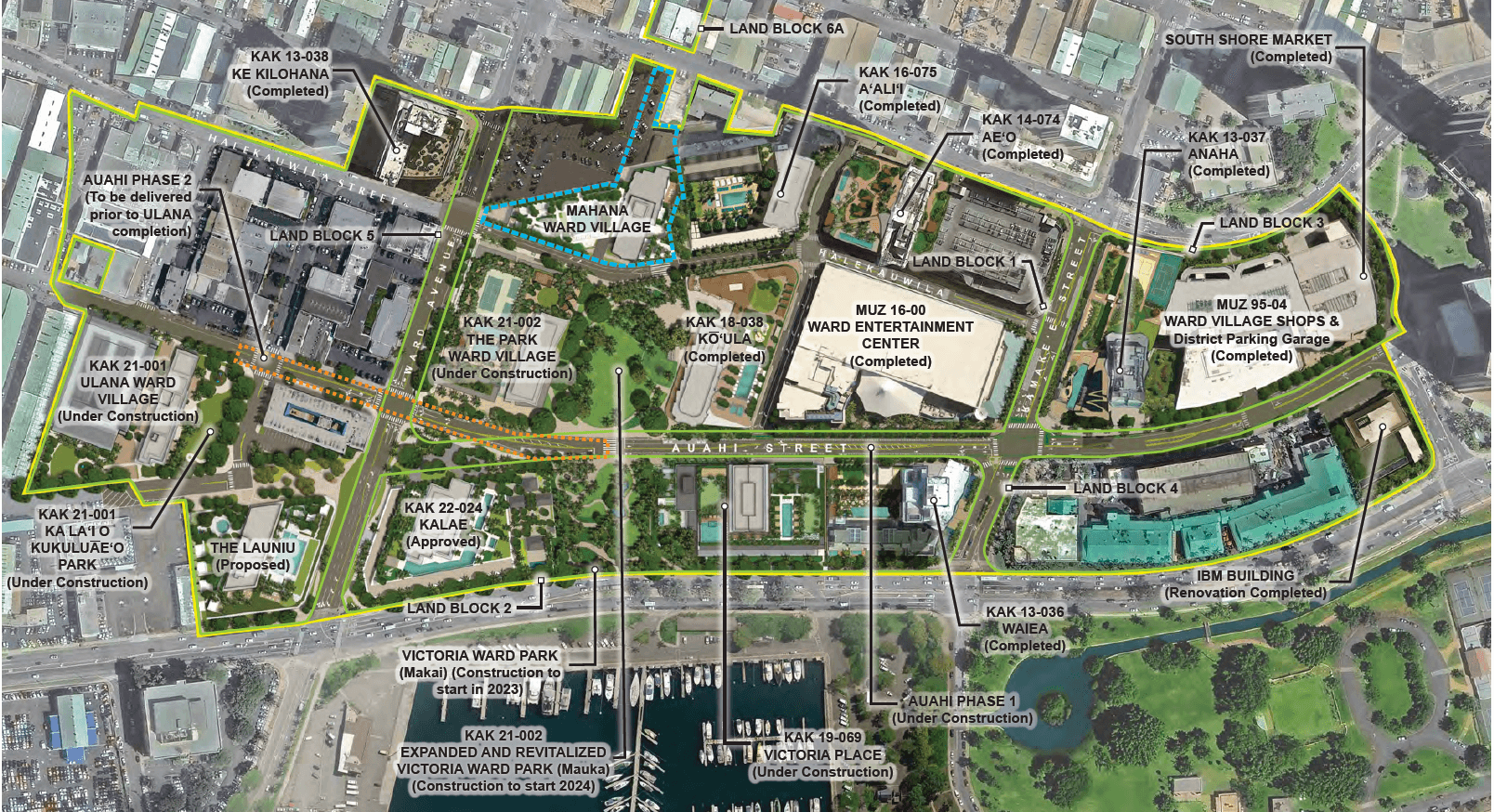 Mahana Ward Village, in conjunction with 'A'ali'i, Ae'o, and Ke Kilohana, is set to invigorate the mauka side of Ward Village, providing close to 16,926 square feet of ground-floor commercial space, 47,900 square feet of recreational zones, and a magnificent array of 340 residences.
Looking at the Ward Village Map, you'll find Mahana oriented between Queen St and Halekauwila, bounded by Ward Avenue to its West and Aalii to it's east. Note the tower is offset from The Park Ward Village, currently under construction, to take advantage of unobstructed ocean views over Victoria Ward Park for the 00 and 01 stacks at the front of the building. Residents will also benefit from premier access to a handful of exciting new parkside retail spaces and restaurants coming to the Ko'ula building later this year.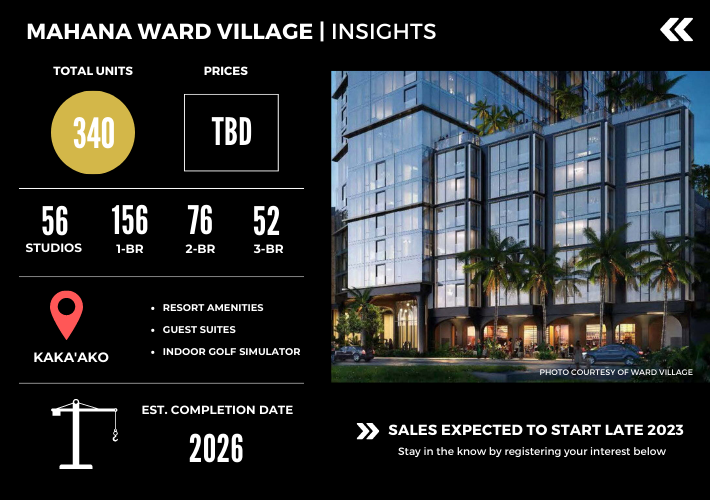 While all of the above information is subject to change until the building receives final approval, I think it's safe to say that the building's 47,900 square feet of recreational space will feature yet another incredible amenity offering from Howard Hughes. Expect a state of the art fitness center, pool(s), BBQ cabanas, owner's lounge, and even a rumored indoor golf simulator. Thoughtfully designed common areas and meticulous landscapes should undoubtedly be threaded through the amenity deck and lobby area.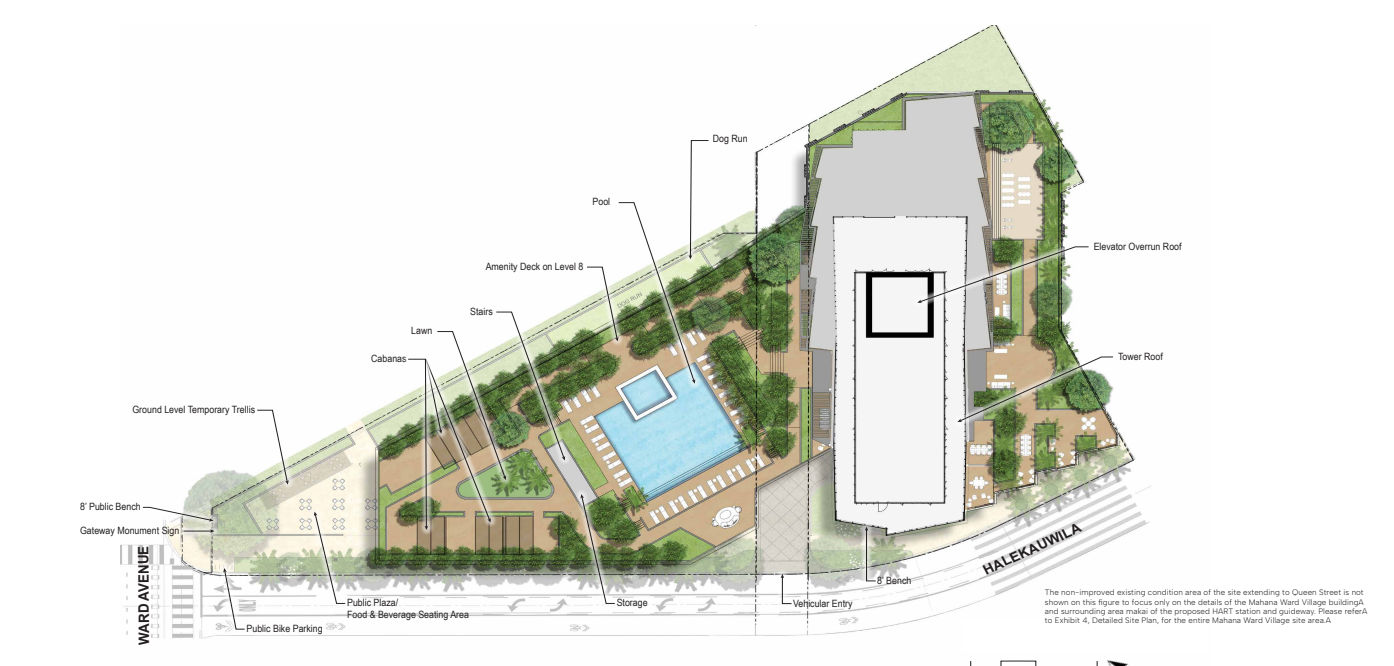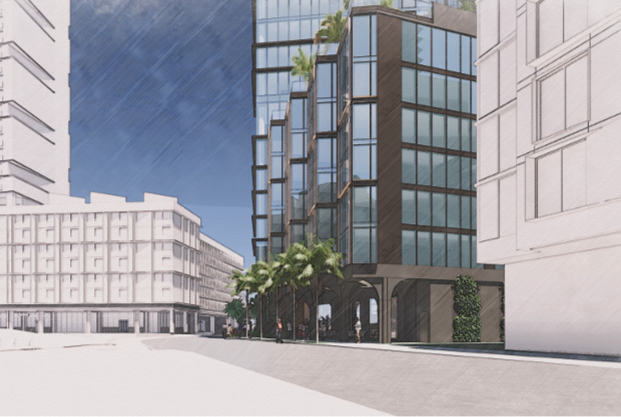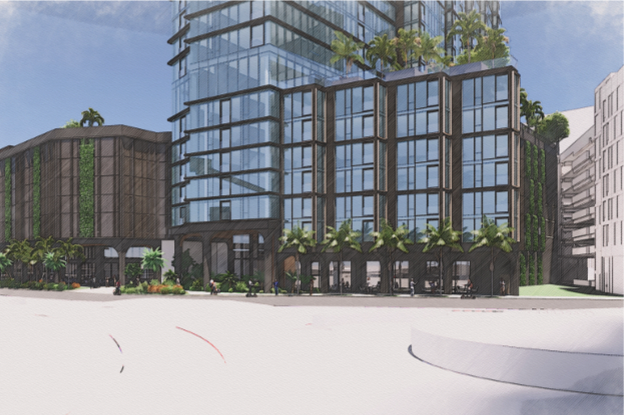 Ward Centre | Towers 13 & 14
Last but certainly not least... The final two Ward Village condos for sale will be erected on the current site of Ward Centre; arguably the most prime residential lots within the master plan. These two parcels represent some of the last "First Row" build sites in Honolulu that secure unobstructed ocean views and premier access to Ala Moana Beach Park.
The development will be executed in two stages and will only bring 390 New Kakaako condos to the beighborhood, spread across two towers. With less than 200 units in each tower, the buildings will see a level of exclusivity known only by Park Lane and Waiea; also First Row condos in Honolulu.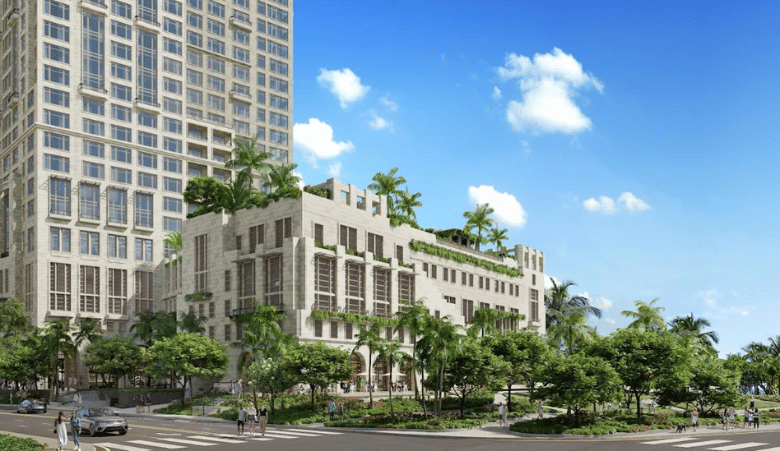 The first phase, depicted above, will feature a tower situated between Kamakee St., Auahi St, and Ala Moana Blvd. Roughly 20,000 sqft of ground-level commercial space is also anticipated to be integrated between the two towers. The structures will accommodate a range of unit sizes, from one to five bedrooms. In addition to the residential and commercial spaces, a fresh one-acre park is also in the works for the intersection of Kamakee St and Auahi St.
The use of masonry block and arches harken back to the design aesthetics of Manhattan's architectural heritage, drawing an intriguing parallel between the island city and the New York metropolis. Multiple floors of consecutive windows suggest we may see some pretty grand common area spaces with towering ceilings but who knows!
---
New To Ward Village? Tour the neighborhood with us! New Honolulu Condo Series Pt. 1 | Ward Village
Welcome to Ward Village and Part 1 of our 3-part series on the Kaka'ako condo market in 2023! In this first episode, we delve deep into the fascinating Ward Village Master Plan, which is transforming urban living in the heart of Kaka'ako, Honolulu. For the ultimate guide to Kakaako condos and/or to get in touch with Maila & Koa about your approaching Hawaii Real Estate goals please visit https://www.dwellhawaii.com/kakaako/#... or email us at
[email protected]
Join us as we explore the exceptional fea 2023 New Honolulu Condo Series Part 2: Our Kakaako
Welcome to the 2023 Kakaako Condo Update Part 2 ft. the "Our Kakaako" Master Plan; an ambitious and innovative project that's transforming Honolulu's urban landscape. In this video, we'll delve into the details of this groundbreaking initiative and its impact on the vibrant neighborhood of Kaka'ako.
If you're considering Living in Ward Village and would like updates on any of the above new Honolulu condos coming soon, register on the interest list below. Aside from our periodic New Developments newsletter, we also feature various Kakaako Condo updates via our youtube channel. Stay close, we would love to help you explore your options!