Oahu Real Estate Market Trends | February 2023
Posted by Koa Cassady on Friday, March 31, 2023 at 12:56:18 PM
By Koa Cassady / March 31, 2023
Comment
According to data issued by the Honolulu Board of REALTORS® today, the Oahu Real Estate market trend remained slow in February, with closed sales of single-family houses and condominiums falling 28.2% and 33.3%, respectively. Nonetheless, sales of single-family homes grew 15.3% and sales of condominiums surged 18.2% compared to January 2023.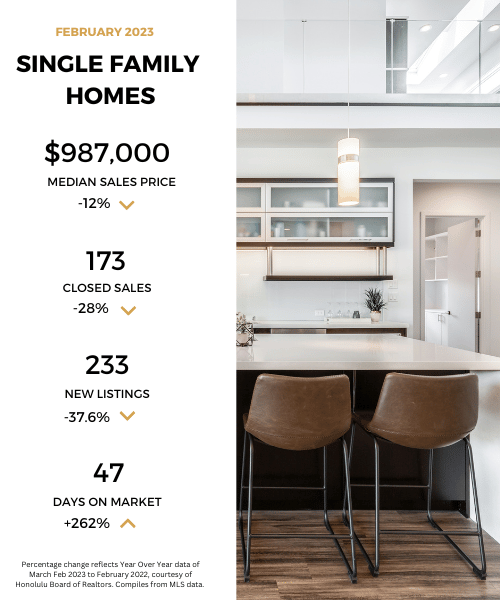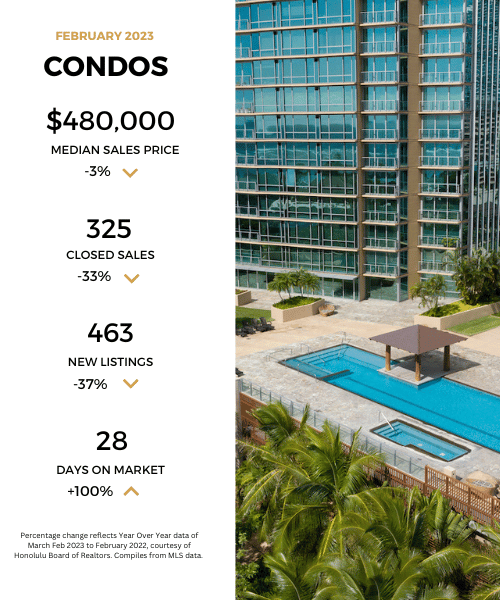 The Board published the following statistics using information gathered from its computerized Multiple Listing Service (MLS) system:
Compared to 2022, the median sale price for single-family homes in both markets decreased by 12.3%, from $1,125,000 to $987,000. From $497,00 to $480,000, the condo market suffered a 3.4% drop. In February, over 189 Oahu properties were sold for less than $500,000.
In February 2023, the median days on market for single-family homes nearly doubled, surging to 47 days from 13 days in February 2022. The median number of days on the market for condominiums increased to 28 days from 14 days a year ago.
In February 2022, 55% of single-family houses were sold for more than the initial asking price, compared to just 19% in February 2022. Comparatively, only 32% of single-family home sales in February received the full asking price or higher, compared to 73% in February 2017. In February, only 15% of condo sales closed above the initial list price, compared to 37% of condo sales in February 2022. This month, 36% of transactions received the asking price or more, compared to 56% last year.
Even though there were 233 new single-family house listings and 463 new condo listings this month, this was significantly less than the amount of listings introduced to the market in February 2022, down 36.5% for single-family homes and 37.5% for condos, respectively. The most substantial growth in the single-family home market was in the $999,999 and below price category, where there are almost twice as many properties for sale compared to 2022. In the $600,000 to $799,999 price category for condos, the most substantial rise occurred, with 50% more active units than a year before.
The price range between $900,000 and $1,099,999 saw the greatest decrease in sales volume, falling 47.4% year-over-year. Homes in Ewa Beach region suffered the greatest decrease in sales volume, down 40.4% year-over-year, followed by the Metro region, down 55.5%.
---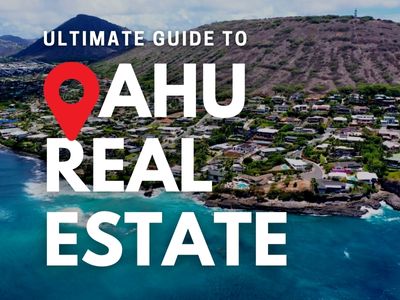 Looking for an Oahu home in 2023? Visit our comprensive guide to all tings real estate on Oahu; including expert insight and direction into Oahu new construction, Airbnb in Hawaii, Best Places to Live on Oahu, Neighborhood Video tours.
---
Most price ranges for condos had a dip in sales, with the most noticeable changes coming in the $800,000 to $1,999,999 price range, where sales decreased by 60% year-over-year, and the $500,000 to $699,999 price range, where sales decreased by 42.7%. With 10 condos sold, Kailua was the only area where condo sales were comparable to the previous year. The 'Ewa Plain witnessed a 45.7% decline in sales compared to the same time last year, while the Metro region saw a 30% decline.