Pali Lanes Declared Historic Place; May 'Spare' Redevelopment
Posted by Koa Cassady on Saturday, December 1, 2018 at 8:39 PM
By Koa Cassady / December 1, 2018
Comment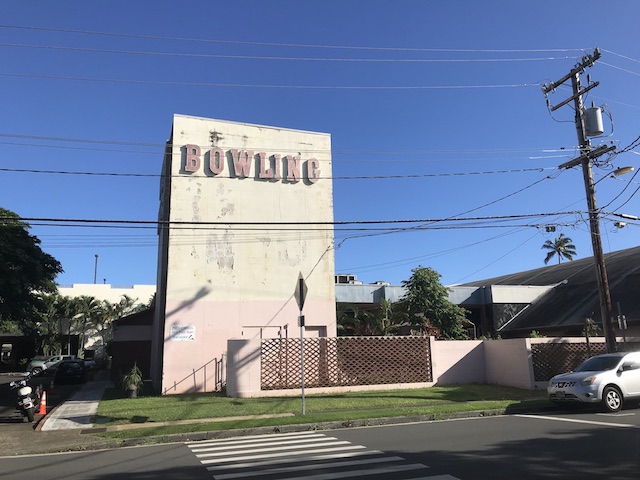 Kailua's Pali Lanes bowling alley has been deemed a "Historical Place" by the Hawaii Historic Places review board. For some, the designation is a victory as it may stall redevelopment plans proposed by landowner Alexander & Baldwin.
In December 2017, A&B vocalized its plans to end the lease of Pali Lanes in 2019 and was immediately met with community opposition. The bowling alley has been a staple in Kailua for nearly 58 years and rumblings of redevelopment have left the community torn.
Pali Lanes' Hekili Street location represents key real estate in the heart of Kailua Town; a redevelopment hotspot that's seen a swath of new retail and dining venues emerge in the last decade. Lau Hala Shops, formerly Liberty House and Macy's, is right across the street and will soon see Down To Earth and Maui Brewing Company added to the tenant list of UFC Gym and the Roy Yamaguchi inspired, "Goen" restaurant.
A&B recently sent out surveys to nearly 16,000 homes, asking for the community's input and ideas on what to do with the 1.7 acre site. Many Kailua residents would like to green, gathering spaces added to an area that's dense with brick, mortar, and parking lots. The vision would provide a new home for the Kailua Farmer's market, concert spaces, and other community spaces.
Opposition to A&B would prefer to see Pali Lanes preserved as the iconic, inexpensive entertainment venue that's its been for nearly 60 years. Community group, Our Kailua, leveraged social media to rally it's voice in support of keeping the bowling alley in place, including petitioning the state for the Historical Place designation and subsequently receiving it.
A&B asked the Historical Places Review Board not to make a decision until the developer had more time to continue efforts with the community to find common ground. The company had been put all development plans on hold since initial community opposition to its plans, even extending Pali Lane's lease until 2020 while they work to provide more options for the site.
Alexander & Baldwin will now face a stringent review process by the state's Historic Preservation division, should they decide to move forward with redevelopment.