Papailoa, Oahu: The Ultimate Guide To This North Shore Paradise
Posted by Koa Cassady on Tuesday, July 12, 2022 at 10:09 AM
By Koa Cassady / July 12, 2022
Comment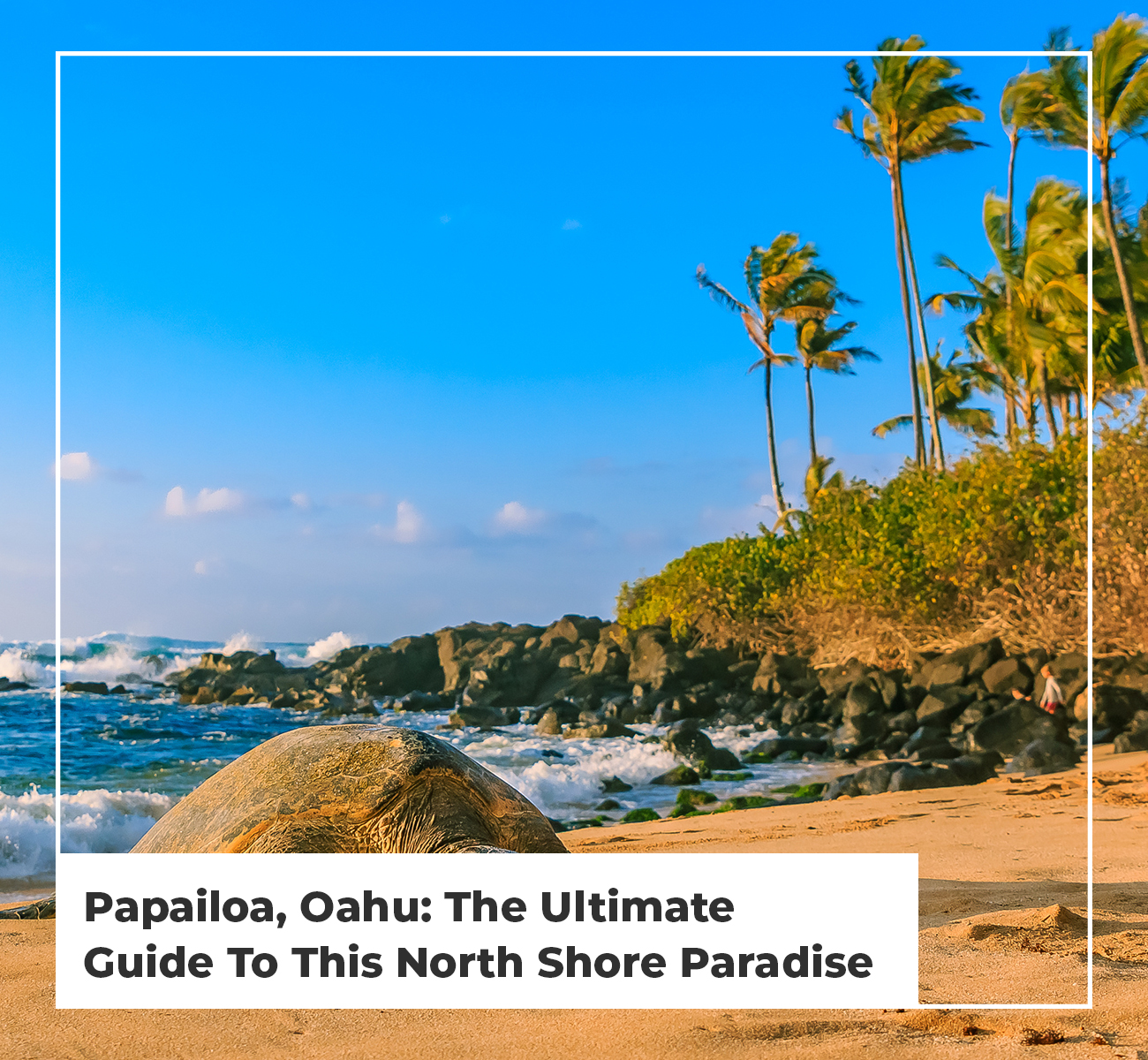 Among the best places in the world to surf is North Shore Oahu. With gigantic waves, spectacular scenery, beautiful sunsets, white sandy beaches, and salty air, people flock to the North Shore, where waves reach 50 feet high.
Papailoa, Oahu is a famous beach you've seen on the small screen but might not know by name. Also known as Police Beach, the popular television series "LOST" was filmed on its shores.
As one dips into the waters, shallow reef lines are prime spearfishing grounds and break up the waves as they come on shore. In addition to surfing, snorkeling, walking, relaxing, and watching sea turtles are perfect pastimes.
Coveted Neighborhood
Between the beach and Papailoa Road are a row of luxurious homes. The neighborhood also has homes on the other side of Papailoa road up to the Kamehameha Highway. While these homes don't touch the beach, they also have amazing views.
Like many areas on Oahu, there are classic Hawaiian homes built from roughly the 1950s to 2000s that are smaller homes with a cottage-feel with a few bedrooms and bathrooms. On the other hand, newer homes are available with spacious lots, up to 11,000 square feet, with everything your heart desires. Some have guest homes or in-law quarters.
Homes are surrounded by palm trees and native flowers with lush green lawns and a great deal of privacy. They are designed for indoor and outdoor living.
There is little turnover in home ownership in the Papailoa Beach neighborhood, but the area is worth waiting for. With the ease of renting homes through Airbnb and the lucrative tourist and surfing season, some purchase here for rental income. Others make this their primary home.
Reputable Schools
Papailoa Beach and surrounding neighborhoods are home to many families, and you can rest assured that your children will receive a quality education.
The nearest schools to Papailoa Beach are Haleiwa Elementary, Waialua Elementary, and Waialua High & Intermediate. They are both a short drive to the south. St. Michael and Sunset Beach Christian School are private elementary schools in the area.
Schools in Haleiwa offer more than just classical education; there are opportunities to work with the farmers, explore the sea and the inland forests, and immerse children in native Hawaiian culture.
For those wishing to further their education, Honolulu Community College, Kapiolani Community College, the University of Hawaii at Manoa, Hawaii Pacific University, and Atlantic International University offer Associate to Master's degrees. While not in the neighborhood, they are a short drive to the other side of the island.
Fresh Food and Nearby Shopping
Shops, restaurants, food trucks, and art galleries are scattered along the coast, and whatever you cannot find is just a short drive away in Honolulu.
Nearby, Turtle Bay has golf courses and four-star restaurants.
With a combination of the riches of the sea and the farms inland, you can enjoy the freshest foods available. Hop on over to the local Foodland supermarket or visit a local farmer's market to cook your own. Food trucks and local eateries take advantage of these resources as well.
A few places to check out include:

Getting Around
The island of Oahu is 44 miles long and 30 miles wide. The North Shore is on the top, and Honolulu and Waikiki are on the other end. As a result, it's super-easy to get around. You can live on the North Shore and commute about 30-40 minutes into the big city.
A few different routes to traverse the island - hug the coast or drive right through the middle. Either way, you are rewarded with amazing views.
From Papailoa, you can hop in your car or even on your bike and get over to Haleiwa quickly. Haleiwa is a roughly 10-minute bike ride. The bus has routes from Haleiwa or Turtle Bay to Downtown Honolulu.
Places to Explore
Aside from the surfing and water sports we've already mentioned, the North Shore has many other places of interest and activities to get you outdoors.
Papailoa Beach is the landing ground for the Hawaiian Green Sea Turtle, also called the Honu. Residents help to protect these most precious residents.
Tourist spots are nearby and include Turtle Bay Resort with golf tournaments, surf spots, a luxury hotel, high-end restaurants, and the James Campbell National Wildlife Refuge.
Waimea Falls and Valley is the perfect place to hike on a warm day. A 3.5-mile hiking trail leads you through native gardens and historical sites to a 45-foot waterfall that gushes out of the Koolau Mountains. You can even take a dip in the pool
Pua?ena Point Beach Park is just down the road, where locals take their kids to romp in calmer surf and enjoy a picnic. Next to that is Haleiwa Beach Park, which is perfect for swimming and canoeing.
Inland, check out an entirely different climate at one of the forest reserves or visit the Dole Plantation. Much of Oahu is protected land but open to hiking, mountain biking, and camping. You can find easy hikes for the family and challenging ones that will increase your heart rate and reward you with epic views.
Own A Piece of Paradise
Papailoa Beach Road is located on a dead-end road going back into the neighborhood. As a result, there is little outside traffic, making it an ideal place to escape paradise. When you need groceries, to head out to work, or are looking for adventure, head to the north and hop on the Kamehameha Highway - the main road that circles the entire island.
One thing is for sure, moving to Oahu and the North Shore is laid back and exciting all at the same time. Explore all the island has to offer and then come home to your oasis at Papailoa Beach.
Dwell Hawaii's team of knowledgeable industry experts represents the region's finest properties. Whether you're looking at buying or selling, contact Dwell Hawaii as Koa Cassady and his team ensure every client gets exactly what they are looking for.
View All Papailoa Homes For Sale