PCS To Joint Base Pearl Harbor Hickam AFB
Posted by Koa Cassady on Friday, June 14, 2019 at 7:09 PM
By Koa Cassady / June 14, 2019
Comment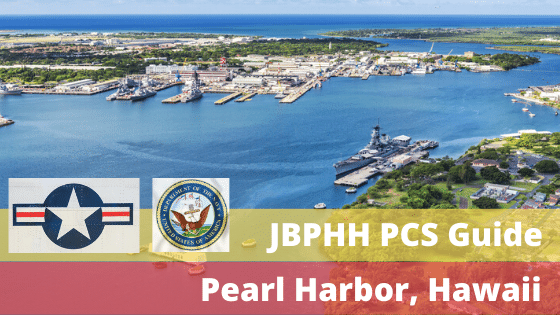 Joint Base Pearl Harbor-Hickam
Given world infamy from the December 7th, 1941 attack during World War II, Pearl Harbor is a well-known United States Naval Station situated near Honolulu, Hawaii. It was initially established in 1899, owing to abundant trade with the Hawaiian islands and the necessary vantage point should Pacific war ever break out.
Hickam Air Force Base, originally known as Hickam Field, was created in 1938 as a response to the growing threat of Pacific war and the rumblings of World War II's beginnings. The two Oahu military bases shared borders, often with military members sharing resources and barracks as necessary.
During the 2005 Base Realignment and Closure Commission, Hickam AFB and Pearl Harbor Navy Base Hawaii were combined into one entity: Joint Base Pearl Harbor-Hickam. This is one of only 12 that were commissioned at that point, though one of the largest. Due to the significant tourism industry surrounding Pearl Harbor's historical legacy (specifically the WW2 attacks), the base is often quite busy.
And with its nearby tourist locations, you'll never run out of things to do while stationed at Pearl Harbor Naval Base or Hickam Air Force Base. Let's take a look at what you'll expect, what you'll learn to love, and how you can adjust to island life.
Where is Pearl Harbor Located?
If you're relocating to JBPPH, you may be wondering what island is Hickam AFB on? Joint Base Pearl Harbor Hickam is located just 8 miles outside of the heart of Honolulu, the capital city of the state of Hawaii, and is one of nine military bases in Hawaii. At Pearl Harbor Hawaii and Hickam Airforce Base, you'll be close to family fun, nightlife activities, and some of the most amazing white sand beaches at Waikiki that you've ever seen. Foodies will find plenty to experience with both local customs and plenty of off-island delights.
Want to head home for the holidays? Honolulu International Airport (Daniel K. Inouye International Airport) is only minutes away. There is an internal bus system to take military members and their families from Joint Base Pearl Harbor-Hickam, or those stationed at the base may decide to simply park in long-term parking at the airport itself. Don't worry; it's plentiful and very affordable. Check the website for current costs and airline ticket prices.
This is assuming that you don't use Space-A travel. Hickam Space-A travel is space available travel, meaning that you can catch a lift for incredibly low rates anywhere civilian aircraft carriers are already headed. The drawback? You may be waiting a while to find the perfect spot. If you have a fully flexible schedule, Space-A is great.
Distance from Waikiki Beach to Pearl Harbor Base? About 20 minutes in ideal traffic condition but the base is closer to some of Oahu's "homier" cities; the type that are a little more off the beaten path. After a while, you'll want to branch out and maybe even get away from the tourist crowds of Waikiki, North Shore, Honolulu, and the such. With Pearl City and Aiea just a quick trip away, you can avoid long lines at grocery stores and have a quieter meal.
Okay, But What City is Joint Base Pearl Harbor-Hickam Actually In?
Pearl Harbor is in, you guessed it, Pearl Harbor. The Pearl Harbor zip code will be 96860 as of this writing. This is also the Hickam AFB zip code and while there has been some talk of adding a zip code or two, but as of right now there is no announced plan to do that.
Your First Few Days on the Island
JBPHH Cheat Codes
You'll notice that Pearl Harbor weather never really gets below 65 F. Summers are warm to hot, with winters incredibly mild to non-existent. If you're a snow-lover, you'll need to head elsewhere in the winter. Otherwise, Joint Base Pearl Harbor Hickam weather is going to be heavenly.
The only real drawbacks are the potential centipedes. Most likely, you'll be acquainted for these in short order. Hawaii's centipedes are long, brightly colored insects that will probably greet you in your Joint Base Pearl Harbor Hickam AFB lodging. Though few people have reactions to their venom, their motion can scare even the bravest. They are very, very fast.
If you see these big guys (they can get up to a foot or so long), simply request bait be placed around your hotel. This bait is poison and should be avoided by pets and small children, but the centipedes will be gone very quickly.
Your vehicle is unlikely to have arrived from the mainland quite yet. We recommend renting a car unless you intend to stay only at your hotel or take public transportation. Pearl Harbor and Hickam are not very walkable for most military families needing groceries or to take their pup to the vet. Speaking of, we'll talk about pets very soon.
Inprocessing is simple, compact, and includes talking to the housing office. Once you're inprocessed, you're golden!
Pets
Cats, dogs, and the majority of your pets are welcome to come with you to Hawaii. Your local on-base veterinary center is up-to-date with the latest necessity for your pet's island travels. There are also countless pet shipping companies that can help your pet get to Hawaii.
On-base housing restricts pets to 1 dog and 1 cat, or 2 cats, or 2 dogs, over 8 weeks of age. Those who prefer to have more pets can easily request a waiver to allow more pets as available. Off-base housing will be at the discretion of local laws and landlords as applicable.
Your pet may require an in-home quarantine upon reaching the island if they are of young age or do not meet the FAVN rabies count specified by Hawaii Animal Quarantine law. Again, your on-base veterinarian will help you with these requirements. The cost of moving your pet is typically not covered by the military, though you may appeal this decision or request assistance.
Veterinary treatment, including emergency 24/7 treatment, is available at multiple locations around the island. Since ratings often go up and down and we simply cannot predict them, we recommend interviewing your new veterinarian and asking questions to decide whether or not they are right for you. Review sites such as Google and Yelp can also help you make this decision.
If possible, having a vet before you get to the island is ideal. This way, should your pet become ill in transit or have an injury, you'll already have someone lined up to provide the care you need.
Petsmart, Petco, and other typical pet retailers are available throughout the island with the same treasures that you expect to find back home. Pet-safe beaches can be found on bringfido.com and other such sites, rife with reviews and assistance for you.
Entertainment
You need never leave the base if you so desire, but wow, would you be missing out! If you want to stay close by, check out the Hickam Bowling Center or Pearl Harbor Bowling alley for family fun or catch a flick at Hickam Theater at the NEX. But trust me, you really need to venture out and explore all that Oahu has to offer.
Since you are so close to Waikiki, Ala Moana Blvd will become a common name you hear. Everything is in the Ala Moana area, or so you'll be told. While the area is wonderful and full of life, curiosities, cultural experiences, and lots of new venues, it's far from the only area around.
Bluntly, everyone else will cover Ala Moana. We'd like to look deeper into your new base and what's around it.
Along with deeply moving historical presentations and visitation areas, you can spend an entire year never leaving the base and coming up with something new to discover every single day.
Many bases lack interactivity. You're stuck with nothing to do. Since Pearl Harbor, by itself, was a historical attraction for so long, the base spent some time on its entertainment and dining options as well. While a functioning base, it also desired to attract those who longed to learn about lost relatives or the incredible history of WW2. It has well succeeded. Speak to MWR Pearl Harbor for current offerings and upcoming adventures, including tours all around the island.
One last tip: head to the Aloha Stadium Swap Meet. You won't regret it.
Restaurants Near Pearl Harbor
We would go seriously remiss if we didn't start out food with one of the most well-known spots on Oahu. Liliha Bakery is the home of Coco Puffs, some of the best pancakes on the island, a fantastic local lunch and dinner menu, and a wide array of sweets and treats that have won them hundreds of thousands of fans the world over. Though there are three locations, the original is located at 515 N Kuakini St. Honolulu, HI 96817. There are often lines out the door, so be ready for a little wait. But remember, it's worth it.
Looking for Asian food? Coco Ichibanya is a smash hit Japanese curry restaurant that has settled comfortably into the hearts and tummies of Oahu's population. In fact, you'll find plenty of Asian-fusion cuisine with local recipes and processes.
You'll also find local snacks like spam musubi, frozen pineapple skewers, and fresh coconuts that are cracked and drilled right in front of you. Simply insert a straw and enjoy the most amazing coconut flavor you've ever had.
On-base, watch out for the Hickam Mongolian BBQ every Thursday at the Officer's Club. Everyone is invited and you'll be so full, you may need to be rolled out back to your house. It's the perfect way to end your day.
Joint Base Pearl Harbor Hickam BAH
Take a peek at your Pearl Harbor and Hickam AFB BAH by taking a peek at our 2020 Hawaii BAH chart. Remember, BAH for Hawaii will differ from year to year like anywhere else, and though it usually goes up by a small increment, it is always best to be prepared if it does not. This is less of an issue if you decide to live on-base, though this is very specific to availability of housing.
Where Can I Get Some Sun?
Your nearest beaches are right on your base! The Pearl Harbor beach that's closest is going to be Hickam Beach that offers a picnic area in an adorable, safe, and well-groomed beach that's perfect to stretch out and catch some rays. It's also a very comfortable place to let the kids splash in the ocean since lifeguards are on-duty during posted patrol hours.
Cabanas are available for rental though they are first-come, first-served. There are grills and shelters available for those wanting to barbeque or enjoy smores as the sun sets on a full day of relaxation. Paddleboarding is often available, too, depending on the sea conditions.
Those looking for sailing lessons or other boating opportunities should speak to the rental shack at this beach.
Be aware that the beach is occasionally rented for family fun days for the various units on the island, though these are usually noted on local social calendars and on Joint Base Pearl Harbor-Hickam's MWR calendar.
Want to head off-base? North Shore, Waikiki, and Kailua are busy but wonderful beaches. Visit these during the off-season and savor the military-only beaches during the summers.
All Hail the NEX Pearl Harbor
The Pearl Harbor NEX is a combined NEX and DECA commissary, which puts the Navy Exchange & the Hickam Commissary in the same place! The food court has all the typical trappings, as does the NEX, but the commissary is something you'll come to love. With a wide assortment of Hawaiian-based treats and delicacies, some of the freshest seafood you've ever found, and incredible produce, this commissary really knocks it out of the park.
Need something special ordered? While Amazon and many other companies are pretty easily accessible (there are some things that cannot be shipped to Hawaii, but you'll find substitutions for most of these in stores quickly), the commissary is happy to check in to finding what you want. Just speak with a manager and they'll be able to tell you if they can get it or not. The Navy Exchange at Pearl Harbor also provides a great resource for appliance and furniture purchases.
Nearby Gyms
If you're a gym rat, you'll be overjoyed to know that fitness is a huge part of Hawaiian life. Most of the standard mainland gyms exist on Oahu such as 24 Hour Fitness Pearl City and UFC Gym Waikele. That makes maintaining long-term memberships (and keeping your discounted rates) a snap.
Not a member of a gym and looking to find one? Both on- and off-base gyms are available, with and without group classes. The closest Hickam gym will be Hickam Memorial Fitness Center and the best Pearl Harbor gym option will be JBPHH Fitness Center for those who would prefer to remain on-base.
And don't forget, there are thousands of activities to participate in! Equestrian trails are available through dozens of different stables, both as guided trails and as private outings. Hiking and running enjoy vast audiences on Oahu due to the wonderful weather that the island enjoys year-round. Boating, paddling, kayaking, and other water activities (yes, including surfing) have enormous amounts of fans.
If you're an active person, you'll find plenty to do on your new island.
Finding Home
On-Post Housing
We all have those cute plaques: "home is where the military puts you", right? It's always true.
On-base Hawaii military housing is available when there are empty homes. Occasionally, when retention is poor, the military may make it mandatory to live on-base rather than allowing you to purchase or rent a home. A quick call to the Pearl Harbor Housing Office will remedy whether this is true or not during your PCS. Due to the value of property in the area, it is typically not an issue. Most lower enlisted reside in Pearl Harbor or Hickam housing, see below for on-base options:
Off-base housing simply depends on what you want to do with your BAH in Hawaii. Are you looking to stay in Hawaii? Do you plan to purchase and rent a home out to others who are in your shoes on down the road? Or would you prefer to rent and leave upon your PCS date?
Popular Neighborhoods Near JBPHH
Pearl Harbor Homes for sale and rent are going to be few and far between as there aren't many residential neighborhoods in the immediate vicinity. However, venturing out to the nearest city will land you in Pearl City, although the home types, quality, and prices here might be a shock at first. Plan for mostly 60-70 year old homes with single wall construction, carports, and post & pier foundations. Garages, double wall construction, insulation, and air conditioning are luxuries in the Oahu, Hawaii Real Estate market but if you're looking for those items, here's a short list of some of the most popular military neighborhoods nearby that offer these features:
Ewa Beach is about 20 minutes away (though mornings may present a frustrating commute due to incoming traffic) from JBPHH, and find itself in the "Ewa Plain" that also encompasses the city of Kapolei. There are countless military members in the area and, in truth, houses seem to spring up overnight. There is a great deal of turnover due to the nature of military ownership, but the area is safe and the roads are easy to navigate. Homes for sale in Kapolei and Ewa Beach homes for sale will feature the youngest homes, and the construction is much more similar to what you're used to on the mainland. The Hoopili neighborhood tends to be the top pick in the region as these are brand new homes on Oahu. See also houses for rent in Ewa Beach.


Mililani is roughly 15-20 minutes away finds itself right at the heart of Oahu island and offers one of the best family friendly neighborhoods to it's lush scenery, strong public schools, as well as engaged Community Association that take cares of the city's wide sidewalks and medians. Home prices are more expensive than Ewa Beach, and construction is similar to the Pearl City homes we mentioned above. Regardless, this is a great community with a convenient central location. Houses for sale in Mililani are also very VA friendly as close proximity to Schofield Barracks Army Base Hawaii makes this a top pick for Hawaii's Army personnel. See also Mililani homes for rent.
A Few Last Words
While there are a few pesky things about living in a tourist destination (you are never going to Wal-Mart in "10 minutes" again), you grow to ignore those things and simply get used to them. Traffic? Sure, but the breeze is beautiful and you can see the ocean as you wait your turn for the stoplight. Those with fantastic vision may even get to watch sea life swimming alongside the larger ships.
Palm trees, white sands, and a relaxed attitude about everything accompany this amazing place. Sit back and enjoy your time in a place that most can only dream of.
If you're planning to PCS to Oahu and would like to be thorough in exploring your Oahu Real Estate options, contact Koa Cassady(RA) - 808.777.0588 - [email protected]. My goal is purely to help equip you with everything you need to approach your Hawaii VA Loan and the Oahu Real Estate market with confidence! Call/text/email me from afar or you may also schedule a consultation with me below: