PCS to Hawaii | The Ultimate Guide to Your New Island Duty Station
Posted by Koa Cassady on Friday, January 6, 2023 at 11:55:18 AM
By Koa Cassady / January 6, 2023
Comment

The Ultimate Hawaii VA Guide
Page Guide: Oahu Military Base Guides | Military Hotels | Hawaii BAH | VA Loan Eligibility | Work With Us
We understand transitioning to your new duty station requires a lot of you and undoubtedly, you have a ton of questions about your new island home. Our comprehensive VA Guide is aimed at fast tracking your transition to your new Oahu military base by giving resources including but not limited to:
PCS Guides to all Hawaii Military Bases on Oahu
Calculating your Honolulu, Hawaii BAH & COLA
Military Hotels & Lodging in Hawaii
On-post Housing, Neighborhood Insights, Homes For Sale and Rentals near base.
Hawaii VA Hospitals & Clinics
Understanding the culture, lifestyle, and things to do on Oahu!
---
Military Bases in Hawaii
If you're unfamiliar with our islands, you may be wondering how many military bases are in Hawaii? There are 9 total Hawaii Military Bases with majority of them located on the island of Oahu. This makes sense as Oahu serves as the main point of entry of all travel to Hawaii, as well as being home to the capital city of Honolulu.
Oahu is the third largest of the Hawaiian Islands and is home to a number of military bases. These bases serve a variety of functions, including training, research and development, and defense operations. Here are the nine military bases located on Oahu:
Joint Base Pearl Harbor-Hickam. Joint Base Pearl Harbor-Hickam is a joint military base located in Honolulu and operated by the U.S. Air Force and U.S. Navy. The base is home to a number of units, including the 15th Wing, the 535th Airlift Squadron, and the Pacific Command.

Marine Corps Base Hawaii. Marine Corps Base Hawaii is a large military base located in Kaneohe Bay, on the windward side of Oahu. The base is home to the 3rd Marine Regiment, the 3rd Marine Division, and the Marine Corps Forces Pacific.

Schofield Barracks. Schofield Barracks is a U.S. Army base located in the central part of Oahu. The base is home to the 25th Infantry Division and the U.S. Army Pacific.

Fort Shafter. Fort Shafter is a U.S. Army base located in Honolulu. The base is home to the U.S. Army Pacific and the 8th Theater Sustainment Command.

Tripler Army Medical Center. Tripler Army Medical Center is a large military hospital located in Honolulu. The hospital is the primary medical facility for the U.S. Army in the Pacific and serves a wide range of medical needs.

Pacific Missile Range Facility. Pacific Missile Range Facility is a U.S. Navy base located on the western side of Oahu. The base is used for testing and training with missiles and other weapons systems.

U.S. Coast Guard Air Station Barbers Point. U.S. Coast Guard Air Station Barbers Point is a Coast Guard base located on the western side of Oahu. The base is home to a number of aircraft and is used for search and rescue operations and other missions.

U.S. Coast Guard Station Honolulu. U.S. Coast Guard Station Honolulu is a Coast Guard base located in Honolulu. The base is home to a number of boats and is used for search and rescue operations and other missions.

Naval Computer and Telecommunications Area Master Station Pacific. Naval Computer and Telecommunications Area Master Station Pacific is a U.S. Navy base located in the central part of Oahu. The base is used for communication and information technology operations.
---
What Military Bases are on Oahu?
Oahu Military Base PCS Guides
The island of Oahu is arguably one of the most unique places in the world. It spans only 44 mies long and 30 miles wide but it packs one of the heaviest punches in terms of the diverse lifestyles, scenery, traffic, and things to do on each side of the island. Your life while stationed at Schofield Barracks in the sleepy town of Wahiawa will see a stark contrast between life at Marine Corp Base Hawaii near Kaneohe Bay.
To boil it all down, we've created the below PCS Guides, specific to each Oahu Military Base to allow you to do some "home-work" before putting boots on the ground in Oahu. We'll cover the Bases' locations to key points of interest, weather, restaurants, things to do, schools, shopping, Navy Exchange Hawaii, shopping, lifestyle insights, as well as the Real Estate, Rental, and Hawaii Military Housing on Oahu. Enjoy!

---
Hawaii Military Hotels
Hale Koa at Fort DeRussy
While most hotels will offer a military discount, the Hale Koa is the only Armed Forces Recreation Center (AFRC) resort within a military reservation in the United States. The resort is located in the heart of Waikiki and spans over 72 oceanfront acres. The 818 rooms are reserved for the exclusive use of military members, families and sponsored guests. Those looking for military lodging in Hawaii will be pleased to know that rates are far less expensive than the surrounding Waikiki hotels due to the resort being an AFRC. Specific rates will depend on rank.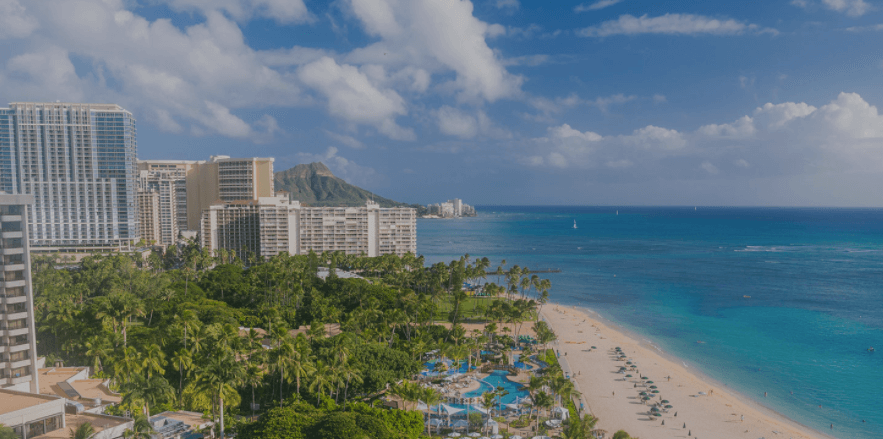 VA Hospitals Hawaii
Visit the VA Pacific Island Health Care System for more information about VA Hawaii Clinics and Hospitals.
---
Hawaii BAH in 2023
Calculating your Hawaii BAH requires that you first look at the county. In Hawaii, the different islands are what constitute counties but if you're going to PCS to Oahu, the Oahu base housing allowance is determined by looking at the Honolulu BAH in Hawaii. That being said, Oahu and Honolulu BAH are one in the same. Check out the matrix below to calculate your BAH in 2023:
With Dependents

No Dependents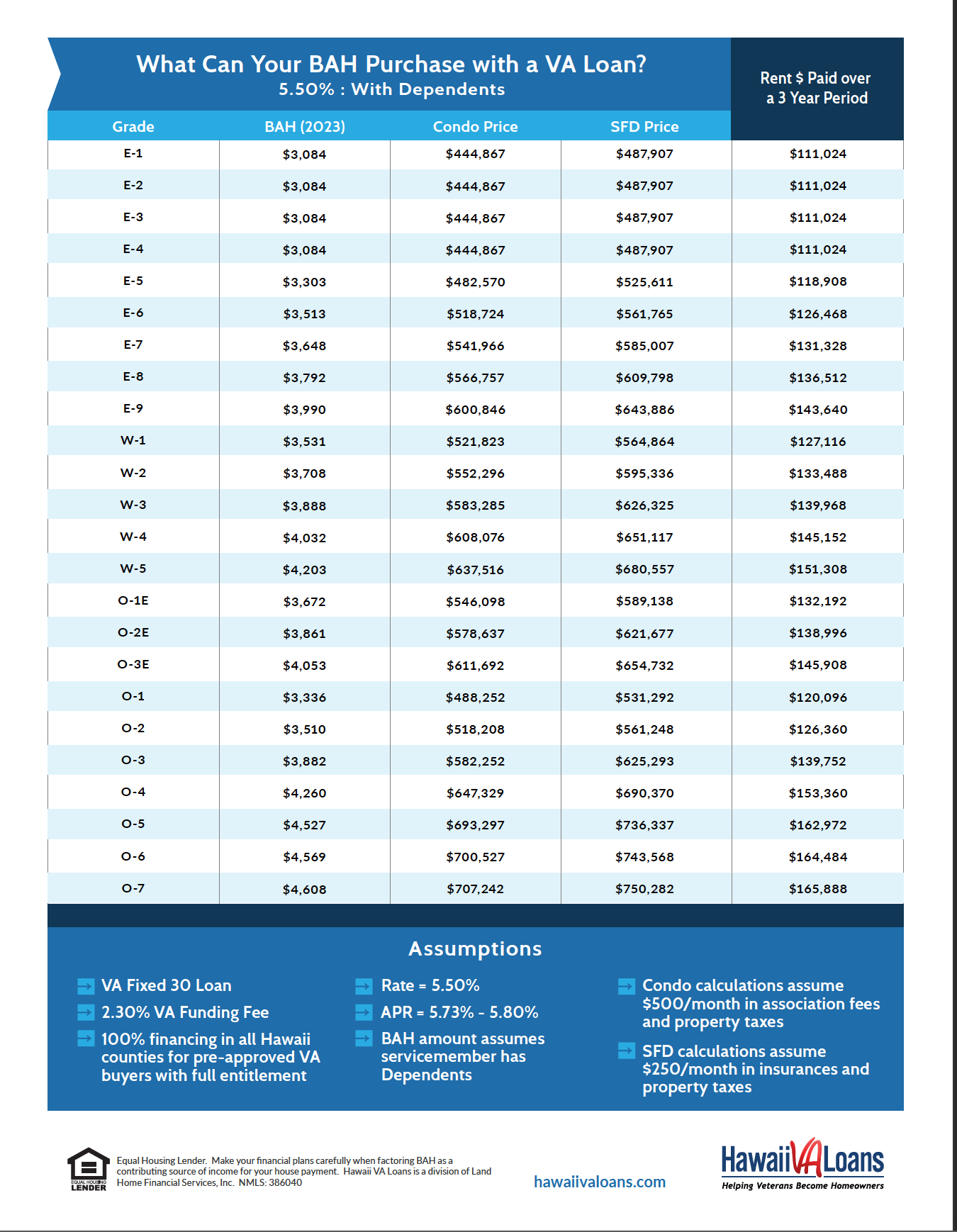 What is a Base Housing Allowance?
If you're a military member, you may be familiar with the concept of a base housing allowance (BAH). But for those who are new to the military or just moving to a new duty station, understanding what a BHA is and how it works can be confusing. Here's a breakdown of what a BHA is and how it's used:
BAH is a financial allowance provided to military members and their families to help cover the cost of housing. This allowance is based on the member's rank, family size, and duty station, and it is intended to help them afford the cost of rent or mortgage payments.
How is a BAH calculated?
The amount of a BAH is based on the average cost of rent or mortgage payments in a particular area. This is known as the "housing costs data," and it is compiled by the Department of Defense (DOD) and updated annually. The BAH is designed to cover the cost of housing in a particular area, with some additional funds left over for other housing-related expenses such as utilities and maintenance.
How is BAH used?
Military members and their families can use their BAH to cover the cost of rent or mortgage payments, as well as other housing-related expenses such as utilities and maintenance. The BAH can be used to rent or buy a home, or it can be used to pay for on-base housing if it is available.
Hawaii VA Loans
If you are a U.S. military veteran or currently serving our country and have been on active duty for a minimum of 90 days, you could be eligible for a Hawaii VA loan. The benefits of a VA loan make a hard argument for being the best form of home financing for veterans and besides providing a "leg up" in the competitive Oahu Real Estate landscape, it also presents the most-cost effective loan product available in the marketplace and VA loan rates in Hawaii are typically lower than most conventional mortgage rates.

It's important to understand that the Veterans Administration is not a mortgage company; they work with VA lenders to provide a "guarantee" to home mortgages given to Veterans. If a lender has to take a loss on a loan due non-payment and foreclosure, the VA will reimburse the affected lender all or a portion of the money lost. This "guarantee" is what allows lenders to give VA loans to borrowers that may not meet the qualifying restrictions of other mortgage programs.
Why the VA Loan?
NO DOWNPAYMENT: As mentioned above, qualifying for a VA loan in Hawaii is almost always the best choice for veterans when considering their financing options. The most notable reason being the ZERO downpayment requirement that allows for 100% financing. While other homebuyers are saving years for a downpayment, VA eligible buyers are afforded the immediate opportunity of home ownership. Conventional mortgages typically require a minimum of 3-5% down payment and with the height of Hawaii home prices, that can amount to roughly $12,000-15,000 for even the most inexpensive home options.

COMPETITIVE INTEREST RATES: VA loans typically provide for the lowest interest rate in comparison to conventional mortgage products. This makes your monthly payment more affordable as well as provides you more buying/qualifying power. Hawaii will see the some of the highest loan amounts on average due to home prices so the month over month savings inevitably compound to a substantial financial advantage.
REDUCED CLOSING COSTS: Closing costs are standard for home purchases and these costs are in addition to down payment requirements for conventional loan programs. Fortunately for VA borrowers, a good chunk of these closing costs are waived. Buyers using a VA loan in Hawaii can save upwards of $2,000 in closing cost fees that conventional borrowers cannot.

NO MORTGAGE INSURANCE: The dreaded Private Mortgage Insurance(PMI). For conventional mortgage borrowers, Private Mortgage Insurance is required for any loan made with less than 20% down payment. For most Hawaii home buyers, this is the case. Private Mortgage insurance can amount to an additional $200-400/mo on top of the mortgage payment, taxes, and home insurance which puts a significant dent to affordability for prospective homebuyers, as well as chewing up a good portion of much needed buying power. With VA loan eligibility, you can kiss PMI goodbye. This, on top of some of the lowest interest rates available, should sing the sweet song of why the VA loan is so beneficial to our Veterans.

GREAT LOAN AMOUNTS: As of January 2020, there are no longer VA loan limits in Hawaii. Prior to, the Honolulu VA loan limits were determined by the average home prices in each county. This, on top of all the aforementioned benefits should sing the sweet song of the Hawaii VA Loan advantage!
*STREAMLINE REFINANCING: Already have a VA mortgage and need to refinance? Well then you may qualify for an Interest Rate Reduction Refinancing Loan(IRRRL) that's commonly referred to as the Streamline Refinance which provides for the most cost effective refinance program available.
Hawaii VA Loan Entitlement
Once you've earned VA loan entitlement, it's your use to use when and where you want! This is true whether you're on active duty, in the reserves, or have been out of the military for decades. In most cases, you can only have one VA loan at a time but should you have a small VA loan elsewhere, you may still qualify for a VA loan in Hawaii.
Once you pay off an existing VA loan you'll have access to entire your entitlement and full VA eligibility. However, if a VA buyer "assumes" your VA mortgage and takes over your payments, your entitlement is still tied up, and you're on the bench in terms of obtaining a NEW VA loan until the previous loan is paid in full.
VA Loan Eligibility
Determining VA loan eligibility is the first step for veterans looking to explore their home financing options and this is determined by the type of service and time of service.
Guidelines:
If you enlisted before 9/7/1980 or started service as an officer before 10/16/1981, you could be eligible for a Hawaii VA mortgage if you served at least 90 days in wartime and 181 days in peacetime.
If above is true, and you left the military, you need to have served at least 24 consecutive months on active duty without being dishonorably discharged and no less than 90 days active duty in peacetime or 181 days in wartime for eligibility.
If you were in the National Guard or reserves, service of at least 6 years deems VA loan eligibility -- both consecutive and nonconsecutive apply, as well as service in different branches.
For current active duty members, you could be eligible after 90 days of continuous active duty. If discharge or release from active duty occurs, you must reestablish eligibility.
Despite not meeting active or reserve duty requirements, the following individuals may still be eligible:
Spouses of deceased veterans who passed by direct service on active duty, or service-related injury, so long as they have not remarried
Spouses of POW's or missing in action service members, if enlistee has been missing for more than 90 days.
U.S. Citizens who served with allied country during World War II.
Member of service in certain organizations like Public Health Service officers, cadets of the U.S. Military, Air Force, or Coast Guard Academy, midshipmen at the U.S. Naval Academy, officers of National Oceanic & Atmospheric Administration, merchant seaman with World War II service, and others.
Certificate of Eligibility:
Veterans can prove their entitlement by obtaining a Certificate of Eligibility(COE). This process is simple, can be completed in 24 hours, and your Hawaii VA Loan officer can help you obtain it by completing and filing VA Form 26-1880. The following information is needed to successfully complete the form:
Name, address, phone number, and SSN
Branch of military service, past or present
Service number
Separation of service number, or statement of service papers.
VA Loan numbers for any previous VA loans you have or had
If you're interested in exploring your Hawaii VA Loan eligibility and Buying Power(how much you qualify for) submit an inquiry below and one of our VA Real Estate Specialists will be in touch with you within 24hrs to guide and equip you with everything you need to know to approach homeownership with confidence.
Schedule a VA Homeowner Consultation