Things To Do in Ko Olina
Posted by Koa Cassady on Monday, December 19, 2022 at 5:30 PM
By Koa Cassady / December 19, 2022
Comment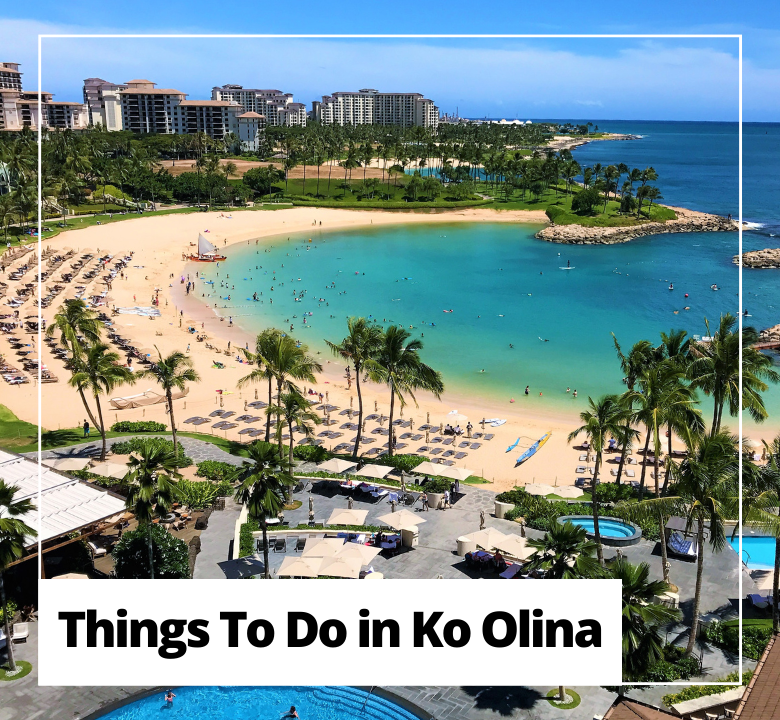 Photo: Turning Left For Less
As a large community packed with various sub-neighborhoods and resort buildings, there is a nice selection of pastime activities, experiences, and locations to visit while staying in the area. All of these experiences are family-friendly and may even cater specifically to children, further reinforcing Ko Olina as a community adept at encouraging family bonding and experience building. From stunning landscapes to more quiet, cultural, and intimate settings, there are plentiful opportunities to create lifelong memories within this 642-acre resort community.
Paradise Cove Lu'au
92-1089 Aliinui Dr, Kapolei, HI 96707
The Paradise Cove Lu'au is located along the Northern coastline of the Ko Olina resort at Paradise Cove Public Beach. This is a popular cultural experience for learning about the traditions of Hawaiian ancestors and the rich history of the Native Hawaiian people- It also includes arts and crafts, games, music, dancing, and food, which make this a great all-around family-friendly activity. In fact, the Paradise Cove Lu'au has consistently ranked first place among Star Advertiser's Hawai'i's Best list since 2014, which shows just how much people enjoy the show and overall experience provided by Paradise Cove.
To learn more about reservations and packages, you can visit their website here.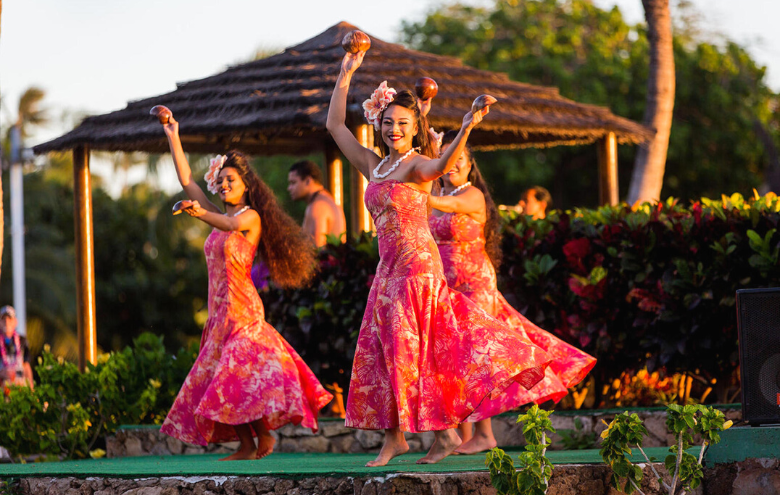 Photo: Planet of Hotels
Lagoons & Beaches
Something unique to the Ko Olina resort is the lagoon and beach system that lines the community's coast. These four manmade crescent-shaped beaches surround a body of beautiful, clear, and ultra-still waters, making these lagoons the perfect space for children and inexperienced swimmers alike (as there are little to no waves incoming from the ocean thanks to the protective rock structures bordering the lagoons). Given that the beautiful white sandy beaches surround the water, parents can easily keep an eye on children playing in the lagoon and the surrounding beach area, lending even more credibility to these being the perfect family-friendly beaches.
As a result, these beaches can be fairly noisy as they are kid-friendly and attached to the surrounding resort buildings. Each of these buildings has its own dedicated lagoon, except the Four Seasons Resort O'ahu and the Disney Aulani Resort sharing Kohola Lagoon. As for the others, the Ko Olina Beach Villas host Honu Lagoon, Marriot's Ko Olina Beach Club hosts Nai'a Lagoon, and Ulua Lagoon is a public beach not tied to any specific resort building.'
To learn more about the lagoons and nearby beaches, check out our blog post "Ko Olina Lagoons & Nearby Beaches"!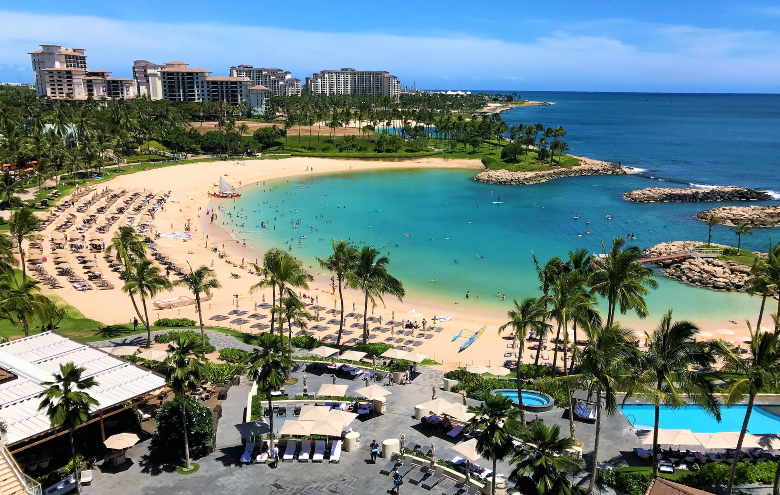 Photo: Turning Left For Less
Ko Olina Golf Club
92-1220 Aliinui Dr, Kapolei, HI 96707
The Ko Olina Golf Club is one of the most famous and beloved on the island of O'ahu, with a gorgeous, well-planned design that weaves in and out of the Ko Olina residential neighborhoods. The course was built in 1990 by golf course architect Ted Robinson, and it consists of an 18-hole challenging course with various water features, hills and levels, and a decent length that makes this course suitable for both beginners and experts. In fact, this course was rated one of Golf Digest's top 75 courses in the United States, displaying the love that experts have for this stunning development. On top of also featuring men's and women's locker rooms (fit with showers, steam rooms, and jacuzzis), the Ko Olina Golf Club is also home to one of the many Roy's restaurant locations as well as a celebrated golf shop.
To learn more about rates and their golf academy, to book a tee time, or even to view live webcams, you can visit the Ko Olina Golf Club's website here.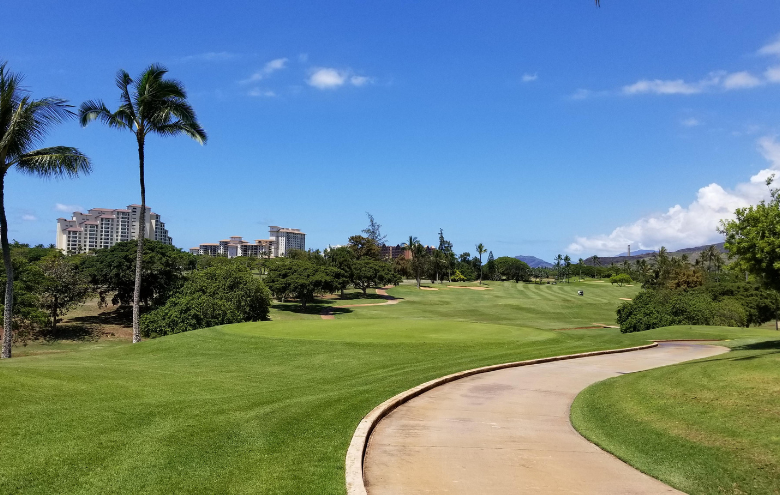 Photo: Reddit
Spas
Naupaka Spa & Wellness Centre at Four Seasons Resort O'ahu at Ko Olina: 92-1001 Olani St, Kapolei, HI 96707
Thai-Issan Therapeutic Massage: 92-1480 Aliinui Dr Suite 1101, Kapolei, HI 96707
Spa culture is also quite prominent within the Ko Olina resort, with different options for visitors and guests to utilize. Some of the most notable options include the Naupaka Spa & Wellness Centre at Four Seasons Resort O'ahu at Ko Olina and Thai-Issan Therapeutic Massage, the former being located within the Four Seasons building and the latter being located near the Hillside Villas residential sub-neighborhood in Eastern Ko Olina. Both spa centers are celebrated for incredible services and overall enjoyable experiences, with the Napupaka Spa offering services like facials, massage and body therapies, children's services, and even hair and nail services. The Thai-Issan Therapeutic Massage spa focuses on common deep tissue and sports massage services as well as unique Thai bodywork, Lomi Lomi, Shiatsu, and even Swedish massage therapies.
The Naupaka Spa & Wellness Centre has more information regarding hours and services on its website here, as does the Thai-Issan Therapeutic Massage center on its website here.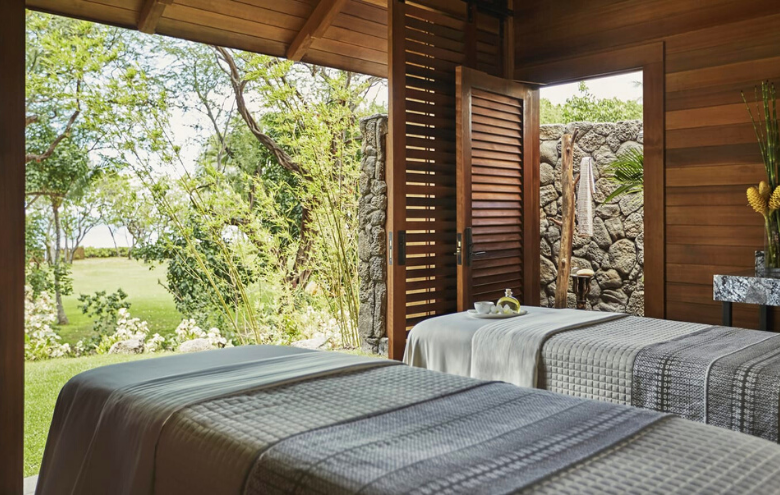 Photo: Four Seasons Resort O'ahu at Ko Olina
Restaurants
The Ko Olina resort also offers a plethora of great restaurants spread across its several-hundred-acre property, including breakfast, Italian and Mexican, Hawaiian-inspired, seafood, and even Disney brunch options. To learn more about some of the great restaurants around the Ko Olina resort, check out our blog post "The Best Restaurants in Ko Olina"!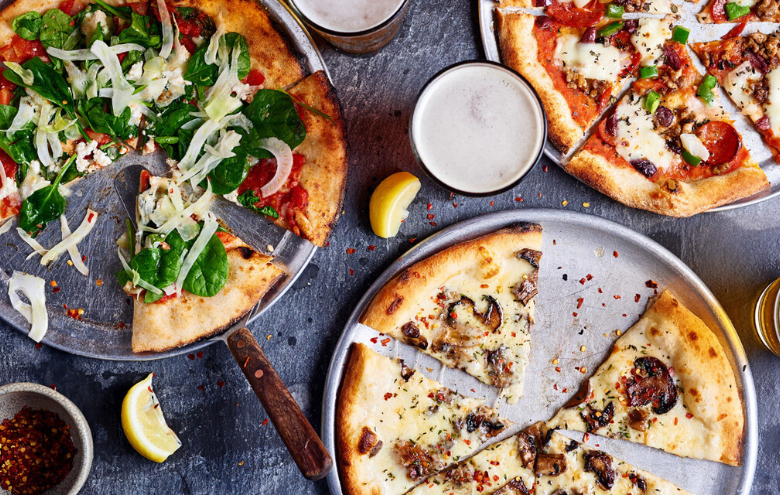 Photo: Monkeypod Kitchen by Merriman
Ko Olina Center
92-1047 Olani St, Kapolei, HI 96707
Thanks to the Ko Olina Center stationed on Olani Street next to the entrance to the Coconut Plantation sub-neighborhood, those staying in Ko Olina may not have to leave the neighborhood in order to enjoy a bit of retail therapy. The Ko Olina Center hosts Crazy Shirts, Mahina Ko Olina (a local clothing retailer), Hemptuary Hawai'i (a wellness store), Tommy Bahama, and even a SOHO Hair Salon. Not to mention, the Island Country Market features a full-service deli, various lunchmeats, cheeses, fresh fruits and veggies, salads, liquor, and gifts, which make this center a great place to stop even if you are in the need of some groceries to bring back to your residence.
To learn more about the shops, restaurants, and events happening at the Ko Olina Center, you can visit their website here.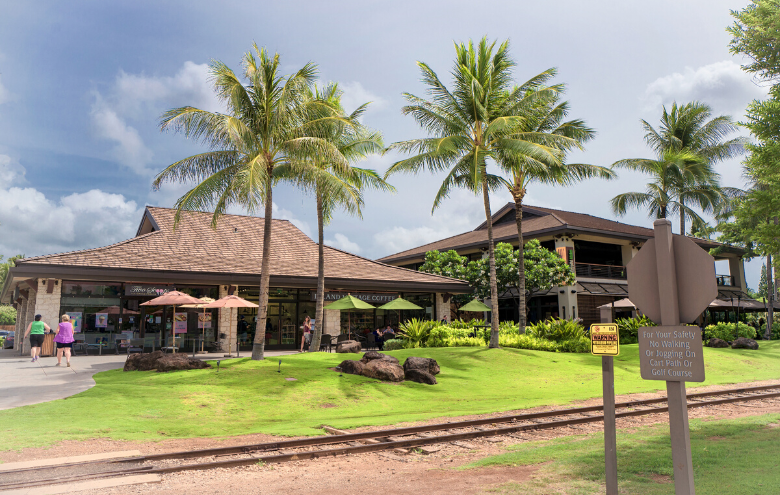 Photo: Scene of Hawai'i by Wavees