Things To Do in Manoa
Posted by Koa Cassady on Wednesday, November 16, 2022 at 11:19:37 AM
By Koa Cassady / November 16, 2022
Comment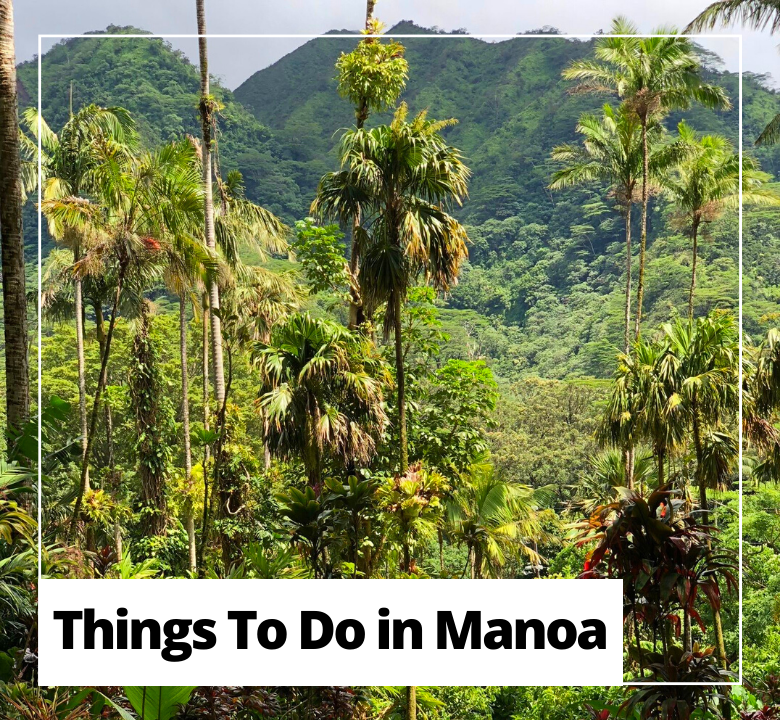 Cover Photo: AllTrails
Manoa is a cute yet popular residential neighborhood located within Manoa Valley at the base of the Ko'olau Mountain range. This valley community is densely packed with single-family homes, some low-rise condominiums, and even the University of Hawai'i's main Manoa campus. However, this area is also home to a variety of great activities, from hikes to sightseeing spots, cultural education opportunities, and shopping locations. Whether you're in the mood to exercise or would rather grab a ticket for a local theatre production, there's something for people of all ages in Manoa.
Manoa Falls Trail
Na Ala Hele, Honolulu, HI 96822
One of the most popular hikes in the Manoa neighborhood is the Manoa Falls Trail, which leads hikers up a lush green path to a rocky 100-foot-tall waterfall. This gorgeous hike features views of surrounding eucalyptus trees, banyan trees, tropical flowers, and more, which makes for an incredible tropical experience for visitors and locals alike. Keep in mind that this hike lasts between 1 and 3 hours (1.6 miles round trip) depending on how fast you are moving, so be sure to plan ahead if you want to visit.
Also keep in mind that the trail is fairly muddy and has mosquitos since Manoa weather is known to be quite rainy and wet, so supportive shoes and bug spray are highly encouraged. Parking is also available at the base of the hike, but it can fill up quickly during popular hiking hours.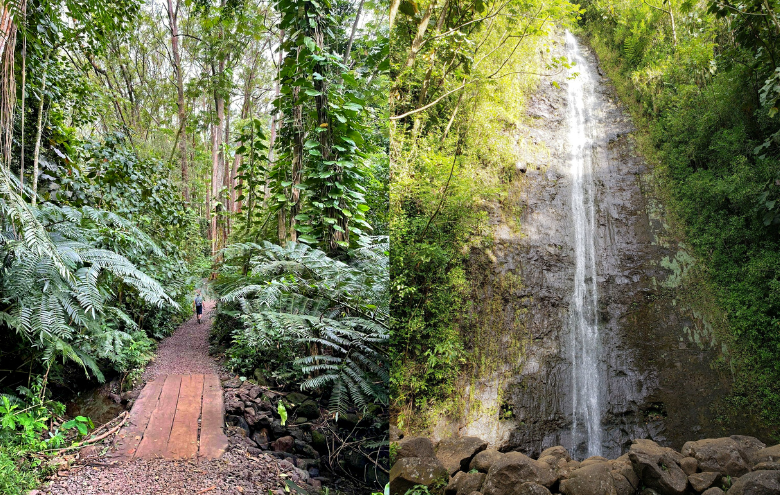 Photos: AllTrails
Pu'u U'alaka'a State Park (Tantalus Lookout)
Nutridge St, Honolulu, HI 96822
Another popular scenic location in Manoa is Pu'u U'alaka'a State Park's Tantalus Lookout, which features some of the best views of Honolulu, Diamond Head, the Pacific Ocean, and the Manoa neighborhood below on the entire South side of the island. Tantalus Lookout is especially popular during sunset hours when locals claim that the lookout provides some of the best sunset views of Diamond Head. On the way to the peak, you will also find brief history lessons on podiums with photographs, which detail the history of the lookout and area, the park's history of growing sweet potatoes, and the culture of the Native Hawaiians who inhabited this land.
The winding road to the lookout features the dense greenery of the Ko'olau Mountain ridges, with some public parking near the top for those who decide to drive up. However, TheBus does make a stop near the top of the park in case visitors are not able to drive themselves, and tourists occasionally also take tour shuttle buses to the peak.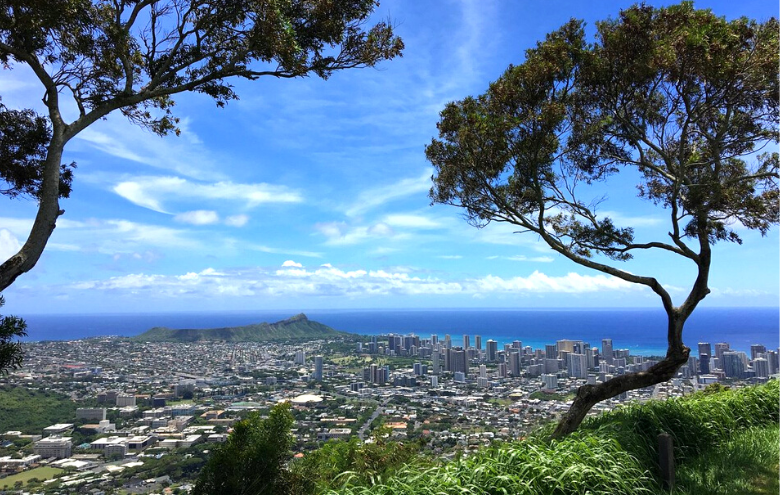 Photo: Pu'u U'alaka'a State Park Management on Tripadvisor
Lyon Arboretum
3860 Manoa Rd, Honolulu, HI 96822
Another popular outdoor experience in Manoa is Lyon Arboretum, which is a public botanical garden operated by the University of Hawai'i at Manoa. This almost 200-acre botanical garden features over 6,000 taxa of tropical and sub-tropical plants, over 7 miles of hiking trails, and a small waterfall. Plant and flower lovers especially will enjoy this experience, as many of the colorful and unique native flora are sprinkled around the area. There are brief educational opportunities on signs throughout the garden as well, which help to educate visitors on topics like the origin of some Hawaiian plants, Hawaiian plants that are endangered, and even birds that live in the arboretum.
Lyon Arboretum is open to the public on weekdays from 8 AM to 4 PM, Saturdays from 9 AM to 3 PM, and closed on both Sundays and holidays. Entrance to the garden is free, but providing a donation to the arboretum is encouraged. Note that you will need a reservation in order to visit the arboretum, which you can book here.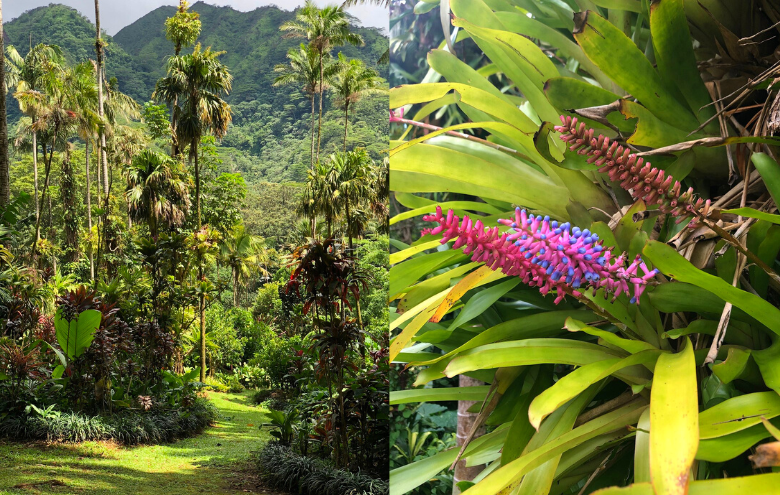 Photos: AllTrails / dloupe on Tripadvisor
Manoa Valley Theatre
2833 E Manoa Rd, Honolulu, HI 96822
For those who enjoy theatre productions, the Manoa Valley Theatre may be the perfect activity for you. This community theatre was started in 1969 by graduates of the University of Hawai'i at Manoa's Theatre Department, and it has grown to be a local staple in the Manoa community. This theatre casts local performers in regular play productions of shows like Cabaret, Tick Tick Boom, and The Chinese Lady, as well as other Broadway and Off-Broadway shows.
To view the theatre's lineup of upcoming productions, learn how to support the theatre, audition, become part of the staff, or take studio classes, visit their website HERE.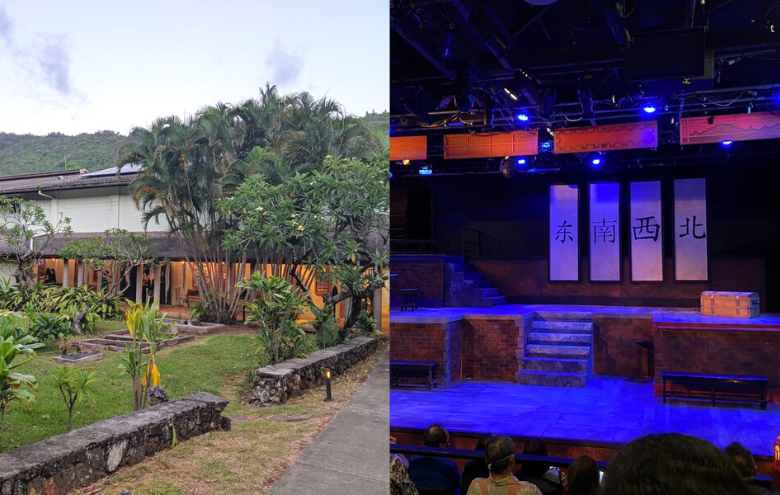 Photos: Natprapa P. on Yelp / Amy Y. on Yelp
Experience Nutridge
3280 Round Top Dr, Honolulu, HI 96822
One of the more unique and cultural-education-focused experiences in the Manoa neighborhood is Experience Nutridge, which is an intimate Hawaiian lu'au mixed with hands-on activities and a locally-sourced dinner. Throughout visitors' time here, they will be led through a rainforest, help to build an imu (a Hawaiian underground oven), and watch a family-style lu'au. Other activities such as spear throwing, dancing, and helping to prepare food will take place as well, making this a great family-friendly experience and an opportunity to meet new people.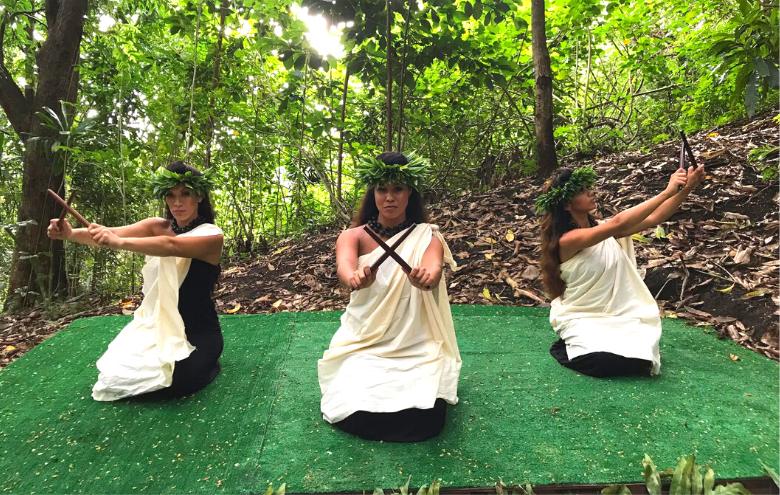 Photo: Experience Nutridge
Pu'u Pia Hiking Trail
3680 Alani Dr, Honolulu, HI 96822
The last hike on this list is the Pu'u Pia Hiking Trail, which is noted by locals as a shorter hike but a bit more difficult than the other hikes on our list. This hike features a 1.9-mile round-trip trail that lasts an average of 1 hour and 18 minutes, with a gradual but constant incline for an elevation gain of 721 feet. The hike features partial views of downtown Honolulu with the Pacific Ocean in the distance, as well as the Manoa neighborhood below and the surrounding dense forestry. Since the hike tends to be muddy and slippery with uneven footings in some areas, strong and supportive shoes plus plenty of bug spray is encouraged.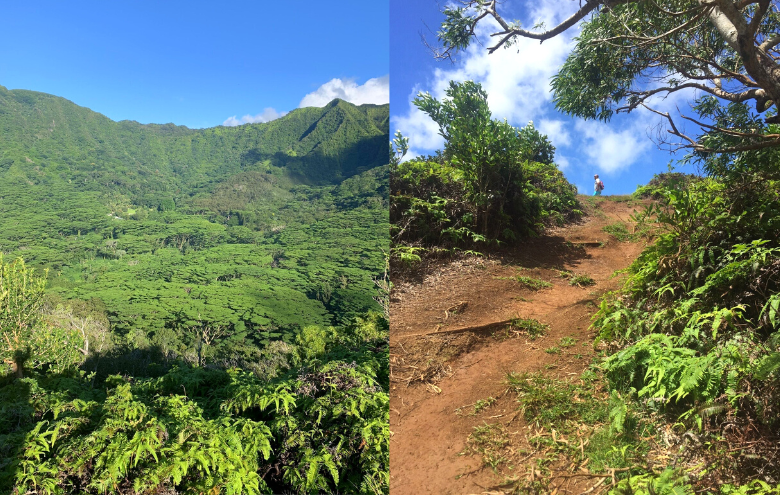 Photos: AllTrails
Manoa Farmers Market (Manoa Marketplace)
2851, Manoa Marketplace, E Manoa Rd, Honolulu, HI 96822
Are you looking for a place to grab some local goods? If you're in the Manoa Marketplace area, the Manoa Farmers Market is open every Tuesday, Thursday, and Sunday from 7 AM to 2 PM. This farmers market offers a variety of local fruits, vegetables, flowers, and arts and crafts from vendors like Island Fresh Produce, Creative Cookery, Sou's Thai, Ko'olau Gallery, Souanne's Produce, and Nita's Flower Market.
Products are known to run out closer to closing time, so it is recommended that you show up early so you have a wider selection of goods.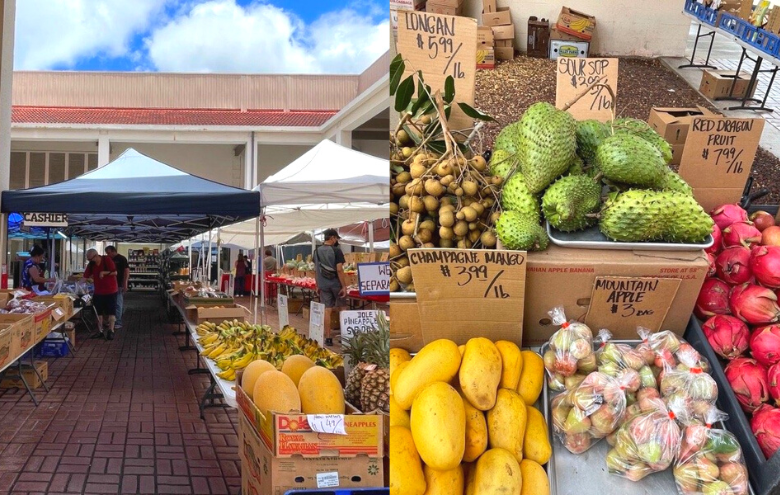 Photos: Lyla D. on Yelp
University of Hawai'i Art Galleries & Museum
Art Galleries: Art Bldg, 2535 McCarthy Mall, Honolulu, HI 96822
John Young Museum of Art: Krauss Hall, 2500 Dole St, Honolulu, HI 96822
Art lovers can find a great time in the University of Hawai'i's various art galleries and museum, which is split into two main galleries and the John Young Museum of Art.
The two galleries, known as The Art Gallery and The Commons Gallery, are both located at the University of Hawai'i's art building. The Art Gallery, which is the larger of the two at 4,400 square feet, features both historic and contemporary artists as well as lectures, tours, films, and more. As a result, The Art Gallery amasses a whopping 50,000 visitors per year. The Commons Gallery, on the other hand, features mostly art pieces by students, faculty, and short-visiting artists.
These art galleries are open on weekdays from 10 AM to 4 PM, Sundays from 12 PM to 4 PM, and closed on Saturdays and holidays. To learn more about exhibition schedules and events being held by the University of Hawai'i's art department, you can visit their website here.
The John Young Museum of Art features a collection of works from across Asia, the Pacific Islands, Africa, and Mesoamerica. This collection belongs to the late artist John Chin Young, whose passion for art was shown through his own signature gestural paintings and in his collection of various artworks. This museum is open from Wednesdays to Sundays from 12 PM to 4 PM and is closed Mondays, Tuesdays, and holidays.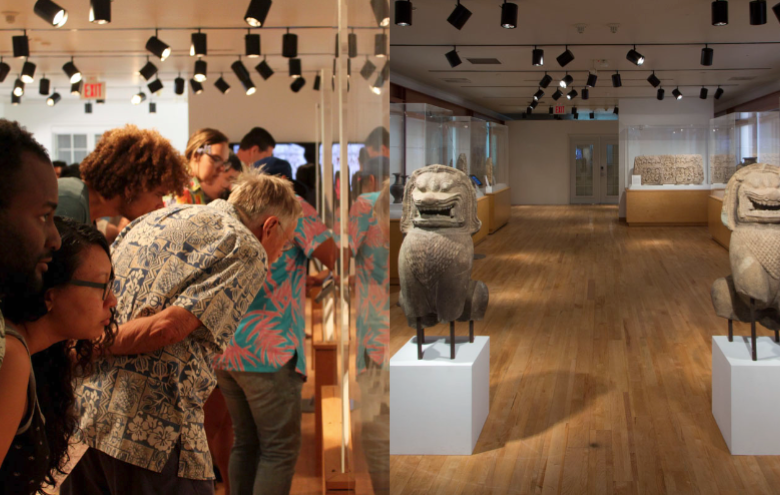 Photos: John Young Museum of Art
Manoa Public Library
2716 Woodlawn Dr, Honolulu, HI 96822
The final entry on our list is the Manoa Public Library, which is a popular library that emphasizes environmental friendliness and sustainability. This public library features free WiFi, a computer area, a programming room, photovoltaic solar panels, high-efficiency air conditioning, and covered parking for cars and bicycles. Not to mention, the book selection is large and diverse, with new additions to the library's collection regularly.
This is a great place for students to spend time doing homework or studying, as its comfortable, cool, and quiet environment is extremely conducive to learning and working (which also makes this library a popular place for non-students to come and get work done either on the public computers or their own laptop). The staff at this library is also known to be very friendly, which adds to the library's feeling of safety and comfort.
The Manoa Public Library is open Saturdays, Mondays, and Tuesdays from 9 AM to 4 PM, Wednesdays and Thursdays from 12 PM to 7 PM, Fridays from 11 AM to 4 PM, and closed on Sundays.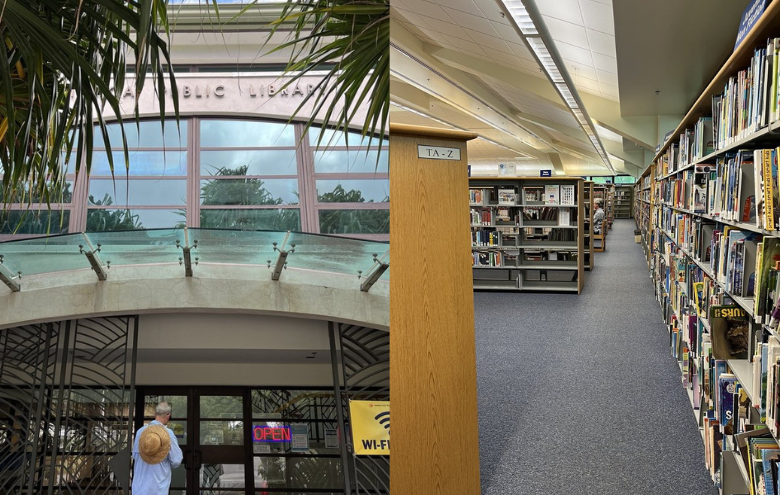 Photos: Julie C. on Yelp