Top 10 Ultra Luxury Condos in Honolulu
Posted by Koa Cassady on Thursday, March 9, 2023 at 5:54:04 PM
By Koa Cassady / March 9, 2023
Comment
The city of Honolulu is home to a plethora of opulent high-rise condominiums, many of which include unparalleled amenities and concierge services in addition to breathtaking vistas of the Pacific Ocean and Diamond Head. With the recent influx of as many as 10 new Honolulu condos over the last decade and at least 7 more on the way, it can be difficult to discern which condos are appointed with amenities, interiors, and thoughtful designs catered to the most discriminating tastes. Our Honolulu condo expertise sees us frequenting the many luxury condos in Honolulu and it's high time we provide you with a curated list of our Top 10 Luxury Condos Honolulu.
Luxury Condos Honolulu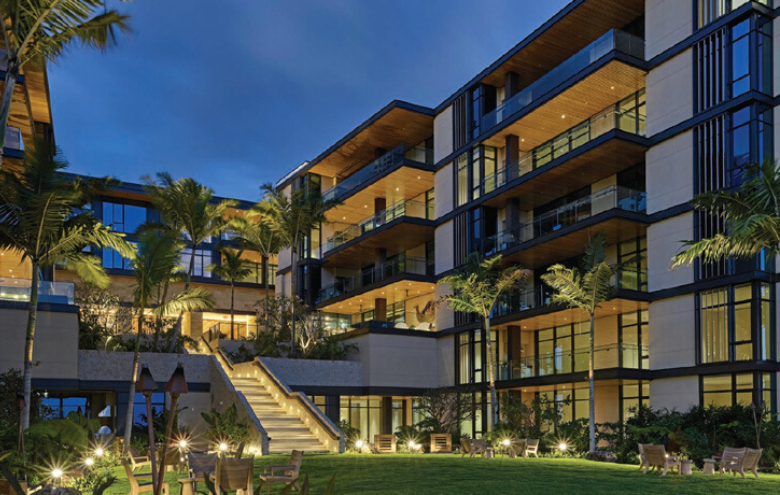 1. Park Lane - This First Row condo in the Ala Moana neigborhood serves as the ocean facing exterior of Ala Moana Shopping Center; the largest open air shopping mall. Park Lane is held in the highest esteem by Honolulu residents and the real estate due to it's exclusivity, attention to detail, and it's unique twist on condo living. The Kobayashi Group, one of Hawaii's most respected developers, sourced their materials from all over the world to incorporate only best fixtures, finishes, and surfaces into their elegantly designed spacious floorplan, with generous lanais. With only 219 residences, Park Lane exists as one of Hawaii's most exclusive condo projects, one that lives more like a 5-star resort than a residential condo due to it's incredible amenities, staff, and concierge services. Building aside, it's location provides owners with unequaled access to world-class shopping and restaurants, unobstructed ocean views, and access to all of the best parts of Ala Moana and Kakaako. Condos at Park Lane offer 1-4 Bedroom floor plans between 1,622 to 6,037 square feet, and an average sales price of $5.5 million.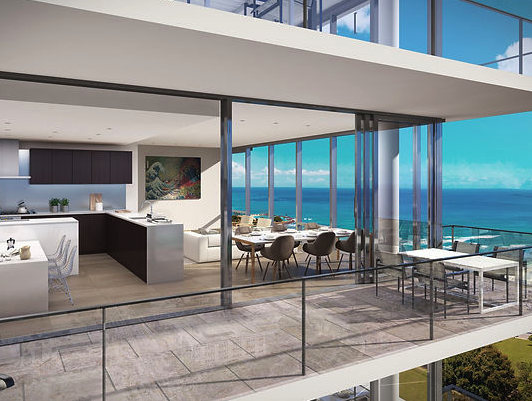 2. Waiea - the first tower and flagship development of the illustrious Ward Village project in Kakaako. This First Row Kakaako condo offers some of the largest floor plans in Ward Village, a community that's typically known for smaller than average condominiums, but expansive luxury amenity spaces. Waiea condos incorporate a refreshing blend of organic materials and color palletes with it's all glass exterior facade. Floor to ceiling windows and glass-framed lanais promote incredible Diamond, Ocean, and City Views; not to mention a weekly fireworks show from Magic Island on friday nights. The building is notorious for second home and vacation home owners which calls for low daily occupancy and very light use of the resort amenities and guest suites. One of Kakaako's Best Restaurants, Robata Jinya Honolulu, recently opened on the ground floor of Waiea in 2022 and should be your go-to Kakaako sushi and ramen spot! Expect to find 2-3 bedroom Waiea condos for sale between $2.5M - $8M.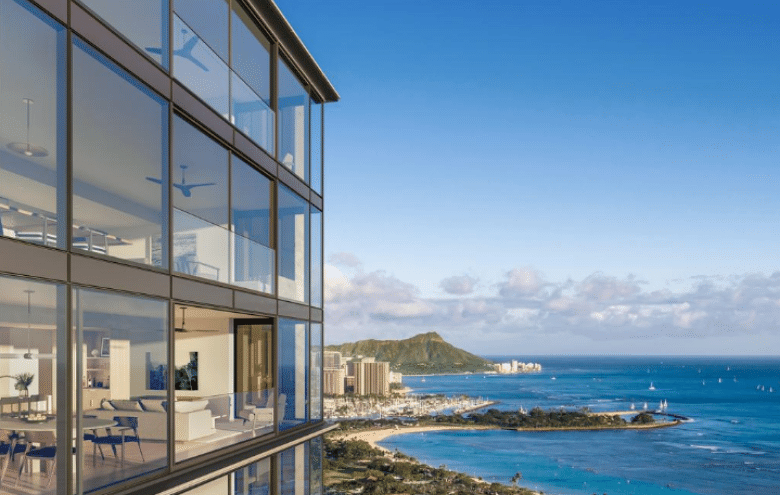 3. Kalae - This new Ward Village condo is being touted as Howard Hughes' most impressive development yet. Styled after classic buildings of early 20th century Honolulu like The Halekulani Hotel and Shangri La to bridge mid-century modern elegance with organic materials to pull in the buildings tropical envrionment. We'll see a suite of distintive suite of "courtyard amenities," a first in Ward Village, offering private gathering spaces of amenities set apart from the common area amenities in an effort to allow owner's guest to gather with them away from the amenities exclusive to Kalae owners. Kalae will feature premium pricing due to its unique First Row location, as well as the 600 foot buffer between the east facing neighbor, Waiea. Kalae condos are being sold in the developer's pre-sale phase with construction expected to commence in 2023, completion in 2026. Units range from 1-3 bedrooms priced from $1.2M - $5M+.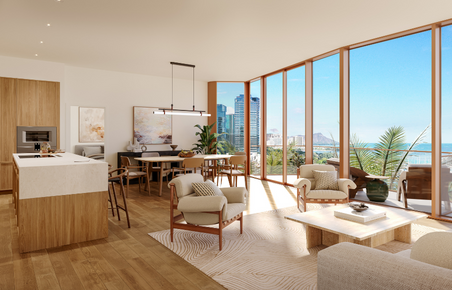 4. Alia - The fourth Kobayashi Group project on our list and their very latest Kakaako luxury condo development. The Alia condo building will be situated in the Our Kakaako Master Plan on the trendy west side of the neigborhood near SALT. Alia will be one of the few on our list with true, usable lanais, and will offer the most expansive array of amenities we've seen to date. The developer's vision is to "create a residence that's both luxurious and mindful of the environment, various minds aligned. From the tower's physical structure to the inspired interiors and landscaping, leading figures from Hawai'i's creative fields have carefully crafted a building that will become an icon in the city for generations to come." Alia offers an incredible aesthetially stimulating exteriors with a bronze facade, alternating lanais to promote shade and inhibit heat, and "wings" on the units designed to catch tradewind breezes. Expect 1-2 bedroom floor plans with 3-BR options available through "combo units." Alia aims to start construction in 2023 with completion slated for 2026.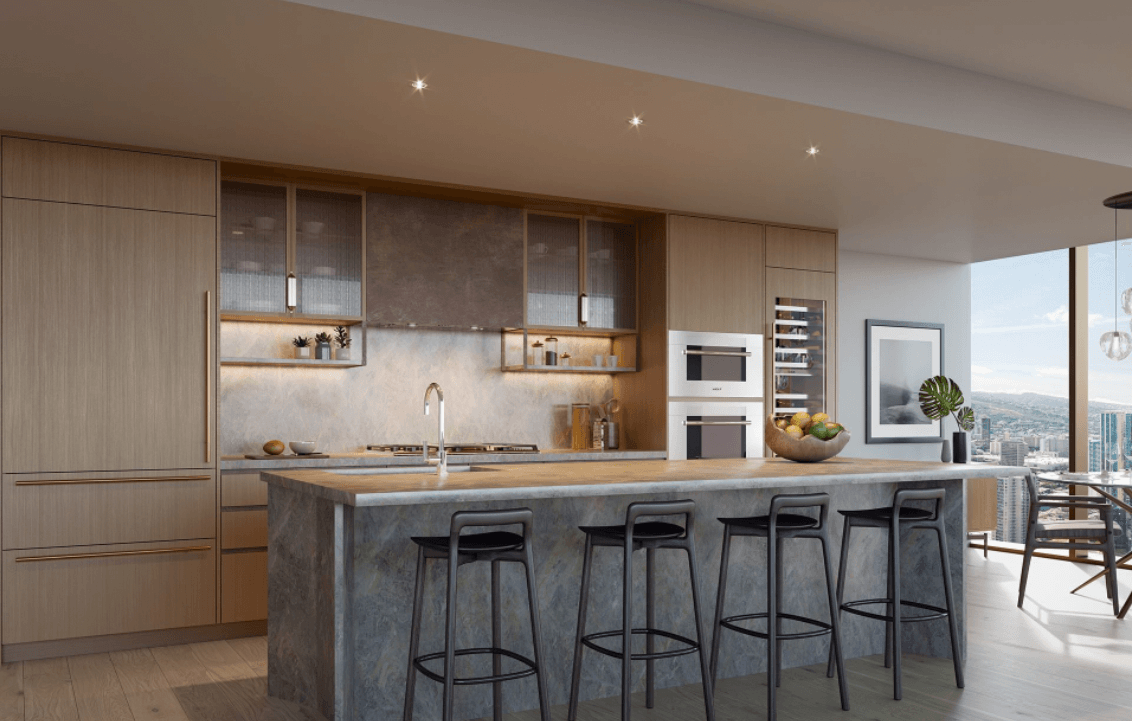 5. Victoria Place - Designed by Solomon Cordwell Buenz, an architect that's become synonymous with luxury condo living through his work on Park Lane, Anaha, and One Ala Moana. Victoria Place condos will be situated on the First Row of Ward Village, adjacent to Victoria Ward Park that separates the building from Kalae on it's western side. Expect timeless exteriors, incredible ocean and Diamond Head views, as well as the bonus amenity of stepping right of your building to the park below. The amenities spans over 65,000sq and are split into two parts by the tower. This leaves you two separate areas for activities. "The Sunrise Lanai" on the Diamond Head side of the building will be focused on health, wellness, fitness facilities, a lap pool, and lawns for gathering and group exercises. The Ewa side of the building will feature the "The Sunset Lanai" overlooking the park and harbor with space to wind down and relax at sundown. There will be several dining facilities anchored in the ground level retail which is a usual suspect for Ward Village developments. Victoria Place was the 7th tower in the Ward Village master plan the fastest ever to sell out. Stay tuned for resale units to hit the market as soon as the building finishes construction in 2024!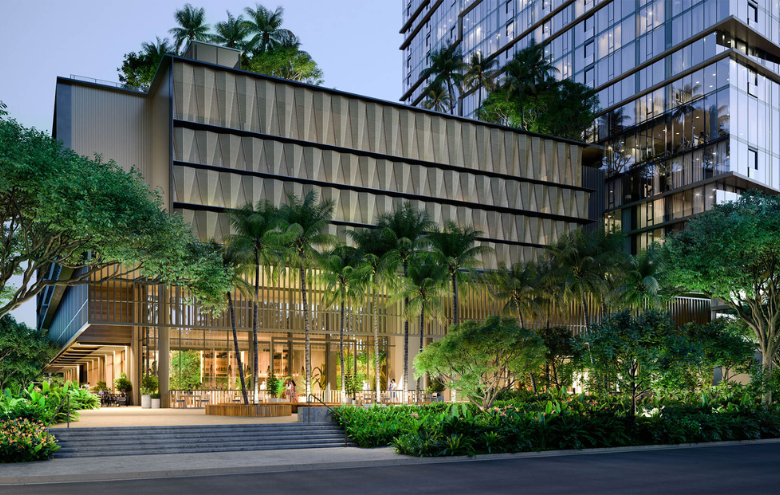 6. The Park on Ward - A Second Row condo in Kakaako and one of Ward Village's most luxurious condos to date. The building was designed by world-renowned architect Jeanne Gang with interior stylings by Yabu Pushelberg, with amenities to include a resort-style pool, hot tub, fitness center, guest suites private dining room, barbecue cabanas, and a dog park. Park Ward Village is unique located adjacent to Victoria Ward Park, a large, green, thoughtfully landscaped gathering space for Ward Village residences which extends from the second row of Ward Village all the way to Ala Moana Blvd. Victoria Ward Park provides the Park Ward Village with the most generous spacing between it's closest neighbor, Ko'ula, offering more privacy and broader view planes through the neighborhood. The building is still under construction with only a handful of developer units left for sale. Completion is slated for 2024.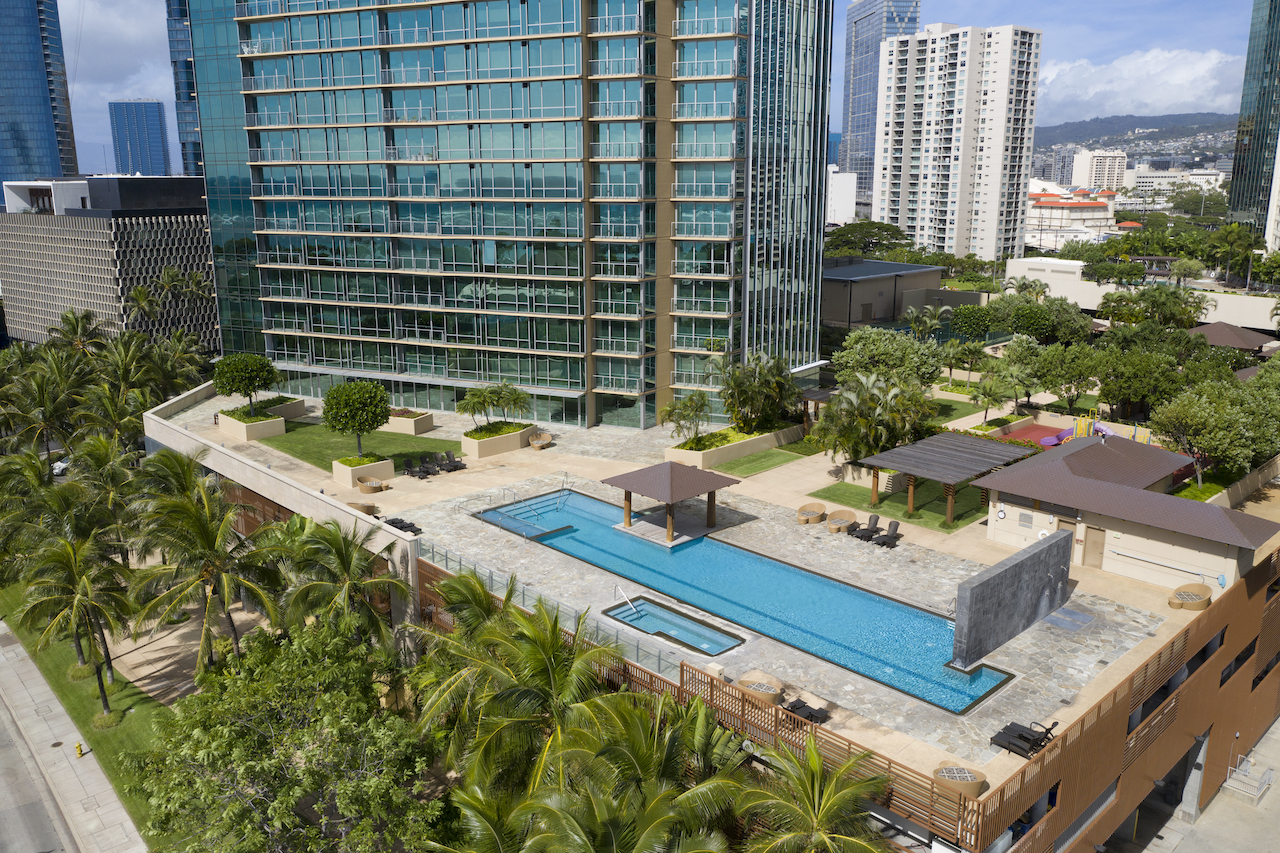 7. Hokua - Once the pinnacle of luxury condos in Honolulu, is well known for it's "First Row" Kakaako location, a theme you've likely caught onto as we go down the list. First Row rrientation offers Hokua the usual suspects like walking distance from Ala Moana Beach Park and unobstructed, panoramic views of the Pacific Ocean that backlight each Hokua condo with stunning turquoise blue waters. Hokua is the second Honolulu condo on this list developed by The Kobayshi Group, and the first of their luxury condo portfolio. The building recently finsihed a $3.5M renovation of it's amenities which now offer a refreshed fitness center, pool deck, Lobby, Ocean Terrace Room, BBQ Cabanas, Guest Suites and a tennis court. Expect 2-3 bedroom floor plans, unit sizes between1,524 to 4,415 sq, with an average sales price of $3.6 million. It's important to point out that Hokua offers some of the largest floor plans in the region; a welcomed feature for those looking for those looking to buck the trend of the smaller Ward Village condos. Join us for a tour of our recent Hokua listing below!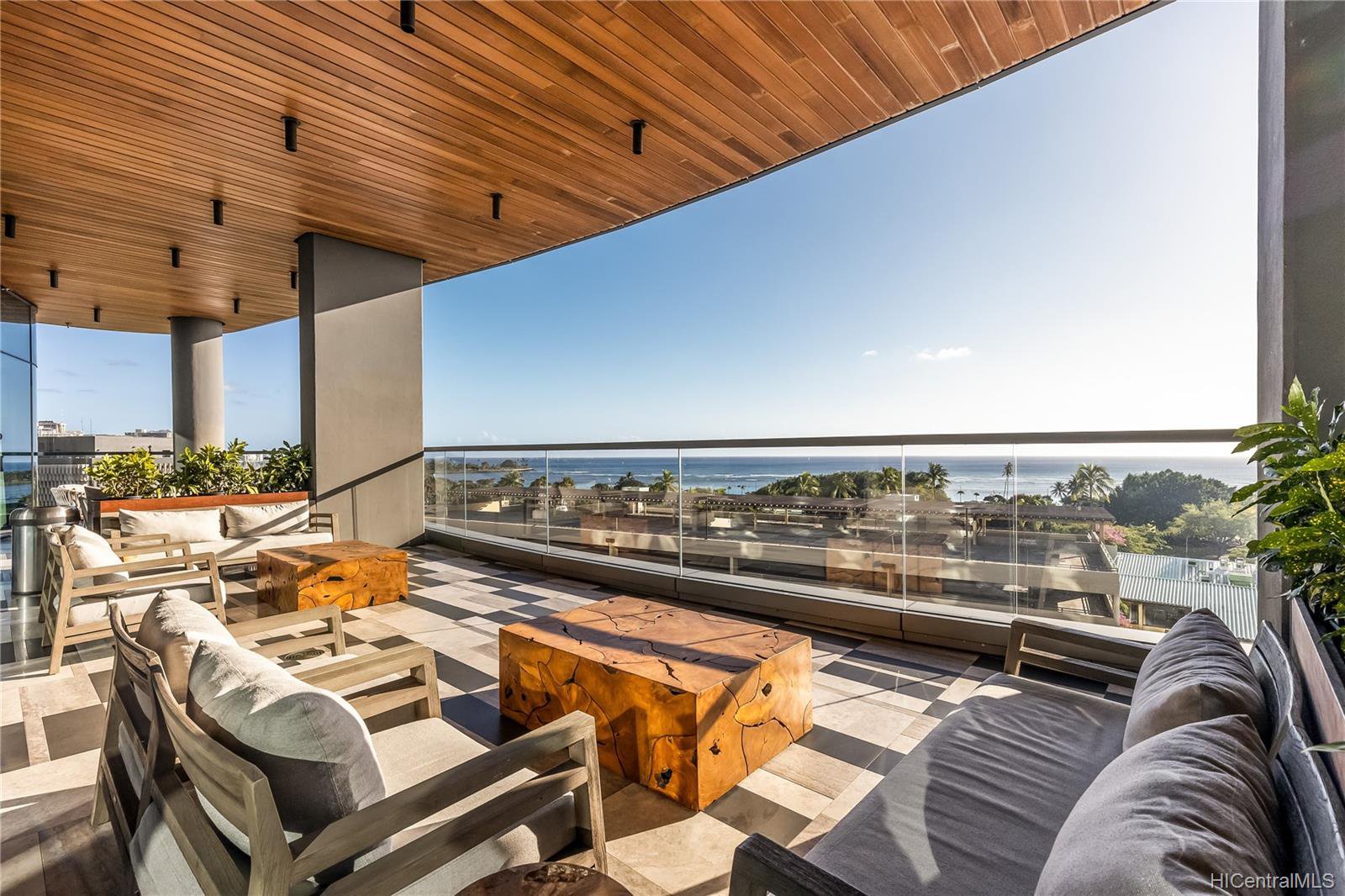 8. Anaha - This might be the most famed Ward Village condo project due to it's dark, rubik's cube themed exterior exterior facade and cantilevered infinity pool that hangs above the sidewalk below. This is a Second Row Kakaako condo that sees many residences featuring ocean, city, and Diamond Head views. Expect Resort-style amenities such as guest suites, fitness center, private dining room, fitness center, the aformentioned pool, in addition to one-of-a-kind living wall lobby that is comprised of more than 8,000 plants. The tower is anchored by some of the best restaurants in Kakaako like Merriman's & Instabul Hawaii; not to mention is right across the street from Whole Foods Market. The available floor plans range in size from 747 to 6,734 square feet, with an average sales price of $3.2 million.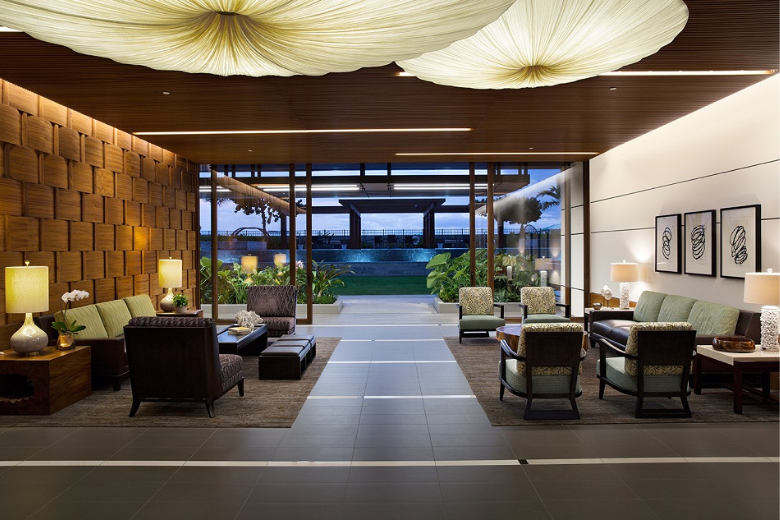 9. One Ala Moana - Located on the backside of Ala Moana Shopping Center, and the 3rd Kobayashi Group development on our list, in partnership with The MacNaughton Group. Boasting 206 units with modern and sleek interiors, top of the line appliances, and floor to ceiling windows that promote sweeping ocean views from nearly every room of wide, linear floor plans with Juliet balconies. The building features a wide range of luxurious amenities, including a resort-style pool, fitness center, private movie theater, chef's kitchen, and barbecue cabanas. Residents can also take advantage of the building's exclusive club lounge, which includes a wine cellar, private dining area, outdoor terrace, and 24-hr security and building staff.
10. The Ritz-Carlton Honolulu is a luxury Condo-Hotel project in the heart of Waikiki and one of the very few that are zoned to allow short term rentals in Hawaii. The Ritz provides a variety of first-rate services and amenities such as a private spa, fitness center, pool deck, and some of the most expansive Penthouses in Honolulu with rooftop pools. We had the opportunity to get a sneak peek at one of the Penthouses prior to it hitting the market and if you're wondering what a 3-story Waikiki Penthouse for $19,500,000 lives like, join us in the video tour above! Expect floor plans between 644 to 4,228 square feet, and prices between $600k - $19,500,000.
Understanding Honolulu Luxury Condos in Hawaii
Where do you find luxury condos in Honolulu, Hawaii?

Luxury condos in Honolulu, Hawaii can be found in upscale areas such as:
Waikiki
Kahala
Kaka'ako
Diamond Head
Ko Olina.
These locations offer high-end condominiums with exceptional amenities and finishes.
What is a luxury condo vs. a regular condo?

A luxury condo is a high-end condominium unit that offers upscale amenities, high-quality finishes, and superior design compared to a regular condo. The majority Honolulu Luxury condos are located in prime areas and provide a higher level of comfort and convenience for residents like the Kakaako & Ala Moana neighborhoods.
Why do people buy luxury condos?

People buy luxury condos for various reasons, including a prestigious location, high-end amenities, quality construction, downsizing from luxury estates, enhanced security, and potential investment opportunities. Luxury condos also provide a comfortable and convenient lifestyle with a lower maintenance burden compared to single-family homes.
What is the average price of a condo in Oahu?

The average price of a condo in Oahu varies depending on the location, size, and amenities. As of February 2023, the median price for a condo in Oahu was around $480,000. However, prices for luxury condos in prime areas can be significantly higher.
What floor of a Hawaii condo is most desirable?

The most desirable floor in a condo building depends on individual preferences. Some people prefer higher floors for better views, increased privacy, and reduced noise, while others may prefer lower floors for easier access and potentially lower energy costs. On Oahu, higher floor condos mean better ocean and Diamond Head views, especially for condos not on the "First Row" like many in Ward Village.
Why do people like to buy on the Diamond Head side of Honolulu condos?
Views of the iconic Diamond Head crater
Breezier side building due to tradewind direction
No afternoon sun which equates to a cooler condo with more efficient energy bills
Do luxury condos appreciate in value?

Luxury condos can appreciate in value, depending on factors like location, market conditions, and the overall quality of the building. While there is no guarantee, well-maintained luxury condos in desirable areas are more likely to see appreciation over time.
Is it worth it to buy a luxury condo?

Buying a luxury condo can be worth it if it meets your lifestyle needs, financial goals, and personal preferences. Consider factors such as location, amenities, maintenance costs, and potential appreciation before making a decision.
What is the most expensive suburb in Honolulu?

The most expensive suburb in Honolulu is Kahala, known for its luxury homes, beachfront properties, and high-end real estate. This wouldn't be the best neighborhood on Oahu to find luxury condos though.
Are condo prices dropping in Hawaii?

As of March 2023, the Oahu condo market is seeing a downtrend in condo prices largely due to the vast amount of inventory hitting the market as a handful of the brand new condos in Honolulu are finishing construction.
Why are Hawaii condo HOA fees so high?

Hawaii condo HOA fees may be high due to the cost of maintaining common areas, amenities, and building systems in a tropical environment. Additionally, factors such as insurance, property management, and utility costs can contribute to higher fees.
Are top-floor condos more desirable?

Top-floor condos, or Penthouses, can be more desirable due to their panoramic views, increased privacy, and reduced noise from neighboring units. Honolulu is home to some of the most impressive penthouse condos in the nation due its location, proximity to the ocean, and stunning natural scenery.