The Cares Act of 2020: A Guide to the Coronavirus Stimulus Bill For Hawaii Small Businesses
Posted by Koa Cassady on Friday, April 3, 2020 at 8:25 PM
By Koa Cassady / April 3, 2020
Comment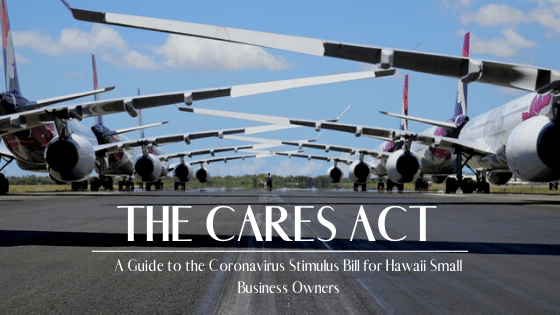 Coronavirus Puts Hawaii & American Economy on Life Support
Unprecedented times calls for unprecedented action. You could have definitely made an argument for unprecedented times long before COVID-19 swept the globe in 2020 but oh my, the rollercoaster had only left the loading platform. The new decade ushered America into another year of an embattled culture war that has seen us divided by generations, ideologies, and most obviously; political parties.
The year 2020 would mark the nation's fourth year under the leadership of President Donald Trump; perhaps the most polarizing political figure in American History. Trump, the real estate tycoon and former reality TV star, found himself at the helm of a flourishing economy and record unemployment despite his very public transgressions, controversial policies, and mounting investigations that would ultimately devolve into impeachment proceedings. Just when you thought you knew the plot -- a foreign virus landed on American soil and told 2020 to "hold my beer." The coronavirus, knowing no borders, quickly leapt to pandemic proportions and brought the world economy to its knees.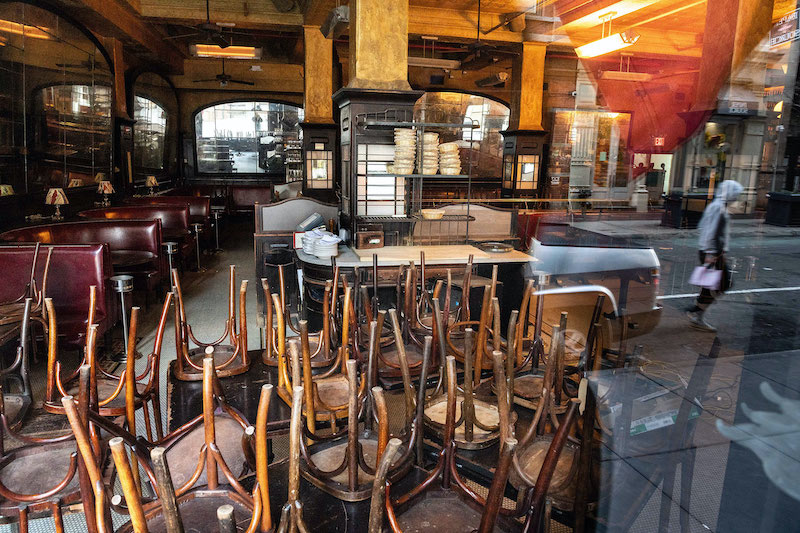 Photo courtesy of TIME Magazine 
The economic effects of Coronavirus in Hawaii echo what we're seeing across the upper United States; perhaps even more so as the state's economy is largely propped up by tourism. Hawaii small business owners are rushing the gates of local banks to take advantage of programs like the Economic Injury & Disaster Loan and the Paycheck Protection Program in order to sustain payroll for their employees and buy time until the economy kicks back into gear(more info on how to apply below). Children are out of school, families are out of work, planes are grounded, hotels are empty, and uncertainty creeps into every American household as the world quarantines in place, patiently waiting for the coronavirus to retreat.
Or better, a vaccine shaped messiah emerges. An approved coronavirus vaccine or treatment would not only bring relief to the infected and the overwhelmed healthcare system, it could very well be the shot in the arm that, if administered early enough, raises the U.S. Economy like Lazarus. However, experts say we could be looking at 12-18 months before we have an approved vaccine, a daunting timeline for the sick and/or economically impacted.
What is The CARES Act?
Under the mounting pressure of businesses being shuttered across the nation, elected officials were able to come together in the passage of The CARES Act; a bipartisan bill that aims $2 Trillion in stimulus money at individuals and small businesses under siege from the coronavirus led economic free-fall. While it's definitely no Messiah, think of the CARES Act like the Tamiflu and Ventilator that helps us more comfortably manage the severe economic symptoms of the virus until a vaccine is found, and full recovery is reached. You can read the full scope of the bill HERE, but we've boiled things down to highlight some of the "meat and potatoes" below and how you might benefit from them. **Before we start, it's important to note that this bill is still very fluid and we're receiving new updates and anecdotal experiences of the processes everyday. Just know that the content below may not reflect the most real time information just yet:
Unemployment relief: the stimulus package expands unemployment insurance in providing an additional $600 per week for four months on top of the standard state unemployment insurance policy. Guidelines have also expanded to provide coverage to independent contractors, self-employed, and gig economy workers(rideshare, food delivery companies, etc). Read up and file a claim for Hawaii Unemployment Insurance HERE.

Mortgage Relief: Homeowners with federally backed mortgages can now request loan forbearances with their mortgage servicers which could effectively delay mortgage payments for 180 days, with extensions to that term available on a case by case basis. It's important to note that you cannot just stop paying your mortgage, you must contact your mortgage servicer directly to discuss repayment options. Most banks will require a balloon payment of all deferred mortgage payments at the end of the forbearance term, while they're may be an option to tack delayed payments on the end of loan term.


Direct cash payments: Depending on your income levels, tax-paying Americans should expect to receive up to a $1,200 direct deposit for single individuals, or $2,400 for married couples. Have kids? Expect an additional $500 per child. The stimulus cash is reserved for individuals earning $75,000 or less, or $150,000 for married couples.


Small Business Loans & Grants: Of the $2 Trillion, small business will receive $350 Billion in funding to help businesses sustain their employee payroll through the outbreak via programs like the Economic Injury Disaster Loan and the Paycheck Protection Program. If you're self-employed, an independent contractor, or a small business owner looking for relief, visit the SBA website for a list of Hawaii Lenders servicing small business loans.

As
Delayed Payroll Taxes: Employers may now defer payment of their 2020 payroll taxes to the following year, or 2022.


401k Loans: Loan amounts have been expanded from the $50,000 limit to $100,000.


Suspension Minimum Distributions: Retirees with IRA's and 401k's, and at least 72 years old no longer have to take required distributions.
Charity: Limits on charitable contributions of changed and there is now an above-the-line deduction for the contributions.


Net Operating Losses: The Net loss rules of the The Tax Cuts & Jobs Act have been modified with the 80% rule suspended. Losses can now be carried back five years.


Excess Loss Limitations: The excess loss limitation(ELL) rule for passthrough entities is also suspended.


Coronavirus Testing: Hawaii Coronavirus Tests and potential vaccines will be administered at no cost.


Health Care: The CARES Act will appropriate $140+ Million to support the U.S. health system with $100 Million given directly to hospitals. The funds will be purposed towards providing masks, gowns, testing supplies, training, workforce, and other supporting needs of medical personnel.


Corporate Bailouts: Airlines and other large corporations will receive bailouts in the form of loans that total $500 Billion. The loans are said to not exceed 5 year terms and cannot be forgiven.
It will be interesting to see the how the CARES Act performs, and how much life support it will offer to struggling Americans and small businesses. The COVID-19 pandemic will be forever etched into the human psyche and what the longterm impacts of the Coronavirus on the Oahu, Hawaii Real Estate Market and economy are still unknown. In the meantime, sharing helpful information while staying safe and healthy is the tide that lifts all boats, and it's important that we tether those boats together in these uncertain times.