10 Reasons Why Ward Village is the Best Urban Place to live in Honolulu, Hawaii
Posted by Koa Cassady on Friday, June 2, 2023 at 4:47 PM
By Koa Cassady / June 2, 2023
Comment
Often when people think about living in Hawaii, they picture a laid-back, beachfront lifestyle that's far removed from city life. However, Ward Village, a 60-acre master-planned community in the heart of Honolulu's Kakaako neighborhood, is shifting that narrative. It's here that city convenience meets island living, creating a unique urban paradise that's been meticulously designed to offer a superior quality of life. Here are the top ten reasons why Ward Village is the best place to live in Honolulu.
1. Master-planned Community
Ward Village isn't just another neighborhood; it's a visionary community brought to life by The Howard Hughes Corporation. Every element, from the architecture and street layouts to the amenities and community events, has been thoughtfully designed to create an environment that enriches residents' quality of life.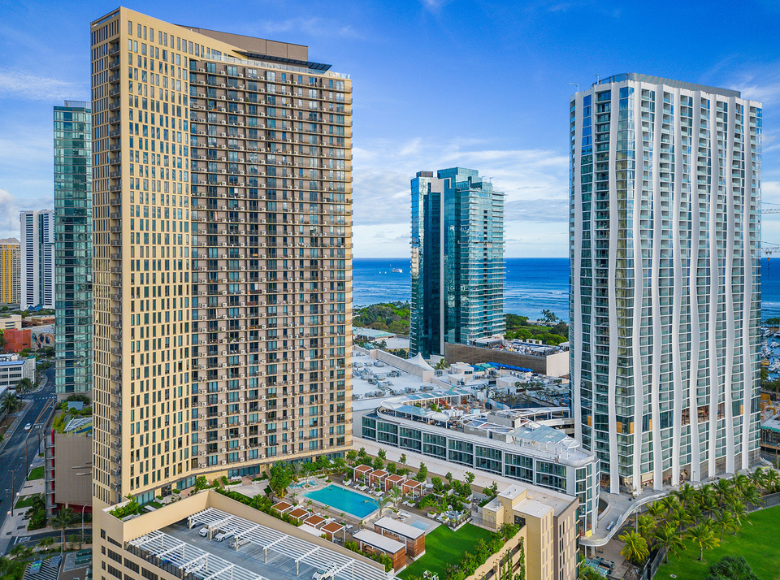 Spanning over 60 acres along the shoreline of south Oahu, Ward Village is set to redefine urban living in Hawaii. The aim is to create a neighborhood where residents can live, work, and play, all within a walkable distance. The master plan includes over 4,500 residences and over one million square feet of retail and commercial space. But it's not just about the numbers; the plan places a strong emphasis on community, sustainability, and honoring the rich cultural history of the area.
2. Commitment to Sustainability
Ward Village is at the forefront of sustainable living in Hawaii. It's the first neighborhood in the state and the largest in the country to receive LEED-ND Platinum certification, the highest level of certification awarded by the U.S. Green Building Council.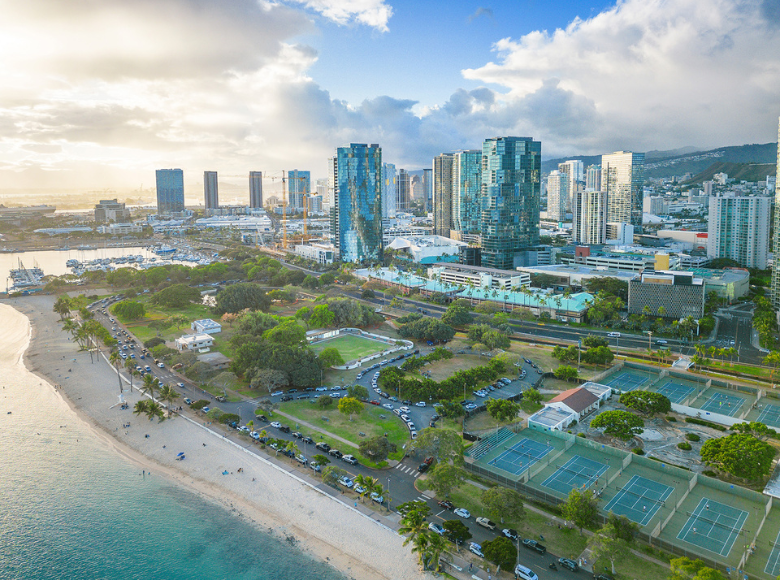 From the design of the buildings to the landscaping, every aspect of Ward Village embodies conscious, eco-friendly living. The buildings feature energy-efficient designs, the streets are lined with native plants to reduce water usage, and the neighborhood has committed to reducing car dependency through a pedestrian-friendly layout and a bike-sharing program. Living in Ward Village means being part of a community that cares deeply about the environment.
3. World-class Architecture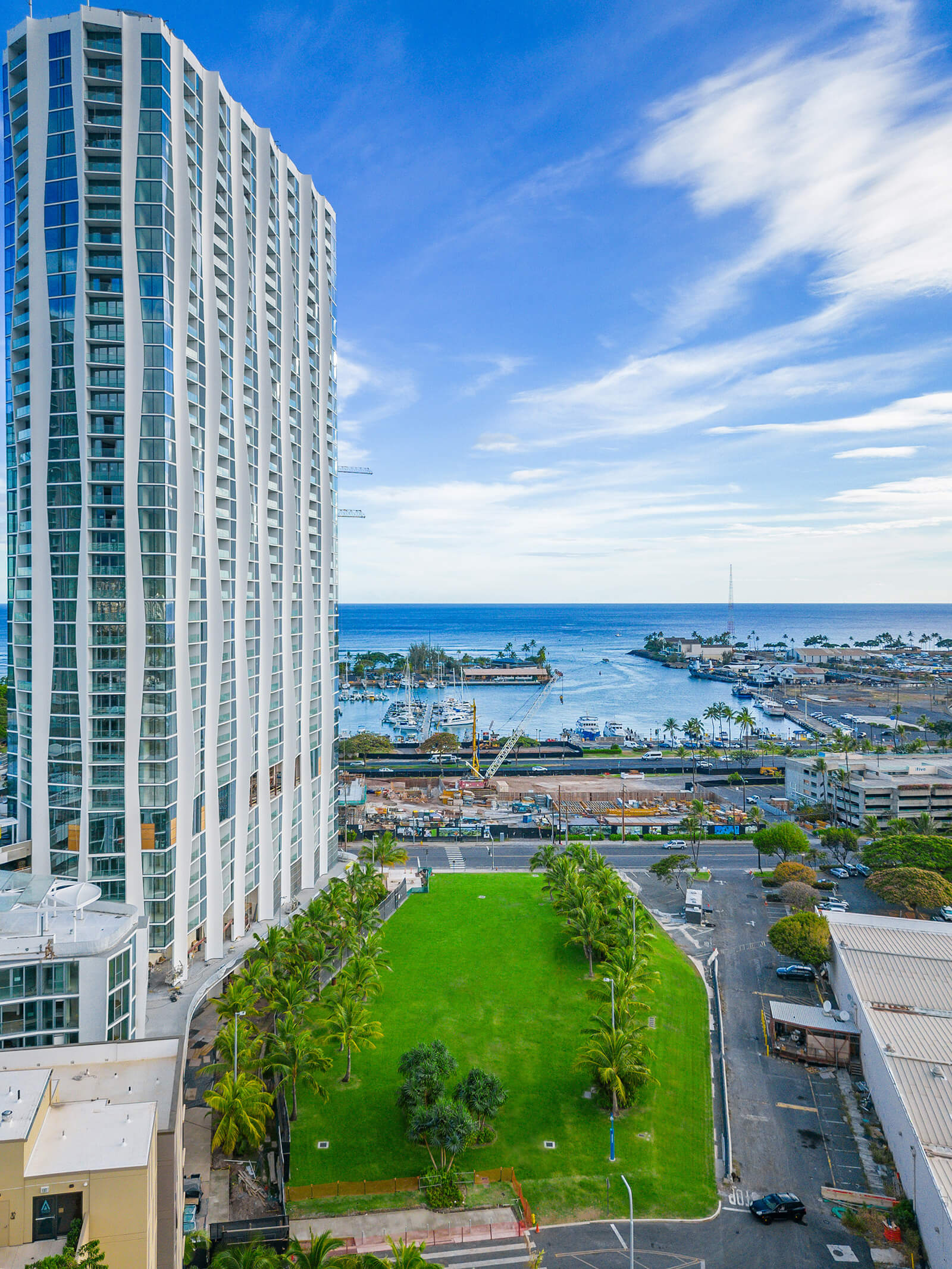 Architecture isn't just about aesthetics in Ward Village; it's about creating spaces that inspire and enhance the quality of life. The neighborhood is home to a collection of residential towers designed by some of the most respected architects from around the globe.
For example, the Waiea tower, designed by James K.M. Cheng in collaboration with Rob Iopa and WCIT Architecture, is a stunning glass structure inspired by Hawaii's natural landscape. The Anaha tower, on the other hand, features a distinctive wave-like façade designed by Chicago-based firm Solomon Cordwell Buenz.
Each building in Ward Village is a work of art in its own right, offering residents not just a home, but a piece of world-class design.
4. Diverse Living Options
Ward Village caters to a broad range of lifestyle needs and preferences. Whether you're in the market for a brand new Kakaako condo in 2023, a luxurious penthouse with ocean views, or an affordable city condo, you're sure to find a home that suits your needs in this community.
From the high-end residences of Waiea and Anaha, which offer lavish amenities and unparalleled views, to the reserved housing units of Ke Kilohana, which are designed to be more accessible to local residents, Ward Village condos accommodate most every lifestyle and budget. For the most immersive understanding of the Ward Village real estate market, visit our Ward Village Condos Guide.
5. Proximity to Key Destinations
Located in the heart of Honolulu, Ward Village offers easy access to the city's key destinations. The Honolulu Airport is just a 20-minute drive away, making it convenient for frequent travelers. The world-famous Waikiki beach and the bustling Ala Moana Center, the largest shopping mall in Hawaii, are also within easy reach.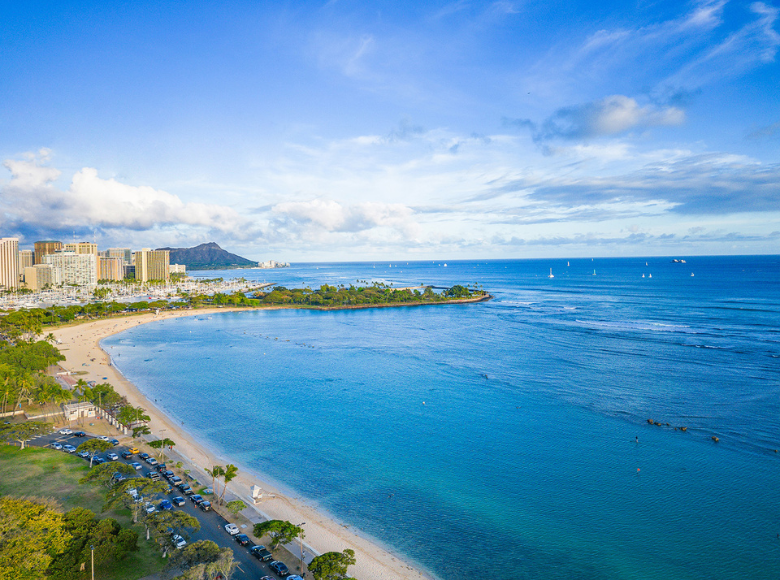 However, despite its central location, Ward Village manages to maintain a peaceful, community-focused environment. Here, you're at the heart of the action, but with the tranquility of an island retreat.
6. Pedestrian-friendly Design
The master plan of Ward Village places great emphasis on creating a pedestrian-friendly community. With wide sidewalks, lush landscaping, and pedestrian-only streets, the neighborhood encourages residents to leave their cars behind and embrace a healthier, more active lifestyle.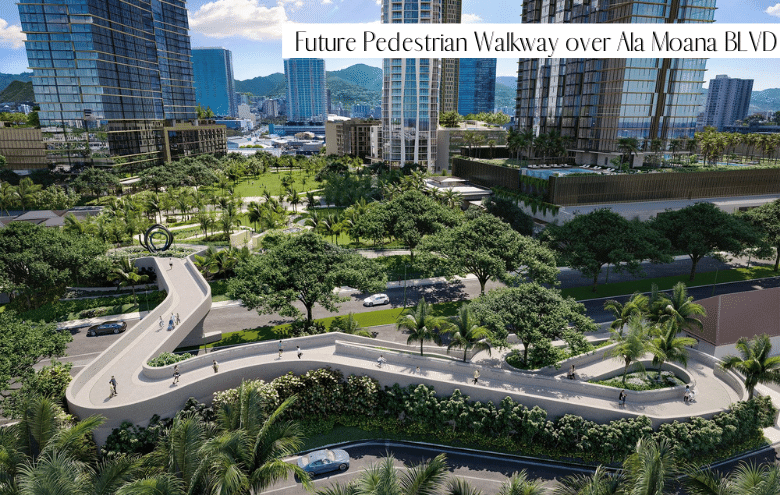 The layout of the community puts every amenity within walking distance, from the diverse shopping and dining options to the community parks, Ala Moana Beach, and entertainment venues. As a resident of Ward Village, everything you need is just a short stroll away and soon, residents will have direct access to Ala Moana Beach Park via a highline styled walkway that crosses overhead of Ala Moana Boulevard. This means no more waiting at crosswalks at the busy intersections.
7. Thriving Shopping and Dining Scene
With over a million square feet of retail space, Ward Village offers a shopping experience like no other. From high-end boutiques to popular global brands and unique local stores, there's something for everyone.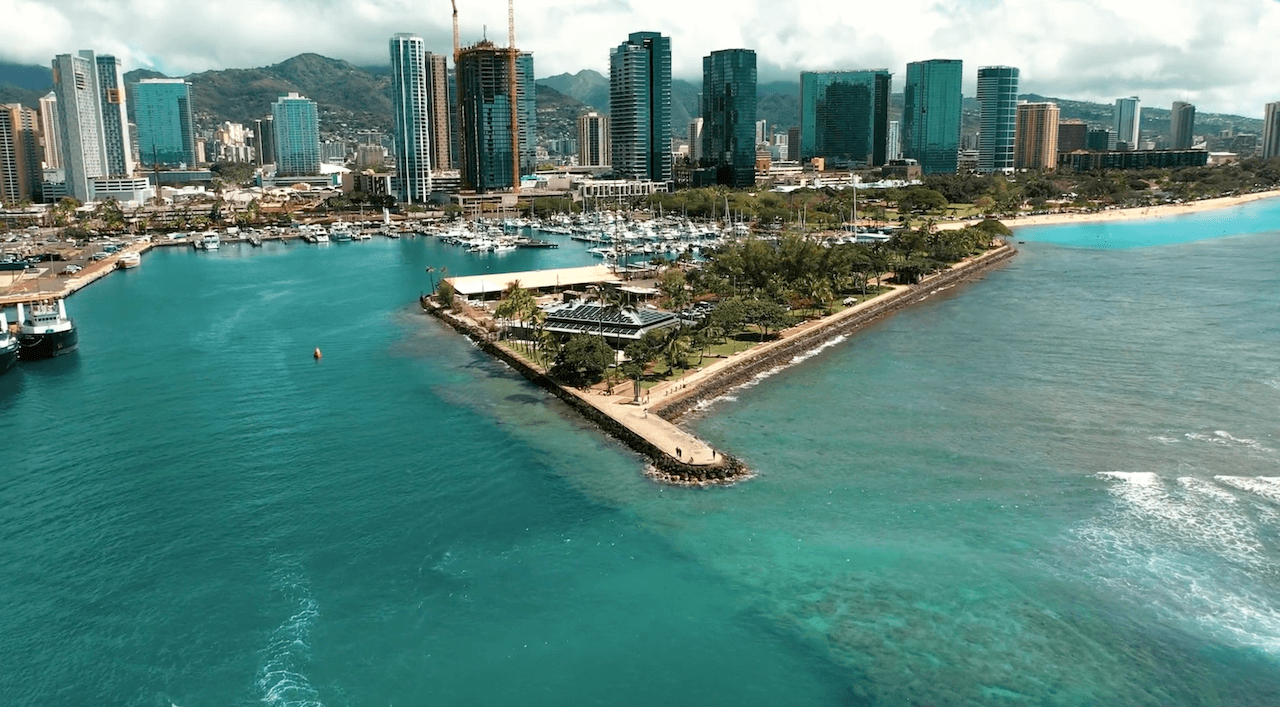 Ward Village is home to the largest Whole Foods Market in Hawaii, offering a wide range of organic and locally sourced products. There's also South Shore Market, a unique retail space featuring 17 local merchants offering everything from home goods to apparel.
Ward Village Restaurants
Restaurants in Ward Village offer a blend of diverse cuisines that showcases the unique culinary heritage of the island. From authentic local delicacies to exotic international dishes, there's a dining adventure waiting for every food lover. Here are some noteworthy mentions:
With its vibrant and varied dining scene, Ward Village enhances the dynamic lifestyle of this thriving neighborhood, making it an exciting culinary destination.
8. Abundant Green Spaces
Amidst the urban landscape of Ward Village, you'll find an abundance of green spaces where residents can unwind, exercise, or socialize. The neighborhood's master plan includes multiple parks and open spaces, contributing to the overall health and well-being of the residents.



The expansive Ward Village Central Plaza, for instance, serves as a gathering place for community events and outdoor activities. There's also Victoria Ward Park, a lush, green oasis in the heart of the neighborhood.
9. Access to the Ocean
As a coastal community, Ward Village offers residents easy access to the ocean. The neighborhood is located just a short walk from Ala Moana Beach Park, one of the most popular beach parks in Honolulu. Here, you can enjoy a range of water activities, from swimming and surfing to paddleboarding and canoeing.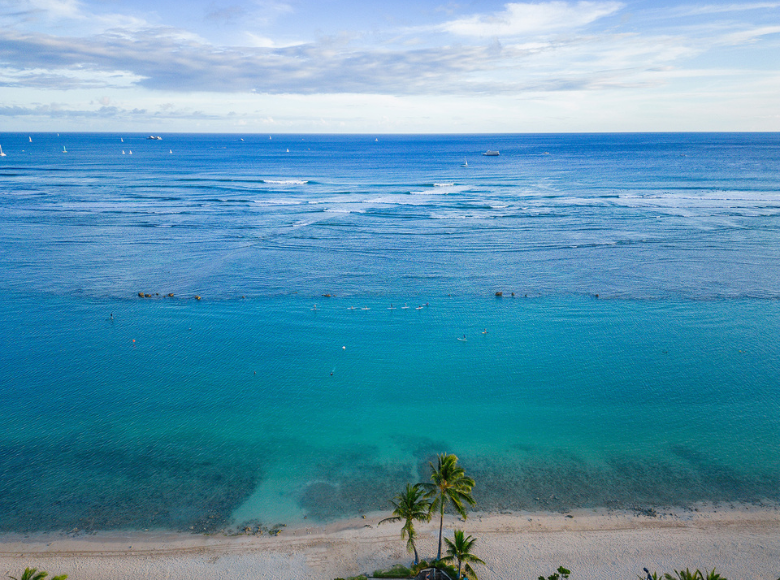 For those who prefer a more laid-back beach experience, there are plenty of opportunities for sunbathing, picnicking, or simply enjoying the stunning ocean views.
10. Vibrant Community Culture
At the heart of Ward Village is a strong sense of community. The neighborhood regularly hosts events to bring residents together, from yoga classes in the park to movie nights, farmers' markets, and cultural festivals.
There's a strong emphasis on promoting local culture and arts within the community. South Shore Market, for example, regularly showcases works by local artists, and the neighborhood often plays host to local music and cultural events.
Ward Village vs. Our Kaka'ako: Comparing Honolulu's Premier Neighborhoods
When it comes to innovative urban living in Honolulu, two neighborhoods stand out: Ward Village and Our Kaka'ako. Both are redefining city life in Hawaii, but each brings its unique flavor and charm to the table.
As discussed earlier, Ward Village is a 60-acre master-planned community designed to embody the balance of city convenience and island living. This pedestrian-friendly neighborhood puts a premium on sustainability, community, and quality of life, with parks, shopping centers, restaurants, and entertainment venues all within walking distance.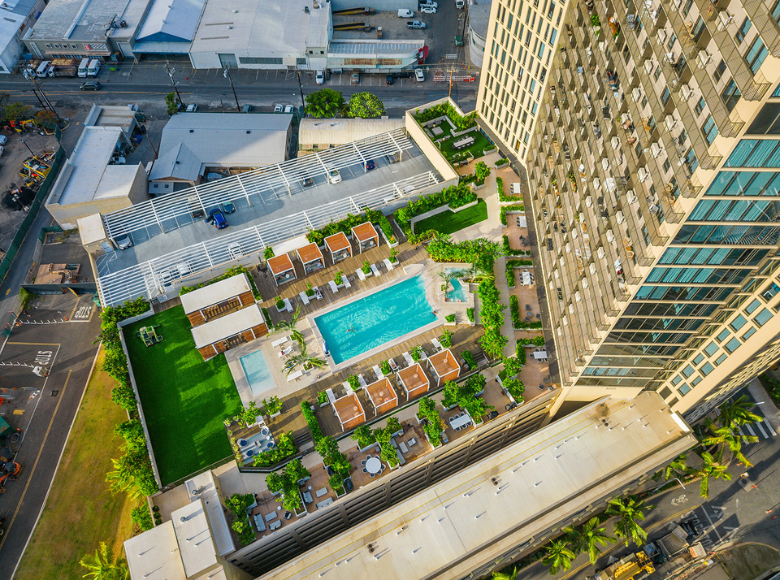 From a real estate perspective, Ward Village offers a diverse mix of luxurious oceanfront homes and affordable residences. Its buildings, designed by world-renowned architects, feature a wide range of amenities and styles to cater to different lifestyle needs and preferences.
Our Kaka'ako
Our Kaka'ako, on the other hand, aims to create a dynamic urban-island culture that celebrates the arts, local businesses, and sustainable living. At the heart of this neighborhood is SALT at Our Kaka'ako, a city block encompassing 85,000 square feet of retail, restaurant, and mixed-use space.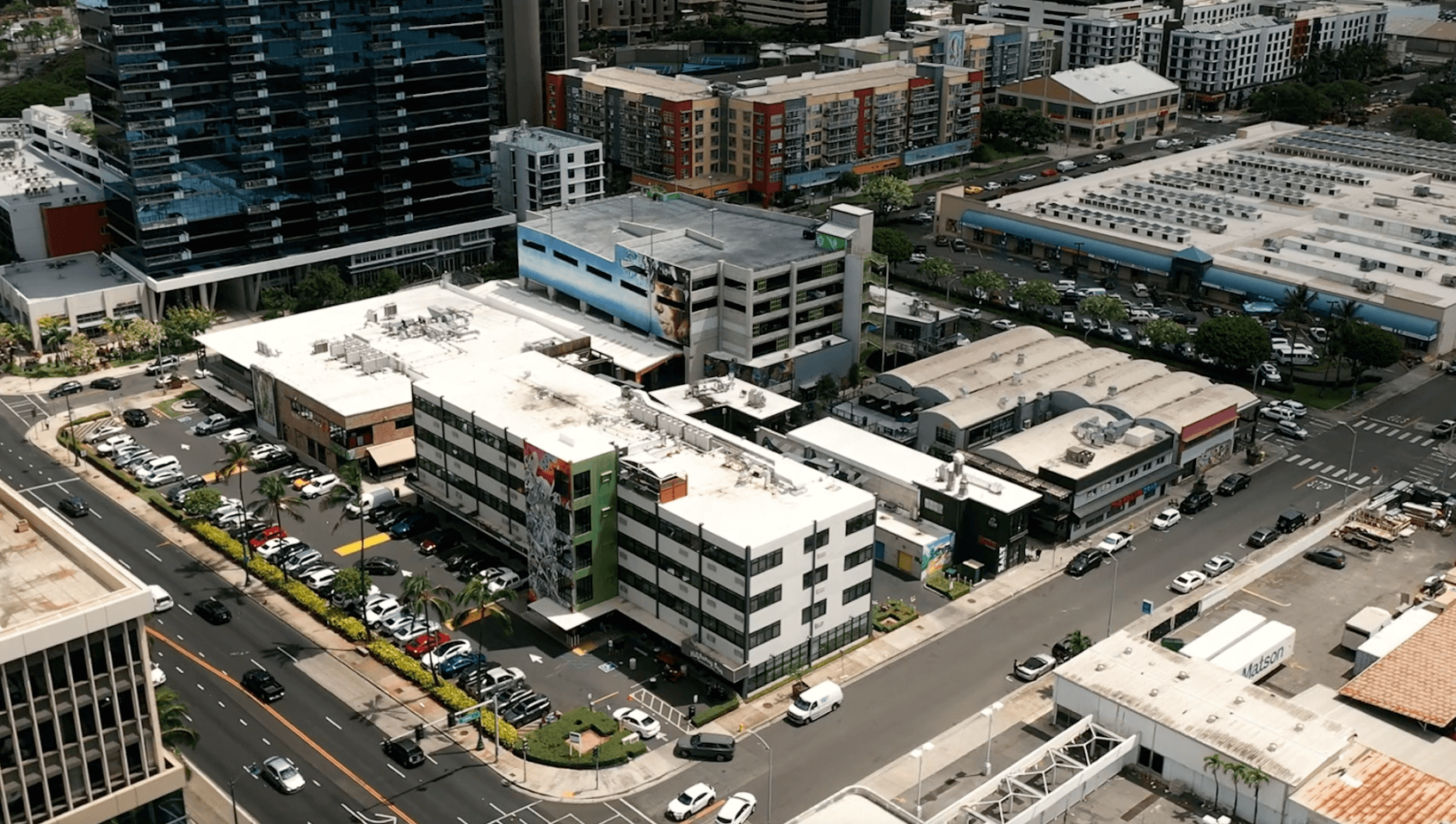 SALT is an epicenter of local culture, offering a unique mix of eateries, boutiques, and creative spaces, often playing host to art shows, music events, and cultural festivals. This creates a vibrant, bohemian atmosphere that is slightly different from the more upscale feel of Ward Village.
In terms of real estate, Our Kaka'ako offers a mix of affordable, middle-income, and market-rate housing options, reflecting its commitment to building an inclusive community. The neighborhood features nine residential towers and several low-rise buildings, each with its distinct character and style.
---
Living in Ward Village is about more than just enjoying the comforts of your home. It's about being part of a vibrant, thriving community, where neighbors know each other and every day brings new opportunities for engagement and enjoyment.