Your Ultimate Mililani Neighborhood Guide
Posted by Koa Cassady on Monday, November 28, 2022 at 8:02:25 PM
By Koa Cassady / November 28, 2022
Comment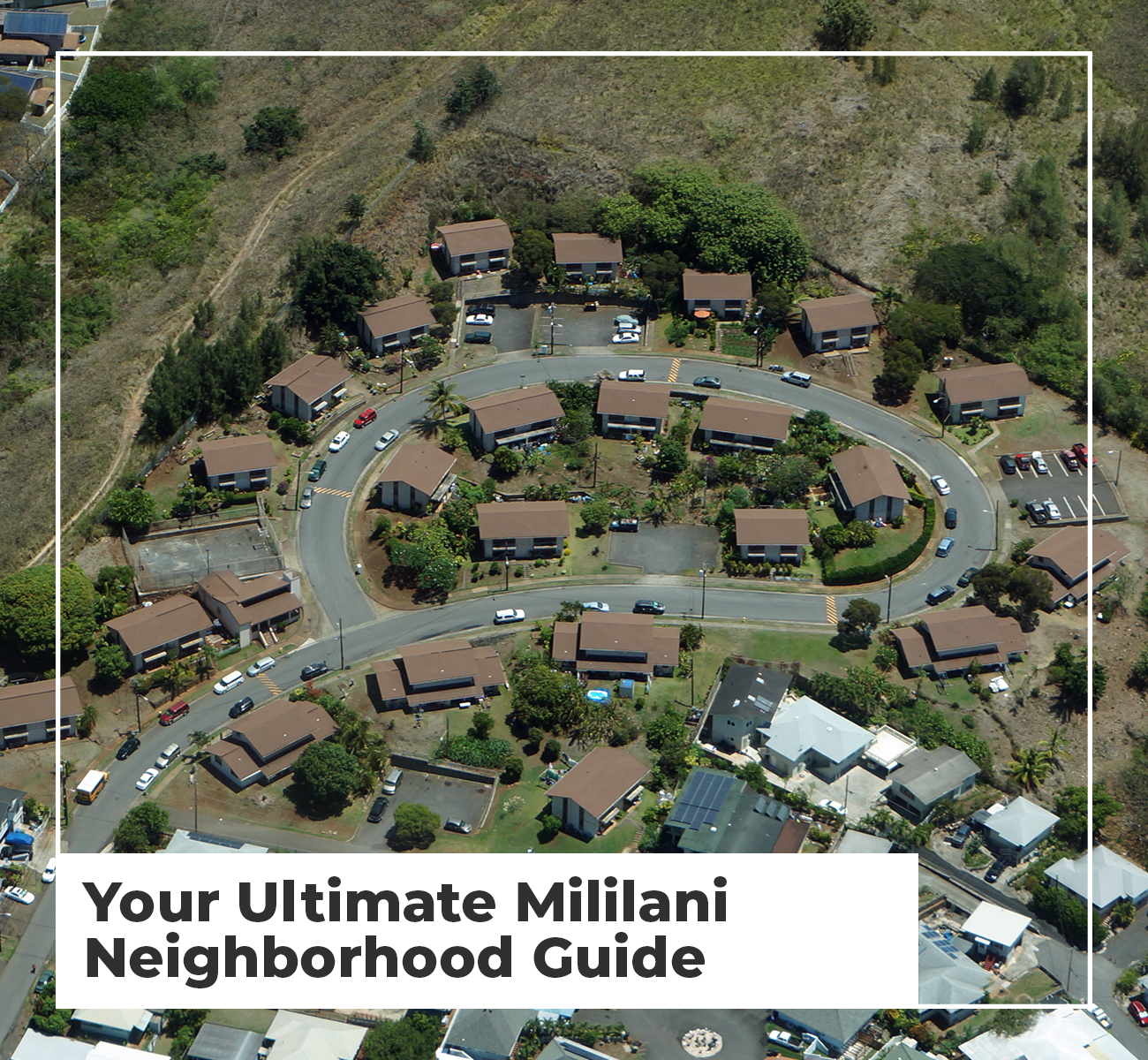 Locals have split the region into two distinct sections—the Town and the Mauka area both of which offer a variety of housing options, attractions, and amenities that make living in the area so desirable.
Throughout this guide, we'll explore Mililani in greater detail and discover all of the reasons why it's built such a solid reputation as one of the best places to live in Hawaii.
Living in Mililani
When people think of living in Mililani, they usually envision a quiet suburban paradise. The streets are lined with tidy lawns and well-maintained homes, while the community amenities provide plenty of entertainment options for everyone to enjoy. From shopping at Mililani Town Center to hiking in the lush green hills of nearby Waiahole Valley, there's something here for you.
Mililani features the best of both worlds in terms of lifestyle and convenience. Long-time residents appreciate the slower pace, while newcomers can embrace the neighborhood's peacefulness and proximity to jobs and entertainment. The island lifestyle is alive and well in Mililani, and it's easy to see why so many people are drawn here.
Gorgeous Homes in Mililani
Island real estate is some of the most desirable in the country and Mililani is no exception. Homeowners enjoy browsing through properties with lanais, pools, private gardens, and other luxurious features.
The single-family homes in Mililani are generally larger than average, making them perfect for growing families or those who want to entertain often. The condo, townhome, and multi-family options are also plentiful for those who prefer a more urban setting.
This master-planned community offers some of the best value for money on the island. Although it is a more expensive place to buy, the pristine and well-maintained homes are well worth the investment.
Every home in Mililani falls under the operation of the Mililani Town Association which helps maintain the following amenities throughout the area:
Recreation Centers
Pools
Parks
Green Spaces
View All Homes for Sale in Mililani, HI >>>

Excellent Education Options in Mililani
Mililani is known for its excellent schools and is served by the Hawaii Department of Education. Many of these campuses have made a name for themselves in the state, earning awards and recognition from both local and national publications.
In addition to providing quality academics, Mililani schools also offer plenty of extracurricular activities such as music programs, robotics clubs, and community service projects. This makes them ideal for parents who want to ensure their children are well-rounded and have a range of interests.
The following is a list of schools in Mililani:

Mililani Uka Elementary School l 94-380 Kuahelani Ave, Mililani, HI 96789, United States

Mililani Waena Elementary School l 95-502 Kipapa Dr, Mililani, HI 96789, United States

Mililani Middle School l 95-1140 Lehiwa Dr, Mililani, HI 96789, United States

Mililani High School l 95-1200 Meheula Pkwy, Mililani, HI 96789, United States
Proximity To Nearby Places
One of the most appealing aspects of living in Mililani is its proximity to other places on O'ahu. Just 20 minutes via H-2/H-1 Freeway to the Honolulu Airport and only 12 Minutes via H-2 to the Schofield Barracks Arm Base Hawaii, Mililani is centrally located, putting residents close to all the major island destinations.
To the north, Mililani is only a short drive away from Kaneohe, while Waikiki Beach is just 45 minutes away by car. With its enviable location, Mililani makes it possible for residents to explore and take advantage of these stunning places while staying close to home.
The Beautiful Year-Round Weather
With nearly 240 days of sunshine each year, Mililani's elevation maintains a temperature that is slightly cooler than the rest of the island. This means that residents can enjoy beautiful weather year-round without having to worry about extreme summer heat or winter cold snaps.
The average low temperature in Mililani is around 64°F (18°C) and the average high temperature is around 80°F (26.7°C). And while rain is not a frequent occurrence, the area does get a few showers each year that help keep the vegetation luscious and green.
The Inviting Community Atmosphere
The Mililani Town Association (MTA) is a volunteer group that serves the community by providing programs and events to engage residents throughout the year. From holiday activities to social gatherings, boring and lonely days are a thing of the past in this thriving community.
The close-knit atmosphere of this vibrant Hawaiian town makes it easy to make friends and become part of the local culture. There is nothing better than sitting down for a meal with your new-found friends or exploring the nearby parks and trails. The sense of camaraderie and hospitality in Mililani is simply unbeatable and is just proof of the inviting atmosphere this wonderful town offers.
Some of the community programs and activities include:
Swimming
Martial Arts
Tennis
Hula
Health Classes
Specialized activities for seniors and young children

Must-Visit Restaurants
Alongside its chain restaurants, Mililani is also home to some unique local eateries. From food trucks serving up Hawaiian specialties to sit-down restaurants offering international cuisine, finding a meal in Mililani is never a challenge.
Some of the must-visit restaurants in the area are:
Rise and Shine Cafe - This homestyle eatery serves up classic breakfast dishes and hearty lunches in a welcoming atmosphere.
Assaggio Mililani - Italian dishes and a fully stocked are the highlights of this restaurant, which is especially popular with the locals.
HI Sliders - As one of the best food trucks in town, HI Sliders serves up the best fries and tacos in the area.
Mililani Restaurant - For straight-up Hawaiian fare, you can't go wrong with this beloved local eatery.
Outdoor Recreation in Mililani
Getting active while taking in breathtaking views of the Hawaiian countryside is something that can be found in Mililani. The town is home to several parks and trails, all of which offer something different for outdoor enthusiasts.
The Mililani Ravine Park features a paved trail which makes for an easy walk or jogs for visitors of all ages and fitness levels. While on the other hand, Mililani Mauka District Park is more suited to mountain bikers who prefer a bit more adventure in their outdoor activities.
Some of the other most treasured spots in the area include:
Mililani Park
Hōkūahiahi Neighborhood Park
Mililani Neighborhood Park
Mililani Dog Park
At the end of the day moving to Mililani is a great choice for people who want to experience the best of Hawaii without having to sacrifice the convenience of city life. From its inviting atmosphere to its abundance of outdoor activities, Mililani promises a unique and unforgettable experience for anyone who chooses to make it their home.
Dwell Hawaii's team of knowledgeable industry experts represents the region's finest properties. Whether you're looking at buying or selling, contact Dwell Hawaii as Koa Cassady and his team ensure every client gets exactly what they are looking for.