Hawaii Kai Real Estate & Lifestyle Guide
Page Directory: Homes | Market Insights & Trends | Best Neighborhoods | Lifestyle | FAQ's | Contact Us | Create An Account
The Hawaii Kai community is located on the southeastern coastline of the island of O'ahu in Honolulu, Hawaii. Sunny skies, opulent ocean views, and numerous access points to the water, provided by the Hawaii Kai Marina and closeby beaches puts the community in the Top 5 best places to live in Oahu, Hawaii. All of the above promotes a very active lifestyle amongst it's residents as there's no shortage of water and outdoor activities in close proximity. The infamous Koko Head trail can be seen from almost anywhere in the area while the crystal blue waters of the marina and ocean tease you to grab your kayak, surf board, or standup paddleboard for a day on the water.
Aside from the many things to do in Hawaii Kai, the region's convenience to Metro-Honolulu makes it a popular destination for working professionals and those who enjoy some of the urban amenities of dining and shopping in Honolulu. Living in Hawaii Kai puts you about 20 minutes from Waikiki -- close enough that it's not a chore to drive in but far enough to avoid the urban sprawl of Hawaii's capitol city.
Page Directory: Homes | Market Insights & Trends | Best Neighborhoods | Lifestyle | FAQ's | Contact Us | Create An Account
Hawaii Kai Honolulu HI Homes For Sale
March 28, 2023
Hawaii Kai Honolulu HI Homes For Sale
by Price
Understanding Hawaii Kai Real Estate
If moving to Hawaii is less about the sticks and bricks of the house and more about the lifestyle of a particular neighborhood then Hawaii Kai should absolutely hit your Top 5 list. This isn't to say that there aren't stunning houses for sale in Hawaii Kai but like the other 4 lifestyle neighborhoods, Hawaii Kai is a place of experiences, outdoor activities, copious amounts of sunshine and ocean, as well access to exciting food oportunities.
A quick Hawaii Kai real estate search will show you this is one of the few areas on island that offer split level townhomes, high-rise condos, suburban single family homes, oceanfront condos, and beachfront homes. We created a broad search of Hawaii Kai listings for you above but if you're looking for more tailored guidance into the neighborhoods or buildings that best fit your lifestyle, keep reading!

Condos For Sale in Hawaii Kai, Honolulu, HI
You'll find a mix of High-Rise, Low-Rise, and Townhome Condominium options in Hawaii. Entry level condo options exist in the buildings not on the marina but the most popular type of Hawaii Kai condos for sale are undoubtedly the marina-front options which offer the unique lifestyle of being oceanfront, but without open oceanfront pricing. Rather than giving you our absolute top picks for condos in Hawaii Kai, we're created a comprensive Hawaii Kai Condo Guide breaking down our top picks by category.
Beware that many of the condos for sale in Hawaii Kai are around 50 years old and may exhibit deferred maintenance or maintenance fees that may be hard to stomach. Plan for fees to run you approximately $1/sq and for any building that's less, consider that a great maintenance fee. Buildings like Lalea, Nanea Kai, and Moana Kai are going to offer you the most appealing maintenance fees, all still under $0.50/sq while some buildings are experiencing skyrocketing fees due to major deferred maintenance and costly capital improvement projects. We'll help you avoid those. Mt. Terrace condo in Hawaii Kai comes top of mind.
Homes For Sale in Hawaii Kai, Honolulu HI

Most of the houses in Hawaii Kai were built between the late 1960's and 1980's but there's a few pockets of homes that were built in the 1990's which is young in Hawaii standards. Plan for mostly double wall construction on concrete slabs which is rare as most communities on Oahu have a least some homes built on post and pier foundations. Common home types:
Traditional suburban style neighborhoods like Kalama Valley and Koko Head Terrace, carport and garage options. Flat, sidewalked lined streets
Hillside and ridgeline homes in neighborhoods like Mariner's Ridge, Kamehame Ridge, and Napali Haweo are going to offer you some of the largest floor plans with sweeping ocean and sunset views; prices to match of course.
Marina-front homes in Spinnaker Isle, West Marina, Mariner's Cove, and Anchorage. These homes should feature boat docs and marina fees. To learn more about living on the marina visit the Hawaii Kai Marina Association.
---

---
Best Neighborhoods in Hawaii Kai
Here's our top picks for best neighborhoods by home type:
ENTRY LEVEL | Suburban, Not Waterfront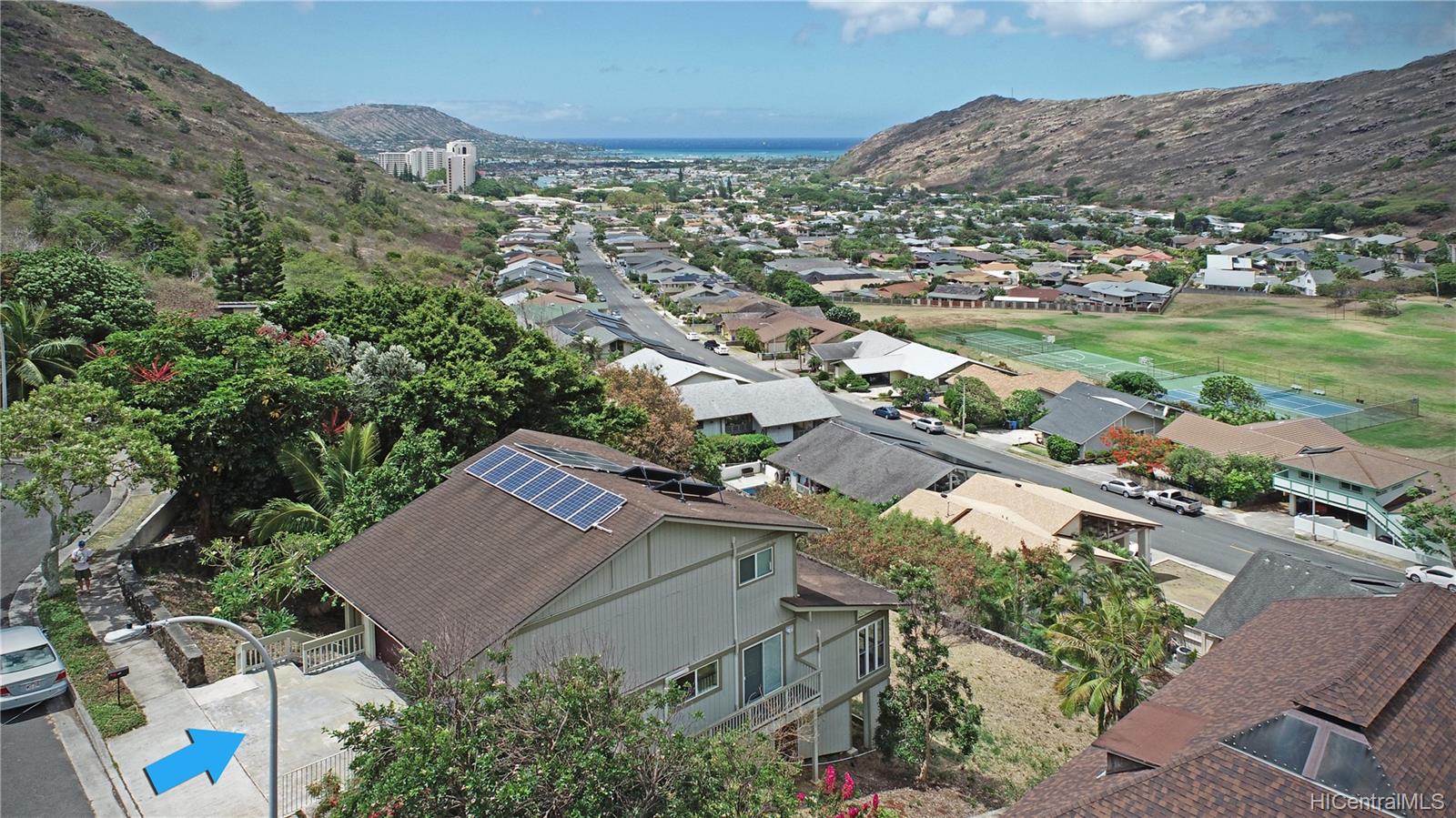 Hahaione Upper, Hahione Lower, Kalama Valley - These are family friendly neighborhoods nestled in the Hahaione Valley and Kalama Valley. Entry level pricing, quiet, and not oriented on any of the main thoroughfares which makes it very pedestrian and bike friendly. There's parks within or nearby each neighborhoohd which is great for the kids or running the dogs. The Hahaione Upper part of the neighborhood allows for Koko Head and ocean views framed by the ridgeline on either side of the valley. Hahaione Valley homes (upper and lower) are the closest Hawaii Kai homes to Metro-Honolulu so commute time is superior than any other neighborhood. Kalama Valley is the furthest neighborhood from Metro-Honolulu and you'll see this reflected in the price reduction. These homes can be hot because of how they're oriented in the valley so be sure to get AC!
HILLSIDE | Incredible Views, Breezy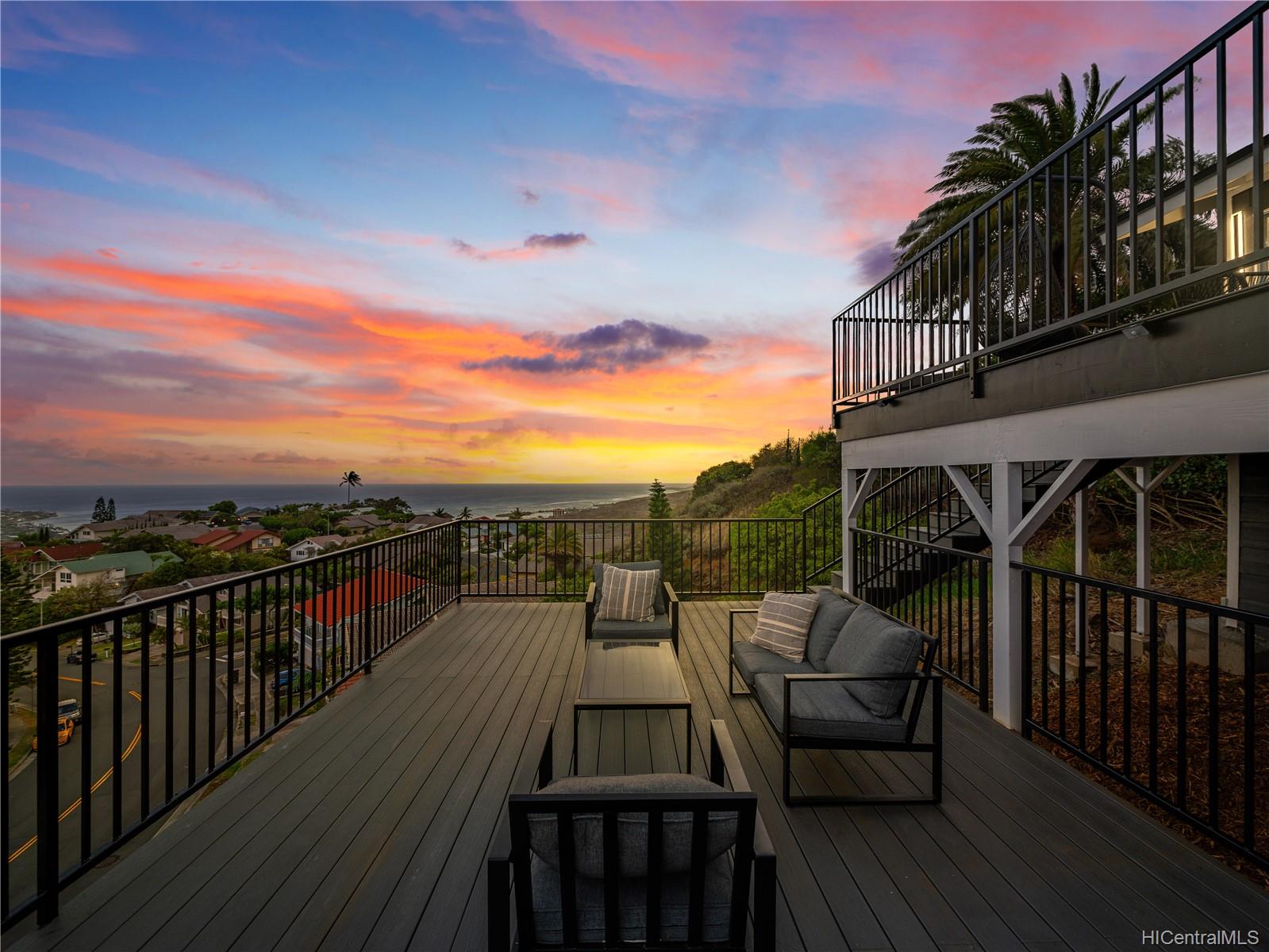 Mariner's Ridge, Napali Haweo, Kamehame Ridge - if you love outodoor entertainment space, homes for sale in Mariner's Ridge will likley appeal to you due to the sprawling decks that are often featured on these homes. The same is true of Napali Haweo homes but like Kamehame Ridge homes, these are the more luxurious options. The views from these 3 neighborhoods are arguably the best on island, absent of any obstruction or condo buildings. Many of these homes take advantage of the ocean views through so it makes large outdoor spaces for family BBQ's and gatherings with homes at Napali Haweo often featuring pools.
MARINA FRONT | Marina Access, Views, Boat Docs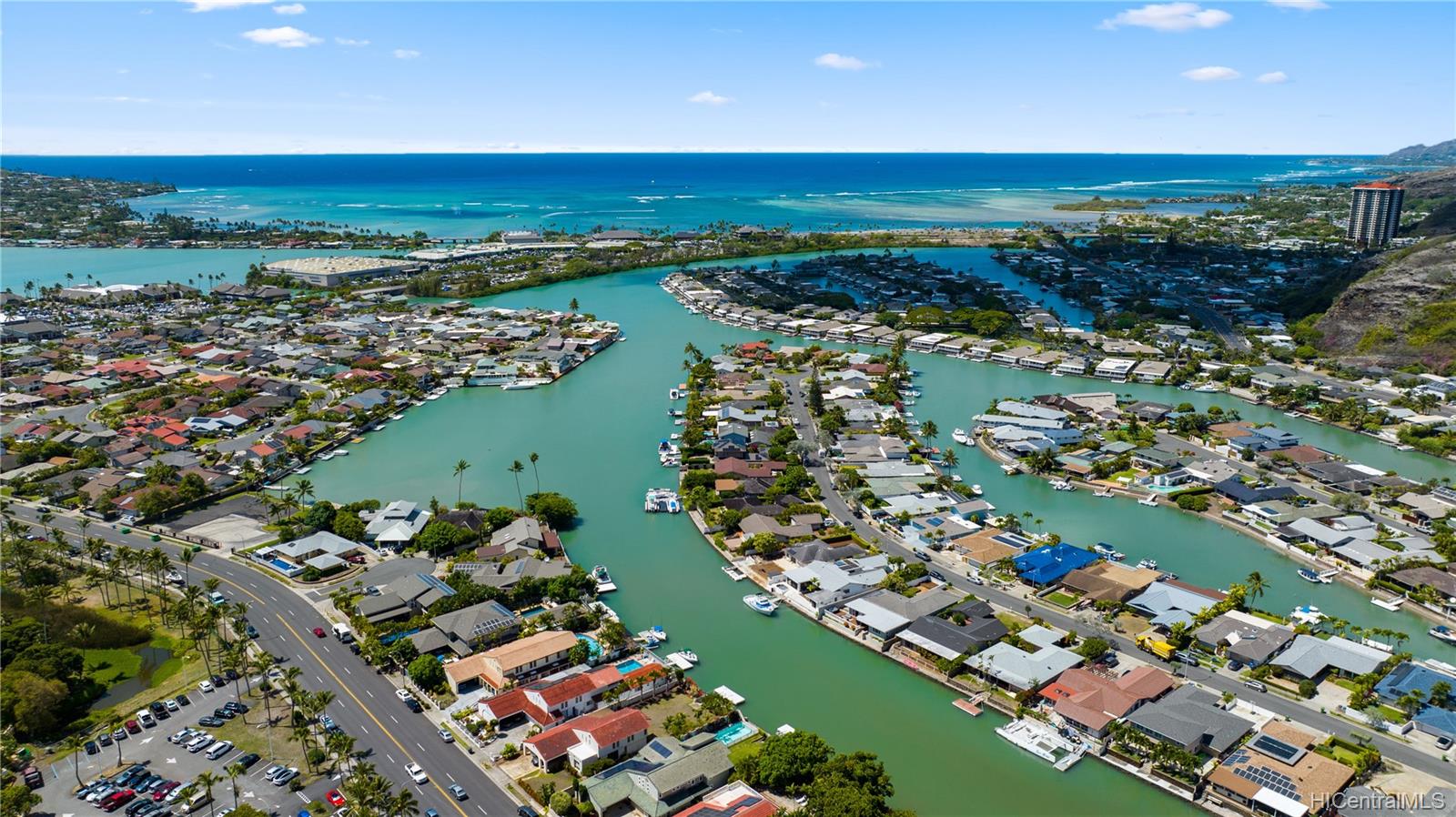 Spinnaker Isle, Anchorage, West Marina, Mariner's Cove - If you're not quite willing to make the leap to Hawaii beachfront home pricing, a Hawaii Kai Marina Front home is the next best pick. It's the only neighborhood like it on Oahu and unlike beachfront homes, you're able to safely dock a boat here. These neighborhood's are a waterman's dream and even if you don't have a boat, the docks are often storage for all of your watersport toys like kayaks and standup paddleboards. These neighborhoods will also feature some of the best Hawaii Kai luxury home options with pools and stunning modern designs.
BEACHFRONT OR BEACH ACCESS | Waterfront, Unobstructed Ocean Views & Access.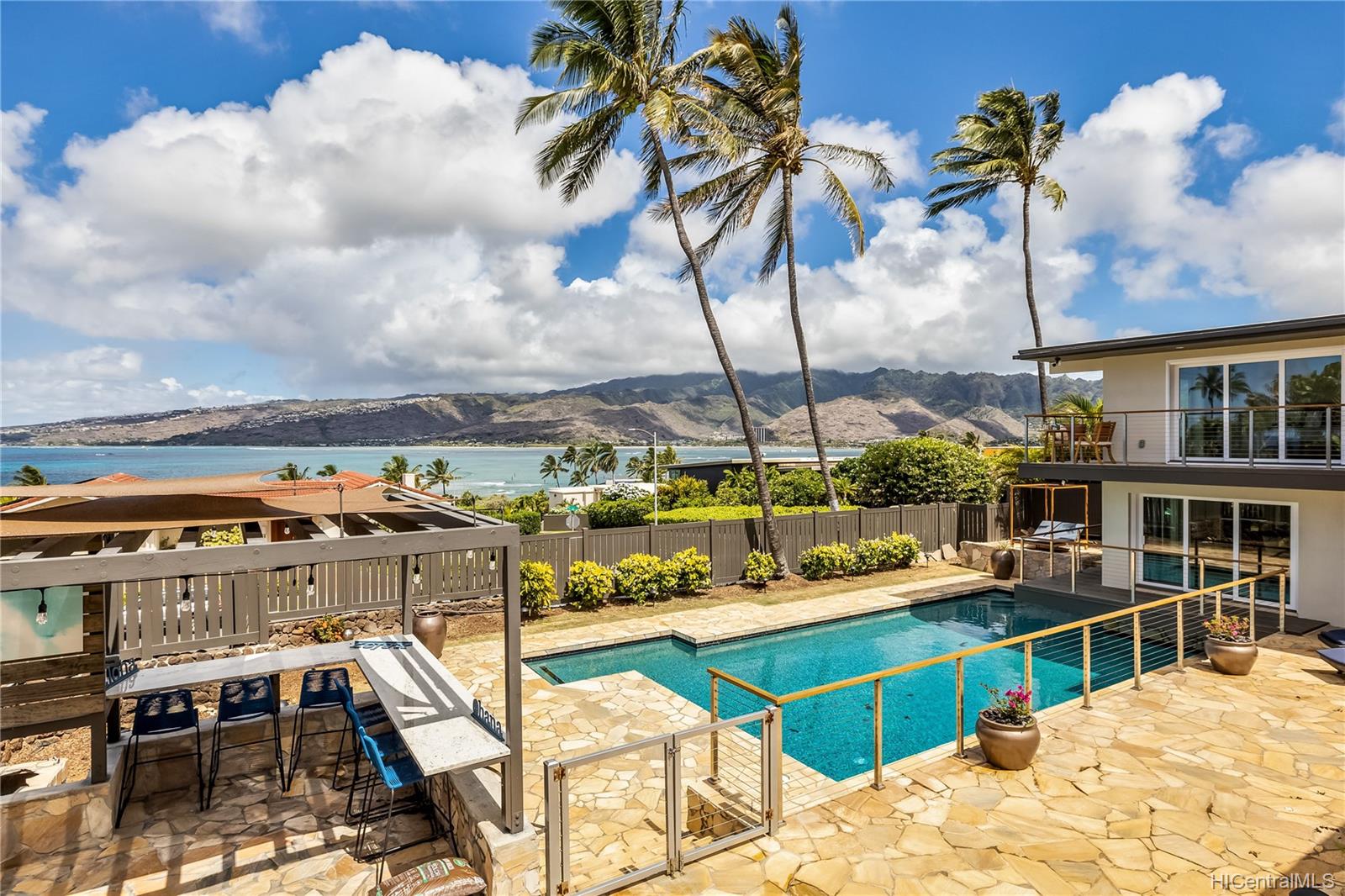 Portlock, Triangle, Koko Kai - Portlock homes in Hawaii Kai are the truly the only neighborhood in the region that can claim the coveted "beachfront" label with 40 homes sitting directly on the water. The neighboring Koko Kai community is still a great option as you're only steps away from the beach access but with a severe discount. Triangle is little further away but with a slight bump in elevation that will capture west facing ocean views for a hanful of homes. All 3 neighborhoods offer some of the finer luxury homes in Hawaii Kai and are located almost directly across the street from Hawaii Kai Centre.
Moving to & Living in Hawaii Kai
Page Directory: Homes | Market Insights & Trends | Best Neighborhoods | Lifestyle | FAQ's | Contact Us | Create An Account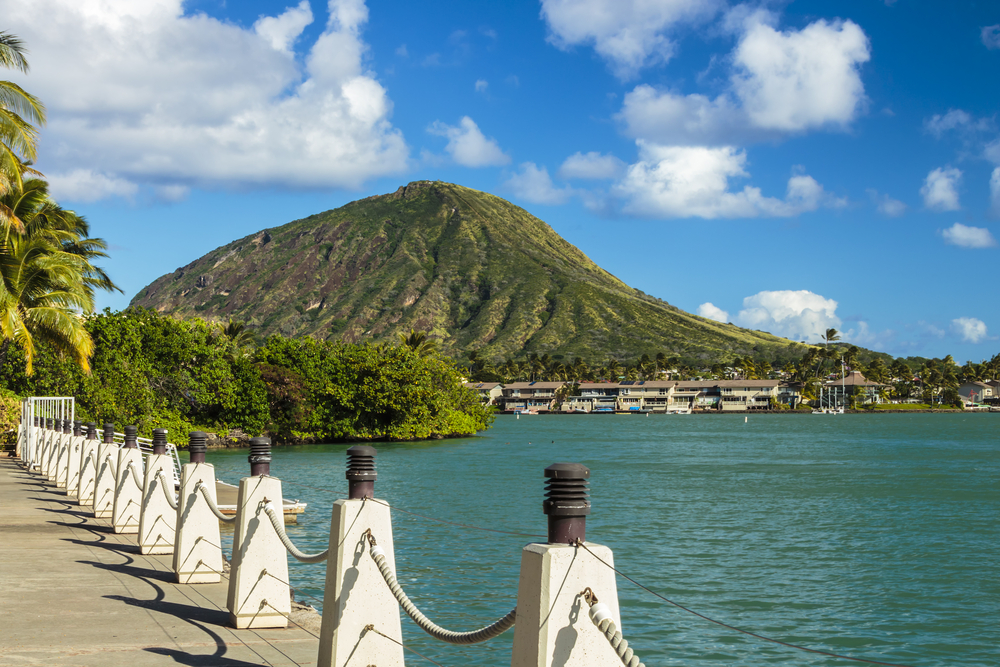 Hawaii Kai is a beautiful residential destination brimming with outdoor activities that allow homeowners to absorb the sunrays, ocean breeze, and the sense of community deriving from neighbors. Kalama Valley is a hub of entertainment that features shopping, dining, a park, and basketball space. The Hawaii Kai Golf Course is available to homeowners in the town allowing them to perfect their swings, puts, and follow through. Families can take a day to pace the Koko Crater Botanical Garden or head out to the sandy beaches like at Hanauma Bay. Watersports, activities, and adventures like body surfing, snorkeling, and whale watching are pastimes that can be accomplished in beautiful Hawaii Kai.
Hawaii Kai is a planned community located around ten miles east of the vibrant Honolulu. The neighborhood used to be wetlands, but it was reconstructed in the 60s by Henry J. Kaiser. His vision was to create a perfect neighborhood for everyone. Whether you have a young family, you're retiring, or you're used to living in the lap of luxury, Hawaii Kai would appeal to you.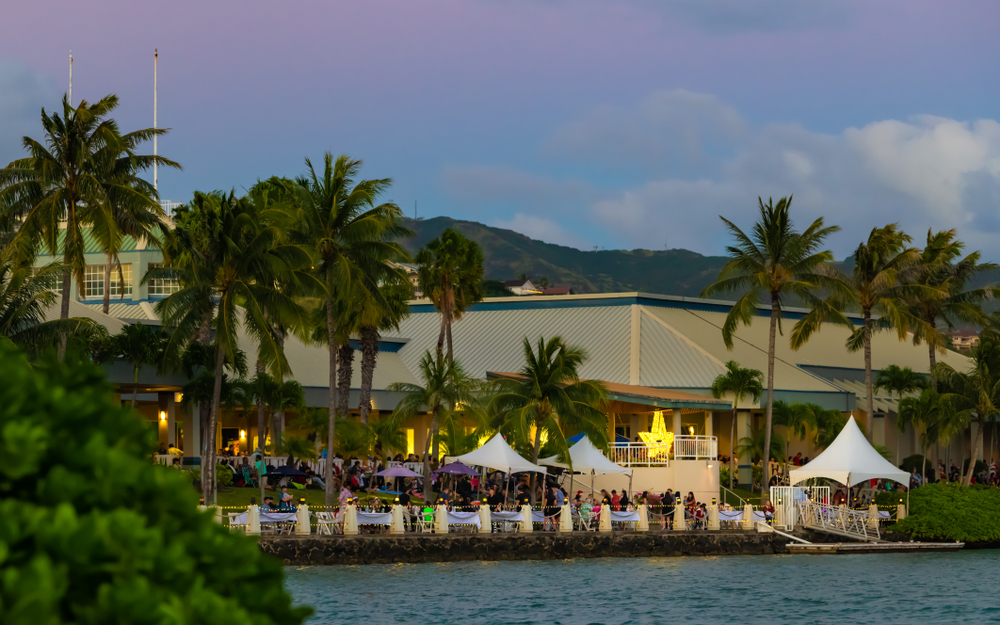 It has become one of the wealthiest communities on Oahu, and many amazing amenities have moved in. There has been significant growth in the community since it's inception. Hawaii Kai Towne center is host to numerous dining options and retail stores, and some of the top schools. While there has been a major focus on building a perfect community, the community has worked hard to preserve the land around the community. Sandy Beach and Hanauma Bay are close by to go boating, snorkeling, and surfing, along with areas to go for a hike, walk, or bike ride.
Hawaii Kai Restaurants
If you're wondering where to eat in Hawaii Kai, make a quick drive over to Koko Marina Center or Hawaii Kai Towne Center where you'll find about 99% of all of the restaurants in the region. Roy's is going to be the best play for finer dining but it's still beach-casual and if you're looking for a killer pizza, check Boston's. Beyond that, check out a related post we did featuring our Top 10 Picks for Best Restaurants in Hawaii Kai.
Things to do in Hawaii Kai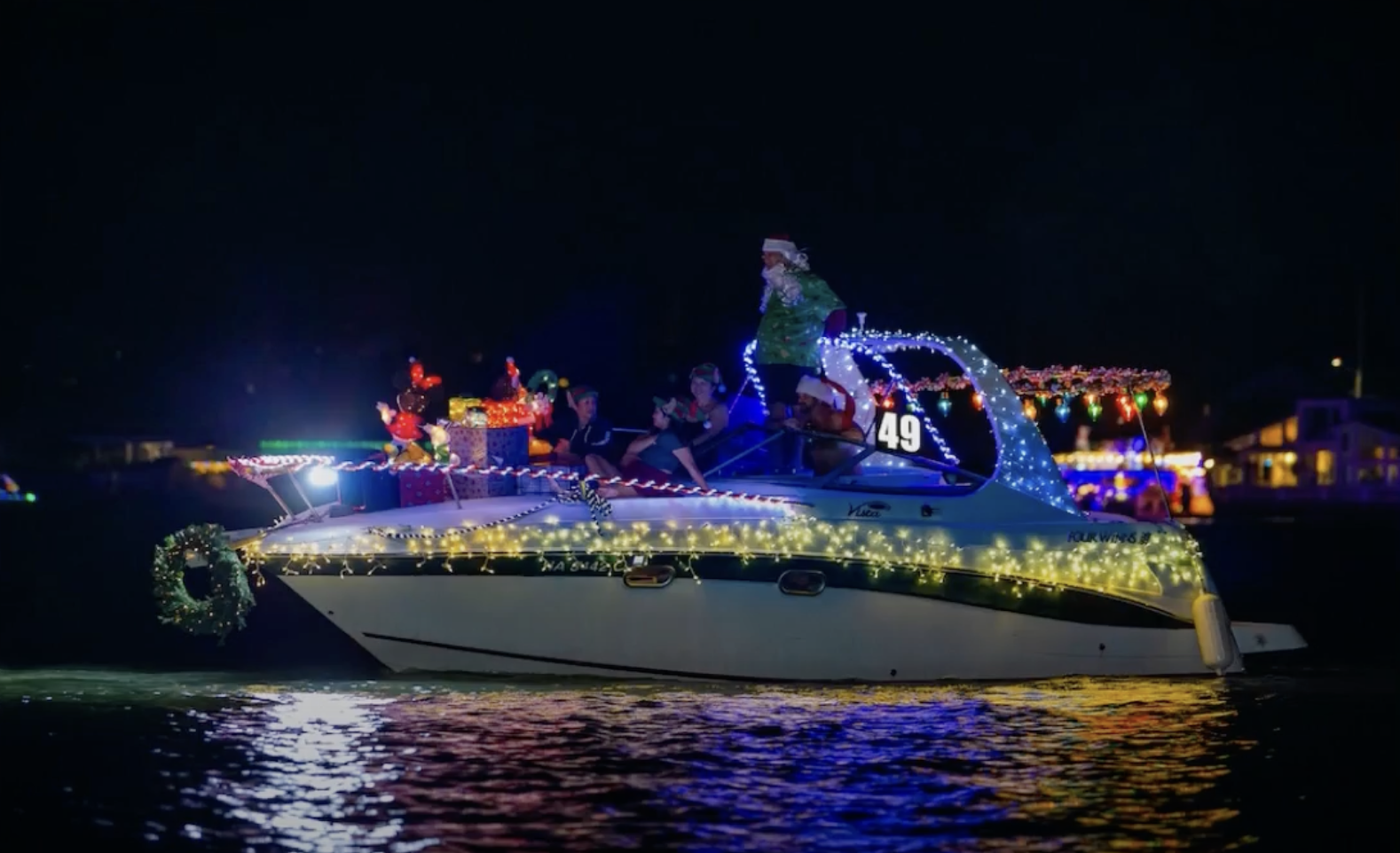 As we mentioned above, Hawaii Kai is one of the most active communities on island and this is due to copious amounts of sunny weather, numerous access points to the marina and ocean, as well as a number of iconic hikes nearby like Koko Head or Kuliouou Ridge Trail. Spend the day beaching it at Hanauma Bay Nature Preserve or tee up at Hawaii Kai Golf Course.
The Hawaii Kai Marina makes this one of Hawaii's premier boating communities with hundreds of marinafront homes with boat docks up and down the inlets. As you can imagine; boating, water skiing, tubing, and fishing are obvious features of the lifestyle and this is further emphasized by the annual Hawaii Kai Boat Parade during the holiday season! For a more comprehensive list on what to do in Hawaii Kai, check out related post detailing the Top 10 Things to do in Hawaii Kai.
Beaches in Hawaii Kai
The region has miles of coastline but you won't see much sandy beach along the residential areas. Portlock in Hawaii Kai is the neighborhoods best option for beachfront homes for sale but many of the residences are more waterfront than they are beachfront. Seawalls take the place of sand here. Rest assured, you're not far from a few of Oahu's favorite beaches; Sandy's, Makapuu Beach, and Hanauma Bay. Read up on all 3 and what type of waters to prepare for in our related post detailing Hawaii Kai Beaches.
Hawaii Kai Shopping
There are no traditional malls in Hawaii Kai but you're only 20 minutes away from the largest open air shopping center in the nation at Ala Moana Center. Shopping in Hawaii Kai is restricted to Koko Marina Center & Hawaii Kai Town Centre which are strip mall concepts featuring boutique stores, cafes, grocery stores, and big box stores like Costco Hawaii Kai and City Mill hardware store.
You'll do well if you're shopping for surf apparel here as there's numerous surf shops but again, you'll want to head to Honolulu for majority of your retail therapy. Check out our related post for a more detailed look at shopping in Hawaii Kai.
Parks in Hawaii Kai
Beach Parks, Dog Parks, you name it. Hawaii Kai is host to many green spaces threading residential neighborhoods for family friendly outdoor fun.
Koko Kai Beach Mini Park | 10 Hanapepe Place
A beautiful green space with a rocky beach to go swimming or fishing.
Hawaii Kai Dog Park | 333 Keahole Street
A local favorite, the Hawaii Kai dog park, is a well-maintained place for dogs to play and meet each other. There is a separate section for smaller dogs.
Hahaione Neighborhood Park | 663 Pepeekeo Street
A playground for children to enjoy right next to an elementary school.
Kamiloiki Community Park | 7750 Hawaii Kai Drive
Along with an open green space, there's also a roller rink, basketball court, Hawaii Kai skate park, playground, and tennis court.
Kuliouou Beach Park | 96 Bay Street
One of many beautiful beaches, this park is an ideal place to watch the sunset along the sandbar or on the grassy green space.
---
Hawaii Kai FAQ's
Page Directory: Homes | Market Insights & Trends | Best Neighborhoods | Lifestyle | FAQ's | Contact Us | Create An Account
Where to stay in Hawaii Kai?
There are no hotels in Hawaii Kai so if you're planning to visit or you expect you'll have your own guests, they'll likely want to look for lodging in Waikiki. You can look for Hawaii Kai Airbnb or VRBO stays but recent legislation on island has prohibited vacation rentals in residential neighborhoods and limited them 3 Resort Zoned neighborhoods on Oahu that allow for Legal Vacation Rentals.
Are there gyms in Hawaii Kai?
If you're moving to the area, join a gym! The Oahu Club and F45 provide membership options for more traditional fitness needs when you're not hiking or paddling.
Is there Public Transportation?
Hawaii Kai is both transit-accessible and great for those who own their own vehicles. It's located about 20 minutes from Honolulu's city center with minimal traffic, and TheBus serves the area. The award-winning transit system offers several routes through Hawaii Kai.
How's the crime in Hawaii Kai?
According to Area Vibes, Hawaii Kai's crime rate 20% lower than the national average with majority of the offenses categorized as theft and petty crime.
What is the History of Hawaii Kai?
Hawaii Kai means 'community by the sea,' and it was originally called Maunalua by native Hawaiians. Maunalua means 'two mountains,' which is directly referring to Koko Crater and Koko Head. Early settlers enjoyed an area that had a plentiful amount of fish in the calm bay.
The Bishop Estate would acquire the land after the Great Mahele land division in 1848 occurred. The valley remained untouched and was a roaming place for cows until the tsunami in 1946 destroyed the fields, properties, and more. This was when the land turned to swampy wetlands. In 1961, Henry Kaiser began his vision of the perfect community.
What are the schools in Hawaii Kai?
Aina Haina Elementary
801 W. Hind Drive
Honolulu, Hawaii 96821
808-377-2419
The Aina Haina Elementary school works hard to encourage the high performance of its students. The staff have high expectations for students to achieve goals and successes. The staff and students are supported by the parent organization. While there is a strong focus on education, there's also a focus on arts and being creative, building strong connections and relationships, and lifelong learning. Parents are often very involved in the school through volunteer efforts, tutoring, and extracurricular activities.
Kamiloiki Elementary
7788 Hawaii Kai Drive
Honolulu, Hawaii 96825
808-397-5800
Kamiloiki Elementary has been striving to become the premier math and science institute among Hawaii Kai schools. The school has an educational focus on discovery, exploration, and contributing on a global scale and being strong members of society. The school is working to become an International Baccalaureate school. While the school focuses on elevating the standard curriculum, there are many creative activities available for students to join after school. Programs like band/orchestra, piano, science club, art, chorus, golf, Japanese, hula, ukulele, and Junior Lego and FIRST Lego League Robotics that students can enjoy. Parents are heavily involved with volunteer efforts, fundraising efforts, and other activities to help build a strong community.
Koko Head Elementary
189 Lunalilo Home Road
Honolulu, Hawaii 96825
808-397-5811
Koko Head Elementary School strives for high-performing students with high standards and an atmosphere of excellence. The school is supported by the incredible parents and volunteers, so the students are privy to excellent resources. The school aims to prep students for their futures in an increasingly complex world. It focuses on programs, systems, and initiatives to make students the best communicators and problem solvers.
Even though these are elementary school students, the end goal is post-secondary education, and the school promotes lifelong learning and its importance. The school offers the traditional core curriculum of math, language arts, social studies, and science. It also offers music, Mandarin, Spanish, Hawaiiana, physical education, health, and computer technology. Staff also receive the ability to grow their skills and professional development in teaching, increasing awareness, and increasing student engagement.
Niu Valley Middle
310 Halemaumau Street
Honolulu, Hawaii 96821
808-377-2440
Niu Valley Middle School is designated as an International Baccalaureate World School offering the Middle Years Programme. There are four areas of focus:
"(1) A rigorous and challenging academic program. All students are placed into the IB Middle Years Programme; (2) Extra- and co-curricular activities, including athletics, consists of afterschool extramural teams in cross country, volleyball, basketball, and soccer.
Other programs include Science and Engineering Fair, MathCounts, First Lego Robotics, VEX Robotics, Solar Sprint, Jr. Engineering Expo, Parade of Bands and Orchestras, Solo and Ensemble Festival, Select Band and Select Orchestra Programs and Visual Arts competitions; (3) Facilities, which support learning in a technological environment; (4) Parent and community involvement. The school is supported by parents and community through the Friends of Niu Valley Middle School," - hawaiipublicschools.org.
Henry J. Kaiser High
511 Lunalilo Home Road
Honolulu, Hawaii 96825
808-395-1200
Kaiser High is an International Baccalaureate (IB) World School. It achieved this for its Middle Years Programme and Diploma Programme. Kaiser's feeder school, Niu Valley Middle, is also an IB World School. This designation allows for students to complete the five-year IB curriculum.
The schools in the Kaiser Complex Area are all working towards developing the IB programs and employ the philosophy behind holistic learning, awareness, and the importance of lifelong learning. The high school offers the Advancement Via Individual Determination program, which is a program to prepare for college. The school is consistently focused on improving curriculum and resources.
Does Hawaii Kai have a Hospital?
Major hospitals are going to be found in nearby Honolulu. Here are a number of clinics in the area though:
Queen's Health Care Center
377 Keahole St, Honolulu, HI 96825
Open 8:30 a.m. to 5 p.m. Monday to Friday
808-396-6675
Kaiser Permanente Hawaii Kai Clinic
6700 Kalanianaole Hwy #111, Honolulu, HI 96825
Open 8 a.m. to 5 p.m. Monday to Friday
808-432-2000
Straub Hawaii Kai Family Health Center
7192 Kalanianaole Hwy A200, Honolulu, HI 96825
Open 8 a.m. to 8 p.m. Monday to Friday, 8 a.m. to 4 p.m. Saturday, 10 a.m. to 4 p.m. Sunday
808-396-6321
Minute Clinic
377 Keahole St, Honolulu, HI 96825, Located in Longs Drugs
Open 8:30 a.m. to 1 p.m. and 2 p.m. to 6:30 p.m. Monday to Friday, 9 a.m. to 1 p.m. and 1:30 p.m. to 4:30 p.m. Saturday and Sunday
808-395-4427
Island Urgent Care Hawaii Kai
6600 Kalanianaole Hwy #114a, Honolulu, HI 96825
Open 8 a.m. to 8 p.m. every day
808-735-0007
Should you worry about hurricanes?
It's hard to live on and island and deny that hurricanes are a risk but historically, the island of Oahu has yet to have a direct hit by a hurricane yet. However, there are planned shelters nearby should the worst case scenario come to pass.
Emergency Hurricane Shelters
As mandated by the City and County of Honolulu Department of Emergency Management, there are designated hurricane evacuation shelters for when there are storms, high winds, debris flying around, and flooding. When the department urges the public to shelter-in-place, there are specific places to retreat. Residents are urged to bring a three-day supply of clothing, food, water, any medications, personal items, and something to sleep on as the shelters are not stocked. The department will advise residents through social media, television, and other local media during any emergency with directions and additional details.
Kamiloiki Elementary
7788 Hawaii Kai Drive
Honolulu, Hawaii 96825
Koko Head Elementary
189 Lunalilo Home Road
Honolulu, Hawaii 96825
Aina Haina Elementary
801 W. Hind Drive
Honolulu, Hawaii 96821
Niu Valley Middle
310 Halemaumau Street
Honolulu, Hawaii 96821
Henry J. Kaiser High
511 Lunalilo Home Road
Honolulu, Hawaii 96825
History of Hawaii Kai
Kai in the Hawaiian language refers to the sea or salt water. However, the "Kai" in Hawai'i Kai does not
mean "salty Hawai'i." Rather it refers to the industrialist Mr. Henry J. Kaiser, the developer who dredged
and developed the area in the late 1950s and left his name behind. He's also responsible for the Kaiser
Hawaiian Village Hotel, today known as the Hilton Hawaiian Village Resort in Waikīkī.
The bay at Hawai'i Kai is called Maunalua. This was the original name of the entire area, pre-
development. Mauna means mountain in Hawaiian, and lua refers to the number two. It's believed the
area was named for the two mountains, Koko Crater (Kohelepelepe) more inland and Koko Head
(Kawaihoa) towards the ocean.
The bay was once an important source of aquaculture – famed for its
fishponds (Hawaiian fisheries), springs flowing down from the valleys, and vast wetlands. Once a thriving
bay, and former home to the largest fishpond on O'ahu, the area changed dramatically and declined as
the population shifted. Invasive alien algae began to choke the bay. Mālama Maunalua stepped up and
has already removed over 3.7 million pounds of the aggressive algae since 2005. If you'd like to help,
visit https://www.malamamaunalua.org/volunteer/.

In addition to fish, Maunalua was also once famous for its 'uala or sweet potato. The prolific crop fed
the entire region and many canoes from other regions on O'ahu would stop by the bay to pick up their
share. Additionally, the bay served as a resting place for those journeying by canoe to or from Moloka'i
enroute to or from Honolulu.

In 1786 the HMS Queen Charlotte and HMS King George, two British trading ships docked in Maunalua
Bay to gather provisions for their voyage. They were captained by Captains George Dixon and Nathaniel
Portlock, respectively. Both men were contemporaries of the infamous Captain James Cook, the great
British explorer. The eastern shore of Maunalua Bay, on the slope of Koko Head was named in honor of
Captain Portlock centuries after his visit in 1936.

The adjacent Koko Head, once named Kawaihoa is a headland and ancient tuff cone. Tuff is a kind of
rock made of ejected volcanic ash produced during a volcanic eruption. The cone indicates the shape the
tuff took once expelled from the sea. One of Koko Head's depressions or old vents is called Hanauma
Bay. The age of the island of O'ahu is approximately 3.9 million years old, this area is a young 30,000
years. Ocean erosion carved the bay into the nature preserve it is today. Hana means bay in Hawaiian,
and uma means curved.
Uma is also a type of wrestling. Therefore, Hanauma (pronounced Hah-NOW-
mah), means curved bay or hand-wrestling bay in Hawaiian. Hanauma was a playground of the ruling
class, the ali'i. They enjoyed engaging in wrestling matches at the bay, hence the place name. Famous
for movies like Elvis Presley's Blue Hawai'i, this secluded bay continues to be a site of beauty in Hawai'i
Kai.

Just mauka (inland) of Koko Head is a second, more obvious much higher tuff cone called Koko Crater.
Its traditional name is Kohelepelepe. In Hawaiian lore, Pele, the goddess of fire was being sexually
pursued by the pig god, Kamapua'a in Puna on the island of Hawai'i. In a plea for help, Pele called out to
her sister Kapo for assistance. Knowing what Kamapua'a was after, Kapo detached her vagina and hurled
it into the sky, distracting her sisters pursuer.
The goddess' genitalia traveled from Hawai'i Island, over
Maui and Moloka'i, landing on the island of O'ahu and leaving a large imprint for the voracious pig god.
He was fooled and left Pele alone from that point on. To commemorate the incident, the site was
named Kohelepelepe, "vagina labia minor." When looking at Koko Crater from the Makapu'u Lighthouse
Trail, you'll see what we're talking about.