Hawaii Kai Homes & Condos For Sale
Page Directory: Homes | Market Insights & Trends | Best Neighborhoods | Lifestyle | FAQ's | Contact Us | Create An Account
The Hawaii Kai community is located on the southeastern coastline of the island of O'ahu in Honolulu, Hawaii. Sunny skies, opulent ocean views, and numerous access points to the water, provided by the Hawaii Kai Marina and closeby beaches puts the community in the Top 5 best places to live in Oahu, Hawaii. All of the above promotes a very active lifestyle amongst it's residents as there's no shortage of water and outdoor activities in close proximity. The infamous Koko Head trail can be seen from almost anywhere in the area while the crystal blue waters of the marina and ocean tease you to grab your kayak, surf board, or standup paddleboard for a day on the water.
Aside from the many things to do in Hawaii Kai, the region's convenience to Metro-Honolulu makes it a popular destination for working professionals and those who enjoy some of the urban amenities of dining and shopping in Honolulu. Living in Hawaii Kai puts you about 20 minutes from Waikiki -- close enough that it's not a chore to drive in but far enough to avoid the urban sprawl of Hawaii's capitol city.
Page Directory: Homes | Market Insights & Trends | Best Neighborhoods | Lifestyle | FAQ's | Contact Us | Create An Account
Understanding Hawaii Kai Real Estate
If moving to Hawaii is less about the sticks and bricks of the house and more about the lifestyle of a particular neighborhood then Hawaii Kai should absolutely hit your Top 5 list. This isn't to say that there aren't stunning houses for sale in Hawaii Kai but like the other 4 lifestyle neighborhoods, Hawaii Kai is a place of experiences, outdoor activities, copious amounts of sunshine and ocean, as well access to exciting food oportunities.
A quick Hawaii Kai real estate search will show you this is one of the few areas on island that offer split level townhomes, high-rise condos, suburban single family homes, oceanfront condos, and beachfront homes. We created a broad search of Hawaii Kai listings for you above but if you're looking for more tailored guidance into the neighborhoods or buildings that best fit your lifestyle, keep reading!
Homes For Sale in Hawaii Kai, Honolulu HI

Most of the houses in Hawaii Kai were built between the late 1960's and 1980's but there's a few pockets of homes that were built in the 1990's which is young in Hawaii standards. Plan for mostly double wall construction on concrete slabs which is rare as most communities on Oahu have a least some homes built on post and pier foundations. Common home types:
Traditional suburban style neighborhoods like Kalama Valley and Koko Head Terrace, carport and garage options. Flat, sidewalked lined streets
Hillside and ridgeline homes in neighborhoods like Mariner's Ridge, Kamehame Ridge, and Napali Haweo are going to offer you some of the largest floor plans with sweeping ocean and sunset views; prices to match of course.
Marina-front homes in Spinnaker Isle, West Marina, Mariner's Cove, and Anchorage. These homes should feature boat docs and marina fees. To learn more about living on the marina visit the Hawaii Kai Marina Association.

---
Popular Neighborhoods in Hawaii Kai
Here's our top picks for best neighborhoods by home type:
ENTRY LEVEL | Suburban, Not Waterfront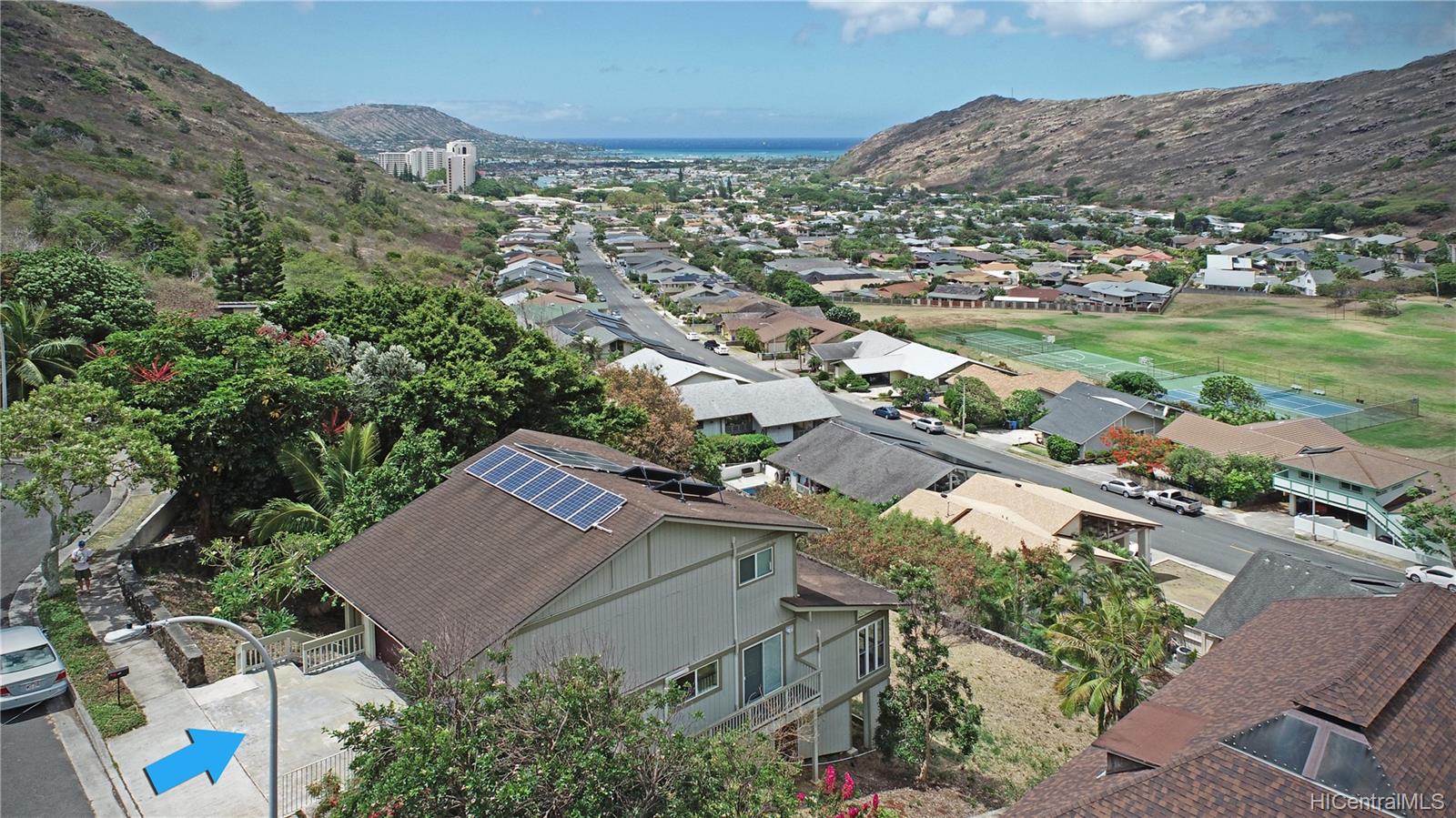 Hahaione Upper, Hahione Lower, Kalama Valley - These are family friendly neighborhoods nestled in the Hahaione Valley and Kalama Valley. Entry level pricing, quiet, and not oriented on any of the main thoroughfares which makes it very pedestrian and bike friendly. There's parks within or nearby each neighborhoohd which is great for the kids or running the dogs. The Hahaione Upper part of the neighborhood allows for Koko Head and ocean views framed by the ridgeline on either side of the valley. Hahaione Valley homes (upper and lower) are the closest Hawaii Kai homes to Metro-Honolulu so commute time is superior than any other neighborhood. Kalama Valley is the furthest neighborhood from Metro-Honolulu and you'll see this reflected in the price reduction. These homes can be hot because of how they're oriented in the valley so be sure to get AC!
HILLSIDE | Incredible Views, Breezy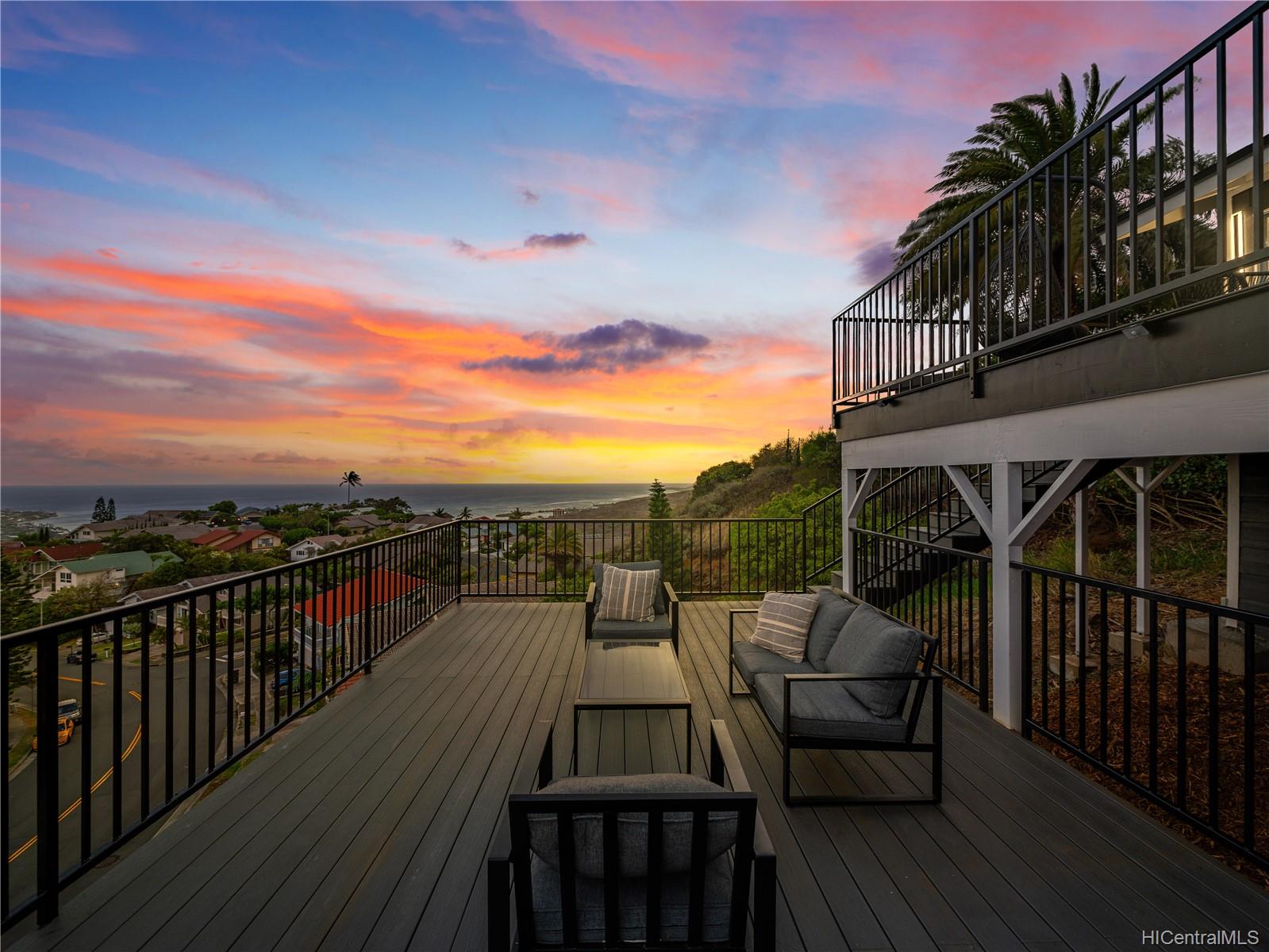 Mariner's Ridge, Napali Haweo, Kamehame Ridge - if you love outodoor entertainment space, homes for sale in Mariner's Ridge will likley appeal to you due to the sprawling decks that are often featured on these homes. The same is true of Napali Haweo homes but like Kamehame Ridge homes, these are the more luxurious options. The views from these 3 neighborhoods are arguably the best on island, absent of any obstruction or condo buildings. Many of these homes take advantage of the ocean views through so it makes large outdoor spaces for family BBQ's and gatherings with homes at Napali Haweo often featuring pools.
MARINA FRONT | Marina Access, Views, Boat Docs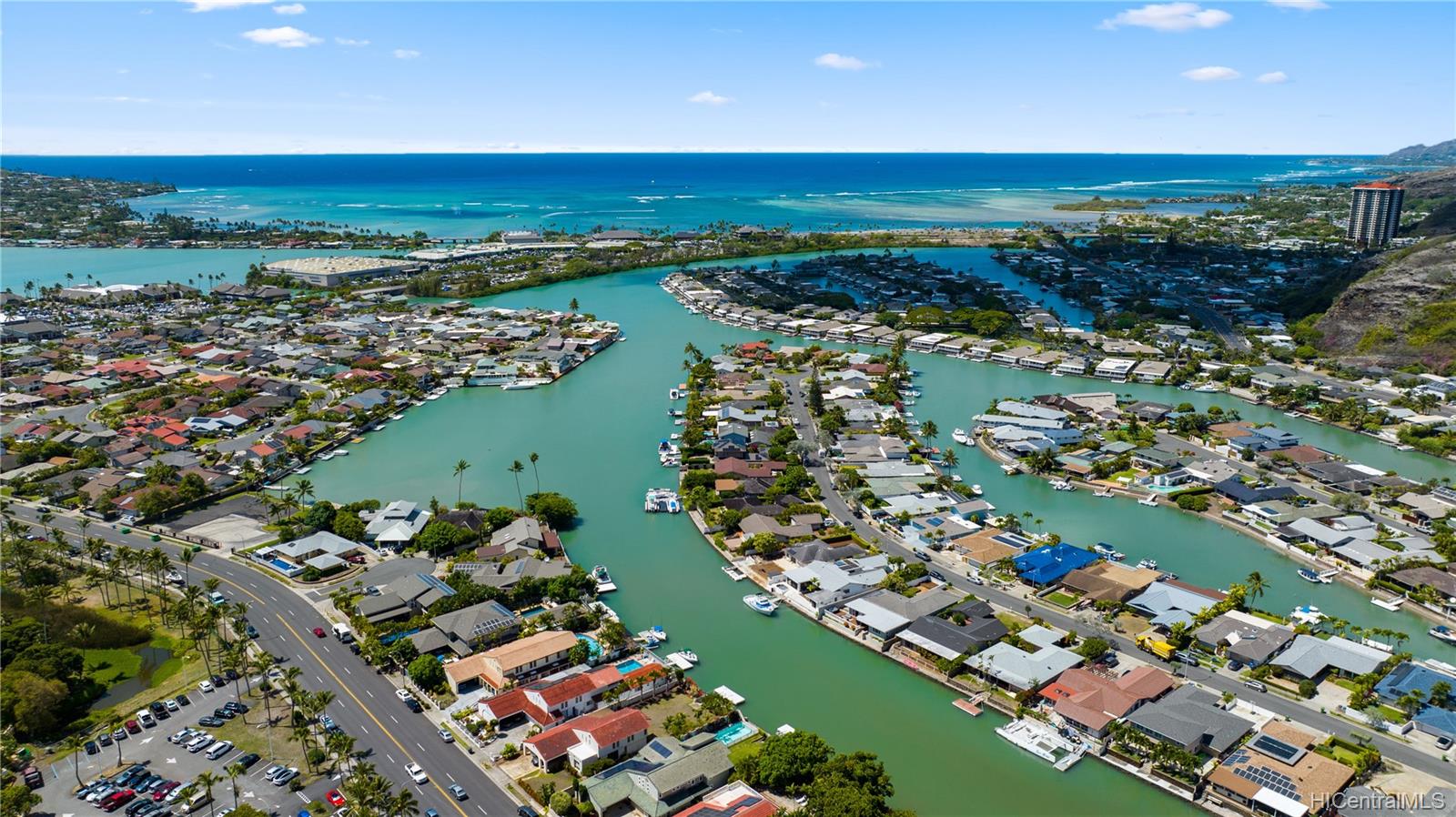 Spinnaker Isle, Anchorage, West Marina, Mariner's Cove - If you're not quite willing to make the leap to Hawaii beachfront home pricing, a Hawaii Kai Marina Front home is the next best pick. It's the only neighborhood like it on Oahu and unlike beachfront homes, you're able to safely dock a boat here. These neighborhood's are a waterman's dream and even if you don't have a boat, the docks are often storage for all of your watersport toys like kayaks and standup paddleboards. These neighborhoods will also feature some of the best Hawaii Kai luxury home options with pools and stunning modern designs.
BEACHFRONT OR BEACH ACCESS | Waterfront, Unobstructed Ocean Views & Access.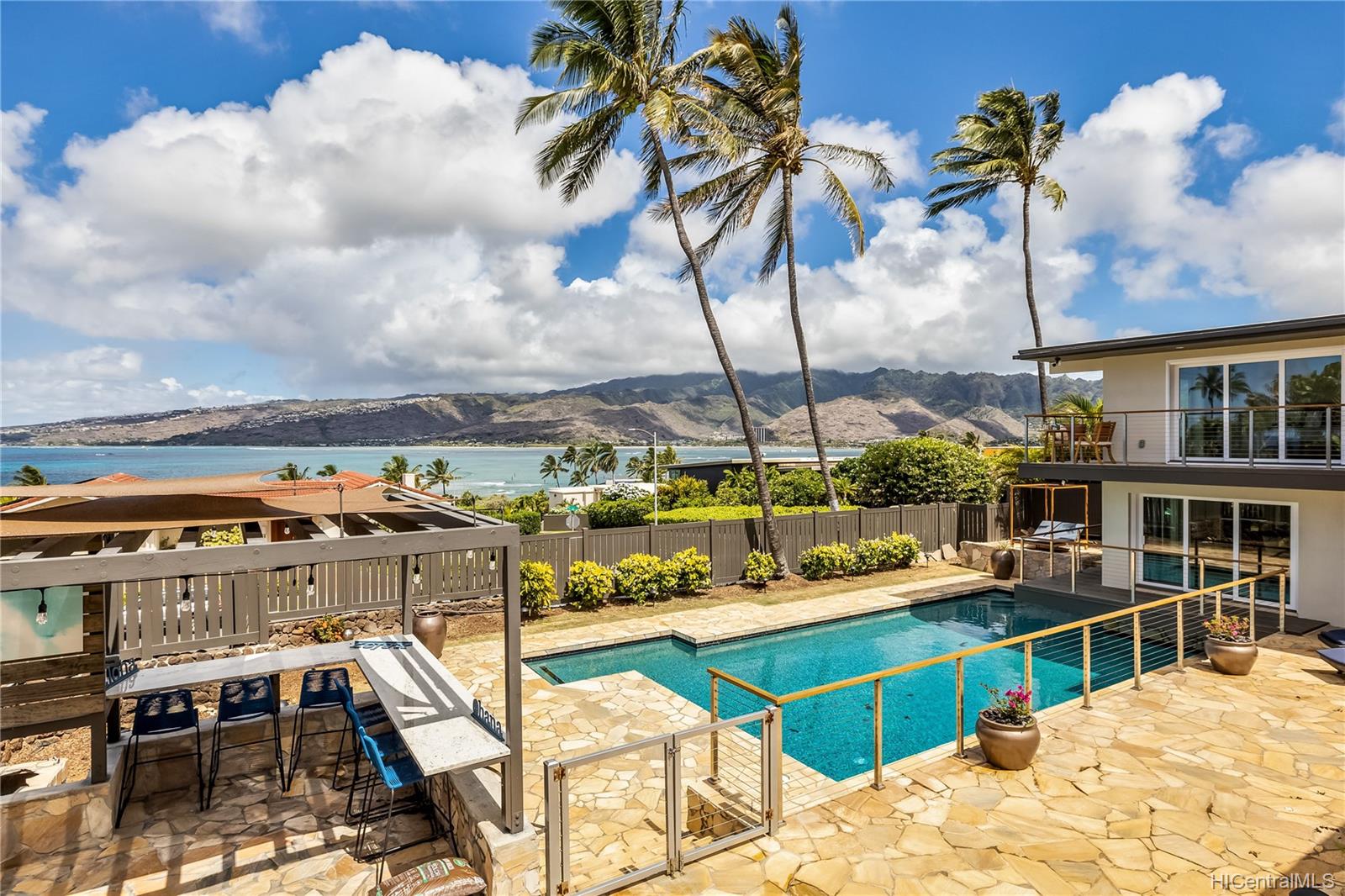 Portlock, Triangle, Koko Kai - Portlock homes in Hawaii Kai are the truly the only neighborhood in the region that can claim the coveted "beachfront" label with 40 homes sitting directly on the water. The neighboring Koko Kai community is still a great option as you're only steps away from the beach access but with a severe discount. Triangle is little further away but with a slight bump in elevation that will capture west facing ocean views for a hanful of homes. All 3 neighborhoods offer some of the finer luxury homes in Hawaii Kai and are located almost directly across the street from Hawaii Kai Centre.

Condos For Sale in Hawaii Kai, Honolulu, HI
You'll find a mix of High-Rise, Low-Rise, and Townhome Condominium options in Hawaii. Entry level condo options exist in the buildings not on the marina but the most popular type of Hawaii Kai condos for sale are undoubtedly the marina-front options which offer the unique lifestyle of being oceanfront, but without open oceanfront pricing. Rather than giving you our absolute top picks for condos in Hawaii Kai, we're created a comprensive Hawaii Kai Condo Guide breaking down our top picks by category.
Beware that many of the condos for sale in Hawaii Kai are around 50 years old and may exhibit deferred maintenance or maintenance fees that may be hard to stomach. Plan for fees to run you approximately $1/sq and for any building that's less, consider that a great maintenance fee. Buildings like Lalea, Nanea Kai, and Moana Kai are going to offer you the most appealing maintenance fees, all still under $0.50/sq while some buildings are experiencing skyrocketing fees due to major deferred maintenance and costly capital improvement projects. We'll help you avoid those. Mt. Terrace condo in Hawaii Kai comes top of mind.
---

Hawaii Kai Honolulu HI Homes For Sale
December 3, 2023
$1,398,500
Med. List Price
Hawaii Kai Honolulu HI Homes For Sale
by Price