Page Guide: Where to Buy | Rental Laws | FAQ's | Taxes | Inquire
If you're a Hawaii resident or vacation rental owner, you know that the past 5 years have been extremely turbulent in establishing new Hawaii Short Term Rental Laws. Numerous pieces of legislation have either changed or tightened the state's rental restrictions leaving a trail confusion and frustration in an industry still reeling from the COVID lockdowns that shuttered Hawaii's tourism industry for 2020-2021.
This guide aims to bring clarity to the Hawaii Vacation Rental Laws on each island and to help you discern between what's legal and what's not as you explore Hawaii vacation homes and if hosting an Airbnb in Hawaii is right for you. If it is, we'll continue the discussion with insights on how to obtain a Hawaii Vacation Rental permit, Taxes, Rental Rules, and which neighborhoods to focus on when searching Hawaii short term vacation rental condos.
---
Where do I find legal vacation rentals for sale in Hawaii?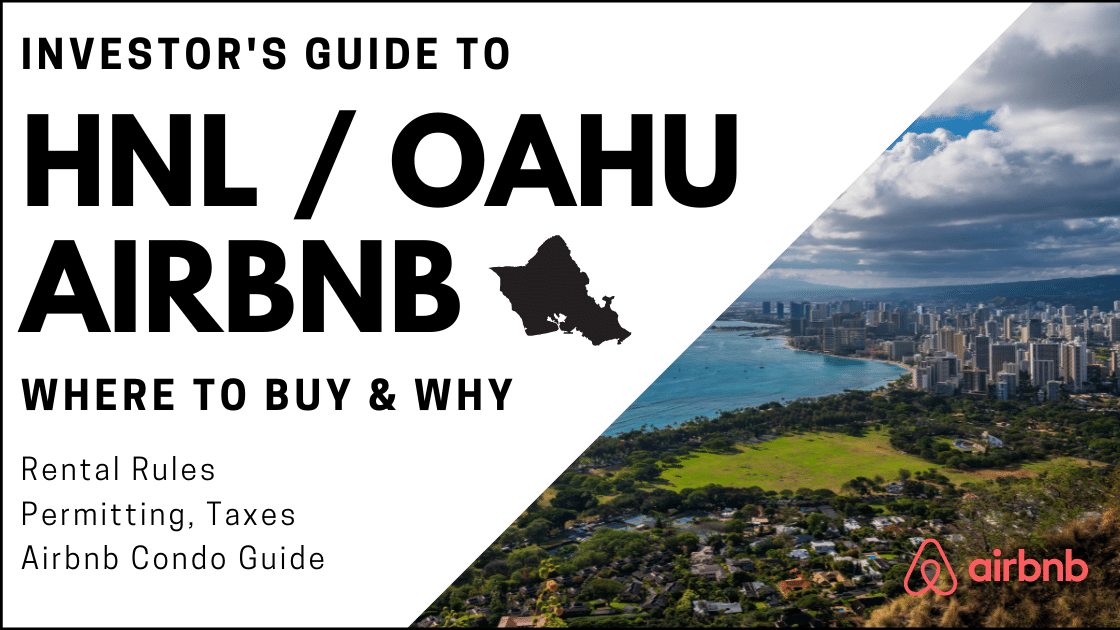 By visiting one of our Short Term Rental Condo Guides below! We've got every Oahu vacation rental condo dialed in at the moment but will be updating all other islands soon.
For interest in Big Island, Maui, or Kauai Short Term Rental Condos please Inquire with us and one of our team members will curate an island specific list of Short Term Rental Condos that fit your criteria.
---

Jump to Short Term Rental Laws in OAHU | MAUI | KAUAI | BIG ISLAND
Oahu island, "The Gathering Isle," sees the most controversy surrounding Hawaii Short Term Rentals, by far. In 2021, the Oahu Short Term Rental law saw massive disuption through the passing of Bill 41. The new law prevented homeowners from renting their homes, guest homes, or rooms in their homes for less than 90 days -- a dramatic shift from the previous 30 day minimum.
However, on October 13th 2022, Federal Judge Derrick Watson issued a preliminary injuction in favor of the Hawaii Legal Short Term Rental Alliance (HILSTRA); plaintiffs in a lawsuit against the City and County of Honolulu for property rights. The ruling now prohibits the city from enforcing the 90 day minimum rule on property owners, reestablishing the 30 day minimum rule.
Any homes renting for less than 30 days periods are still considered illegal vacation rentals unless they have obtained a Non-Conforming Use certifcate or they're located in one of the below designated Resort Zones or Apartment Precincts in:
Turtle Bay Vacation Rentals- North Shore Oahu - Kahuku, HI
Ko Olina Vacation Rentals - West Oahu - Kapolei, HI
Condotels in Waikiki - Honolulu, HI
>> Visit the Oahu Short Term Rental Investor's Guide to learn more about Rental Rules, Permitting, and every legal Short Term Rental and Condotel on Oahu.
---

Jump to Short Term Rental Laws in OAHU | MAUI | KAUAI | BIG ISLAND
The Maui Short Term Rental Laws define vacation rentals as any home or condo accommodation with rental periods of less than 180 days. If you're interested in a Maui Vacation Home and/or hosting your home as a Maui Airbnb while you're away, then you should focus your home search to Resort Zoned areas of Maui County. Any vacation rental on Maui outside of Resort Zones will be required to apply for one two permit types:
Short Term Rental Home Permit. Operating under a STRH permit would allow you to operate an Airbnb in Maui without requiring the owner living on the same homesite of the rental. **As of January 7, 2022 Maui County has issued a 2-yr moratorium on any new short term rental home permits. This moratorium does not include applications for Bed and Breakfast permits, nor does it phohibit operation of previously approved Vacation Rental Homes on Maui.
Bed & Breakfast Permit. This permit type allows you to operate your Airbnb or VRBO in Maui so long as the home and owner is deemed eligible under the Maui Vacation Rental rules. The most notable difference between the Maui B&B permit and the STRH permit is that B&B operators are required to be Maui residents and must live on the same home-site as the vacation rental unit.
To apply or renew Maui Short Term Rental permit, visit the Maui's Automated Planning & Permitting System.
---

Jump to Short Term Rental Laws in OAHU | MAUI | KAUAI | BIG ISLAND
It's estimated that the Garden Isle is home to as many 4,000 vacation rentals in Kauai. Similar to Oahu and Maui counties, the Kauai short term rental law limits rentals to designated resort zoned areas, called Visitor Designation Areas (VDA's), unless the home has one of very few NUC permits issued before March 2008. These are the only homes outside of resort areas that are allowed to operate VRBO or Airbnb in Kauai.
Kauai differientiates short term rentals between Homestays & TVR's:
Homestay pemits will require that the vacation rental is hosted within the applicant's primary resident. Homestays are synonymous with the Bed & Breakfasts; as they're defined as on Oahu and Maui.
TVR permits would allow for non-owner occupied rentals on Kauai.
Both of types of permits require the owners and homes to meet a number of eligibility requirements under Kauai Vacation Rental Rules. To apply, visit the Kauai Permit & Planning Department site.


---

Jump to Short Term Rental Laws in OAHU | MAUI | KAUAI | BIG ISLAND
Similar to the other islands, Big Island Vacation Rentals are limited to Permitted Zoning Districts consisting of Hotel, Resort Commercial, and Multi-family commercial zones. This means that Hawaii island short term rentals are for more limited as roughly 95% of the Big Island is zoned Agricultural or Conservation.
All rules and regulations surrounding vacation rentals on the Big Island are defined under Bill 108 -- Ordinance 2018-114, and newly adopted Rule 23. Here's the highlights:
All Pre-existing Big Island Short Term Rentals that were established before 4/1/19 and operating in compliance with zoning laws, building code, and taxes may continue normal operation after submission and approval of a STVR Registration Form before 9/28/18. If prexisting STVR falls outside of the Permitted Zoning District then a new NUC Application must also be provided and approved.
Homeowners wishing to propose their home as a NEW Big Island STVR must submit and receive approval on the NUC Application
"Short-Term Vacation Rental" (STVR) shall be homes or dwelling units rented for periods of less than 30 days, of which the owner or operator does live on site, and has no more than 4 bedrooms of which the owner or operator does not reside on the building site, that has no more than five bedrooms for rent on the building site.
Any print or digital advertising on homesharing platforms like Airbnb, VRBO, etc must display their STVR Registration Number and the Non Conforming Use Certificate number, if applicable.
Homeowner must live in Hawaii County and all STVR operators must sign the STVR Statement of Compliance
Full guidance to Big Island Vacation Rental Law can be found at the Hawaii County Department of Permits and Planning.
---
Hawaii Short Term Rental FAQ's
Is Airbnb Legal in Hawaii?
Yes, but it's complicated as each county (Island) will have it's own set of regulations in place as well as varying terminology to identify different types of short term rentals like TVU's, TVR's, B&B's, VDA's, Condotels, etc. Don't let the acronyms confuse you! Simply navigate between the islands below to read up on the county specific requirements for legal short term rentals and comprehensive Condo Guides to help you easily search all short term rentals and Condotels for sale in Hawaii.
What is Condotel in Hawaii?
Condotels or Condo Hotels in Hawaii are a type building that allows for condo ownership in a Hotel-Managed building. You have full rights to use and enjoy the condo as you please with the unique option of being able to offset your ownership costs through legal vacation renting of the unit while you're away. Owner's may opt to host their condotel unit in the Hotel Rental Pool where all bookings, check-in, housekeeping, and concierge services are managed by the hotel for a fee.
Is it smart to invest in a condotel?
This really boils down to your unique investment philosophy. Do you have cashflow priorities or are you looking for Hawaii Vacation Home that provides you hands-free coverage of some of your ownership costs? It's important to note that most condotels charge a fee of roughly 50% of your gross rental income to host your home in the hotel pool. This is before GET & TAT taxes are taken out; taking a significant bite out of your cashflow.
If cashflow is the priority, look for condotels that allow you to self-manage, or hire a third party property manager whose fees are likely 20-30%. Not every condotel allows for third party management.
Do I have to buy a Condo Hotel to legally host a short term rental in Hawaii?
No, condotels are just the easiest types of short term rentals to identify as legal since they're functionally Hotels. You should also focus your search to the "Designated Areas" on each island, properties with NUC's. Designated Areas are regions appointed by each county to allow legal short term rentals. These are typically the Resort Zones, but not every condo project within Designated Areas allow for legal short term rentals as the project may have an overlaying AOAO rule that establishes they're own minimum rental rules that are more restrictive than county rules.
What is a Non-conforming Use Certificate (NUC)?
An NUC is a "Non-confomring Use Certificate" that allows specific homes or condo buildings to be operated as legal vacation rentals for periods of less than 30 days. Hawaii homes with NUCs may be located in or outside of the Designated Areas. Each Hawaii island has or is working towards an application process for homeowners to obtain new NUCs that will allow them to propose their a home as a new short term rental.
There are 793 Oahu properties with active NUCs. You'll see most of them in Waikiki Condotels but a few dozen other scattered in various other Oahu condos and single family homes island wide.
Is there a Hawaii Vacation Rental Tax?
Yes, in addition to paying Hawaii General Excise Tax (GET), vacation rental owners must also pay a 10% Transient Accommodation Tax (TAT) on all rental income for rental periods of less than 180 days.
The History of Hawaii Vacation Rentals
Once upon a time, Bed & Breakfasts in Hawaii flew quietly under the radar and were allowed to peacefully coexist with the residental community and Hotel industry. Decades ago, the state issued only a few hundred Nonconforming Use Certificates (NUC's) to homeowners that wished to share their homes with visitors in return for compensation, similar to a hotel's operation.
These were the last NUC permits ever issued which made them a rare commmodity; one that allowed only a few lucky homeowners to rent their homes at a nightly rate, for periods of less than 30 days. Prior to the inception of the Airbnb Hawaii (the platform), this type of operation was often called a Bed & Breakfast, Vacation Rental, or Short Term Rental. All other homes without an NUC permit were restricted to normal rental terms of no less than 30 days, which we commonly refer to as Long Term Rentals.
Despite owners being allowed to rent their homes for 30, 60, 90 day periods under normal rental rules, you rarely see it. This left a sizable delta between the types of and terms of Hawaii homes for rent as the vast majority of rentals are only offered as short term rentals (less than 30 days) or long term rentals consisting of minimum 1-yr leases. Read More...
Hawaii Short Term Rental Inquiry