Davies Pacific Center

This Downtown Honolulu condo project features the recent condominium conversion of the former 22-story Davies Pacific Center office building at 841 Bishop St into an "Urban Oasis" that incorporates a trendy design of tropical landscaping and organic accents while maintaining the building's historic features. We'll see this project developed by Avalon Group, who acquired the building in January 2023, with plans to start sales in late 2023 to early 2024. You may recognize Avalon Group from recently completed Sky Ala Moana project and Hale Ka Lae in Hawaii Kai. Register Interest.
Located Downtown
Nestled along Oahu's southern coast, Downtown Honolulu is a captivating tapestry of history, culture, and modern living. Its strategic location not only offers convenient access to the island's cherished treasures but also presents the opportunity to engage with the pulse of Hawaiian urban life. From the iconic shores of Waikiki to the breathtaking heights of Diamond Head's summit, Downtown Honolulu serves as an entrancing portal to both urban excitement and the natural splendor of the island.
Reimagined by Lowney Architecture
Spearheading the reimagination of the Davies Pacific Center condo building is Lowney Architecture whose plans include a second floor amenity deck, expansion of landscape spaces on Merchant and Bishop Streets; bridging cohesion with the building's interior design, a dog park, new office spaces, with owner's residences on floors on 6-20.

22 Floors
380,462 square feet
350 to 400 units ranging from Studios, 1-2 bedrooms
26 units per floor
Workforce & Market Priced Housing
Fitness Center, Lounge, Meeting Room, Party Room, & Pet Friendly
Prices are TBD but are expected to start in the $500,000 - $600,000 range
Living in Downtown Honolulu
Downtown Honolulu boasts a vibrant culinary scene that tantalizes the senses. Mornings begin with the aroma of freshly brewed Kona coffee and vibrant acai bowls that invigorate local cafes. The city's multicultural influences come alive during lunchtime strolls through the bustling streets of Chinatown, where the fragrant offerings of dim sum blend harmoniously with the sizzle of Korean barbecue and the comforting embrace of Vietnamese pho. As the sun dips below the horizon, Downtown's restaurants provide an avenue for culinary exploration, celebrating Hawaiian flavors and international cuisines that transform each meal into a sensory journey.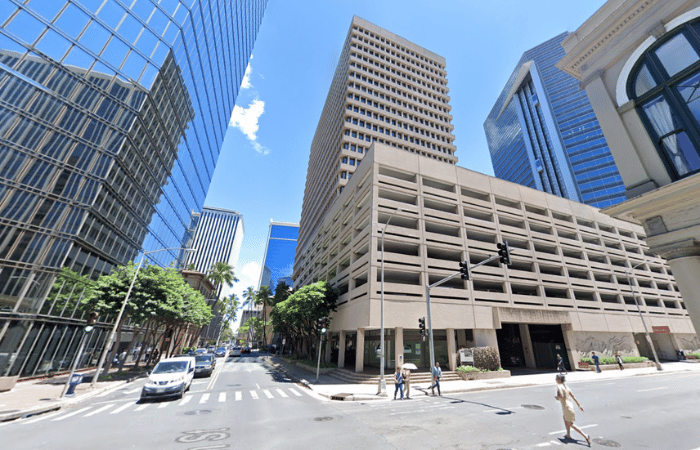 Cultural exploration thrives in Downtown Honolulu, where historic landmarks weave tales of Hawaii's past. The regal Iolani Palace, a former royal residence, provides a window into the island's monarchic history, while the Honolulu Museum of Art curates an eclectic collection spanning Asian, European, and Hawaiian artistry. Beyond its rich history, Downtown embraces the future with its proximity to up-and-coming neighborhoods like Kakaako. This emerging creative district offers galleries, events, and a vibrant arts scene that intertwine seamlessly with the city's urban fabric.
Davies Pacific Center Condo Alerts
Downtown Honolulu Condos For Sale
September 23, 2023