Kuilei Place | New Moili'ili Condo in Honolulu
Page Guide: Neighborhood | The Tower | Prices | Amenities | Floor Plans | Affordable Housing | Register Your Interest
Located at 2599 Kapiolani Blvd, Kuilei Place will be the first brand new condo project in the Moi'ili'ili neighborhood in decades. We'll see the 400ft, 1,005 unit condo developed and constructed by Kobayashi Group LLC whose reputation precedes them in the Honolulu condo. The developer is best known for the successful launch and construction of Park Lane, Hokua, One Ala Moana, and more recently, the Alia Kakaako condo project which just launched in January 2023.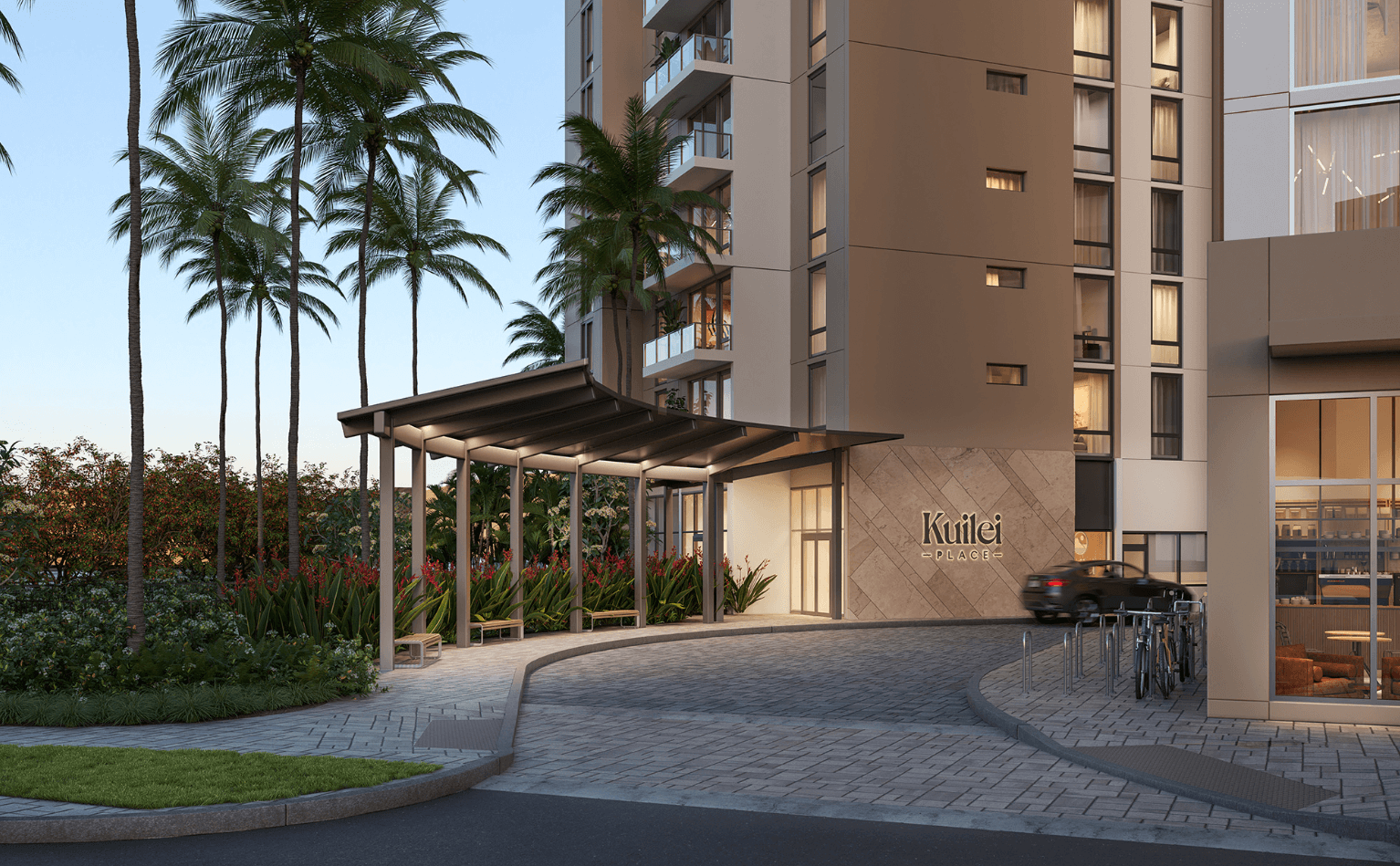 ---
Developer Updates | What to Know
The Kuilei Place Sales Team will be holding Affordable Housing Seminars starting February 19th, 2023. Applications for the Kuilei Place Affordable Housing Lottery will be due by April 14, 2023. Prices for 1-3 bedroom units range from $370,600 - $813,300. A minimum of 5% down payment is required.
Kuilei Place accepting Applications for Owner Occupant Lottery Release of (402) Market Price Condos to "Qualified Residents." To be considered for lottery, you must submit an Owner Occupant Affidavit no later than March 5, 2023.

If you would like assistance from a Buyer's Agent to apply for a Kuilei Place lottery, Scheduling a Sales Gallery Tour, or Attending an Affordable Housing Seminar be sure to register on the Interest List and let us your interest in the "comment" section. I will be in touch to help you prepare! For immediate questions you may call/text Koa at 808.777.0588.
---
The Neighborhood | Mo'ili'ili
While the Kakaako and Ala Moana neighborhoods are a sea of new Honolulu condos, Kuilei Place will be on it's own island of sorts. The first large residential condo project east of Ala Moana and in the heart of Moiliili in many years. With frontage on Kapiolani Boulevard, Kuilei Place residents will see convenient access up and down Honolulu's main artery to the best of "Town Living," plus easy on/off freeway access. Market City Shopping Center, Foodland, & Kapahulu Safeway Center will provide the closest grocery and dining opportunities until the project secures tenants for it's ground floor commercial retail spaces. Fingers crossed for something good!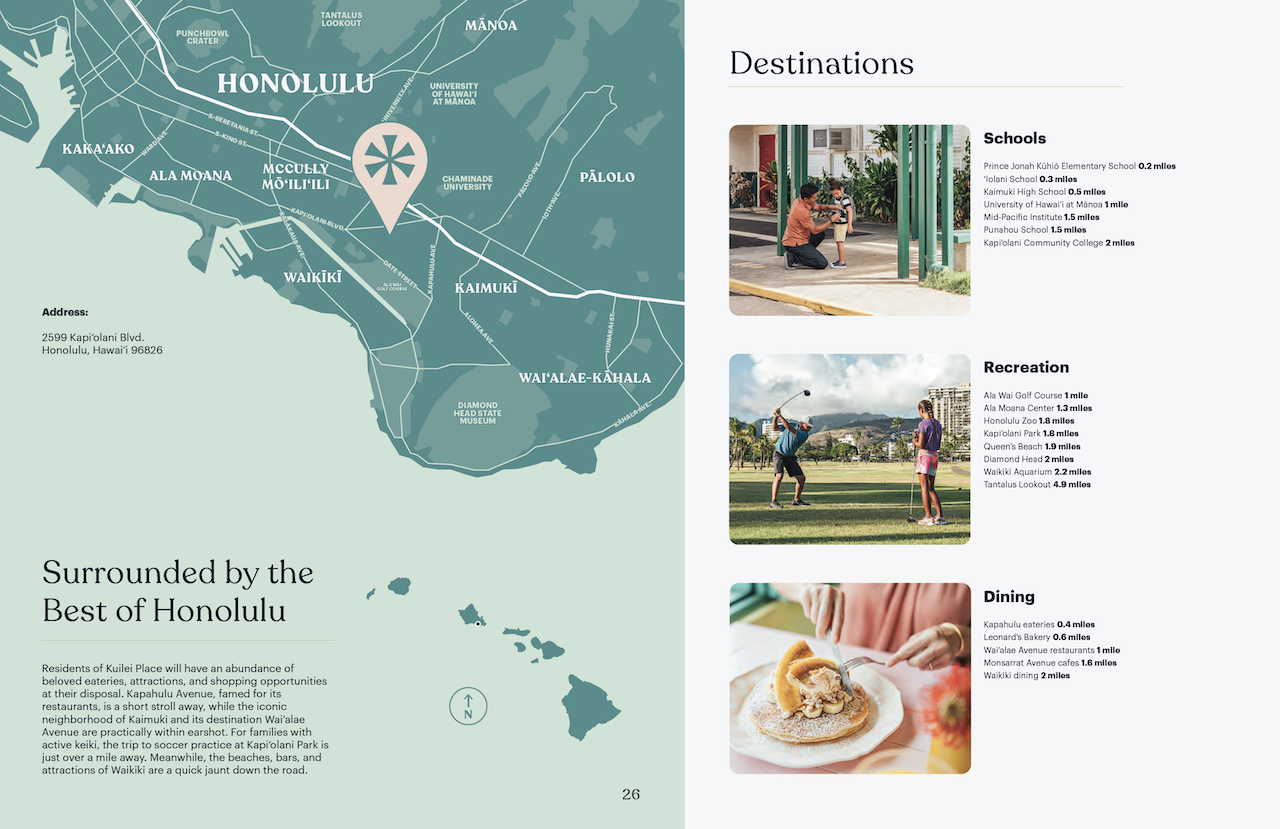 A signficant amount of Kuilei Place's allure will undoubtedly come from local residents who desire a quality Honolulu condo option with premier convenience to Iolani School, UH Manoa, Kaimuki High School, and Chaminade University.
>> Related Post: 3 Highly Anticipated New Honolulu Condos in 2023


The Tower
Kuilei Place condos will consist of two towers that occupy a 3.2 acre build site that's currently anchored by 141 low-rise rental apartments near the intersection of Kapiolani Blvd & Mahiai St. Kuilei Place. The building's ground level will feature a large commercial retail space, recreational amenity areas for owners, and 13-story parking garage will connect the two towers with plans for bike storage and EV chargers.

400ft Tower + 12-story building fronting Kapiolani Blvd
603 Honolulu Affordable Housing units
402 Market Units
7,211 of commercial retail space
50,643sq of open space earmarked for gathering areas, amenities, etc
13-story parking garage consisting of 1,670 stalls
Bike storage for 600 bicycles
Maintenance Fees Estimated at $0.68/sq
Kuilei Place Prices
Affordable Units (603) - $370,600 - $813,300

​1 bedrooms - $370,600 - $557,800 (148 units)
2 bedrooms - $521,800 - $732,300 (382 units)
​3 bedrooms - $695,900 - $813,300 (73 units)

Market Units (402) - $685,000 - $1,250,000​

1 bedrooms - $685,000 - $780,000 (54 units)
2 bedrooms - $893,500 - $1,099,000 (253 units)
​3 bedrooms - $989,000 - $1,250,000 (86 units)
Live/Work Lofts - $1,222,000 - $1,250,000 (9 units)
Building Amenities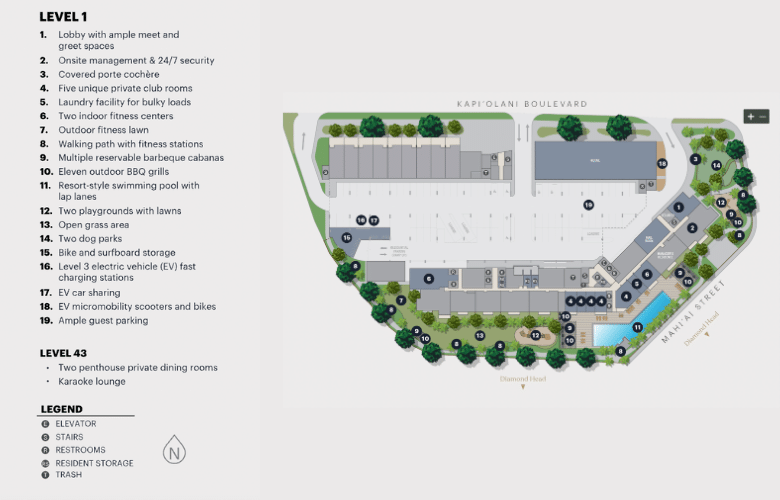 Ground Level Amenities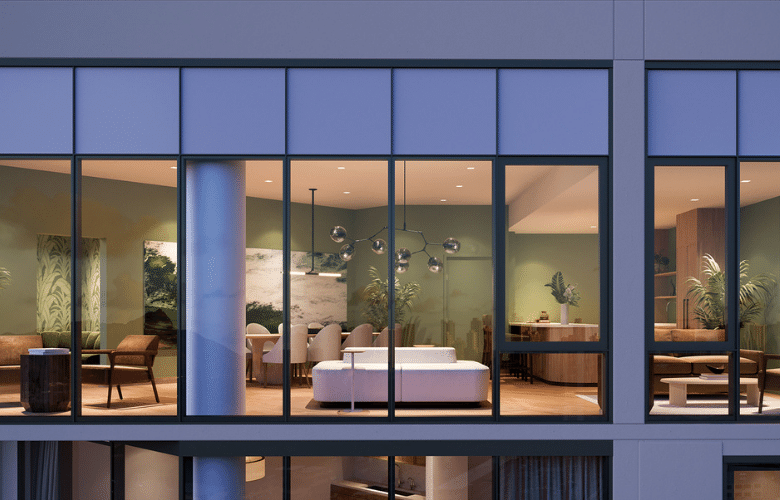 1 of 2 Private Club Rooms | 43rd Floor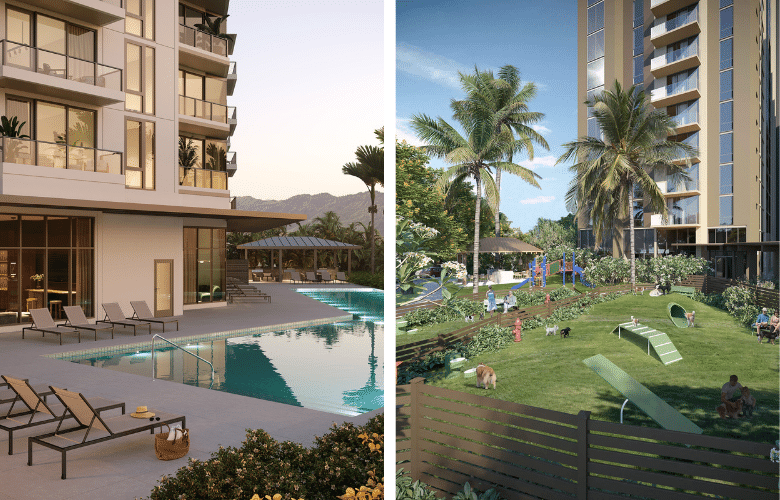 The Residences | Interiors & Design
Kuilei Place's vibrant interiors of our one, two, and three-bedroom homes have elevated the idea of kama'aina living. Homeowners at Kuilei Place may look forward to a variety of modern finishes, accents, and appliances thoughtfully curated by features were created by Philpotts Interiors, an award-winning design company with strong roots in Hawai'i.
Kuilei Place living rooms have luxury vinyl plank flooring in a warm and welcoming wood tone that gives living spaces a larger-than-life feeling. These living rooms are illuminated by natural light thanks to floor-to-ceiling windows. Residents will find a selection of modern Bosch equipment in the kitchen, along with quartz worktops and a social kitchen island. Bathrooms with quartz countertops, porcelain flooring, and shower tiles look clean and modern.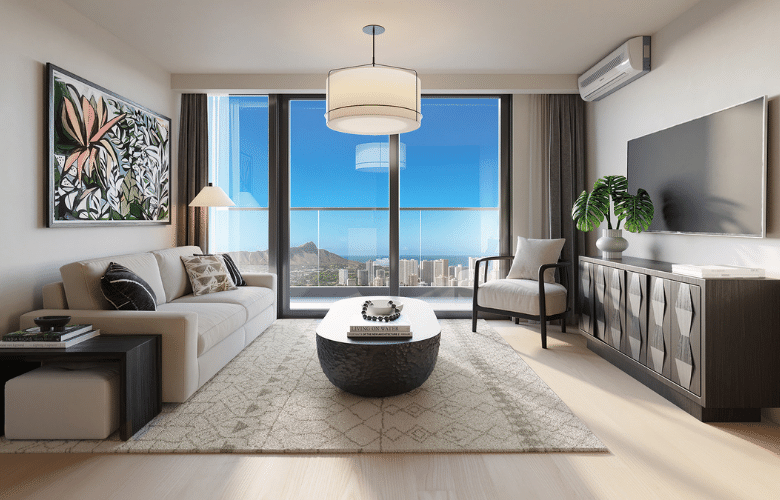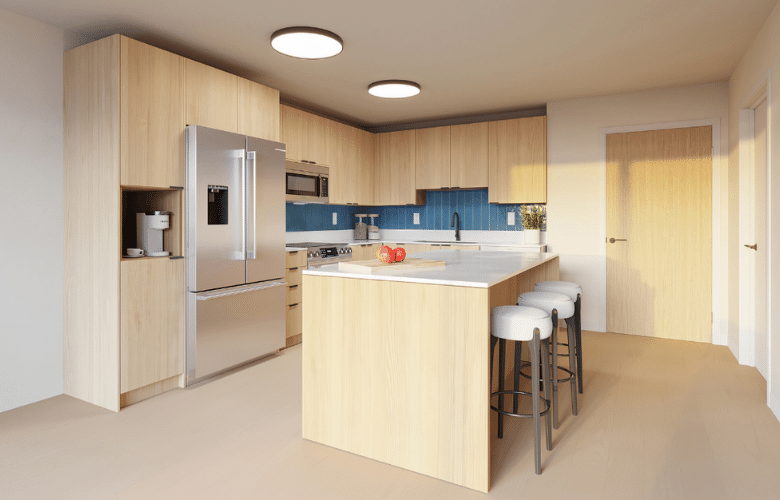 Prospective buyers will be given choice between two finish options in the kitchen and bathrooms, a refreshing twist that we're not used to seeing with most new condos at this price point. The good news is that all options will be made available to both the Market Price & Affordable Price condo units.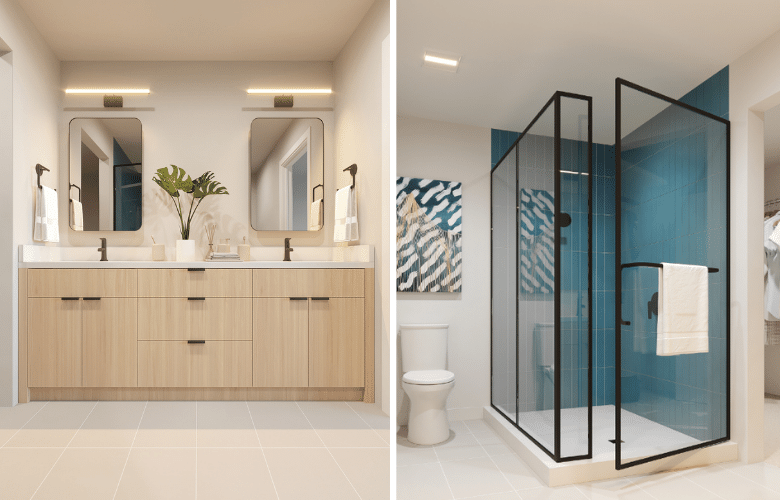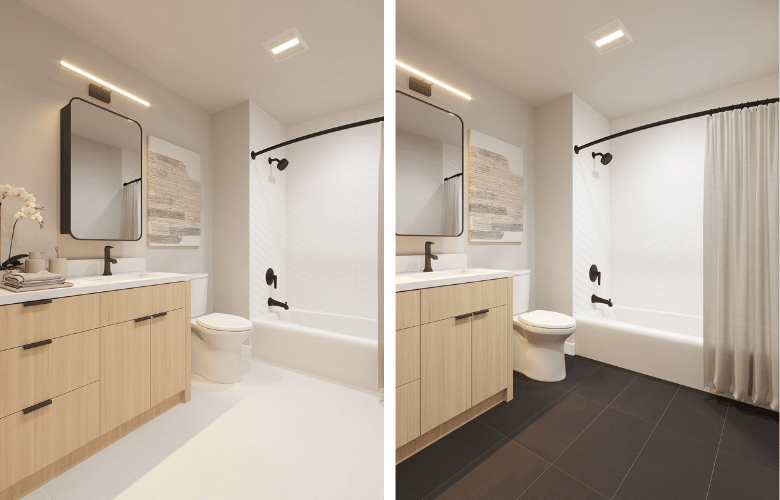 Floor Plans
What stands out right away is the size of these units. These are noticably larger condos than what we're used to seeing in Kakaako and Kakaako and to further expand on comfortable living space, the developer plans to offer a number of storage options to buyers. In reviewing the floor plate below; we picked up on on the Live/Work Lofts floor plans that offer a refreshing twist to condo living. These ground floor units will see the bedroom and bathroom space elevated over the open living space below for "loft" styled living + a front entry lanai. There's only 9 of these so we don't expect them to last. We'll also see a few other ground-level condos that feature grassy private courtyards. One thing for certain, units with any orientation towards Diamond Head are going to have incredible views from the floor to cieling window.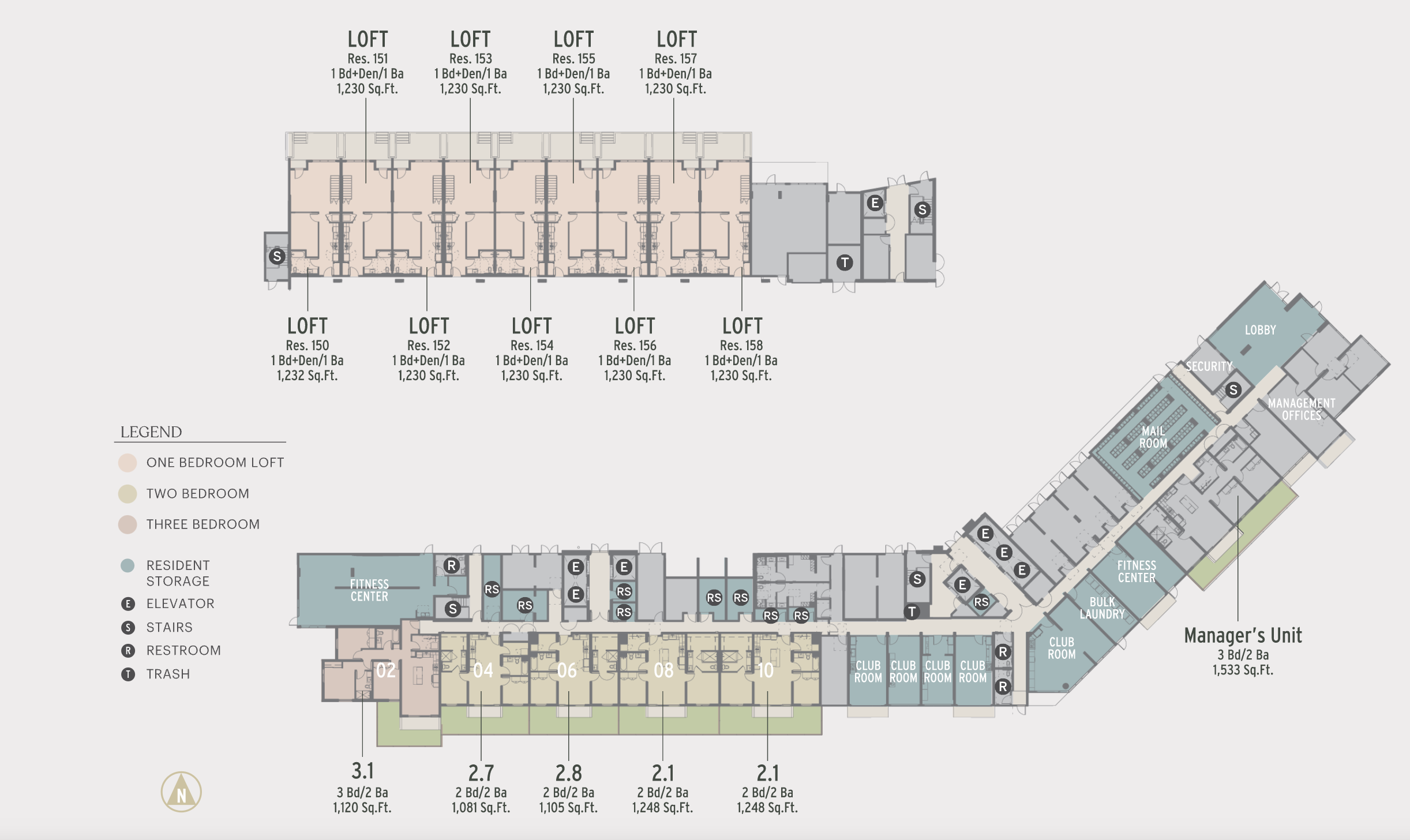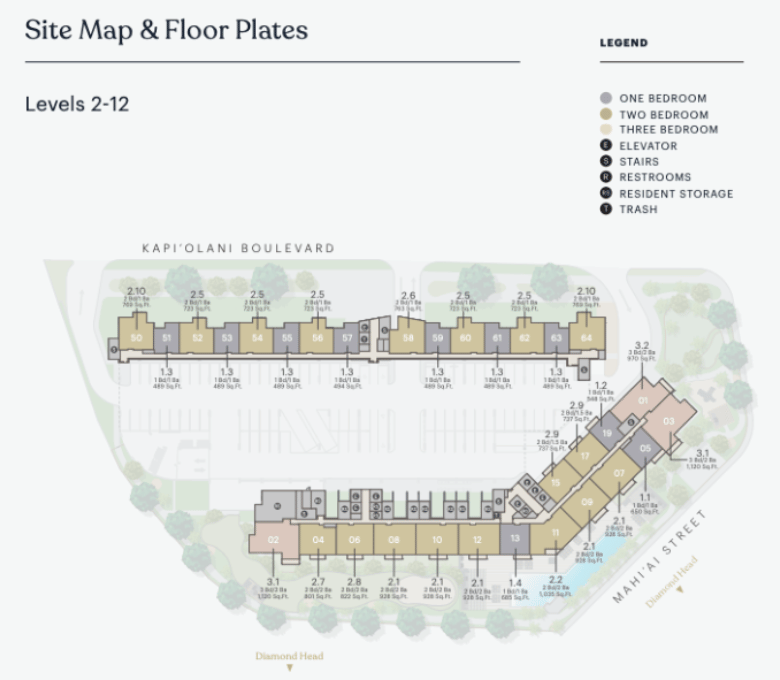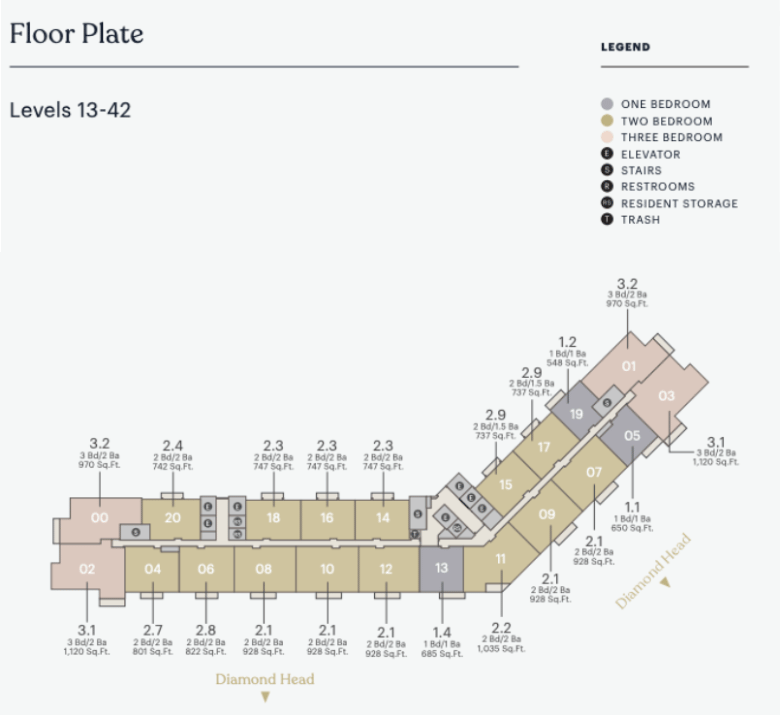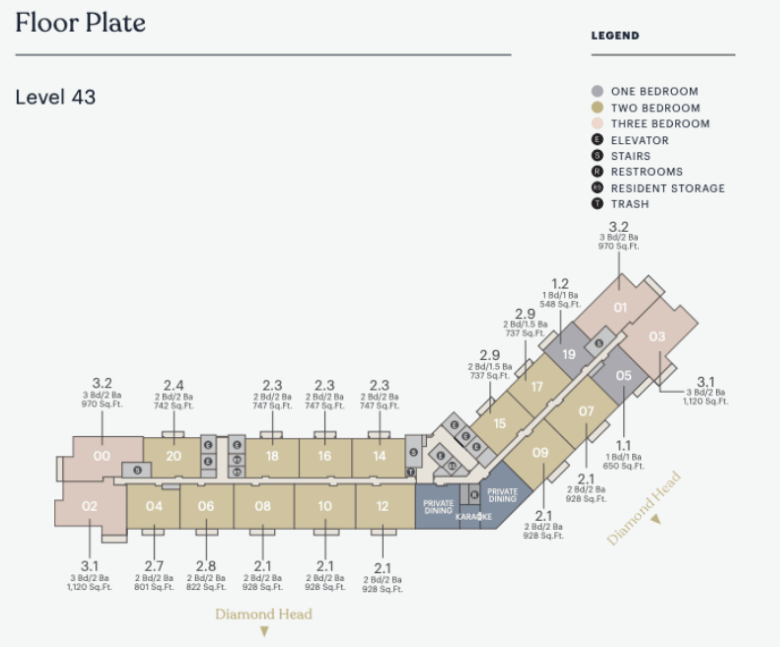 Affordable Units:
(148) 1-Bedroom, 1-Bath Units (538 sq. ft.)
(382) 2-Bedroom Units (744 sq. ft.)
(73) 3-Bedroom, 2-Bath Units (943 sq. ft.)
(603) Total Affordable Units
Market Units:
(63) 1-Bedroom Units (645 sq. ft.)
(253) 2-Bedroom Units (941 sq. ft.)
(86) 3-Bedroom Units (1,096 sq. ft.)
(402) Total Market Units
Kuilei Place Affordable Housing Units
As part of it's approval process with the City of Honolulu, Kuilei Place is required to offer a significant portion of the building for sale under the Honolulu Affordable Housing rules. This is an intensely popular homeownership program aimed at helping Hawaii residents combat the rising Cost of Living in Hawaii by allowing them to purchase homes at below market rates. Kuilei Place intends to hold Affordable Housing Seminars to help educate interested parties on the program, and to help you determine if you're eligible and qualified. Register on the Interest List below and comment "Seminar" if you would be interested in RSVP'ing as soon as the dates are released.
Affordable housing units are made available to buyers who qualify under specific Income and Eligibility restrictions in an effort curb investor purchases, or purchases from buyers who don't exhibit a need for affordable housing. After registering your interest on the form below, you'll be directed to our comprensive Honolulu Affordable Housing guide but in the meantime, here's the shortform version of some of the eligibility guidelines you should expect:
Maximum income limits of 140% Area Median Income group, weighted by your household size. (Stay tuned for the income chart matrix to help you determine your eligibility)
Buyback Period; meaning you must live in the unit for 10-years before selling the home at Market Price.
Must be at least 18 years old
Must be a Hawaii Resident
You cannot own a majority interest in any real estate owned, anywhere in the world.
You cannot have owned real estate within the past year.
The income and eligibility requirements may seem overwhelming at first but rest assured, we've guided 100+ Affordable Housing Buyers through the purchase process and we'll be there to walk you through it as well!
---
Interested in buying new condo in Honolulu at Kuilei Place?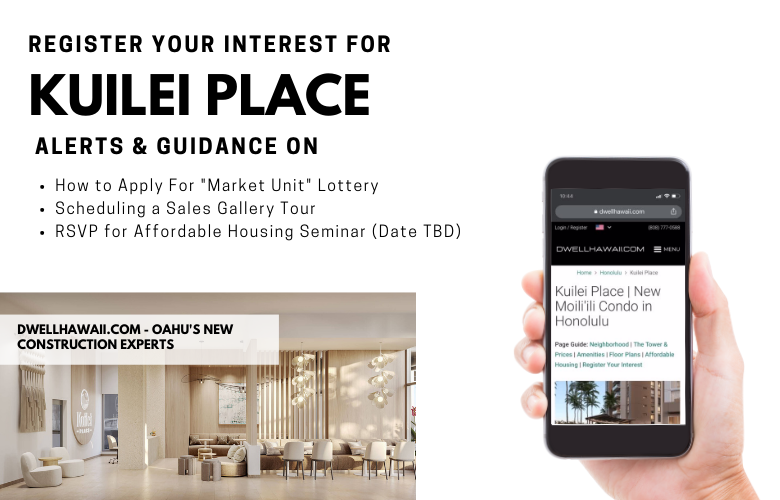 DISCLAIMER: DWELLHAWAII.COM IS NOT THE OFFICIAL WEBSITE FOR THE KUILEI PLACE CONDO PROJECT. THE PROPOSED PROJECT IS DEVELOPED BY THE KOBYASHI GROUP LLC. THIS WEBSITE WAS DEVELOPED FOR BUYERS INTERESTED IN BUYING A UNIT AT KUILEI PLACE. ALL INFORMATION IS SUBJECT TO CHANGE.