Kuilei Place | New Moili'ili Condo in Honolulu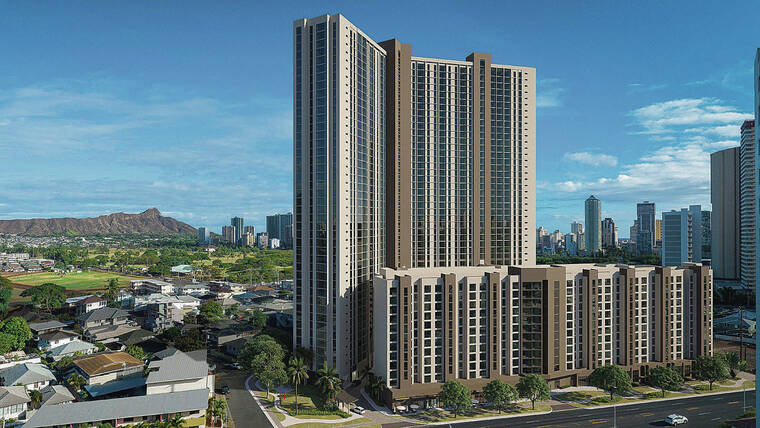 Kuilei Place is a newly proposed Honolulu condo project in Moiliili; along Kapiolani Boulevard. Local developer, Kobayashi Group LLC is seeking to construct a 1,005 unit, 400ft tower estimated at $619,000,000. Kobayashi Group LLC is no stranger to the Honolulu condo market, having successfully launched and consructed Park Lane, Hokua, and One Ala Moana in years passed, as well as recently announcing a new luxury condo in Kakaako named Alia.
>> Related Post: 3 Highly Anticipated New Honolulu Condos in 2022

The 3.2 acre build site is currently anchored by 141 low-rise rental apartments near the intersection of Kapiolani Blvd & Mahiai St. Contrary to Kakaako & Ala Moana zoning height limits, Honolulu Department of Permit and Planning restricts buildings in Moiliili 150ft height limit, a restriction that the developer hopes to be exempted from due to their plans to offer a portion of the building for sale or for rent under Honolulu Affordable Housing guidelines.
Kuilei Place Condo Insights
Details are limited at the moment but stay tuned as we'll be updating this page as new details emerge. Here's what we know so far about Kuilei Prices, Unit Mix, & Sales Launch Date:
400ft Tower + 12-story building fronting Kapiolani Blvd
603 Honolulu Affordable Housing units estimated between $371,800 - $813,300 (1-3 bedrooms)
402 Market Units estimated between $705,465 - $1,150,000
Potential to offer Affordable Rentals as well
13-story parking garage consisting of 1,670 stalls
Bike storage for 600 bicycles
Kuilei Place Sales & Construction News
If all necessary approvals are obtained on time, we could see Kuilei Place condo sales happening as soon as the end of the year. Construction is targeted for Q4 2023 with completion pinned for mid-2026.
Interested in buying new condo in Honolulu at Kuilei Place?
Register your interest below and we'll keep you alerted to all developer news including but not limited to New Artist Renderings, Sales Gallery Tours, Official Prices, and Sales Launch Date. Our team has represented hundreds of Oahu New Construction buyers and we would love to guide you through the process as well.
Kuilei Place Interest List