Ikena at Hoopili
D.R. Horton Hawaii proudly presents its latest single-family Hoopili homes for sale, Ikena, offering brand new homes in Ewa Beach, Hawaii. This phase features modern architectural exterior stylings, similar to the previous Olena & Liko home phases and will include spacious 3-4 bedroom floor plans ranging from 1,279 to 2,147sq. Expect all the usual elements, including single-level and split-level floor plans, two-car garages, split air conditioning, smart home features, Hoopili Urban Gardens, and an incredible community atmospehere. Ikena at Hoopili prices will range from $940,000 - $1,100,000+ depending on the release. Register to receive Ikena Sales Release announcements.
Floor Plans & Interiors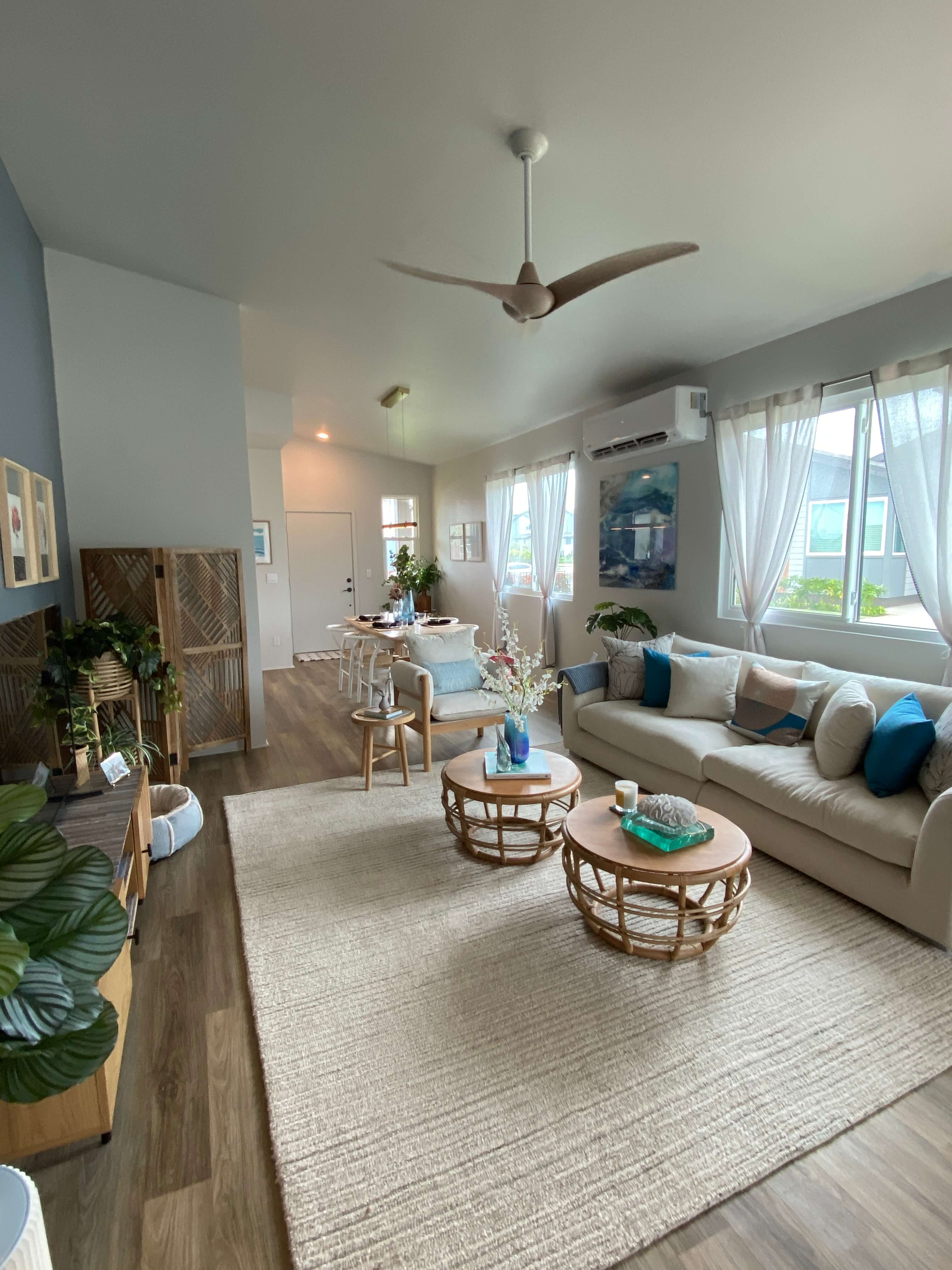 Ikena will have an open concept floor plans and unique design elements that give them a modern and trendy look. Each home has split air conditioning and stainless steel appliances, as well as Smart Home Technology for seamless control of sprinklers, door locks, and light switches, among other things.
Some of the most popular homes in the 'Ikena neighborhood are the ones with ADUs, or additional dwelling units. ADUs are a "tiny home" concept that are attached to larger homes with their own living space and kitchenettes. ADUs are legal housing units, so they can be used for additional rental income or to accommodate exteneded family or in-laws.
Ikena has more features that will make your family's life easier and more comfortable. These homes have two-car garages, cabinets and doors that close softly, and tools made of stainless steel that don't get dirty. Families like to use the built-in tech areas to charge their devices and store them at the end of the day in one place. There are peninsulas and areas in kitchens where people can sit while dinner is being prepared.
Ikena Model Homes
There are 2 model homes available by appointment only. Let us know when you'd like to schedule a tour! We'll teach you about the vision of Ho'opili over the next 15 years, explain the lottery process from start to finish, and help you understand the most comparable home options in other neighborhoods outside of Ho'opili. Be sure to sign up on the Interest list below to be the first to know about future home releases, prices, and floor plans.
How to Buy at Ikena | News & Pricing
The last Ikena Home release sold out in a matter of DAYS, so if you're serious about securing a home here, you'll want to make sure you have everything prepared before the next Ikena sales announcement goes out. If you missed the last release, be sure to register on the interest list below and/or text Koa Cassady (RA) at 808.777.0588 | [email protected] to help you map out a plan.
Homes Available on a First Come, First Served Basis
Buyers must submit a Prequalification Letter and $5,000 initial deposit check to the Hoopili Sales Office in order to reserve a home.
Need assistance in getting prequalified, applying for a new home release, or assessing if Ikena is right for you? Join the interest list below, and a team member will be in touch with you within hours to get you moving in the right direction!
Previous Release:
4/3/23: (12) 3-4BR Ikena homes with prices between $940,460 - $1,107,340.
---
Ikena at Ho'opili Interest List
ALL Ho'opili Homes For Sale
November 30, 2023
ALL Ho'opili Homes For Sale by Price