Kohina at Hoopili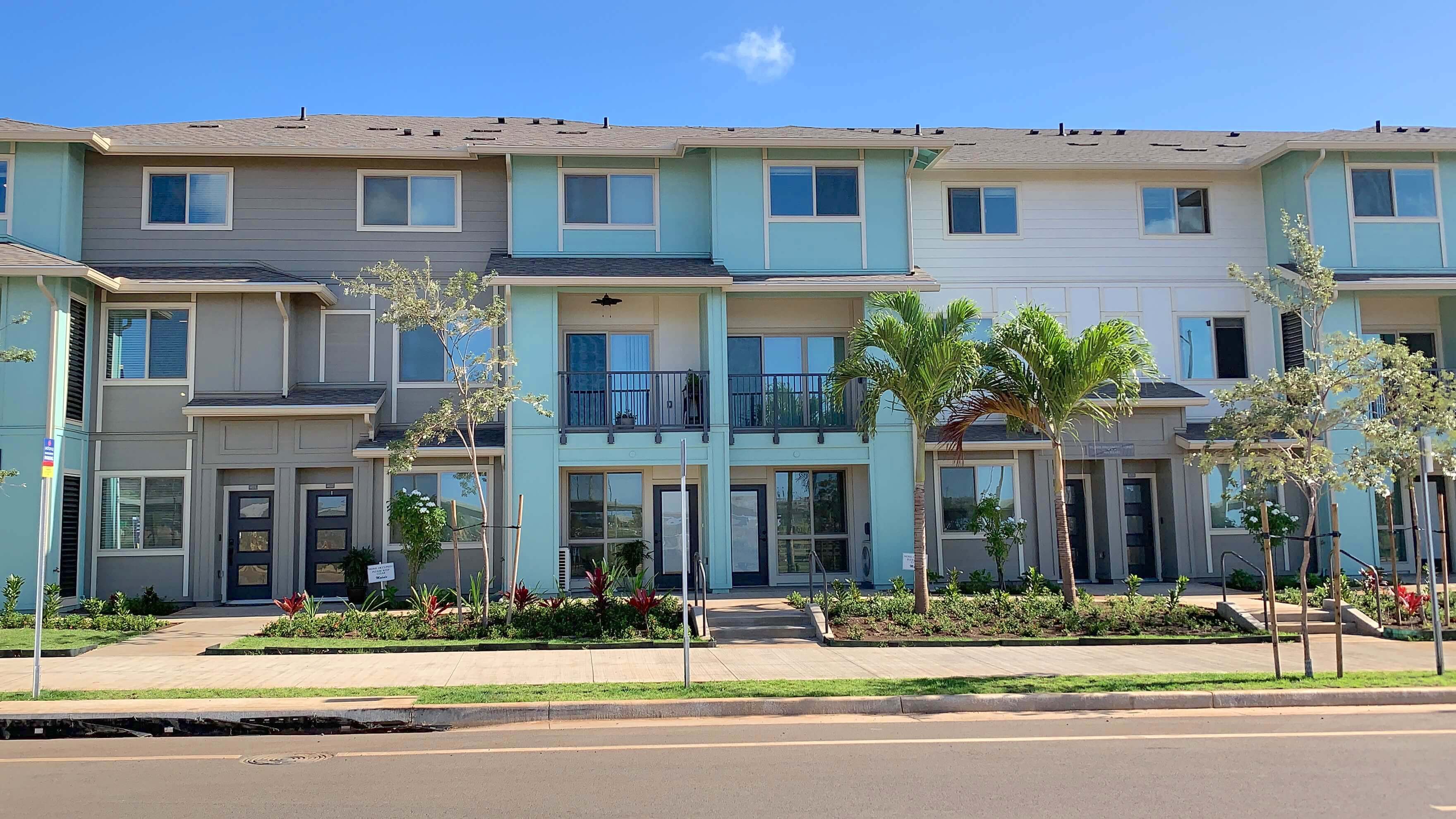 Kohina at Ho'opili is one of two condominium/townhome styles in the expansive Hoopili development between the Ewa Beach and Kapolei regions. Ground breaking for Hoopili Kohina took place in 2019 and prospective buyers should expect to see the widest array of home types offered, relative any previous phase in the Ho'opili master plan.
Jump To: Kohina, Hoopili Listings | Kohina, Hoopili Info | Contact Us | Create An Account
Kohina Hoopili Ewa Beach HI Homes for Sale
September 21, 2023
Kohina Hoopili, Ewa Beach HI Overview
**If you would like to be notified about Future Lottery Releases, Official Prices, Floor Plans, and to schedule a tour of the Model home, be sure to register on the interest list at the bottom of the page!
There will be 7 different styles of homes to choose from, flexible floor plans, and the same quality of construction that D.R. Horton as prided themselves on in the last decade here in Hawaii. For those hoping to add some customization to their home PRIOR to it being built should be pleased to know that the developer typically offers standard interior and appliance options to choose from, as well as "upgrade" packages.
THE NORTH RESIDENCES AT KOHINA
This will be the newest home style offered at the project and will feature Hoopili condos for sale, laid out in apartment style floor plans. The building will be low-rise, four-story build out with commercial spaces on the ground floor that will also be for sale. We may see coffee shops, juice bars, or retail stores anchoring these spaces but will have to wait and see what takes hold here as the building matures.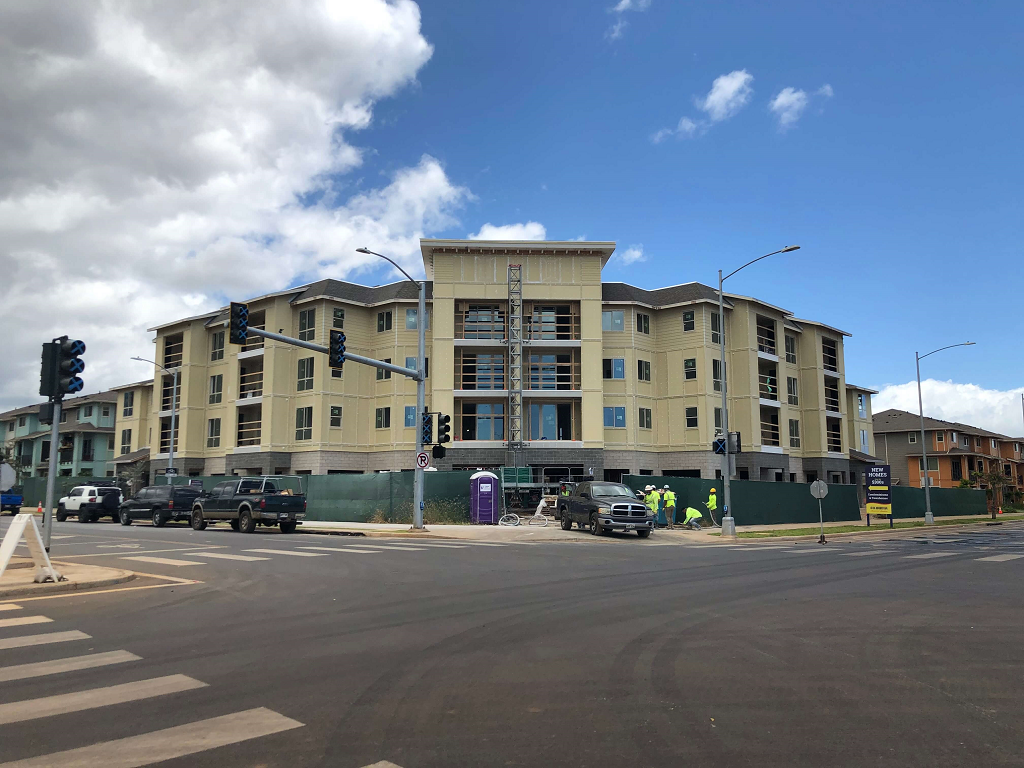 The Kohina Residences above will feature 1-3 bedroom, one level floor plans with lanais, ranging between 698sq and 1238sqft. On the backside of the building, you will find 1-car garages that will be made available to purchasers of the top floor units, making the most expensive units in the Kohina apartment building. Each floor will be accessed by a an elevator so no worries, this isn't a walk-up! Current pricing and lottery availability for these exciting new Ho'opili condos will be detailed at the bottom of the page.
KOHINA AT HOOPILI NEIGHBORHOOD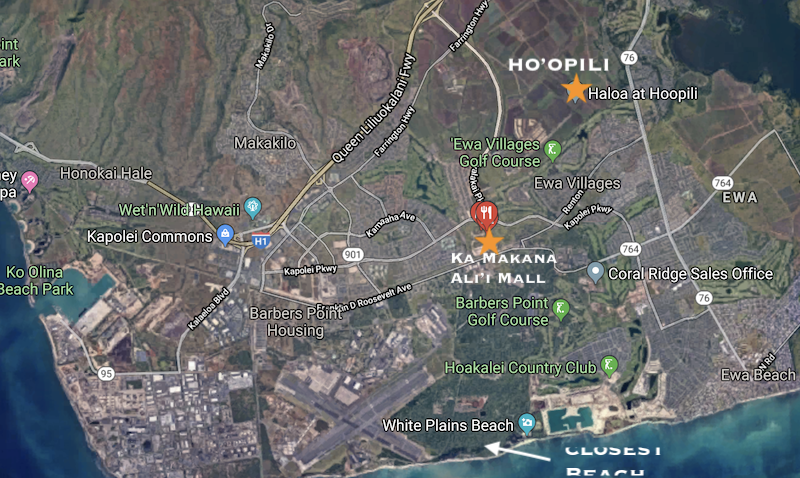 Kohina homes will be located on two new parcels near Campus Road which fronts the University of Hawaii West Oahu. The neighborhood will have 3 access points which should bring ample convenience on and off of Kualakai Pkwy which is commonly referred to as "North-South Road." For the first 4 years, there was only one entrance to the Hoopili project but in 2020, the developer opened the main entrance to the neighborhood which serves as the most convenient access point to the neighborhood. In the coming years, we'll see a 3rd access point to Fort Weaver Road that will officially connect Ho'opili to Ewa Beach.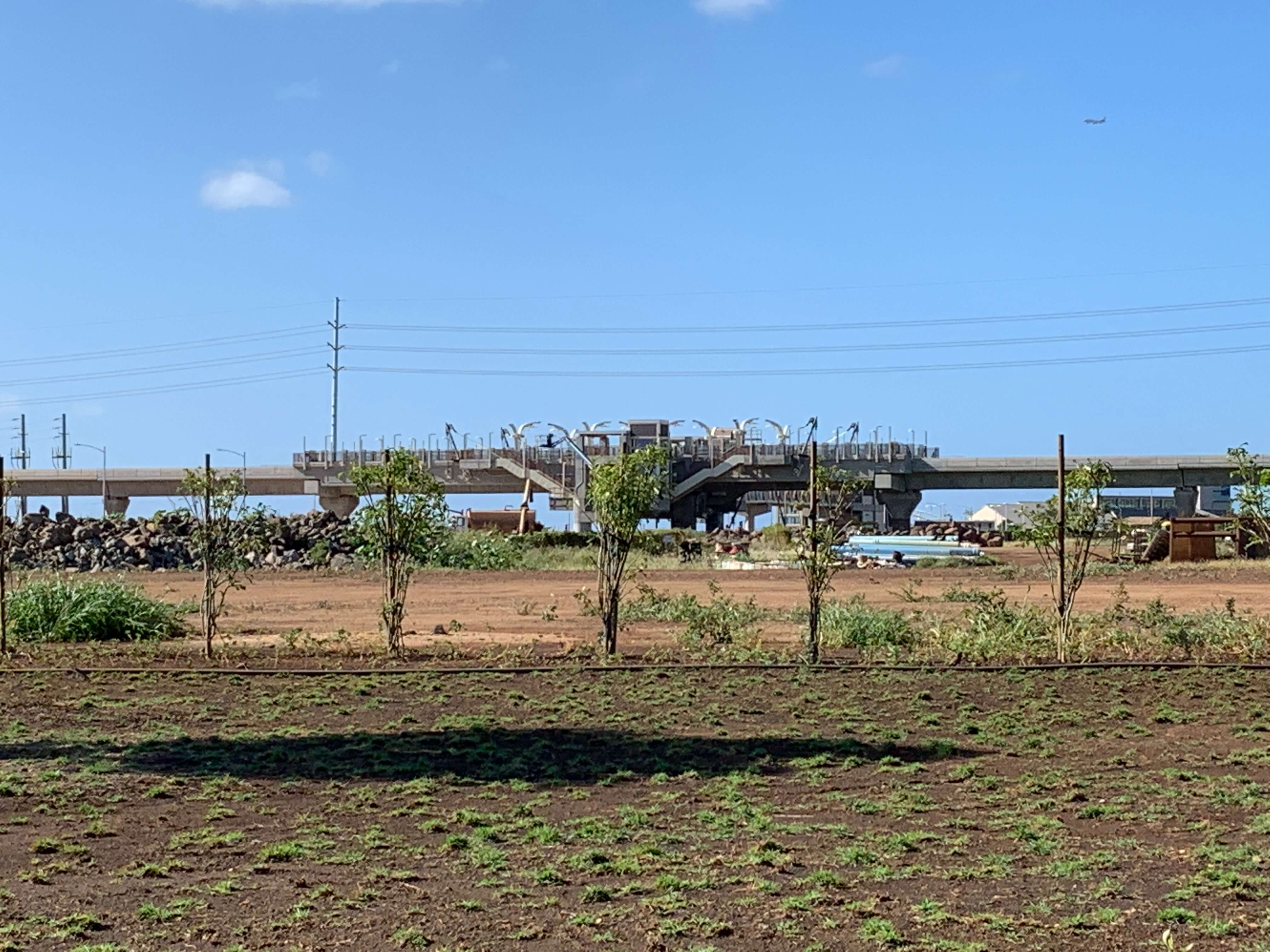 With the H-1 freeway being 60 seconds north, and all of the shopping, dining, retail of Ka Makana Alii mall just 60 seconds south; Kohina is primed for convenience. We're also seeing this community as having the closest proximity to the rail station that will bring premier ease of commute to Honolulu Airport, Kakaako, and Ala Moana Center.
KOHINA TOWNHOMES STYLES & INTERIORS
As previously mentioned, Kohina at Hoopili condos and townhomes will offer a diverse set of floor plans appealing to all family dynamics. We expect to see 7 building types ranging from 3 story townhomes, flex homes, lofts, commercial storefronts, 1- and 2- car garage options and prices ranging from $300,000 for the Affordable Housing options, up to $700,000+ for the Kohina FLEX Home floor plan.. Kohina will also offer homes under the Honolulu Affordable Housing guidelines.
Key differences between the Kohina and Ilima phases will be the yard space. Ilima features ground level courtyards where as Kohina has lanais. The Kohina model you see pictured here lives much more like a loft style home; offering 3 levels. The garage on the ground level, living room and kitchen on the 2nd level, with the bedrooms and full bathrooms on the 3rd level.












KOHINA AFFORDABLE HOUSING
The Ho'opili Affordable Housing units are sometimes also offered by lottery release but in the event they do not sell out via lottery, the homes become available on a first-come, first-serve basis. As of 1/25/20, there are still a limited number of Affordable Units available, please inquire with us about remaining availability wen registering on the interest list below. These homes are priced substantially below market value and are offered to buyers who are eiligible and qualified under Honolulu Affordable Housing guidelines. Current pricing for affordable units is between $341,000 - $458,000(Jan 2020) and can serve as a great opportunity to those who are eligible.
It's important to note that the Hoopili affordable housing units come equipped with slightly less frills than the market priced units; open parking stalls instead of garage options will be the most notable difference. For questions about Hoopili Affordable Housing eligibility and remaining inventory, please inquire with us upon registering on the interest list below.
SEE HISTORICAL KOHINA LOTTERY RELEASES & PRICE LISTS HERE