Kailua Real Estate & Living
Page Guide: Kailua Listings | Market Insights & Trends | Best Neighborhoods | The Lifestyle | FAQ's | Contact Us | Create An Account
Kailua is arguably one of the best placest to live in Hawaii and one of the premier "Lifestyle" communities in the sense that where you're live is far more luxurious than the sticks and bricks of the home. Spanning roughly 2.5 miles of powdery white sand beaches on one side and the lush green slopes of the Ko'olau Mountain range on the other, Kailua was all but coined the "Ultimate Beach Town" and "a paradise within in a paradise" by Coastal Living magazine in 2015 with Kailua Beach Park named as Dr. Beach's 2019 Best Beach in the Nation.
These honors effectively put this hip little beach town on the world's stage. Between the magazine feature and serving as President Obama's Hawaii hideout, the Kailua secret is out and the town is desperately trying to hold on its sanctity as buyers, renters, and tourists flock to the region from all over the world.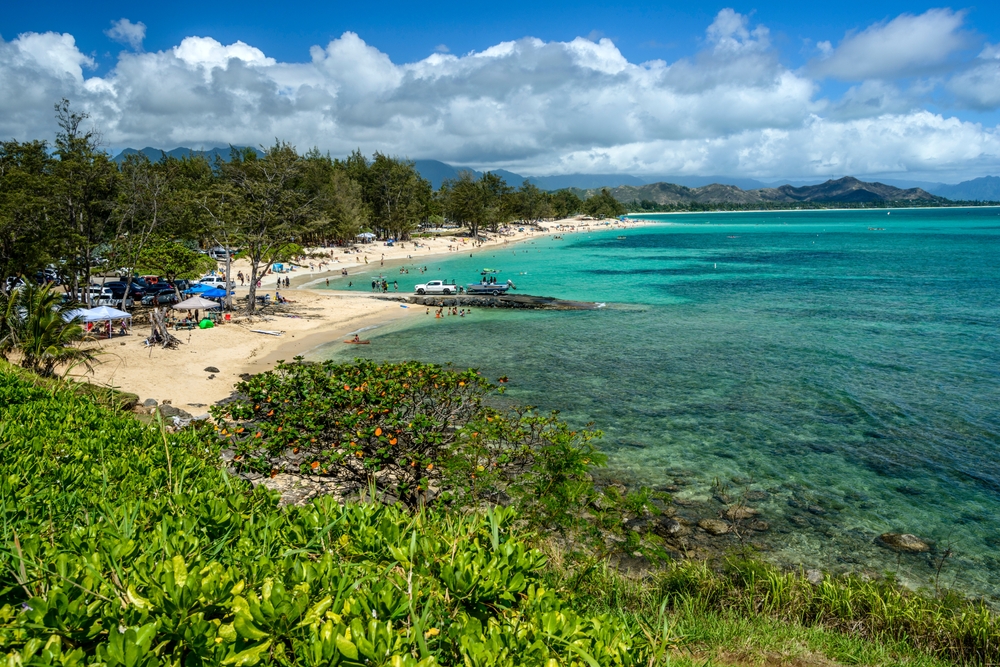 Homes For Sale in Kailua, HI
Condos & Homes For Sale in Kailua, HI
September 21, 2023
$1,086.61
Avg. $ / Sq.Ft.
$1,648,000
Med. List Price
Understanding Kailua Homes For Sale
Page Guide: Kailua Listings | Market Insights & Trends | Best Neighborhoods | Kailua FAQ's | Contact Us | Create An Account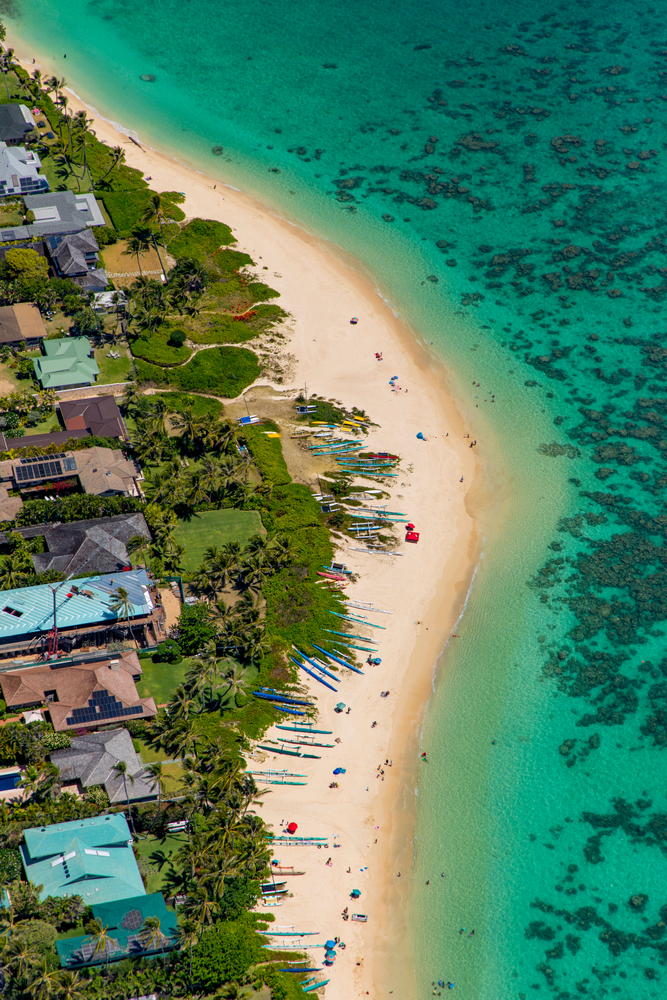 Commercial and Residential Real Estate development in Kailua is scarce and this exactly how the locals wish to keep it. Kailua was once a sleepy little beach town but national media and Instagram tags have put it on the world's stage, attracting tourists, Lifestyle Purchasers, and renters from all over the globe.
Any new development proposed in the region is met with stiff opposition from the community as it attempts to preserve what little is left of Old Kailua. On the other side of the coin, lack of inventory puts condos and houses in Kailua homes in short supply and high demand which is a sure fire way to send prices through the roof. This doesn't just affect the price of Kailua homes for sale, it impacts Kailua rentals as well.
If you're moving to Kailua, you'll be pleased to find one of the widest varieties of home types on the island. The presence of multiple Kailua and Lanikai Beach, Enchanted Lake, and multiple canals see many homes with water frontage; one Hawaii's best natural amenities. Homes in Kailua benefit from just a short walk or bike ride from any beach in the neighborhood, and same is true for premier convenience to Whole Foods and Kailua Town.
Expert Insights
Kailua Condos will primarily be limited to the options in Kailua Town, with most above the 9th floor achieving ocean views if located on the ocean side of the building. Check out our Kailua Condo Guide that detail various building insights from entry level to Luxury Kailua Condos.

Single Family Homes in Kailua will range from modest plantation style cottages in the $900,000's to the multi-million dollar luxury beachfront estates of the Beachside and Lanikai neighborhoods.
Kailua home prices are highest near the beach, and you'll typically find the larger lot sizes closer to the beach as well. Prices will gradually decrease as you near the mountains and/or move away from the heart of Kailua Town.

Check out the latest Kailua Market Report to help you get a pulse on current market trending.
---
Best neighborhoods in Kailua, Hawaii?
Page Guide: Kailua Listings | Market Insights & Trends | Best Neighborhoods | Kailua FAQ's | Contact Us | Create An Account
I know this is subjective but as a Kailua Real Agent whose owned a few homes in the neighborhood, I feel qualified to give you a generalized hierarchy of how most Kailua realtors and buyers view neighborhoods in the region. The list below itemizes the neighborhoods with closest beach proximity and works back towards the mountains. Conveniently enough, this is how Kailua homes prices behave as well. There is also consideration given the the neighborhoods with the most "mind share," which is why Lanikai tops the list. It has the most brand awareness!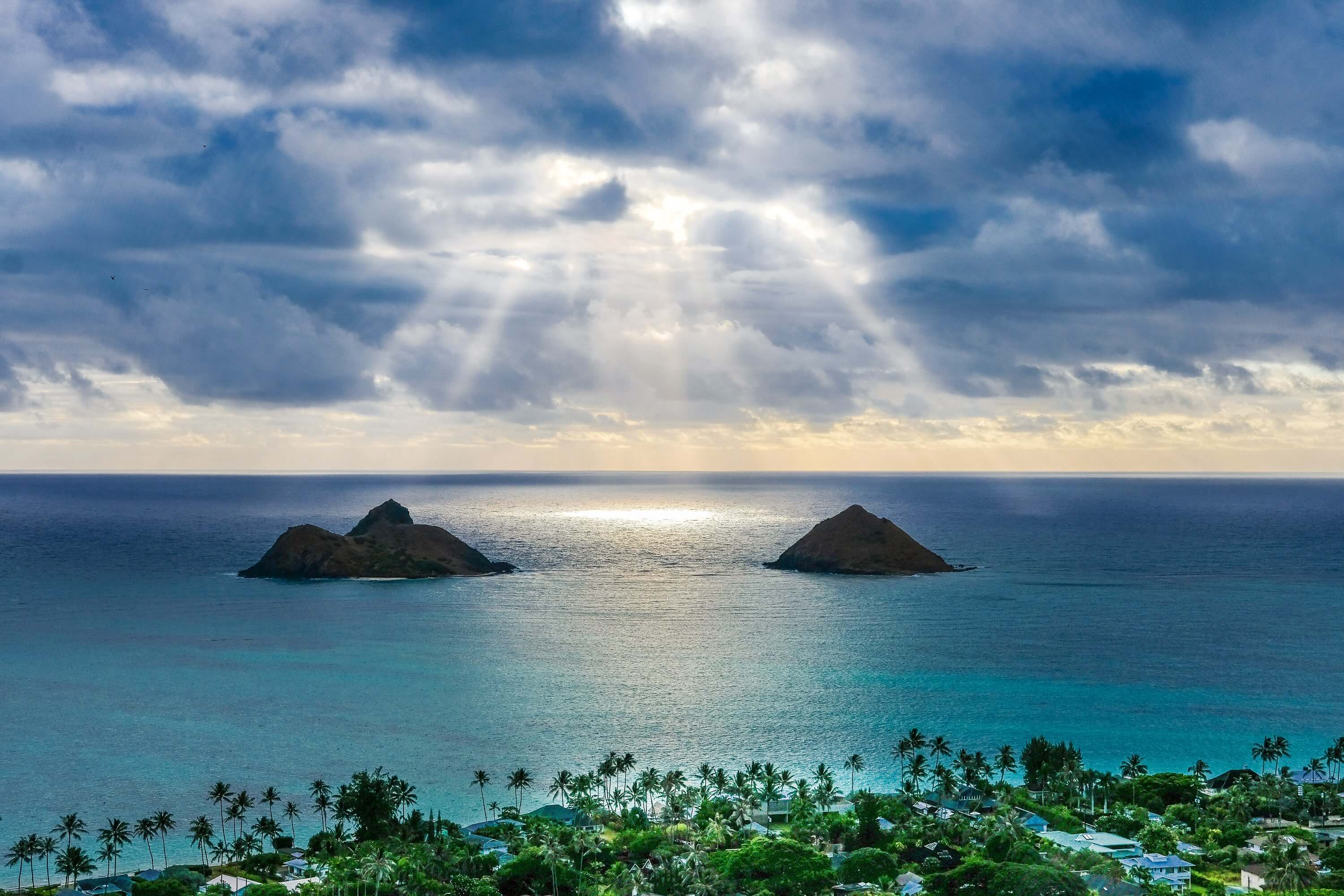 Lanikai Real Estate offers a lifestyle of living in a post card. Enjoy front row seats to one of the best beaches in the world with powdery white sand, every hue of crystal blue waters, and the Mokulua "Twin" Islands just begging you to visit them by kayak or stand-up paddleboards. Average lot sizes are 10,000 - 12,000sqft and Lanikai homes for sale will range from $1.8M to the ultra luxurious Lanikai Beach houses for sale up to $21M. Main thoroughfares are Aalapapa Drive(further from the beach) and Mokulua Drive(closest to the beach). Related: 8 Reasons To Live in Lanikai, Oahu | Kailua's Best Neighborhoods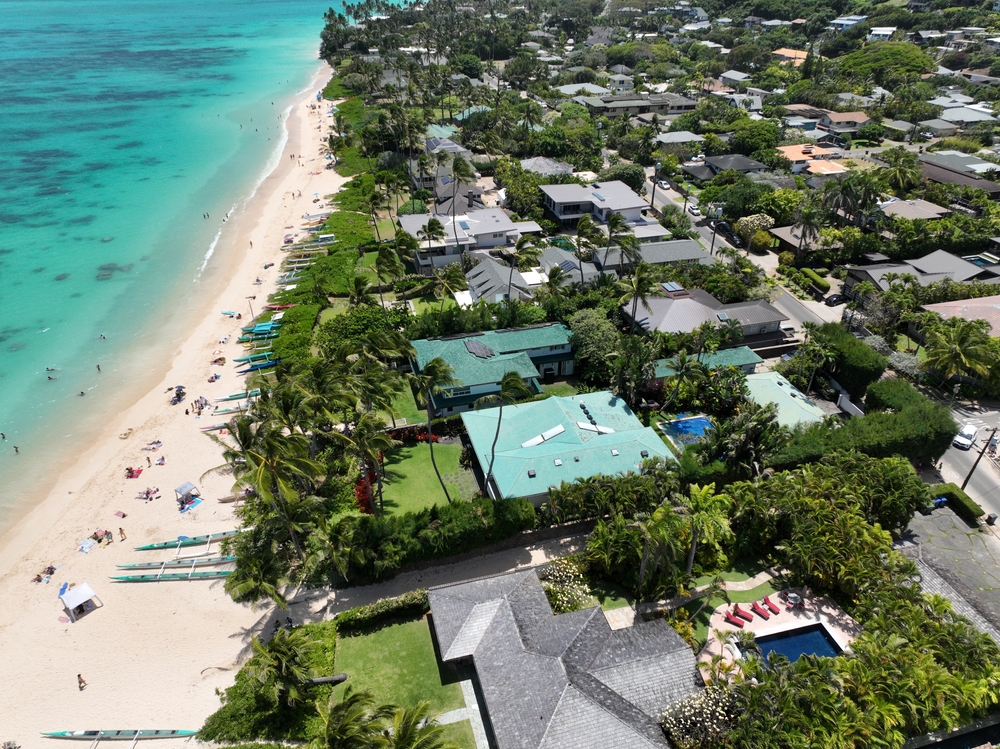 Beachside is the neighborhood in Kailua that runs the length of North Kalaheo avenue, offering Kailua Beachfront Homes or homes just a blog away from the beach. Kailua Beachside homes for sale usually start around $2M with lot sizes averaging 10,000 to 12,000sqft however, there are a few 1+ acre lots that offer expansive Kailua Beach Estates upwards of $27,000,000. You will see some of the most expensive homes in Hawaii here, and definitely on Oahu.
Kuulei Tract real estate offers some of the closest homes to Kailua Town, and only 1-2 blocks from Kailua Beach. These homes typically offer stunning landscapes over their 10,000 - 12,000sq lots, many of which with pools. Kuulei Tract homes offer premier convenience to all of Kailua's best features; beach, restaurants, etc.
Kalama Tract real estate features the homes just a block back from Kailua Beach, on the mountain side of North Kalaheo Avenue. These are some of my favorite homes in Kailua as they're just a stone's throw from the beach, they feature killer lots and curb appeal, yet they don't see the excessive price points of direct beach access. Kalama Tract homes for sale are limited, they're hard to let go, and lot sizes are generally between 10,000-12,000sqft.
Aikahi Park is one of the most suburban neighborhoods in Kailua and being that it literally sits right outside the gate of Marine Corp Base Hawaii, it's naturally a top pick for military personnel stationed at or PCS'ing to MCBH. Aikahi Park homes for sale will feature for wide streets, level lots, and probably the most festive place for Halloween trick or treating in all of Kailua! This feature is due largely in part to the wide sidewalks, lightly trafficked streets, and large yard spaces that provide an ample canvas for your Halloween set ups. It's not uncommon to see a number of Aikahi homes for sale with pools either. Plan for lot sizes of around 10,000sq, walking distance to Aikahi Shopping Center and Castle's Beach.
Coconut Grove real estate offers you premier Kailua Beach access within a 1-mile radius and mostly quaint plantation style cottages. Not a whole lot of sidewalks in Coconut Grove but that doesn't stop bikers and runners. Everybody's on the move to the beach here so stay alert when driving through the neighborhood. Average Coconut Grove homes for sale feature smaller lot sizes than most of Kailua. At 5,000 to 7,500sqft, you better hope you like your neighbors. Related: The Ultimate Guide to Living in Coconut Grove, Kailua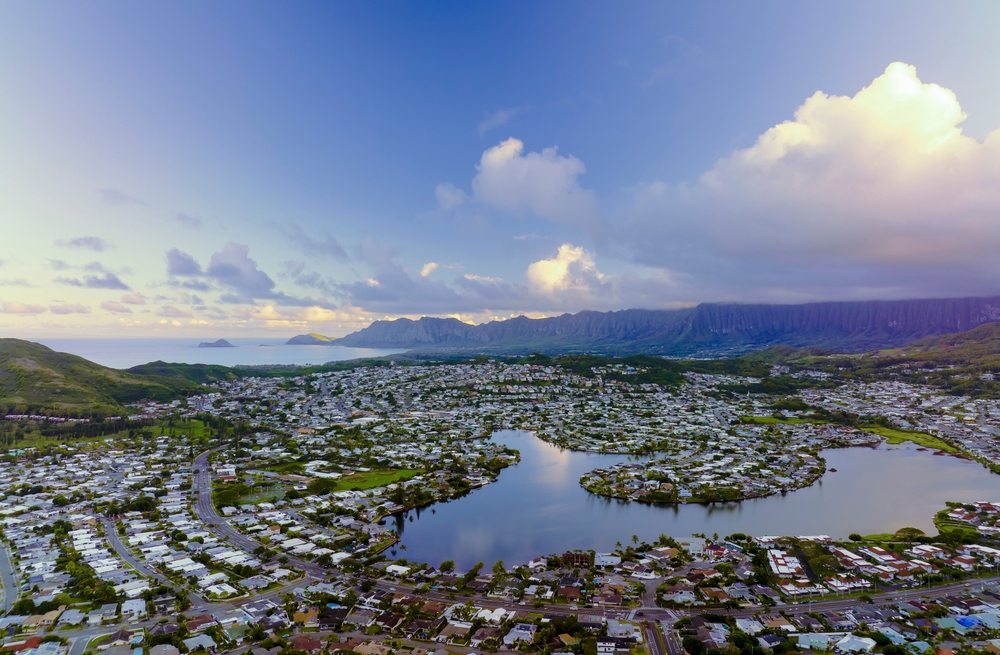 Enchanted Lake real estate gets a little more suburban with wide streets and sidewalks, and large level lot sizes. Some homes for sale in Enchanted Lake will have lake and canal frontage but don't jump in! It's not a lake you want to swim in. Take in the views and launch the kayak, but don't spend time getting wet here. Enchanted Lakes homes feature lot sizes of 7,500 - 15,000sqft. Related: The Ultimate Enchanted Lake, Kailua Neighborhood Guide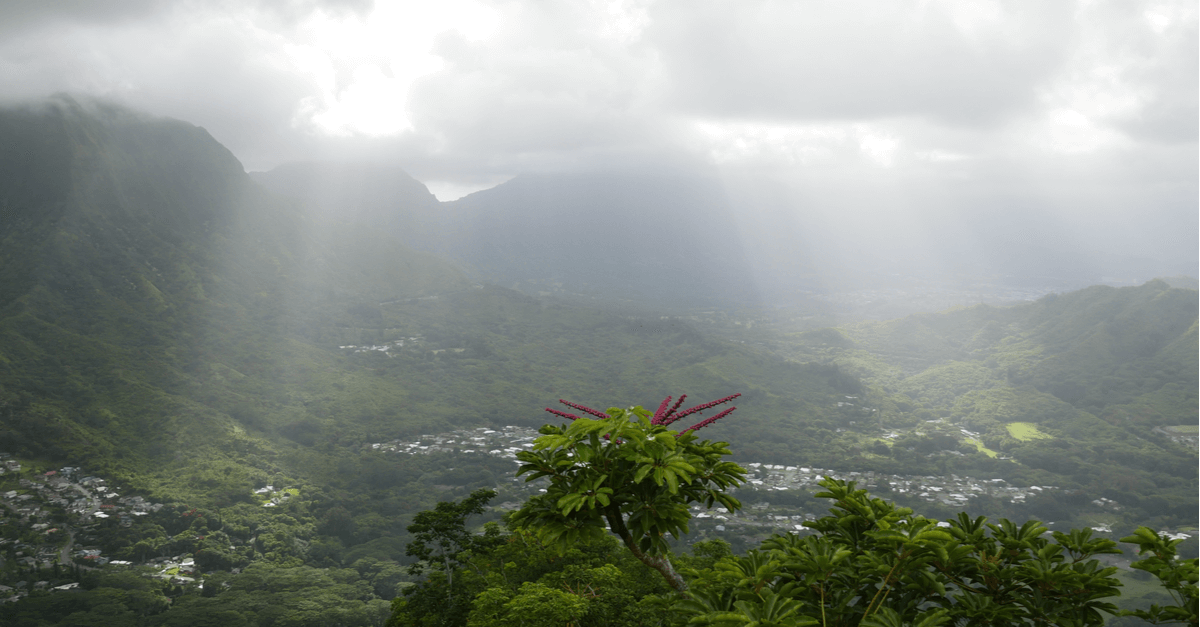 Maunawili If you're willing to sacrifice a few sunny days for lush tropical landscapes, Living in Maunawili might be right up your alley. This Kailua neighborhood is tucked between the Koolau and Olomana mountains and provides a slightly cooler climate than the rest of Kailua due to its elevation and occasional cloud cover. Buyers exploring Maunawili homes for sale should plan for a peaceful setting, out of the hustle and bustle of Kailua Town. Rainfall becomes more prevalent as you near the mountains so what you lose in sunshine, you gain in lush green scenery. Plan on lot sizes around 10,000sq but due to its more rural setting, you will find some oversized lots of up to an acre or two in the Olomana Heights & Norfolk Community. Related: Maunawili, Kailua: 5 Reasons To Live Here [2022 Edition]
---
Living in Kailua
Page Guide: Kailua Listings | Market Insights & Trends | Best Neighborhoods | Kailua FAQ's | Contact Us | Create An Account
Moving to Hawaii can be overwhelming, especially in trying to discern which island or neighborhood best suits your lifestyle needs. Each island is different from the other while each side of each island is different as well. Check out our FAQ's below to help you fully comprehend what living in Kailua is all about. From the weather, commute, jobs, home prices, schools and things to do in Kailua; we've got you covered.
Where is Kailua, Hawaii?
You may or may not know, but Hawaii State's counties are actually designated by each one of the islands and some islands have the same names of towns or regions. So what is island is Kailua on? It's on Oahu; although the Big Island of Hawaii does have a town named Kailua-Kona, another popular vacation hotspot. But as for Oahu's Kailua, it's located on the Windward Side(east) to be exact. Kailua Zip Code: 96734
What are the best beaches in Kailua?
The neighborhood's two idyllic beaches, Kailua beach and Lanikai Beach, make it easy to forget that the neighborhood is also threaded by lazy river canals and a central body of water aptly named "Enchanted Lake." Altogether, Kailua is a waterman's dream, a playground for outdoor fitness enthusiast looking to run, swim, surf, paddleboard, kayak and hike. Nearly everything in Kailua can be commuted by foot or bike, as majority of the residents live within 1 mile of the beach and the eclectic retail, coffee shops, and restaurants in iconic Kailua Town.
How do you pronounce Kailua?
If you're planning on moving to Kailua, we definitely recommend learning how to pronounce Kailua. Ready? [kai-loo-ah] You're in luck; that's about as easy as it gets in terms of pronouncing Hawaiian words. And what does Kailua mean in Hawaiian? It means "two seas" or "two-currents" which symbolize the the currents that run into beautiful Kailua Bay.
How Far is Kailua From...
Honolulu | 12 Miles | 25 Minutes
Waikiki | 15 Miles | 32 Minutes
Marine Corp Base Hawaii | 4 Miles | 7 Minutes
Honolulu Airport | 19 Miles | 24 Minutes
Kaneohe Marine Corp Base ironically find itself more at home in Kailua than it does Kaneohe, but ultimately it straddles the border between the two regions. Are you getting stationed at Marine Corps Base Hawaii? Well you've just hit the PCS jackpots when it comes to location and scenery. You will not find a more idyllic setting as the base and it's housing sits on a peninsula overlooking Kailua Bay and the Ko'olau Mountain range. Not to mention you've just been given premier to access to one of the ultimate beach towns in the world! If you're going to PCS to Hawaii and will be stationed at MCBH, check out our Ultimate PCS Guide to Marine Corp Base Hawaii.
What is Kailua weather like?
Since Kailua is on the Windward Side of the island, it receives some of the most constant natural Hawaiian air conditioning; the trade wind breezes. The region will be cooler than the dryer, Leeward Side of the island but will also see more rainfall as a result. Plan for an average temperature of 81 degrees and about 66 inches of rain per year. Kailua weather is my favorite in the summer as rainy days dwindle to a minimum.
Is Kailua Safe?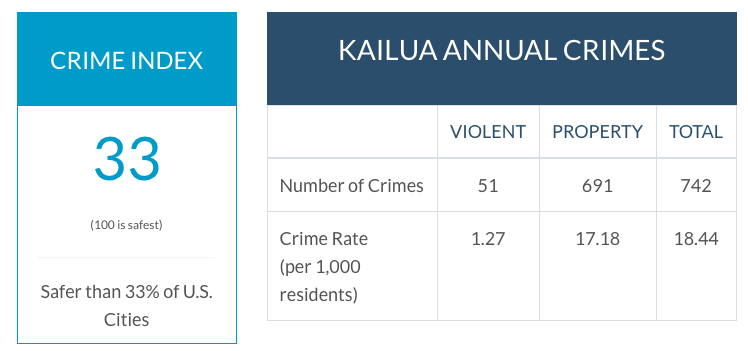 Photo Courtesy to Neighborhoodscout.com
What are the best places to eat in Kailua?
Given the boom in tourism that the region has seen over the last few years, the neighborhood has really picked up steam in terms of the dining options. Kailua restaurants feature far more creative, local eats than they do big box franchise restaurants. Here's some of our picks for the Top 5 best restaurants in Kailua:
1.) Cinnamon's | 315 Uluniu St Kailua, HI 96734 | A cult-favorite amongst breakfast lovers! Enjoy some of the most unique pancake offerings like Guava Chiffon and Mac-Nut. The menu is robust so you won't have trouble finding something for everyone.
2.) Boots & Kimo's | 151 Hekili St Kailua, HI 96734 | Home of the world famous Banana Mac-Nut pancakes! These guys are only open from 6am-2pm so prepare yourself to get their early to fight the crowd.

3.) Nalu Health Bar & Cafe | 131 Hekili St #109, Kailua, HI 96734 | Undoubtedly the best Acai Bowl on Oahu in my opinion and one of my favorite places for a post-beach fresh bite to eat. Featuring juice blends, sandwiches, wraps, acai bowls, and coffee.
4.) Maui Brewing Company | 573 Kailua Rd. Suite 105 Kailua, HI 96734 | Hawaii's largest craft brewery offering a killer indoor/outdoor dining experience, live music, Happy Hour specials, and one of the best menus in Kailua.
5.) Kalapawai Market | 750 Kailua Rd Kailua, HI 96734 | An iconic family run restaurant featuring some of the most thoughtful dishes in the neighborhood and relaxed, intimate dining experience.
What is there to do in Kailua?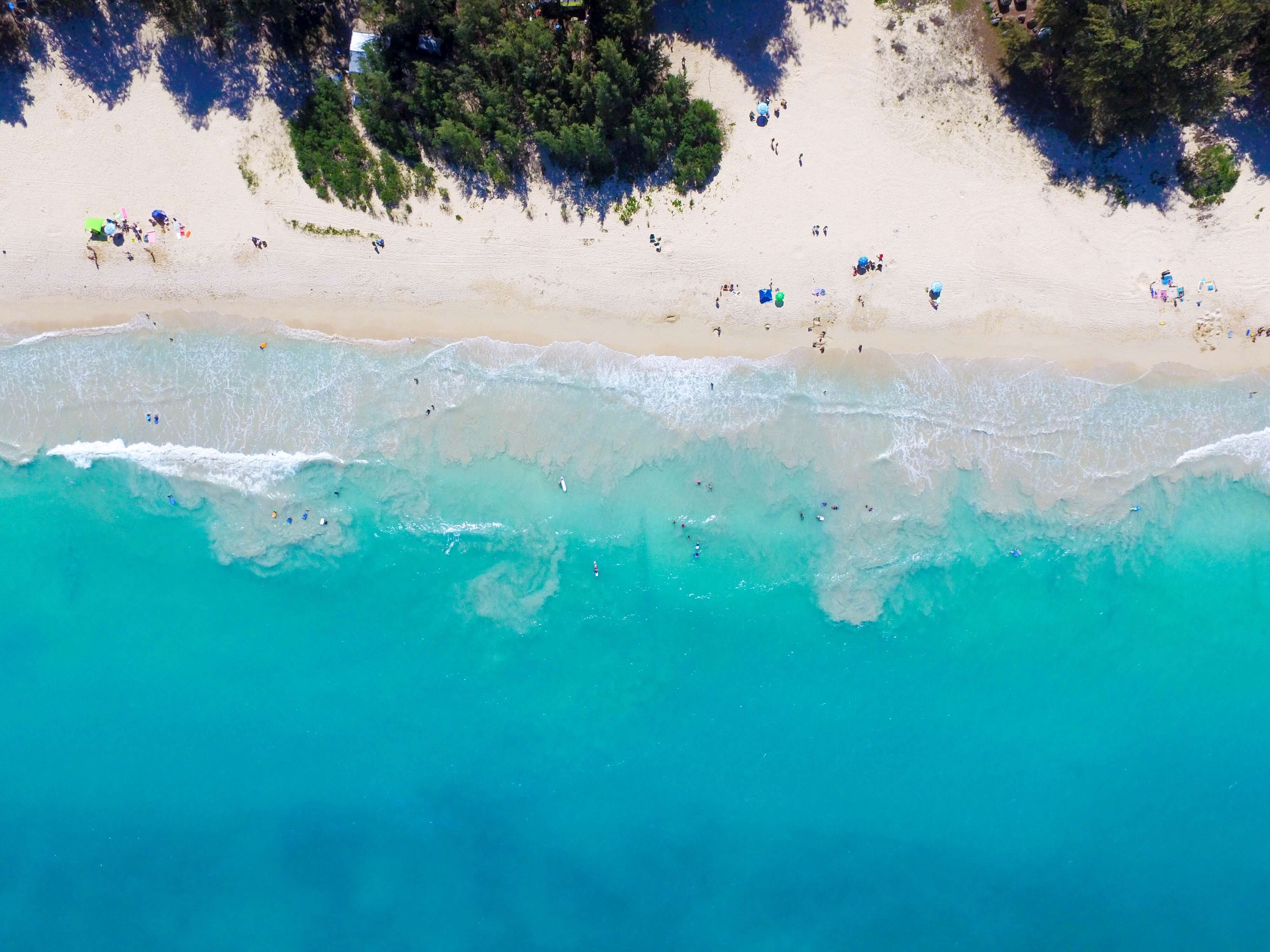 Beach life goes without saying. We mentioned it above but it's worth driving the point home again; Kailua and Lanikai Beaches are some of the most epic in the world. Powdery white sand, aqua blue and teal waters, and gentle to moderate shorebreak depending on which beach you choose make these two beaches a perfect fit for those seeking family aquatic fun.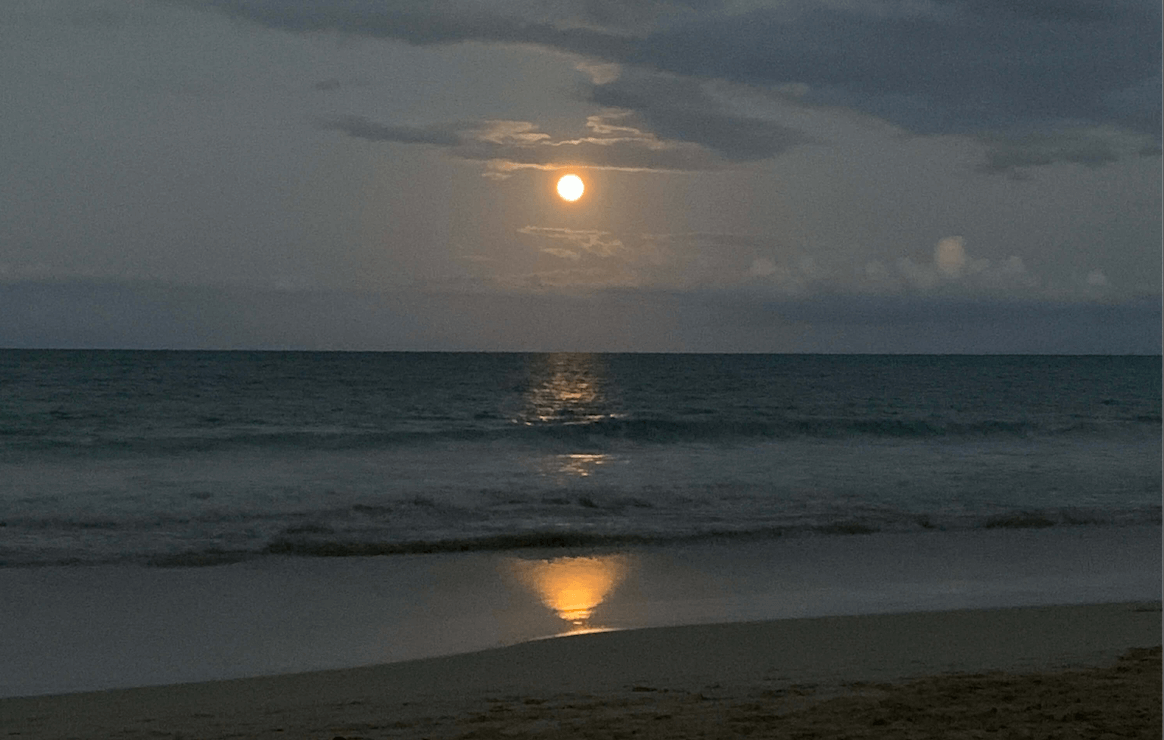 Moonrise from Kailua Bay

Stop in at Kailua Beach Park or Kalama Beach Park to find the most parking, otherwise the beaches can also be accessed by a number of other beach accesses with adjacent neighborhood parking. If someway, somehow you get sick of the ocean, dry off and check out some the following Kailua activities on land.
Kailua Hikes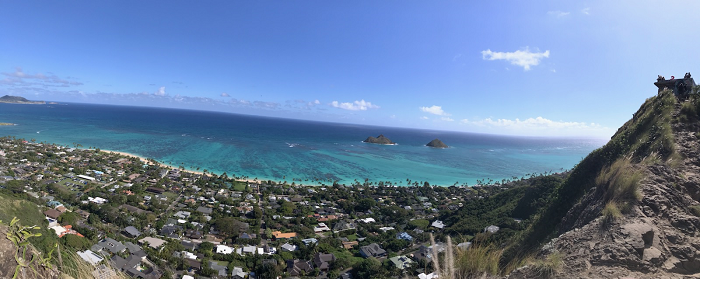 The Lanikai Pillbox Hike will see you traverse the ridge behind the exclusive Lanikai neighborhood, offering some of the breathtaking views of the iconic Mokulua Twin Islands, the Ko'olau Mountain Range, and the Pacific Blue Ocean from Waimanalo, all the way to the Kaneohe. Feeling ambitious?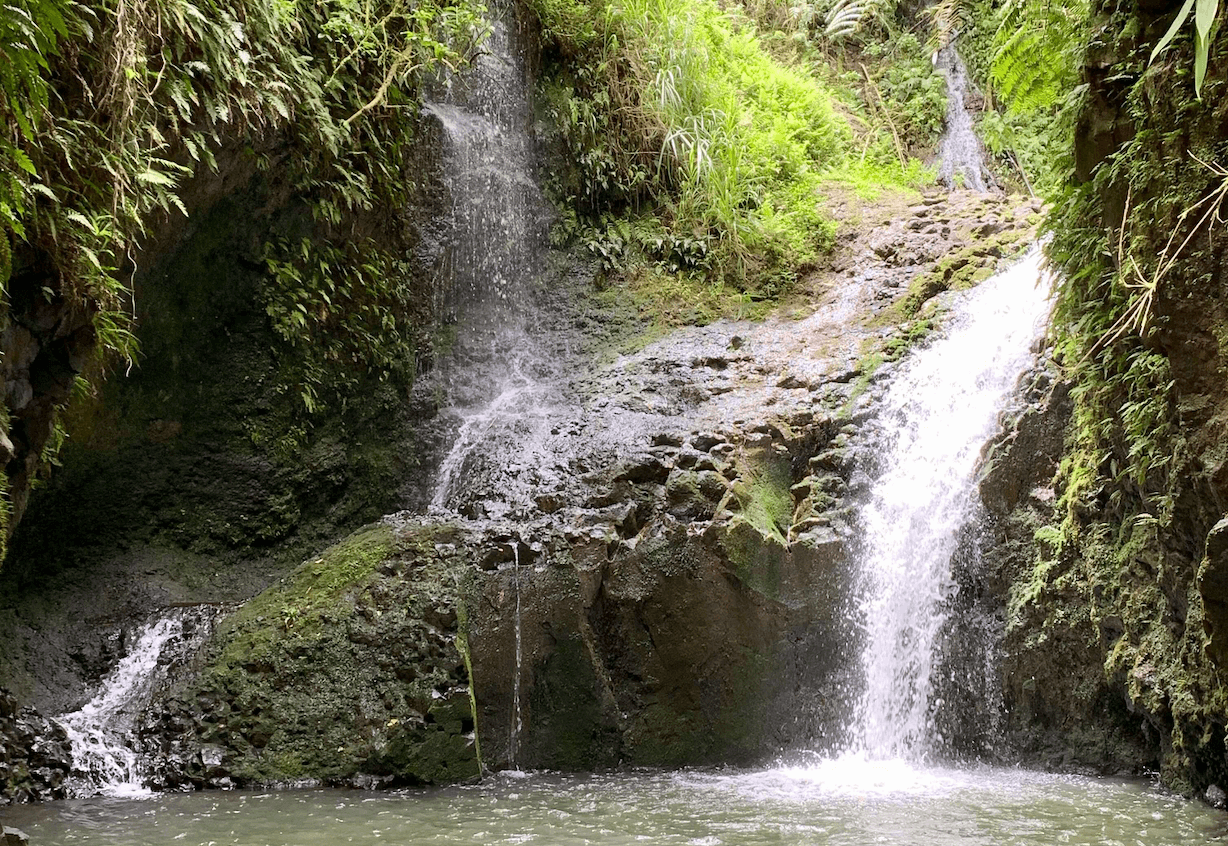 The Maunawili Falls hike offers you an entirely different experience; a shaded, jungle like terrain that takes you deep into a valley to a secluded waterfall and watering hole. Bring mosquito spray for this one!
Golfing in Kailua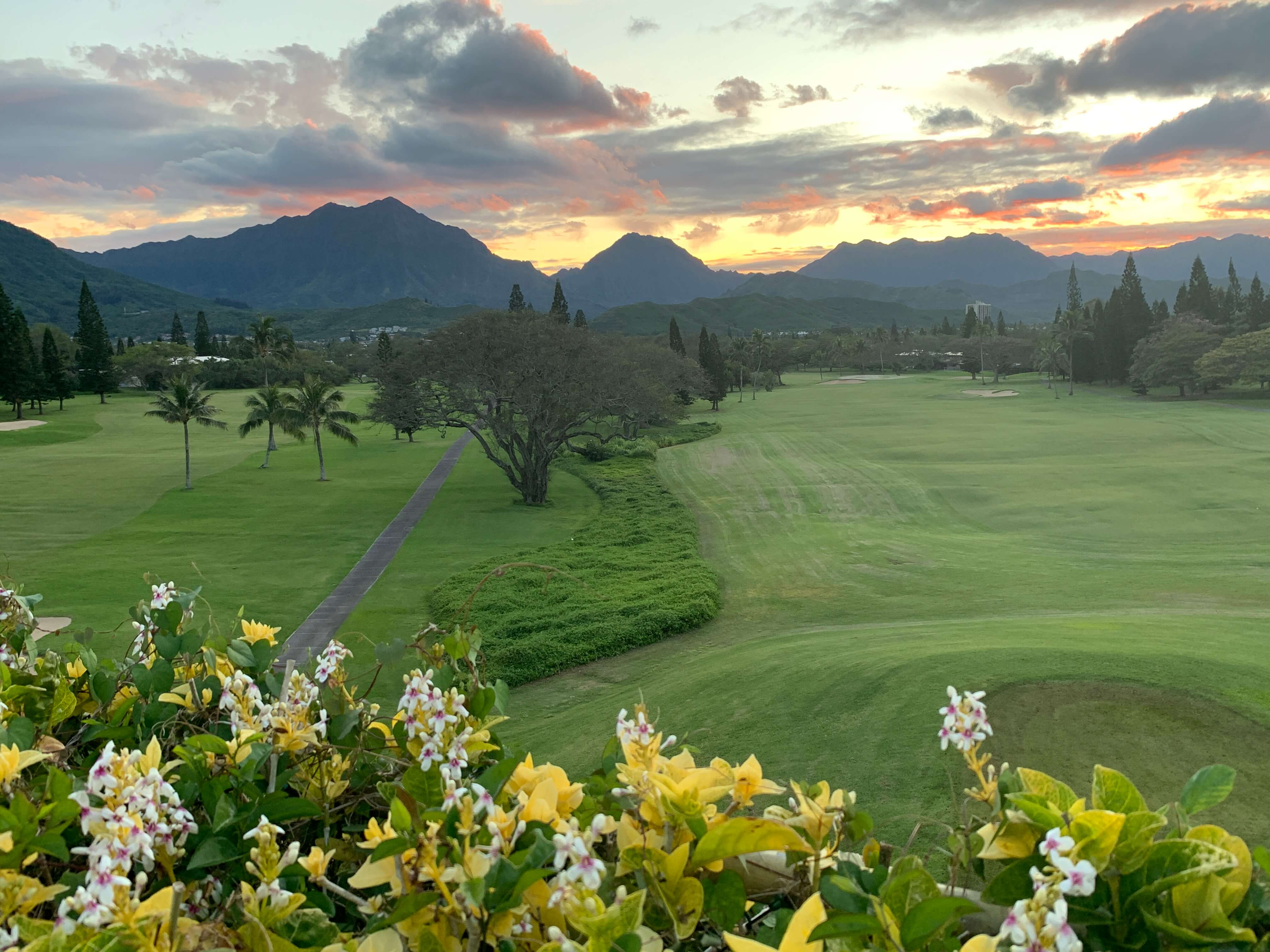 Kailua golf courses offer you some of the most surreal backdrops of lush Ko'olau mountains and tropical foliage. Tee up at either Mid Pacific Country Club or Royal Hawaiian Golf Club.
Kailua Farmer's Market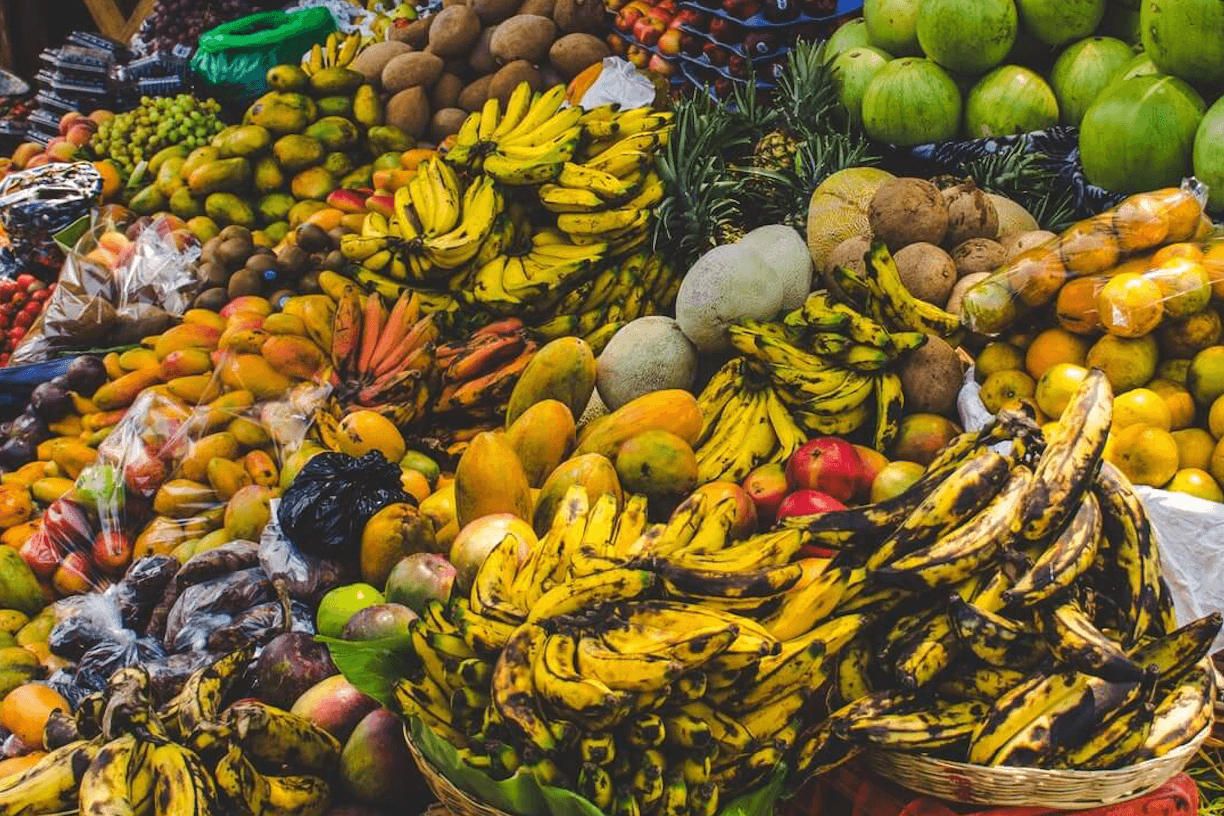 This is can't miss. Dozens of food and restaurants vendors set up tents at the Kailua Town Center every Thursday evening and the Kailua community comes alive here. Enjoy some of the best street food, desserts, and local music make this a family friendly event. Try the French Dip Sandwich from Pig and the Lady!
Kailua Beach Adventures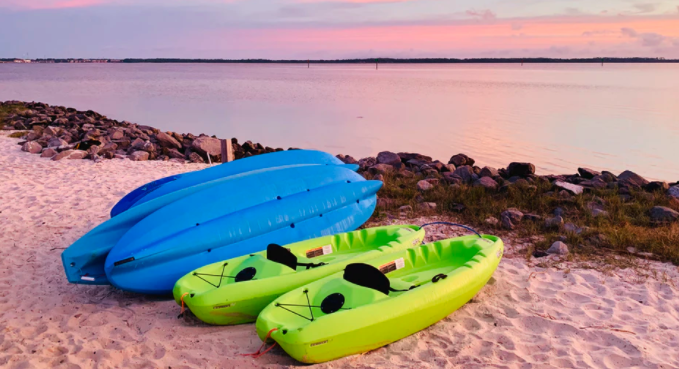 This is the only beach rental shop within walking distance of Kailua Beach. Park for free at Kailua Beach Adventures and pickup everything you need for day at one of Oahu's best water playgrounds. From Kayaks, Standup Paddleboards, snorkels, and coolers -- it's a one stop shop!
What are the best schools in Kailua?
The community has a variety of public and private schools, offering a wide range of education types and tuitions. Le Jardin Academy is often regarded as one of the Best Private Schools in Oahu but for a broader look at the topic check out our related post: The 10 Best Schools in Kailua, HI.
Kailua FAQ's
What is Kailua known for?
Kailua is known for its beautiful white sand beaches, turquoise waters, and laid-back atmosphere. Kailua Beach and Lanikai Beach are popular attractions.
Is Kailua a nice place to live?

Kailua is considered a nice place to live, with a strong sense of community, pleasant climate, and access to outdoor activities. However, the cost of living can be high.
Is it safe to swim in Kailua Bay?

Swimming in Kailua Bay is generally safe, but swimmers should always be aware of ocean conditions and follow posted warnings or lifeguard recommendations.
What does Kailua mean in Hawaiian?

In Hawaiian, "Kailua" means "two seas" or "two currents," referring to the presence of two lagoons in the area.
Is Kailua Hawaii expensive?

Kailua can be expensive, with a high cost of living due to factors such as housing, food, and transportation.

Where is Obama's house in Kailua?

The Obama family rented a private vacation home in the Kailuana Place neighborhood during their visits to Hawaii but they have since built a beachfront home in the nearby community of Waimanalo
Do you need AC in Kailua?

While the climate in Kailua is generally comfortable, some residents may prefer having air conditioning during the warmer summer months.
What is the best time of year to visit Kailua?

The best time of year to visit Kailua is during the shoulder seasons of April to May and September to November when the weather is pleasant and there are fewer tourists.
What is the crime rate in Kailua?

Kailua has a relatively low crime rate compared to other areas in Hawaii, but it's always important to take safety precautions and be aware of your surroundings.
What airport do you fly into for Kailua?

The closest airport to Kailua is the Daniel K. Inouye International Airport (HNL) in Honolulu.
Is Kailua walkable?

Kailua is a walkable town with many attractions, shops, and restaurants within walking distance of each other.
What airport is close to Kailua?

The closest airport to Kailua is the Daniel K. Inouye International Airport (HNL) in Honolulu.
How long did Obama live in Hawaii?

Barack Obama lived in Hawaii for most of his childhood, from ages 6 to 18, before attending college on the mainland.
What is the household income in Kailua?

The median household income in Kailua is around $104,000, which is higher than the state average.
Does it rain a lot in Kailua Hawaii?

Kailua receives an average annual rainfall of around 50 inches, with most of the rain falling during the winter months.
Is Kailua the same as Kona?

No, Kailua and Kona are two different towns. Kailua is on the island of Oahu, while Kona (Kailua-Kona) is on the Big Island.
Is Kailua a small town?

Kailua is a small town with a population of around 50,000 residents.
Can you drink on Kailua Beach?

Alcohol consumption is not allowed on Kailua Beach.
How big is Kailua?

Kailua covers an area of approximately 10.53 square miles.
How long is the walk on Kailua Beach?

Kailua Beach is approximately 2.5 miles long, making for a pleasant walk along the shore.
What city is close to Kailua Hawaii?

Honolulu, the capital city of Hawaii, is approximately 12 miles southwest of Kailua.

Can you swim in Kailua Beach?

Yes, Kailua Beach is a popular spot for swimming, with its white sand and clear waters. However, always be cautious of ocean conditions and follow posted warnings or lifeguard recommendations.
What is Kailua Beach known for?

Kailua Beach is known for its stunning white sand, clear turquoise waters, and gentle waves, making it a popular destination for swimming, kayaking, and windsurfing.
---
History of Kailua, Hawaii
Kailua means "two seas" in the Hawaiian language, where two large ponds of fresh water
meet. They are the Kawainui Marsh and Ka'elepulu, now commonly referred to as Enchanted Lake.

This ahupua'a (traditional land division) was a breadbasket for fishing and agriculture on O'ahu's eastern
shore, famous for its numerous canoe landing sites. Kailua's main crops were fish from the two
fishponds and the rich sea nearby, as well as kalo (taro). Later rice patties were introduced by Chinese
immigrants to replace the kalo in their terraced wetland farms. Such was the district's bounty that an
18 th century chief, born at Kalapawai ruled all of O'ahu from his Kailua seat of government.

The high chief Kūali'i was a legendary ruler believed to have lived for over 100 years.
From the Kailua shore you will see the sentinel peak of Kōnāhuanui, the highest point in the
mountainous range that is the Ko'olau, and second highest on O'ahu. From the summit of this vantage
point, one sees a land shaped and influenced by streams, ponds, and rivers all flowing from this lofty
perch to meet their salty companion at the sea. Off Kailua's sandy shore is Nā Mokulua, two islets that
remain a seabird sanctuary today.
Upon entering Kailua from the Pali Highway, Ulupō Heiau peeks out from behind the trees. This sacred
temple dates back over a thousand years and is the largest of its kind on the island. Visitors to this site
should mindfully approach with great reverence and aloha.

Adjacent to Ulupō, your eyes will see the vastness of Kawainui Marsh. This marshland has gone through
many transformations over time. It's mentioned in stories of antiquity. It was also a main source of food
in the area, then later partially drained and was a major source of grazing ranch lands for cattle. Today
it's a protected wetland, home to at least four species of Native Hawaiian water birds, endemic or
indigenous to these islands, plus ample vegetation. A great walking and bike path meander along its
perimeter for your enjoyment. Volunteer opportunities are also available if you'd like to give back to
your community. Visit Hui o Ko'olaupoko at https://www.huihawaii.org/ for more information.

As you venture further into the heart of town, you will find quaint shops with everything from casual
beachwear to Hawaiian finery and bargain knickknacks to precious collectibles. Visit Book Ends for rare
and out-of-print books. A stop at Manuheali'i or Lex Breezy will reward you with some of Hawai'i's
hottest local fashions.

Dining options cover every taste palate. Be sure to check out Cinnamon's for their famous pancakes and
Kalapawai Market for their great deli and all your beverage needs, plus Wilson Store for some of the
best shave ice in town. Kailua is home to excellent neighborhood eateries and bars, plus a variety of
farmer's markets and grocery stores.

In addition to the trail at Kawainui, there are ample outdoor activities in this community. Kailua's
beaches are some of the best not only in Hawai'i, but in the world. Hiking up to Olomana and Maunawili
Falls are another way to take in the natural beauty, but please stay on designated trails and follow all
signage for your safety and the safety of forest environment.

Kailua is home to many old Hawaiian, Portuguese, Chinese and other immigrant families. They've
thrived for generations and it is a privilege to call this special place home.
As the gentle malanai breeze embraces you, welcome home to the beauty of Kailua!
---