Living in Kakaako
Welcome to Kakaako; Hawaii's most exciting urban metropolis that's birthed a city in the sky through rapid revitalization efforts by numerous real estate developers over the last decade. Kakaako's strategic location between Waikiki and the Downtown Honolulu positions the neighborhood to benefit from the best of both worlds, while still creating it's own personality. Kakaako bridges the stunning beaches, world class dining, shopping, and entertainment of Waikiki with the Business District and economic hub of Downtown Honolulu.

Today, we see Kakaako as an artist's and architect's delight, raising living sculptures atop a canvas of mural lined streets, restaurants, and retail to reimagine the Honolulu skyline. From the expansive Native Hawaiian agricultural community of old, to the port site of foreign ships embarking in trade and supply, Kakaako is now the thriving urban-epicenter of Metro-Honolulu.
The neighborhood is burgeoning with real estate development and has quickly become the mecca of Oahu new homes. With as many as 20 new Kakaako condos either completed, under construction, or in the planning stages, the skyline you saw 5 years ago is unrecognizable today. The draw of the neighborhood is underpinned by its premier "ocean-urban" location between Waikiki and Downtown Honolulu on it's east and west borders, but fronted by Oahu's ultimate playground in paradise; Ala Moana Beach Park.

Ten years ago, Kakaako was merely an idea bounded by the geographical boundaries of Ala Moana Beach, Piikoi St, and Ward Avenue. Prospective buyers were forced to base multi-million dollar purchase decisions on mere proposals, artist renderings, and built to scale model kitchens and bathrooms in the developer's Sales Gallery at the IBM building. Did you know Kakaako has as many as 10 brand new Honolulu condos that are currently selling but haven't been built yet? Visit our New Projects section below to stay in the know on what's to come!
Below you'll find a comprensive neighborhood insights and the ultimate 2022 Kakaako Condo Guide to help you efficiently navigate the booming Kakaako condo market from the luxury residences with resort style amenities, to entry-level and Kakaako Affordable Housing units. Learn about the (3) distinct Kakaako neighborhoods and better discern between which best fits your urban Honolulu lifestyle!
WARD VILLAGE
Referenced in blue in the map above, is the acting "tip of the spear" of the neighborhood and was named Best Master Planned Community in 2017 by Architectural Digest. The condos in Ward Village were planned to offer unmatched walkable convenience and alternate methods of commute. The vision continues to materialize through thoughtfully designed condo towers anchored by exciting dining and retail, as well as wide sidewalks and green spaces throughout the neighborhood that beg residents to leave the car at home and enjoy the Kaka'ako lifestyle by bike or foot.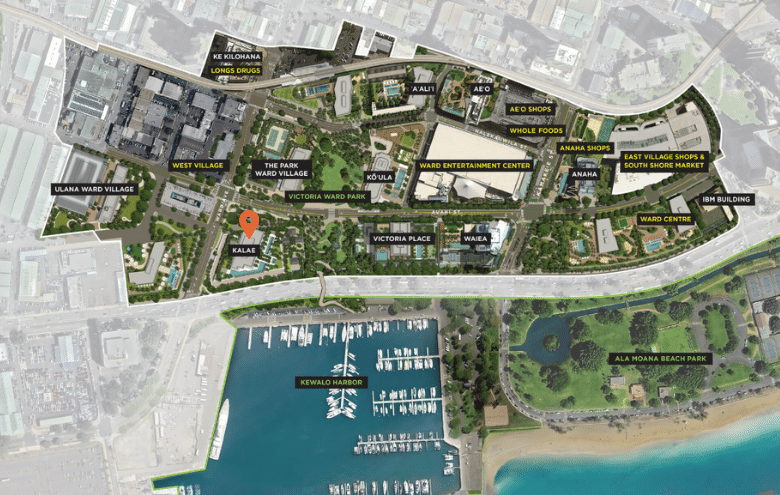 In 2013, developer Howard Hughes Corp kicked off what's shaping up to be at least a 15 year development the Ward Village Master Plan -- a 60-acre master plan with as many as 16 new condos in Kakaako. The first release, Waiea; is a front row, ultra luxury condo building with incredible Diamond Head and unobstructed ocean views. Waiea was the developer's flagship building, the first of 10 later released condo projects in Howard Hughes' globally acclaimed 60-acre Ward Village Master Plan.
Fast forward to Ward Village in 2022 and you'll find a thriving new Honolulu that buzzes with locals and visitors alike. Many park at South Shore Market and thread the wide sidewalked lined streets and green spaces to enjoy dozens of new dining and retail opportunities anchoring as many as 8 beautifully designed condos either completed or under construction.
OUR KAKAAKO
Referenced in orange on the map search above, sits just west of Ward Village and adds an entirely different flavor the neighborhood. This is the trendier, artsier, and certainly less expensive version of Ward Village that's anchored around SALT at Kakaako; an open air shopping mall, food district, an all around good time. Our Kakaako features mural lined streets that thread dozens of unique boutique stores, cafes, and coffee shops to stimulate the rest of your life in the neighborhood.
Most of the neighborhood is owned and planned Kamehameha Schools under the guise of the Our Kakaako master plan. While the larger "west" Kakaako features some of the older condos in the neighborhood, we're still seeing solid influx of new developments taking hold. Real estate prices in Our Kakaako range from roughly $500,000 for a modest 1-bedroom, up to the grand penthouses of $7.6 Million.

KAKAAKO CORRIDOR
This is the east Kakaako region (referenced in green in the map search above) closest to and bordered by Ala Moana Shopping Center, right behind Ward Village. The original Kakaako condo towers are most easily identified by everything between Ward Avenue and Piikoi St. This sector consists of some of Kakaako's "legacy" condos that were built between 1999-2009. These buildings will offer larger living spaces relative to the newer condos but you'll likely concede on upgrades and amenities, relative to the new options.
Kakaako Realtor Insights & FAQ's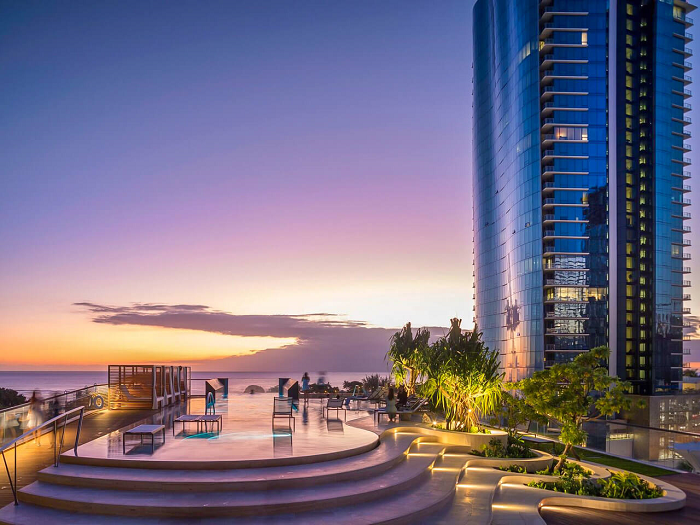 The neighborhood has seen one of the most intense revitalizations over the last decade, with nearly 20 New Honolulu Condos either being built or planned for the region. Real estate tycoons like The Howard Hughes Corp from Texas, as well as smaller, local development companies have sprouted new Kakaako condos like weeds; effectively transforming the Honolulu Skyline. Kakaako doesn't have the most expensive house in the Hawaii, but will typically have one the top 10 most expensive homes in Hawaii at any given time.
Condo prices in Kakaako range from $500,000 micro-studios up to $25,000,000 Grand Penthouses. Whether there's something that fits your budget depends largely on the age of building you're looking for, proximity to Ala Moana Beach, floor height and ocean views, and level of amenities. Due to the fluidity of development in the region, the options change by the year! Read More...

The Lifestyle
Kakaako is perfectly oriented between Waikiki and Downtown Honolulu, fronted by the famed Ala Moana Beach and Kewalo Harbor. Walk the Pow! Wow! mural lined streets to the neighborhood's extravagant array of local eats, parks, fitness centers, and festivals.
Like Kailua on the Windward Side and the North Shore of Oahu, Kakaako is what we call a "Lifestyle Community," a place where home transcends the four walls of house. From the vast array of shopping, dining, culture, street art, and boutique stores, this is urban living and style at is finest!
Things to Do in Kakaako
Whether you live in Kakaako, visiting on Vacation, or just strolling into Honolulu for a night on the town, there's a few Kakaako must-do's if you aim to experience the neighborhood right. For one, check out the Honolulu Night Market on the corner of Keawe and Auahi streets in Kakaako on the 3rd Saturday of every month. Enjoy live music, art showcases, and dozens of food trucks and tents offering some of Honolulu's best fare. Second, Eat The Street! Immerse yourself into Honolulu street food with over 40 local food and retail vendors.
Compounding the amenity of convenience will arguably be Kakaako's most spectacular natural amenities; Ala Moana Beach Park, Kakaako Waterfront Park, and Kewalo Basin Park, and Kakaako Gateway Park. Besides providing unparalleled ocean view condos in Kakaako for prospective buyers, residents can enjoy the acres of green space, paths, and workout areas designed to delight the fitness enthusiast, fishermen, surfers, or even just the casual family picnic.
Enjoy the white sand beach and calm, crystal blue waters of Ala Moana Beach Park for an ocean experience that's a stroll away. Ward Village will also feature The Central Plaza, a park at the heart of the village that will promote outdoor activities and entertainment such as Kakaako Farmer's markets, yoga, movies, musical performances, and hula.
Working in Kakaako
The neighborhood is a hotspot for working professionals and entrepreneurs as it offers the vast majority of Oahu's "co-working" spaces. Those that work from home are afforded numerous opportunities at venues like Impact Hub, BoxJelly, and Workplay to network and rent community office space that's a mere elevator or bike ride from home. Breaking for lunch? Well then prepare for analysis paralysis as the options are endless for Kakaako eateries.
Fitness, Gyms, & Yoga in Kakaako
Honolulu is consistently ranked as one of the Healthiest city's in the nation and that's due in part to the plethora of outdoor activities available to us. For the fitness conscious residents of Kakaako, you've got a variety of ways to stay fit in the neighborhood:
UFC Gym Honolulu | 805 Pohukaina St, Honolulu, HI 96813. Sign up for a monthly membership for full use of the biggest gym in Kakaako, as well as classes offering kickboxing, jiu jitsu, and yoga.
Orange Theory Fitness | 660 Ala Moana Blvd #217, Honolulu, HI 96813 | High intensity, class oriented group fitness led by a personal trainer.
Core Power Yoga | 1170 Auahi St Suite 180, Honolulu, HI 96814 | One of Kakaako's most popular fitness establishments at South Shore Market Place in Ward Village.
Kakaako by Bike
Kakaako is on the south shore of Oahu which provides for some of the best weather on the island, and arguably some of the best weather in the world. Rent a bike from a Kakaako Biki station or use your own to peddle through the neighborhood. Check out the Ala Moana Beach Path that traverses Kewalo Basin, Ala Moana Beach, and Ala Wai Harbor for some killer waterfront biking! You could also easily continue on to Waikiki if you're feeling ambitious. Map out your Oahu Bike Path Routes Here.
Restaurants & Nightlife
Kakaako doesn't disappoint when it comes to variety as it may be the most restaurant dense neighborhood on Oahu, second to Waikiki. Enjoy a number of bars, speakeasies, local eats, and find dining opportunities all within walking or biking distance from each other. Here's a map of the neighborhood's white-hot food scene:
What are the best places to eat in Kakaako?
1. Moku Kitchen | 660 Ala Moana Blvd, Honolulu, HI 96813 - A vibrant hotspot at SALT at Kakaako with Asian fusion inspire dishes, outdoor seating, and occasional live-music. Pumpkin Ravioli is our fave!
2. Highway Inn | 680 Ala Moana Blvd #105, Honolulu, HI 96813 - Hawaiian Fusion with deep roots in Hawaii! Enjoy old-time Hawaiian-Styled dishes amongst the urban setting of SALT at Kakaako. Smoke Meat Skillet in my choice everytime.
3. Piggy Smalls | 1200 Ala Moana Blvd, Honolulu, HI 96814 - The younger sister to the Pig and the Lady restaurant in Downtown Honolulu. Creative Vietnamese dishes to include sandwiches and pho. The French Dip is the winner and you HAVE to try the Burmese Papaya Salad and Fried Chicken Wings as well.
4.) Nobu Honolulu | 1118 Ala Moana Blvd # 100, Honolulu, HI 96814 - Upscale Japanese-Peruvian fusion that anchors the Waiea condo building in Ward Village.
5.) Redfish | 685 Auahi St. Honolulu, HI 96813 - A local gem offering authentic Poke Bowls, craft beers, family style local dishes, and signature cocktails.
You may also enjoy a number of Kakaako's best bars like 9bar, Pitch, Bevy, Honolulu Beer Works and more.
Best Shopping in Kakaako
Kakaako retail has gotten real spicy as of late. Here's the top stop for retail therapy:
1.) Ala Moana Center - Although not in literal Kakaako, it's across Piikoi St and too good not to list. Ala Moana is the largest open air shopping center in the nation with over 300+ retail stores, restaurants, and entertainment venues.
2.) Salt at Kakaako - Head over to West Kakaako to peruse the 2018 Shopping Center of the Year. This trendy joint is seething with culture, boutique stores, restaurants, and coffee shops. This is an instagram favorite as SALT is threaded with some of the most impressive street murals you've ever seen. It's like shopping through a walking art show. Check out some of the Kakaako Murals over at Pow Wow Hawaii.
3.) South Shore Market - Here lies 18 super creative boutique stores and one of my favorite cafes, Nalu Health Bar. By far the best Acai Bowl in Honolulu.
What grocery stores are available in Kakaako?
One of the best features of new Kakaako condo buildings is the use of their ground floor commercial spaces for restaurants, groceries, and retail. This makes for an extremely efficient footprint and lends itself to the dense availability of its residents' everyday needs. Here's some of the top grocery stores in Kakaako, many of which anchor some of the most popular buildings in the neighborhood:
Whole Foods | 388 Kamakee St Ste 100, Honolulu, HI 96814 | The Kakaako Whole Foods is the largest in the state, spanning three floors while anchoring the Ae'o condos building in Ward Village. Unsure where to park for Whole Foods Kakaako? Look for the entrances on Queen & Kamakee Streets.
Foodlands Farms | Ala Moana Shopping Center | While you'll have to cross Piikoi St out of Kakaako, this grocery store is too close and too epic not to mention. Find all of your grocery needs here as well as dozen or so takeout restaurants for a quick bite.
H-Mart | 458 Keawe St | This Korean supermarket store specializes in Asian foods and will offer groceries on the ground level, and a second level named the "Market Eatery" that will feature a number of take-out food vendors. Located in West Kakaako. Many are asking, "when does H-Mart Kakaako open" and although we're not exactly sure, we know it's soon!
Down to Earth | 500 Keawe St, Honolulu, HI 96813 | You'll find this health-hub at the foot of Keauhou Place in West Kakaako
Long's Drugs | 1240 Ala Moana Boulevard | Owned and operated by CVS Pharmacy offering a drug store, beauty supplies, and limited groceries. Located at the foot of Ke Kilohana condos in Ward Village.
What Public Transportation is available in Kakaako?
As highlighted above, Kakaako prides itself on being one Oahu's most pedestrian friendly communities. Wide sidewalks with walkable streets, numerous Biki bike rental stations, over a dozen Honolulu bus stops, and 2 Kakaako rail stops: Civic Center and Kakaako Station. The community is also one of the most avid users of RideShare programs like Hui, Uber, & Lyft.
Are there Healthcare Facilities and Hospitals in Kakaako?
Kakaako features two of the largest hospitals in Honolulu:
Straub Medical Center | 888 King St Honolulu, HI
Queen's Medical Center | 1301 Punchbowl St Honolulu, HI
As well as smaller healthcare facilities:
Kaiser Permanente Honolulu Medical Office | 1010 Pensacola Street Honolulu, HI
Island Urgent Care Kakaako | 400 Keawe Street #100 Honolulu, HI
What Schools are in Kakaako?
Royal Elementary School | 1519 Queen Emma St
Queen Ka'ahumanu Elementary School | 1141 Kinau St
Pohukaina Elementary School | 690 Pohukaina Street
George Washington Middle School | 1633 S. King St
Central Middle School | 1302 Queen Emma St
William McKinley High School | 1039 S. King St
Kaka'ako Hawaii History
Kaka'ako, nestled between Downtown Honolulu and the Ala Moana area is a mixture of retail and
commercial businesses, wholesalers, warehouses, and other industrial businesses – plus an ever-
growing residential component.
What does Kaka'ako mean in Hawaiian?
It's unclear of the origins, but Kaka'ako translates to "dull or slow" in the Hawaiian language, quite the
opposite of the hustle and bustle of this up-and-coming neighborhood.
What was Kaka'ako like in ancient times? Read More...