Alia Kakaako | 888 Ala Moana Blvd
Page Guide: Location | The Tower | Amenities | Residences & Interiors | Floor Plans | FAQ's & Prices | Register Interest
Announcing Alia, a new mixed-use condominium project being proposed in the heart of Kakaako by The Kobayashi Group, one of the most experienced and respected residential real estate developers in the state. The Kobayashi Group's reputation precedes them in the Honolulu luxury condo market thanks to the intensely popular Hokua building in Kakaako, as well as the One Ala Moana and Park Lane in the neighboring Ala Moana community.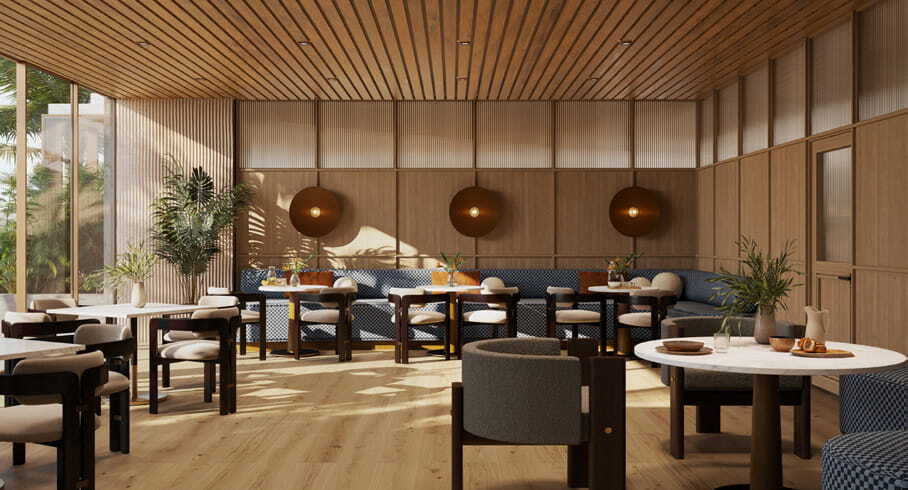 Architectural design for the Alia building will be spearheaded by Adam Woltag with WRNS Studio; a San Fransisco based firm renowned for artful yet functional structures with emphasis on sustainability. We'll see naturally refined interiors and common spaces brought to life by interior designer Michelle Jaime with The Vanguard Theory; weaving warmth and textures to create a fresh twist on luxury living in Honolulu.
The project is planned in conjunction with Kamehameha Schools as part of the the Our Kakaako master plan and will be one of 3 new Honolulu condos planned over the next 2 years in Kakaako. The Alia development team is still working through the approval stage with the city, but we expect sales to launch in late 2022.
While You Wait...
We're a little ways out from the first phase of the Alia sales launch which we expect will to an Owner Occupant Release. This will require prospective buyers to sign affidavit acknowledging their intent to live in the unit for the first 365 days of ownership. We will likely see the Unrestrictive offering (investor or second homeowners) and Affordable Housing offering after that.
Be sure to register your interest so you're subscribed to our newsletter announcements of what's to come. You'll receive a Welcome Email shortly after with what to expect going forward, how to prepare, and how to schedule a tour of the Alia Sales Gallery once it's made available. In the meantime, check out our video below for a quick update on all of the latest new Honolulu condo news!
The Neighborhood | Alia Location & Lifestyle
Alia will be bordered by Ala Moana Blvd, Koula & Auahi Streets and plants it's flag in arguably the best location within the Our Kakaako master plan. This will be on the closest buildings to Ward Village which provides access to the best of both sides of Kakaako. The Ala Moana Blvd frontage should provide for some of the best views in the neighborhood without risk of future obstruction. Proximity to SALT at Kakaako shopping center provides premier convenience to dozens of stimulating restaurants, cafes, coffee shops, and retail opportunities within walking distance.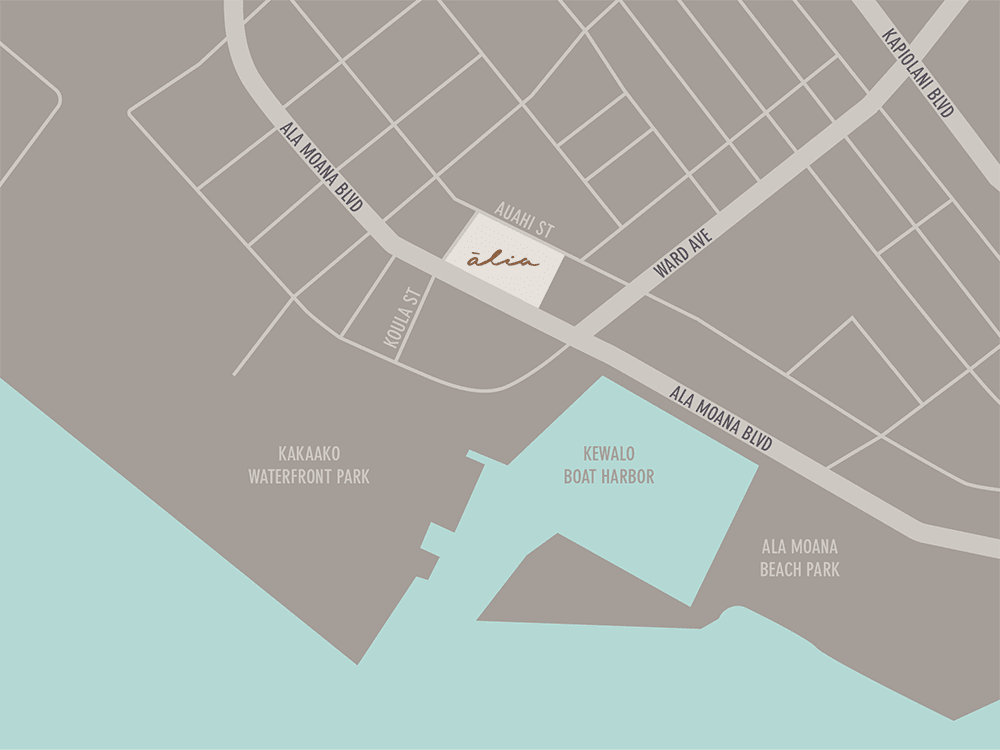 ---
The Tower | Unit Mix, Architecture
Alia Developer, The Kobayshi Group, is no stranger to the luxury development space as seen by their previous projects Park Lane and One Ala Moana. The reputation of these projects leads us to believe we'll see yet another refined, luxurious condo tower in Alia. A new rendering below gives us a glimpse of some of the green, open gathering spaces that the developer has been teasing along with a side profile of the tower that showcases floor to cieling windows, lanais, and a classy bronze exterior.

Alia Address: 888 Ala Moana Blvd
Total Units: 457
Building Height: 400ft, 39 floors
1 commercial floor, 3,118sq
Units Mix: 114 (1)-beds, 271 (2)-beds, 26 (3) 3- beds
Reserved Housing Units: 40
Parking: 866 Residential Stalls, 35 Guest, Commericial 12
Sales expected to start in late 2022

Amenities | Ground Level & 6th Floor
The Kakaako neighborhood is known for fabulous, resort level amenities but we have to say, Alia seems to really be pushing the envelope in this regard. Alia amenities will have to be split between the ground level and a the 6-floor deck just to make room for them all. We'll see the usual suspects like pools, spas, and a fitness center but then there's a few were not used to seeing like a bowling alley, basketball court, and pickleball court!
Ground Level
| | | | | |
| --- | --- | --- | --- | --- |
| Alia Lounge | Guest Parking | Pickleball court | Bowling alley | Health Club |
| Basketball court | Playground | Outdoor fitness area | Bike storage | Residential Storage |
| Kitchen | Multimedia Room | Workspace | Mail room | Workspace |
| Theater | Sauna | Salon & spa | Movement Studio | Coffee bar |
| Conference room | Multi-purpose room | Lei Kou Community Garden | | |

6th Floor
| | | | | |
| --- | --- | --- | --- | --- |
| Lobby | Family Pool & Spa | Adult Pool | Library lounge | Adult Wellness; sauna, cold polunge, and spa |
| Outdoor shower | Cabana | Central lawn | Bocce court | Salon Spa |
| Dog park | grill station | Game rooms | Private dining kitchen | |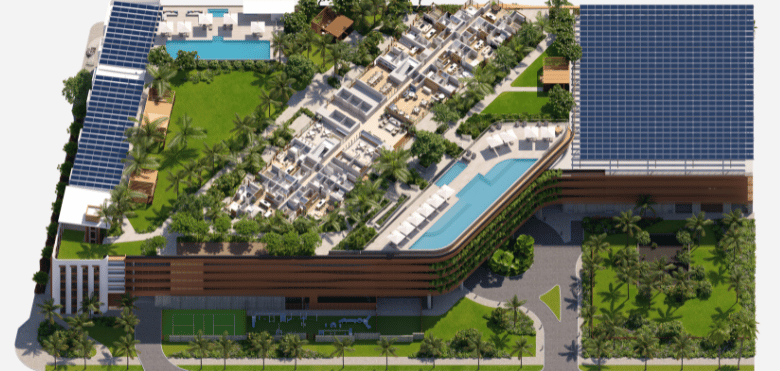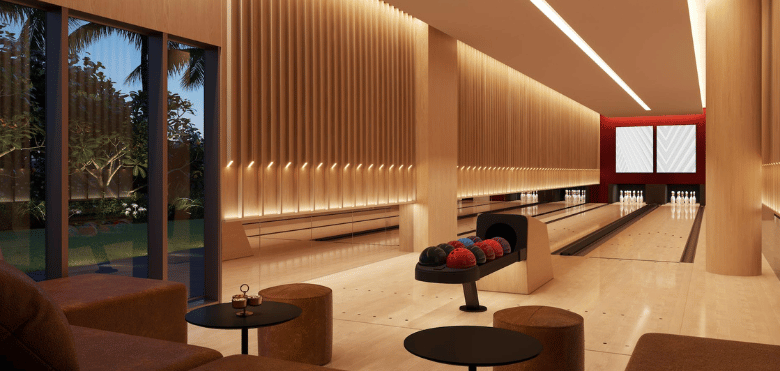 ---
The Residences | Interiors, & Finishes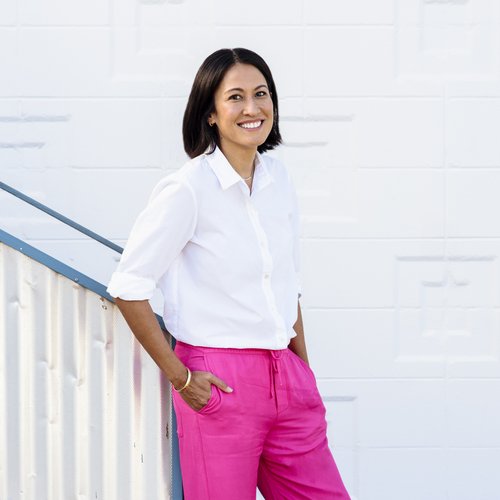 Artist renderings depict the a building wrap of floor to ceiling windows designed to to enable trandwind flow and expansive natural lighting. Unlike many of the new condos in Ward Village, Alia will have usable lanais, but only on the Diamond Head side. The even floors will feature larger lanais, odd floors will feature smaller lanais. The Kobayashi Group's most recent projects, One Ala Moana and especially Park Lane, feature some of the most elegant interiors amongst all Honolulu condos through classy, contemporary designs that use neutral, organic elements to create timeless spaces. The developer's decision to use local interior designer, Michelle Jaime, should really drive things home as her knowledge of Hawaii's natural enviroment and how to incorporate it into living spaces is paramount to creating comfortable and luxurious interiors that fit.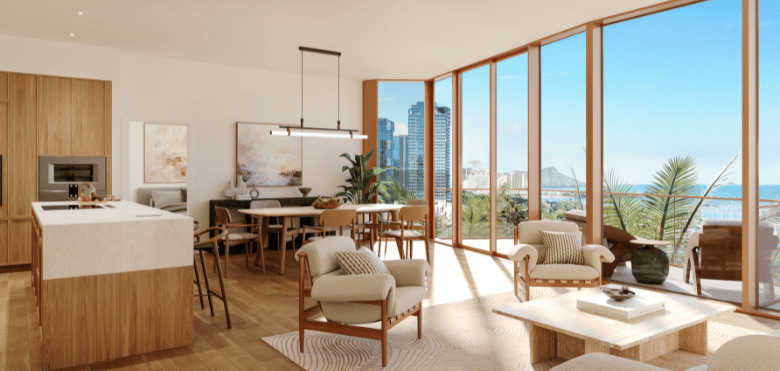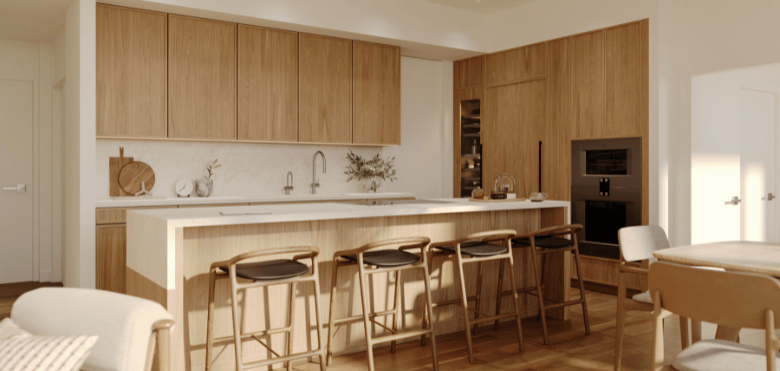 The 1-3 bedroom floor plans will come in various layouts; all to feature Duchateau Eropean white oak flooring that spans the entire living area. This will be the first new condo in Honolulu to feature Gaggenau appliances. Thinking ahead, provisions for motorized window shades and ceiling fans will be made; something that will be especially appreciated on the Ewa side of the building. Induction cooktops will be standard throughout the building while most condos at Alia will feature a powder rooms, laundry rooms, pantries and den spaces.
Alia Floor Plans
Alia's floor design consists of (4) one-bedroom units and (9) two-bedroom units. Most of the two-bedroom units have two bathrooms, while some floor plans also include a powder room near the front door. The same is true of the floor layouts with a single bedroom.
Many of the apartments in the building have free-standing kitchen islands, which is a welcomed design feature because it allows for complete kitchen circulation. As is stands, there are no three-bedroom units, but a limited number of units can be combined to create a sizable three-bedroom space.
The building's floor plate is shown below. The building's even floor units are depicted on the left, and its odd floor units are shown on the right. As you climb the building, the lanais get smaller and smaller, so if you want an useful lanai to set up some decent-sized tables and chairs on, choose a unit with an even floor. The odd floor units should work just fine if you only need a little area to step out and take in the environment.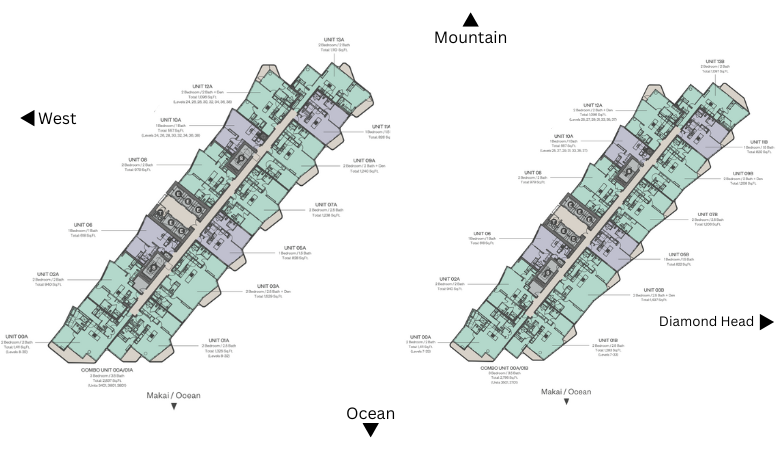 ---
Alia FAQ's
What will the Alia condo prices be?
The developer is touting that 90% of the building will be offered under $3,000,000. Plan for reserved housing units starting around $400,000, 1-bedroom market units from $800,000+ and two bedrooms from $1.2M. Stay tuned for the official Alia prices! Read More...
Kakaako Condos For Sale
September 29, 2023
$1,365.84
Avg. $ / Sq.Ft.
$1,100,000
Med. List Price