Kahuina Kakaako | New Condos For Sale in Honolulu, HI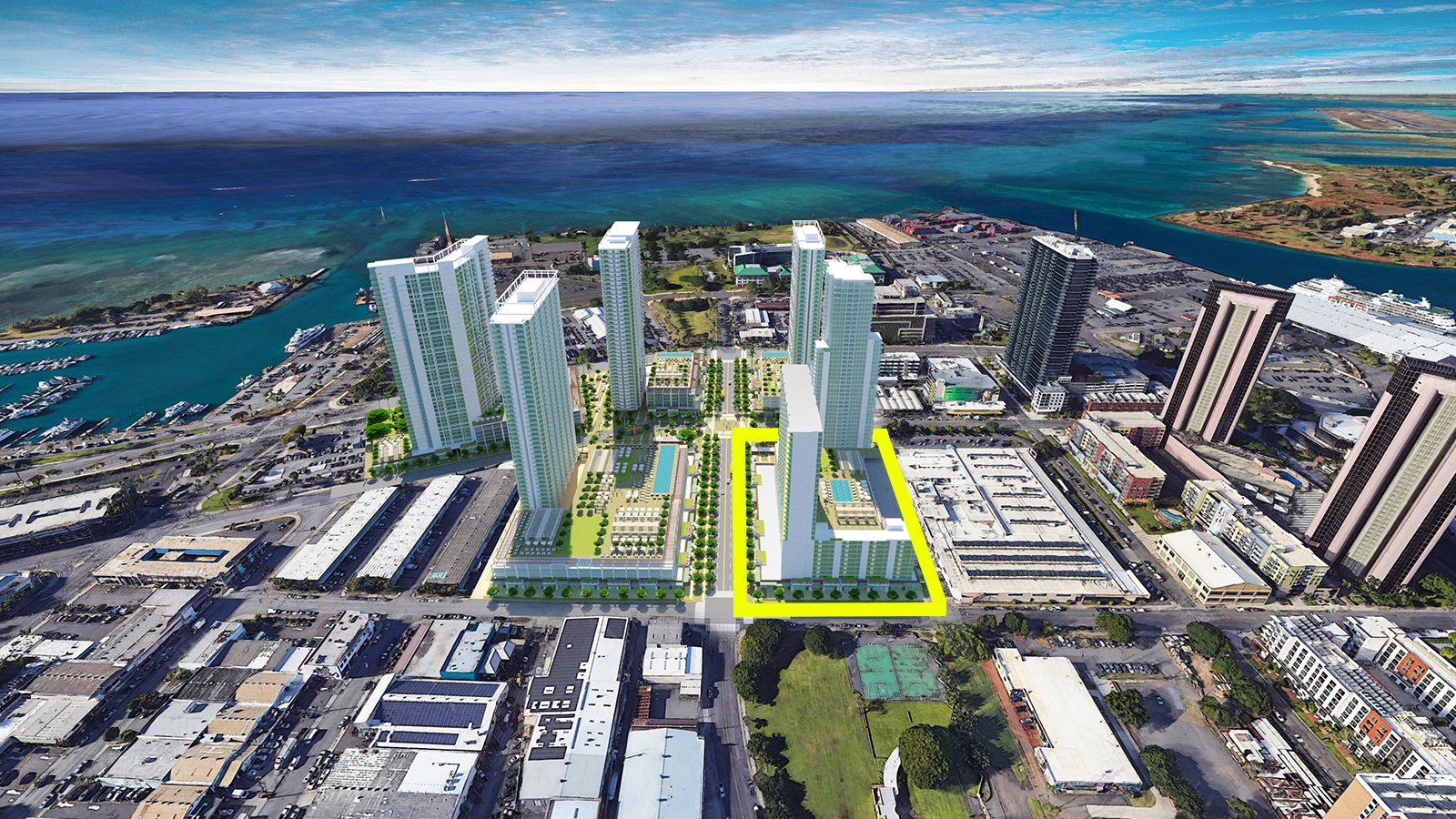 Page Guide: The Neighborhood | The Towers | Amenities | Floor Plans | Prices | Affordable Housing | How to Buy | Contact Us
Kahuina is a 43 story new Honolulu condo building within the the Kamehameha Schools master plan, "Our Kakaako." The project will be spearheaded by local developer Stanford Carr whose no stranger to the neighborhood, having developed the Keauhou Place project back in 2016. The build site will be situated on a large parcel of land between Cooke, Auahi, Coral, and Pohukaina Streets so it's no wonder why the developer chose to name the building Kahuina -- Hawaiian for "crossroads and intersections." Kahuina will provide a total of 859 new Kakaako condos for sale in 2022 with construction slated to start in late 2023. Like most new Kakaako condos, we won't see the project completed for another three years which puts an estimated completion date in mid 2026.
The Neighborhood | Where is Kahuina Located?

If you're familiar with Kakaako you'll know that the neighborhood has seen a massive transformation over the last decade. The Ward Village master plan, a Howard Hughes' development, kicked off the development boom back in 2016 on the east side of the neighborhood near Ala Moana Center and it's been a development frenzy ever since. The urban revitalized would soon be sparked to the neighborhood's west side, now known as the trendy urban hub of "Our Kakaako" that's anchored by SALT at Kakaako -- the 2018 Shopping Center of the Year and one of the most exciting dining, shopping, and entertainment venues in all of Hawaii.
>> Check out our recent video updating you on all of the New Honolulu Condos in 2022
Living in Kahuina will see owners benefitting from one of Oahu's premier lifestyle neighborhoods in Kakaako, a place stimulated by an exciting food culture, mural line streets, and unmatched convenience to all of the best that Honolulu has to offer. Kahuina will be bordered by SALT at Kakaako on the ocean side, Mother Waldren park on the mountain side, and will be a mere elevator's ride away from dozens of dining, retail, and outdoor entertainment nearby.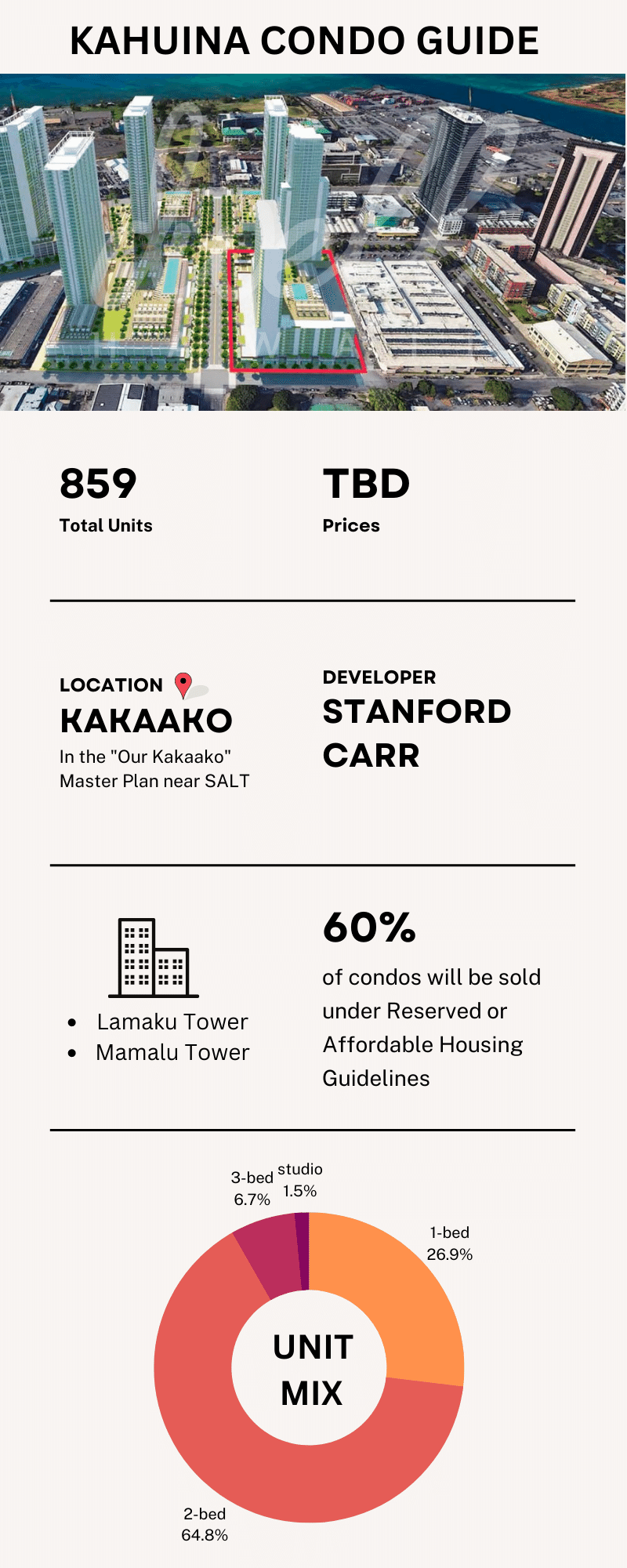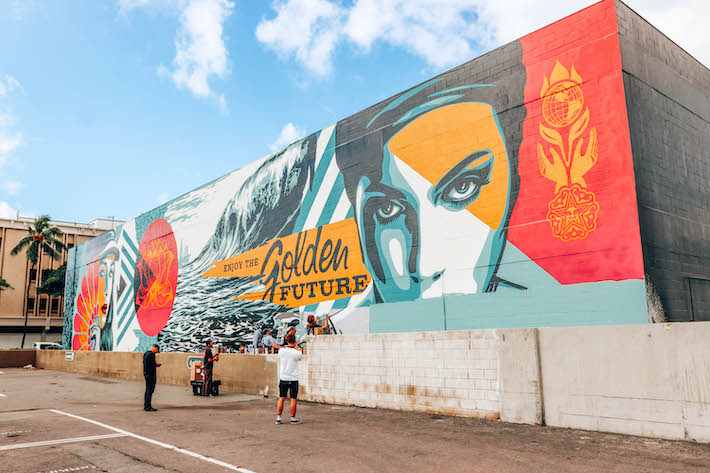 Two Towers
Per the renderings for the project, Kahuina will consist of two condo towers with 1,000 stall parking structure between them. We'll see 859 new Oahu Homes offering a mix of Market Priced condos, Workforce Housing, Affordable Rentals and 35,000sq of ground floor commercial space which will likely feature street level restaurants and cafe's consistent with most Kakaako condo buildings. The towers will feature a healthy amount of ocean facing units and with no obstructing towers in front it, we should expect wide sweeping views of the crystal blue Pacific Ocean and Diamond Head to the east.
Lumaku at Kahuina
43 stories tall
The name ranslated in Hawaiian means "Standing Torch"
329 Market Priced Units (no income restrictions) & 120 Workforce Housing Units (restrictions)
Likely to feature 1-3 bedroom floor plans
Mamalu at Kahuina
32 Stories Tall / 398 total units
The name is dedicated to honor the legacy of Hawaiian Princess Kamamalu
273 Workforce condos for sale in Kakaako + 125 Affordable Rental Units
Amenities
Details on the amenities are limited at the moment but what we can tell you is that a healthy array of amenities is on-trend amongst condo buyers and developers know this. The fact the project has 35,000sq of commercial space lends be to believe they have quite a bit of ground to make use of so I don't expect to be disappointed.
Plan for the usual suspects to include but not limited to: pool(s), fitness center, lobby and receptionsist, meeting room, co-working space, possibly more and possibly less! Stay tuned for more information as we receive it. Regardless of what in-house amenities are provided, it's the project's proximity to natural amenities like Ala Moana Beach Park, Kewalo Basin, and premier access to Honolulu's urban core that matter most!
Floor Plans
Coming soon!
Insights & Prices

Maintenance Fees: TBD
Kahuina Prices: TBD
Model Home: TBD
Construction to begin: Early 2024
Completion: Slated for 2026
Developer: Standford Carr Development
Contractor: TBD



Kahuina Affordable Housing
With 60% of the condos designated under Honolulu Affordable Housing guidelines, Kahuina will play an important role in providing homeownership opportunities to below market pricing to Eligible & Qualified buyers. The precise guidelines to the Kahuina Affordable Housing program haven't been released yet but some of the most common rules include but aren't limited to:
Must be 18 years or older
Must not own a majority interest in any real estate in the world
Income limits weighted by household sizes
Asset limits
Hawaii Resident
Buyback Periods from 2-, 5-, 10-, or 30-years
5-10% minimum down payment requirement
For a more comprensive understanding of Affordable Housing in Honolulu visit our related post.
How to Buy at Kahuina
Be sure to subscribe to our New Project Interest List below to be alerted on Developer News including but not limited to Sales Launch Date, Prices, Model Home Tours, New Artist Renderings, Floor Plans & more. Our team as guided over 200+ buyers in Oahu New Construction purchases and we would love to help you explore your options as well.