North Shore Oahu Homes For Sale in Hawaii
Page Guide: North Shore Listings | Market Insights & Trends | Best Neighborhoods | The Lifestyle | FAQ's | Contact Us | Create An Account
North Shore is a community on the island of O'ahu, that is situated between Ka'ena Point and Kahuku Point, in Hawaii. Things slow down out here and that's precisely how the locals want to keep it. You'll see this reflected by 1 out of every 5 cars on the North Shore having a green bumper sticker that reads the North Shore's motto, "Keep The Country, Country." As you start to explore North Shore real estate prices, you'll quickly realize that "country" isn't synonymous with inexpensive like you're used to in the upper 48 states. A slow pace, and space are luxury features on the island of Oahu.
The North Shore is one of the few places people can run away from the urban sprawl that Oahu island is starting to experience. As Hawaii's premier surf destination, the North Shore, Hawaii is home to many of the best beaches in Hawaii, including Sunset and Pipeline. If want to take the Hollywood approach to learning about the North Shore, it actually has its own movie aptly titled "North Shore" from 1987. You may have also noticed the region featured in box office hits like Blue Crush and Forgetting Sarah Marshall.
---
North Shore Oahu HI Homes for Sale
December 3, 2023
$1,910.16
Avg. $ / Sq.Ft.
$2,997,000
Med. List Price
North Shore Oahu HI Homes for Sale
by Price
North Shore Oahu Real Estate Insights
Page Guide: North Shore Listings | Market Insights & Trends | Best Neighborhoods | The Lifestyle | FAQ's | Contact Us | Create An Account
Oahu's North Shore has some of the highest real estate prices on island. So what is it that set's them apart from the rest of the island? Here's a few insights:
The North Shore of Oahu is notorious for being the mecca of the surf world. The winter months see towering waves spanning over 7 miles of stunning white sand beaches that lay claim to legendary surf competitions like the Vans Triple Crown, Billabong Pipe Masters, and The Eddie Big Wave Invitational. These competitions draw the eyes of the surfing world as they watch the best of the best surfers carve the trophy waves of the world. A North Shore beach house with direct frontage to one of these competitions could easily run you $5,000,000 to $17,000,000.

Where there's beach, there's value! Oahu's lifestyle communities Kailua, Kakaako, and the North Shore offer postcard-perfect living with stunning beaches, mountainous backdrops, and quaint beach towns threaded with charming cafes, restaurants, and retail. Houses for sale in North Shore, Oahu offer lifestyles that transcend your four walls.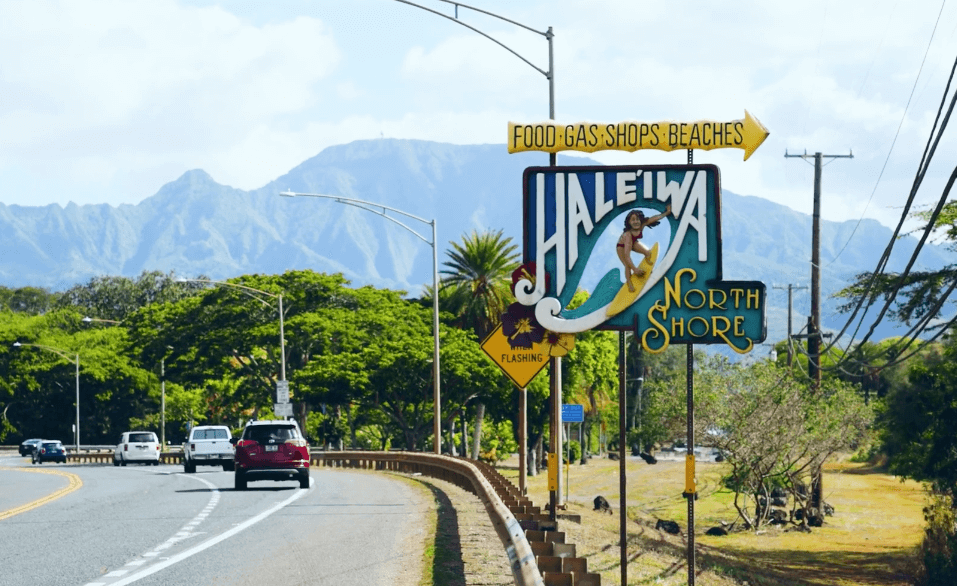 Haleiwa Town is one of the most iconic tourist destinations in all Hawaii and might be Oahu's flagship beach town. The town is adjacent to Alii Beach and offers boulevard of sorts, with dozens of local restaurants, food trucks, and surf shops. Towns like Haleiwa and Kailua see tourist flocking to the area when they want an experience that contrasts Waikiki. It's no coincidence that Kailua and North Shore Oahu homes for sale are some the most expensive on island. Tourist presence tends to be a leading indicator of high home prices.
North Shore Oahu is one of the few regions on island that allows for legal vacation rentals in resort zoned areas like Turtle Bay, making it a very popular destination for Airbnb investing. Look to condos for sale at Kuilima Estates -- 1-2 bedroom townhomes featuring a healthy set of amenities, walking distance to white sand beaches, and premier access to the Fazio & Arnold Palmer golf courses at Turtle Bay. Many owners operate their units on Airbnb & VRBO. A comparable but more luxurious option would be Oceanvillas at Turtle Bay; also legal for vacation rentals in Hawaii.
Single Family Homes in North Shore
If you're exploring North Shore, Hawaii real estate options will be limited under $1,500,000 unless you move away from the "wave havens" that run the 7-mile stretch mentioned above, and look to quieter, less congested beachtowns of Waialua and Mokuleia. Waialua beach homes ranging from $1.8M to $4M. Luxury beach homes on the North Shore can run you from $4M - $17M.
North Shore Oahu Condos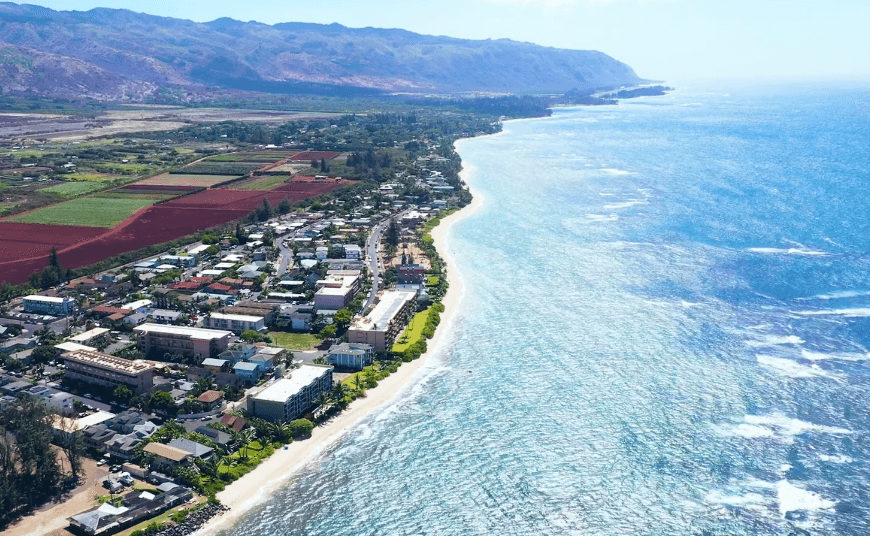 The majority of North Shore, Oahu condos will be found in the Waialua neighborhood, ranging from $350,000 - $900,000+. If you're looking for condos for sale in Haleiwa, HI the Haleiwa Surf building will be one of the only options, but a great choice nonetheless as it provides premier access to the beach and Haleiwa Town.
The condos for sale at Kuilima Estates tend to be a favorite for out of state buyers as they're within the Turtle Bay Resort community and allow owners the ability to operate legal vacation rentals on the North Shore. You'll find many of these North Shore Oahu Vacation Rentals hosted on Airbnb or VRBO which, prior to 2020, had long provided a healthy source of rental income before Bill 89 was introduced to clamp down on illegal vacation rentals.
---

The Lifestyle
Page Guide: North Shore Listings | Market Insights & Trends | Best Neighborhoods | The Lifestyle | Contact Us | Create An Account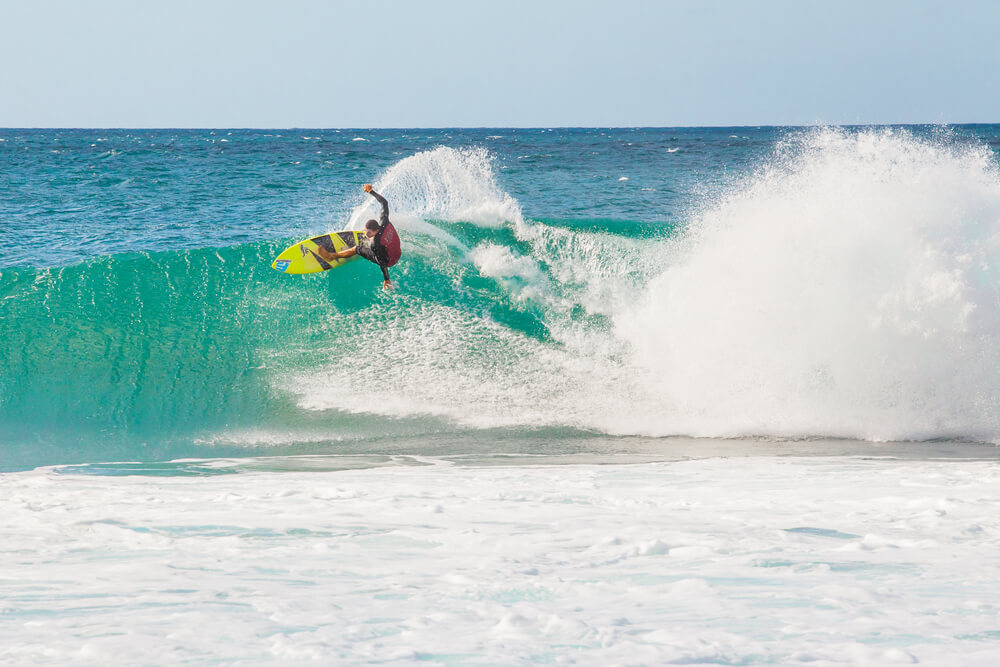 Host to international surf competitions, you'll find surf celebrities abound in the winter. Located 45 minutes north from Honolulu, this surfers' paradise is adjacent to the pineapple fields of Dole Plantation. The North Shore is known as the birthplace of big wave surfing, with waves reaching up to 50 feet and home to world class surf competitions like The Vans Triple Crown and Billabong Pipe Masters. In contrast to the giant winter, summer allows for exceptional swimming and snorkeling in Waimea Bay. Known for it's laid back attitude and surf-inspired culture, this stretch of coast is perfect for those looking to rent or buy a home in a pristine small-town community.
The North Shore includes the towns of Haleiwa, Pupukea, Kahuku, Laie, and Hauula, with Haleiwa as the mainstay. Although the north shore is one of the more expensive areas of Oahu, it provides a respite to the hustle and traffic of Honolulu. Available homes for sale are plantation-style single-family, gated townhomes, condos, and luxury estates with oceanfront views. If you're looking to live within a resort, you'll also find an array of condos for sale within the Kuilima Estates at Turtle Bay Resort.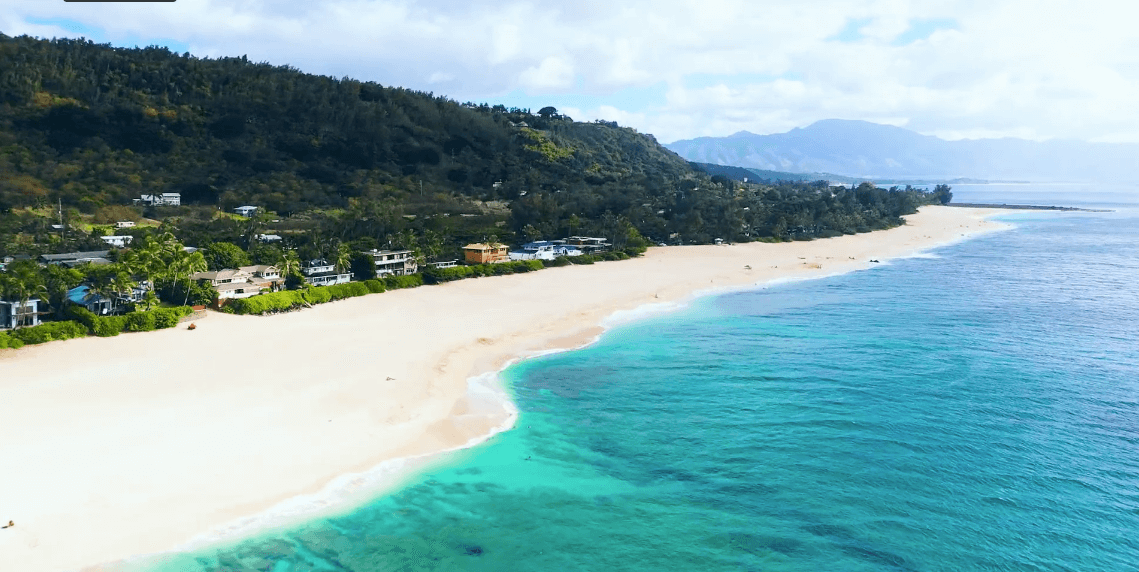 With easy access to famous locales of Waimea Bay and Waimea Valley, you won't run out of things to do in the North Shore. The Smaller communities of Waialua, Mokuleia, Pupukea, and Kawela Bay are also in demand areas to purchase a beachside property within the 96712 North Shore zip code. Many of Hawaii's military families decide to invest in a North Shore home due to its proximity to Schofield Barracks Oahu Military Base.
Traveling through these locales you're surrounded by quaint small town nostalgia. A world away from the bustle and skyscrapers of Honolulu, find peace in this coastal stretch. Future homebuyers may recognize some of the scenery of North Shore from the TV show LOST; the gorgeous town was a primary filming spot throughout the series. Homeowners who enjoy a challenge can go surfing at Hale'iwa, kayaking, snorkeling, ziplining, or they can hit golf balls at one of the two luxury golf resorts at the Turtle Bay Resort.
Due to the anti-development sentiment of the local community, the homes for sale on the North Shore are more limited than other areas of Oahu. Developers focus mainly on building luxury estates on available lots. Many homes are hidden from the main road, a testament to residents' preference for privacy.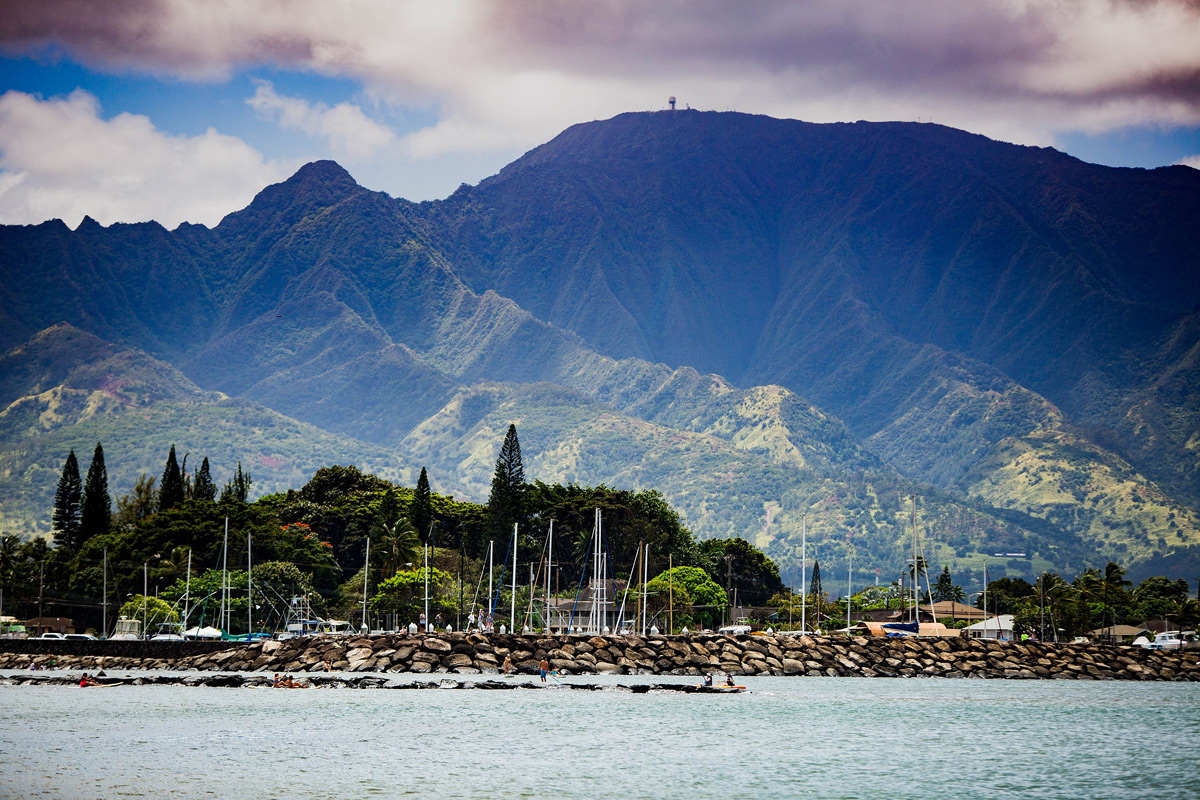 ---
What are the best neighborhoods in North Shore, Oahu, Hawaii?
Page Guide: North Shore Listings | Market Insights & Trends | Best Neighborhoods | The Lifestyle | Contact Us | Create An Account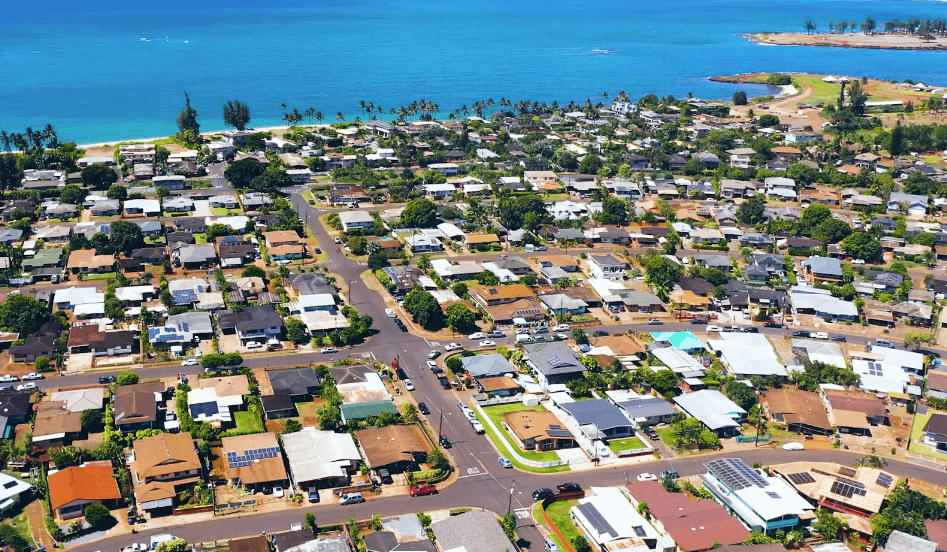 The North Shore is arguably one of the best places to live in Hawaii but what are the best neighborhoods to live in North Shore Oahu? It really depends what type of lifestyle you're looking for. The region's unique geography allows for beachfront, hillside, and suburban homes while some of the region's unique zoning allows for large agricultural lots and resort homes. That being said, we've itemized our favorite communities by category below.
BEACH & SURF | Sunset Beach, Velzy, Kawela Bay, Papailoa, Kawailoa, Kawela Bay
These neighborhoods are in "the zone" and best positioned to take advantage of the North Shore's best surf breaks inlcuding but not limited to Pipe, Rocky Point, Shark's Cove, Lani's, Sunset Beach. The vast majority of North Shore beachfront homes in Hawaii will be found in these neighborhoods with many more only walking distance from the beach. This feature also brings much more congestion to these areas so if you plan to reside in any of these neighborhoods that are east of Haleiwa, be prepared for some pretty frustrating traffic due to tourist and surf traffic. You'll also run into a daily traffic jam caused by Laniakea "Turtle" Beach. These are epic neighborhoods to live in, but you'll quickly learn that you'll be planning your entire life around this traffic.
Mokuleia (along Crozier Drive & Loop), and Waialua (along Kahaone Loop & Au Street) on the other hand are out of "The Zone" and away from the surfing hotspots and daily traffic jams caused by tourism to the areas. These are my favorite neighborhoods on the entire island due to their country feel, large lots, and premier access to some of my favorite, least trafficked beach on island. All of the restaurants and retail of Haleiwa Town are still only 5-10 minutes away making this is the most convenient and best of both worlds North Shore neighborhoods near Dillingham Ranch.
LARGE LOTS | Pupukea, Waialua, Mokuleia
Known for large agriculturally zoned lots of 1-2 acres. You'll often find these properties have 1 main home and one Ag Structure or "Farm Home" for flexible use. Vacant land for sale on Oahu is scarce and the North Shore is where you'll find most of it due to region's history of pineapple fields operated by Dole Plantation and the sugar cane operated by the old Waialua Sugar Mill. Living in Pupukea will offer cooler, hillside living with lush green landscapes that sit just above the Shark's Cove & Foodland Pupukea. The Sullivan Estate is one of most notable properties in the area as it was host to Elvis Presley on many Hawaiian vacations.
Resort Living
Located within Turtle Bay Resort zoning that allows for legal vacation rental of your North Shore home.
Kuilima West, Kuilima East, Oceanvillas at Turtle Bay
Entry-Level
Suburban, starter homes with smaller lots.
Waialua, Haleiwa, Kahuku, Laie, Punaluu
North Shore, Hawaii FAQ's
Page Guide: North Shore Listings | Market Insights & Trends | Best Neighborhoods | The Lifestyle | FAQ's | Contact Us | Create An Account
Where is North Shore, Hawaii?
Asking what island is North Shore on is a little ambiguous as each island has their own North Shore, but none quite as notorious as Oahu! Reference the North Shore Map below and you will se the boundary lines of the region spanning Ka'ena Point, past Kawela Bay, and on to Kualoa Ranch. The Kahuku, Laie, and Punaluu regions also fall within the North Shore territory but not in the sense of how we identify it when speaking about the "wave-havens" of the region. Within the North Shore area, you will find the Dole Plantation, Waimea Bay, and the Ko'olau Mountains bridging the center.
How Far is North Shore from...
Waikiki | 33 Miles | 48 Minutes
Honolulu Airport (Daniel K Inouye Airport | 26 Miles | 35 Minutes
Metro Honolulu | 30 Miles | 45 Minutes
Schofield Barracks Army Base Hawaii | 9 Miles | 19 Minutes
*All of the above is assuming ideal traffic conditions.
What is living in North Shore Oahu like?
Life in the North Shore is laid back, as you may observe by the lack of patrons wearing shoes in the shops and sidewalks of Haleiwa. Life here is slow. Although it is home to surf bums and retired millionaires alike, it lacks the social hierarchy. There are a high number of Mormon residents on the North Shore due to its proximity to Brigham Young University in Laie.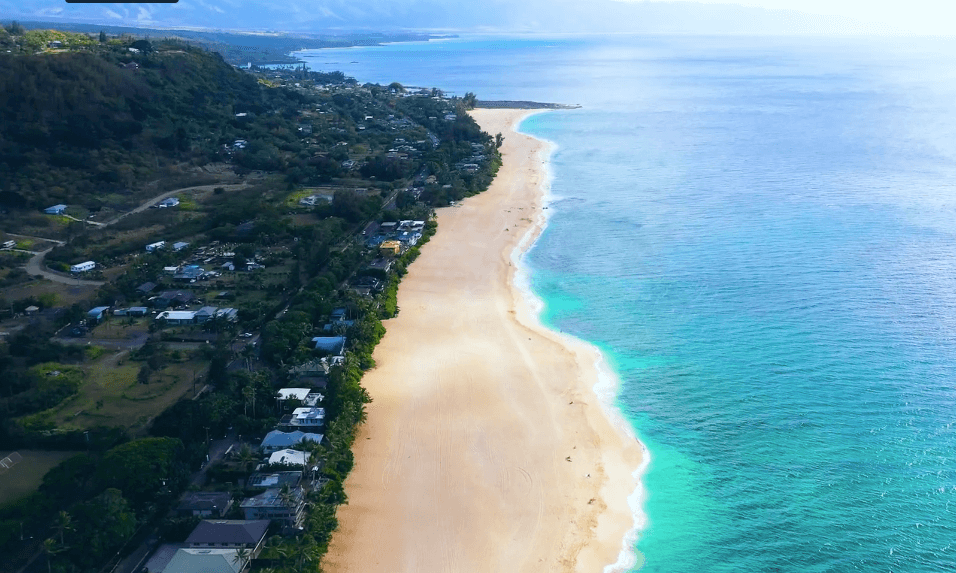 Like most Hawaii locals, residents are easy going and warm. The spirit of aloha is alive here. The people who call the North Shore home plan their days around peak surf times and talking story with friends. Food trucks are prized for their fresh local eats over the upscale restaurants of Honolulu. You will almost never hear honking cars and traffic stops to let pedestrians get by (surfboards in tow).
Throwing shaka is the de facto greeting, and you will be welcomed as long as you respect the land. Due to its remote proximity, you will find that prices in stores are higher than what you will find in Honolulu. Throughout Hawaii, tourism is the main economic driver. Many local people find employment in relation to the tourism industry.
The North Shore is usually synonymous with surfing, however, this is a relatively recent development. Before the 1980's surfing was considered too dangerous. However, Surf legends like Eddie Aikau changed attitudes, ushering in the era of big wave surfing.
How far is the North Shore from Honolulu?
Haleiwa, Hawaii is located 30 miles north of Honolulu. The fastest way to get to the North Shore from Honolulu is to take I-H-2 S and I-H-2 E, through the center of Oahu, arriving in about 45 minutes. The other option is to take the more scenic Windward coastline through Kailua which could take anywhere from 1-2 hours. It's best to arrive early to beat the traffic.
What is the weather like in North Shore Oahu?
With temperatures around eighty degrees year-round, you can enjoy 365 days of sun and surf. North Shore weather will see cool breezes from the tradewinds coming off of the see so you should rarely feel overheated. This also offers the opportunity to save on A/C costs by opening windows to allow the breeze through on hotter days. Winter months bring more rain, and it rains almost every day. Although rains rarely last more than a few minutes, floods in the winter are not unheard of.
What to do in North Shore Oahu
If you are an ocean lover you will never run out of things to do in North Shore, Oahu. In contrast to the monster waves of winter, in the summertime, the waves smooth out and provide excellent conditions for swimming or snorkeling. Fill your days with sun and surf or spend an afternoon browsing through Haleiwa's trendy shops and galleries. The "7 Mile Miracle" is the most famous stretch of the North Shore coast. Running from Sunset Beach to Haleiwa Beach Park, this area includes Waimea, Pipeline, and other famous surfing beaches.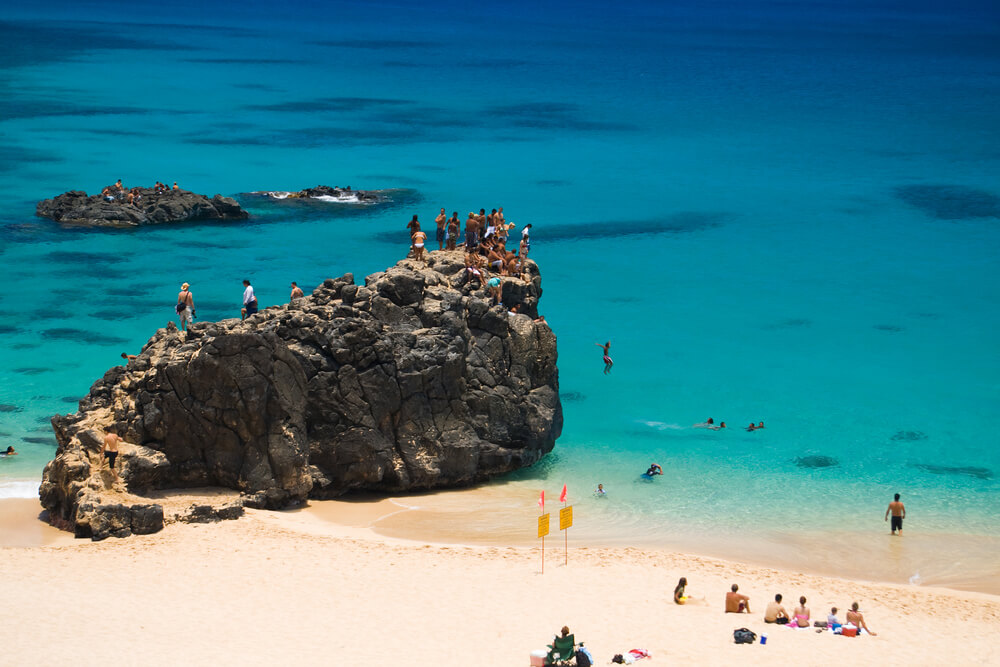 Waimea Bay | Located past Haleiwa beach and across from Waimea Falls, this legendary beach is known amongst surfers as the top surf spot in the North Shore. Extending through the middle you will find "Da Rock" a popular spot for cliff jumping. Home to The Eddie Big Wave Invitational.
Polynesian Cultural Center | Arguably the top tourist attraction on Oahu. Immerse yourself in Hawaiian and Polynesian Culture for a theatrical luau that dives deep into the history of Ancient Polynesians and the origins of their island homes and people.
Waimea Valley | If you are interested in discovering native foliage, Waimea Valley offers over 5,000 tropical plants. Across the street from Waimea Bay, this tropical reserve is situated on 1,500 acres of land. Enjoy family-friendly cultural activities including talk story hour, hula, and ancient Hawaiian crafts.
Waimea Falls | Within Waimea Valley catch a glimpse of Waimea Falls, a picture-perfect waterfall surrounded by the verdant foliage of the rainforest. Only a short walk from the entrance swimming is allowed in the pools of the falls.
Alii Beach Park | One of the best spots for swimming in the North Shore. Due to the shallow beach, Alii Beach Park is a kid-friendly post. Great for first-time surfers and a favorite amongst local families. You will often find a keiki (kids) surf competition here with families cheering them on from the beach.
Dole Plantation | One of Oahu's most renowned tourist destinations with fun for the whole family. Check out the pineapples maze!
---
Living in North Shore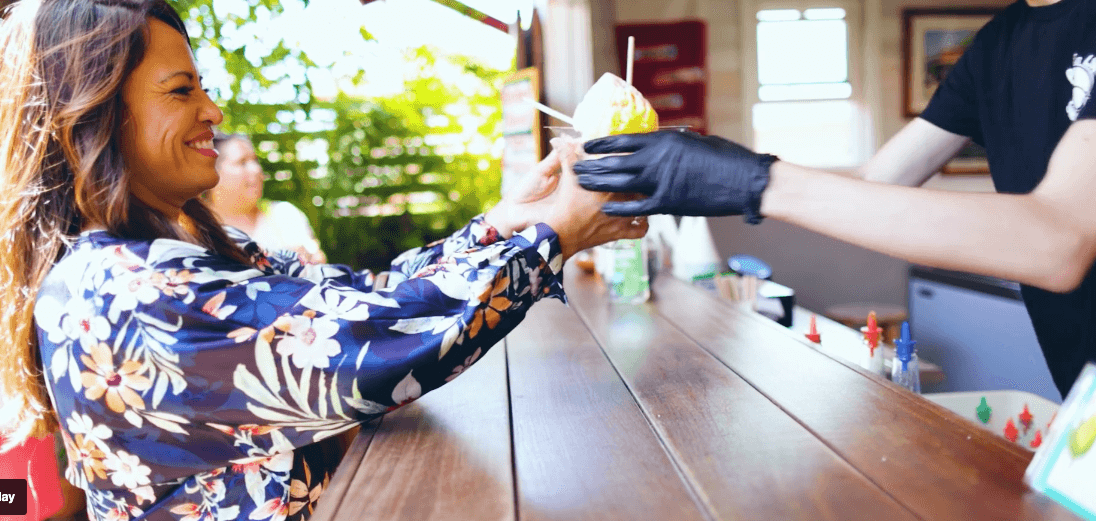 Shopping in North Shore, Hawaii
When shopping for souvenirs or food, the variety of shops and grocery stores make it easy to find what you need. With most of the stores located within the main Haleiwa strip and ample parking, shopping is a seamless experience. However, you will find that prices here are more expensive than Honolulu. Many noted galleries are situated on the Haleiwa strip featuring local artists' wares. More budget-conscious North Shore residents find themselves making weekly trips to Honolulu to stock up on essentials at more affordable prices.
Grocery & Drug Stores
Haleiwa Farmers Market | 59-864 Kamehameha Hwy, Haleiwa, HI 96712 | A North Shore staple. Outdoor market happening Thursdays from 2:00-6:00 rain or shine. Vendors ranging from organic farmers to artists with accompanying live music.
Celestial Natural Foods | 66-443 Kamehameha Hwy, Haleiwa, HI 96712 | Family-owned organic grocery. Offering a variety of bulk and vegetarian offerings. All items are non-GMO. Other highlights include reef-safe sunscreens, essential oils, and natural beauty products.
Foodland | 59-720 Kamehameha Hwy, Haleiwa, HI 96712 | Hawaii based supermarket chain. Excellent place to pick up fresh produce and locally caught sushi.
Malama Market | 66-190 Kamehameha Hwy, Haleiwa, HI 96712 | Independent chain with stores throughout Hawaii. Providing produce and other grocery items. Highly rated for their ready to eat offerings including poke and spam musubi.
Pet Stores
Feed Trough Inc | 67-292 Goodale Ave, Waialua, HI 96791 | Independent store stocking livestock feed & supplies, plus dog and cat food necessities.
Hardware Stores
Pioneer Ace Hardware | 66-134 Kamehameha Hwy, Haleiwa, HI 96712 | Hardware store with tools, homeware, and outdoor essentials. Otherwise, you'll need to make the drive to Honolulu for larger retailers.
Beach Rentals
Surf N Sea | 62-595 Kamehameha Hwy, Haleiwa, HI 96712 | Shop offering surf lessons, rentals, ocean kayaking tours, and scuba diving supplies. If you want to embrace the local music scene, you can purchase a ukulele made of 100% recycled wood.
North Shore Surf Shop | 66-150 Kamehameha Hwy, Haleiwa, HI 96712 | Find deals on surf rentals and gear here. Board rentals start at $15 for 24 hours with car straps included. Great selection of locally designed tees as well.
What are the best restaurants in North Shore, Oahu?
There's plenty of restaurants on the North Shore but the region is famous for its food truck scene where you will find a plethora of fresh local options. It wouldn't be a trip to the North Shore without a plate of garlic shrimp or shave ice. With so many food trucks to choose from, you won't run out of tasty options.
Matsumoto Shave Ice | 66-111 Kamehameha Hwy #605, Haleiwa, HI 96712 | Families from all over Oahu will make the drive to the North Shore for this legendary spot. Expect long lines. Delicious combinations and affordable pricing.
Giovanni's Shrimp Truck | 66-472 Kamehameha Hwy, Haleiwa, HI 96712 | Well known joint with a variety of plate lunches. Locals' favorite is garlic shrimp with a side of rice.
Killer Tacos Inc | 66-560 Kamehameha Hwy # 1, Haleiwa, HI 96712 | Over the counter tacos with a well air-conditioned atmosphere. Hands down the best Mexican offering in the North Shore.
Haleiwa Joe's | 66-011 Kamehameha Hwy, Haleiwa, HI 96712 | Casual spot with a beach theme and great views. Located on the Haleiwa strip, this spot offers fresh seafood dishes and steak alongside cocktails.
Sprout Sandwich Shop | 66-526 Kamehameha Hwy, Haleiwa, HI | Best tasting sandwiches on the North Shore. Healthy ingredients in hearty and light combinations.
The Beet Box Cafe | 66-437 Kamehameha Hwy, Haleiwa, HI | Lunch post with organic and vegan options. A menu featuring burritos, salads, smoothies, and plenty of avocado options. This place will give you the energy to spend hours surfing.
Haleiwa Beach House | 62-540 Kamehameha Hwy. Haleiwa, HI 96712 | Local favorites, seafood, and two bars oriented over an upstairs and downstairs dining area. Great spot if you want to sit in open air on the restaurant's deck to enjoy a bite!
How's the public transportation?
Accessing the North Shore via Honolulu is limited. The only public transportation is the Honolulu Bus system. With many stops, the bus trip takes anywhere from 2-3 hours. Bus numbers 52 and 55 run from Ala Moana to the North Shore daily. It is recommended that visitors rent a car. Turo offers affordable options with listings from local car owners. Bus 88A runs throughout the North Shore, starting in Pearl City running through Turtle Resort and back to Ala Moana.
Is there a Hospital in North Shore Oahu?
There is a Family Health Center in Haleiwa as well as a Medical Center in Kahuku. The closest hospital, Wahiawa General Hospital, is located about 30 minutes south. In addition to this, there are two dental clinics located within Haleiwa in case you need teeth cleaning.
Are there Hotels in North Shore, Oahu, Hawaii?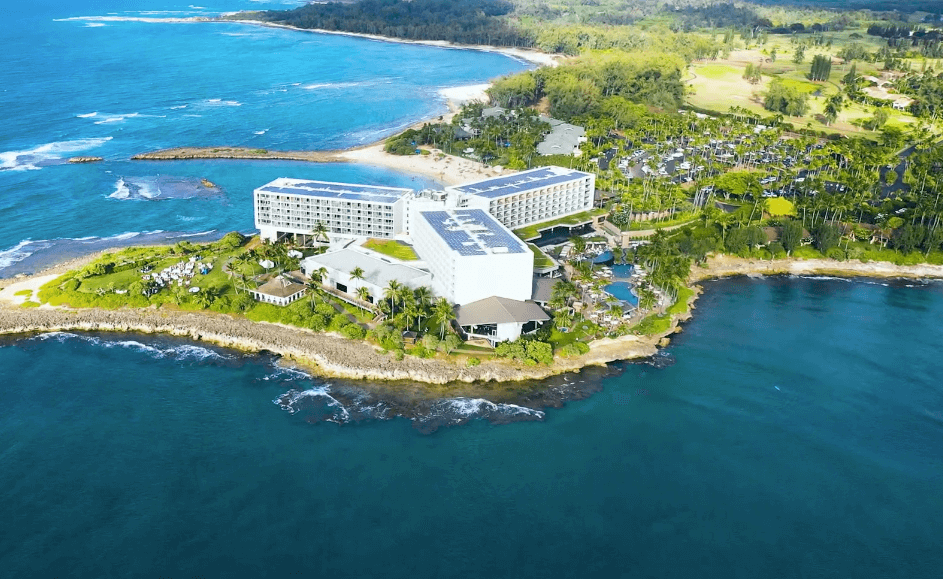 North Shore Hotels are limited and that's just the way the locals want to keep it. This is why the North Shore quickly rose to becoming Oahu's hotspot for vacation rental activity on AirBnb and VRBO. However, the North Shore, Oahu vacation rental market is currently under attack by Bill 89 that was introduced in 2019, introducing strict penalties on illegal vacation rentals on Oahu. There are many vacation rentals on the North Shore still available, but it's a very fluid environment and you may see this change. Here's the options we're confident in:
Turtle Bay Resort | 57-091 Kamehameha Hwy, Kahuku, HI 96731 | Mainstay resort located in Kahuku. Set on 850 acres overlooking Kuilima Cove. High-end atmosphere in the several hundred dollars per night price range. Luxury amenities and sweeping ocean views.
Kuilima Estates | Within Turtle Bay Resort, these condos are privately owned and may have recently received approval to operate legal North Shore vacation rentals due falling in resort jurisdiction.
Kalani Hawaii Private Lodging | Kamehameha Hwy Haleiwa, Oahu, HI 96712 | Located across from Sunset Beach, this boutique lodging is privately owned by "Uncle Bernie and Aunty Maria". With rave hospitality reviews of, you will feel right at home. It offers a large lanai and comfortable common area to socialize with other guests.
History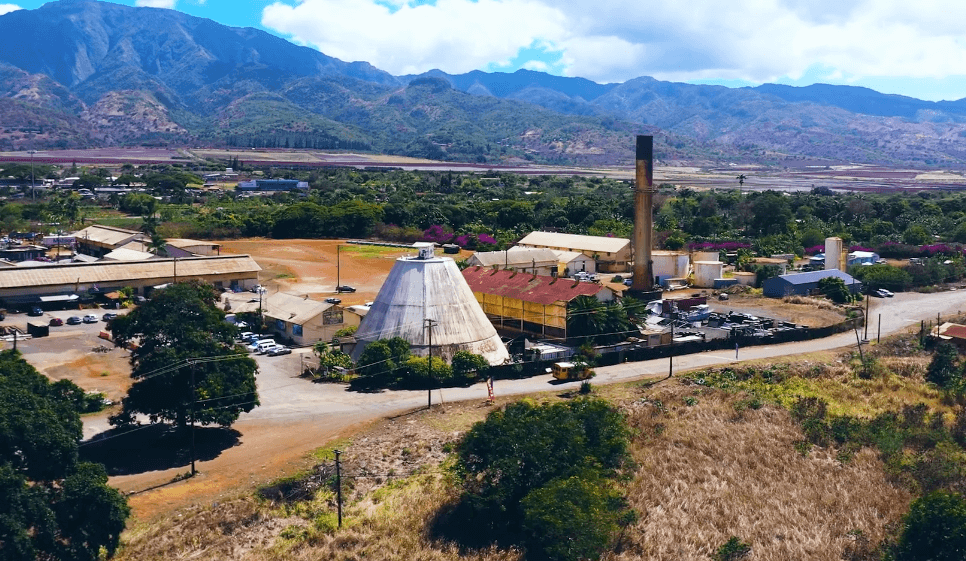 North Shore residents pride themselves on maintaining the area's rural charm and remain ardently anti-development, as depicted by the "Keep the Country Country" bumper stickers on many cars. Although many development projects have been proposed, they are always met with objections from locals.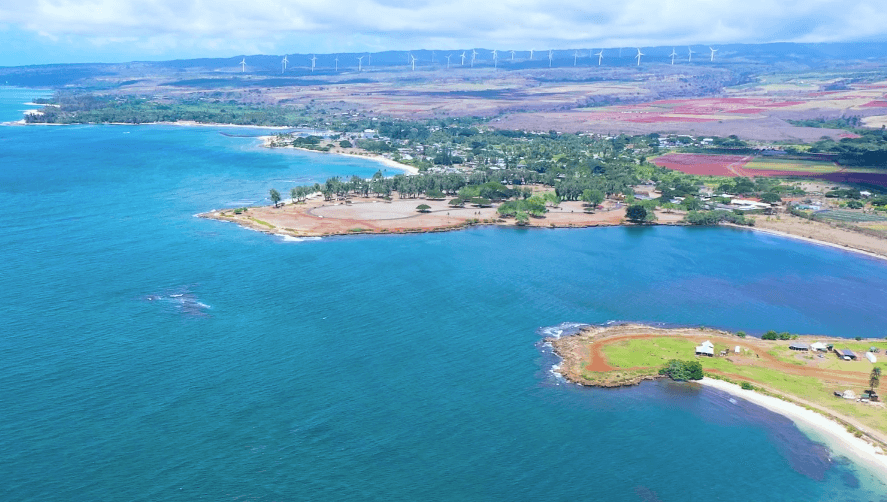 As ancient Hawaiians began to migrate from the Big Island and Oahu, the North Shore became the new home of agricultural communities. Drawn to the area for the rich soil, taro and sweet potato became staple crops. Near the beginning of the 20th century, Benjamin J. Dillingham assembled a railroad, sugar mill, and "Hawaii's finest hotel" the Hale'iwa Hotel. Haleiwa, in Hawaiian means house of the iwa bird. This resort became a favorite of Honolulu's elite looking for a weekend getaway. Although neither the hotel nor railroad exists today, several other buildings from the early businesses of Haleiwa still stand.
North Shore Schools
The North Shore has both public and private schools options but the distance from some the best Private Schools in Oahu is one of the internal struggles we our clients wrestle with when considering a house on the North Shore. The schools listed below are Top Rated according to Greatschools.org
NORTH SHORE PK-ELEMENTARY SCHOOLS
Laie Elementary School | 55-109 Kulanui St, Laie, HI, 96762 | Public district, PK-6 | 669 students
Waialua Elementary School | 67-020 Waialua Beach Rd, Waialua, HI, 96791 | Public district | PK-6 | 548 students
Haleiwa Elementary School | 66-505 Haleiwa Rd, Haleiwa, HI, 96712 | Public district, PK-6 | 224 students
Kahuku Elementary School | 56-170 Pualalea St, Kahuku, HI, 96731 | Public district | PK-6 | 425 students
Sunset Beach Elementary School | 59-360 Kamehameha Hwy, Haleiwa, HI 96712 | Public district | PK-6 | 443 students
Hauula Elementary School | 54-046 Kamehameha Hwy, Hauula, HI |96717 Public district | PK-6 | 343 students
NORTH SHORE MIDDLE SCHOOLS
Kahuku High & Intermediate School | 56-490 Kamehameha Hwy, Kahuku, HI | 96731 Public district | 7-12 | 1,390 students
Waialua High & Intermediate School | 67-160 Farrington Hwy, Waialua, HI, 96791 | Public district | 7-12 | 673 students
Kamalani Academy | 1403 California Ave, Wahiawa, HI, 96786 | Public charter, PK-8 | 286 students
NORTH SHORE HIGH SCHOOLS
Kahuku High & Intermediate School | 56-490 Kamehameha Hwy, Kahuku, HI, 96731 | Public district, 7-12 |1,390 students
Waialua High & Intermediate School | 67-160 Farrington Hwy, Waialua, HI | 96791| Public district, 7-12 | 673 students
How far is North Shore to Waikiki?

North Shore is approximately 40 miles from Waikiki. Depending on traffic, the drive can take anywhere from an hour to an hour and a half.
How much does it cost to go to Waimea Falls?
As of my knowledge cutoff in September 2021, the admission fee for adults to Waimea Valley, where Waimea Falls is located, is $20. For accurate and updated information, please visit the official Waimea Valley website.
Where is the prettiest water in Hawaii?
Hawaii has many locations with beautiful, clear water. In Oahu's North Shore, Waimea Bay and Lanikai Beach are renowned for their stunning turquoise waters.
Is North Shore worth going to?
North Shore is definitely worth a visit for its world-class surfing, stunning beaches, laid-back atmosphere, and unique local culture. Whether you're an adventure-seeker or just want to relax and enjoy the natural beauty, North Shore has something to offer.
What is North Shore Hawaii known for?
North Shore Hawaii, particularly in Oahu, is world-renowned for its incredible surfing opportunities. It's home to famous surf spots like Sunset Beach, Waimea Bay, and the Banzai Pipeline. In winter, these beaches host prestigious international surfing competitions, attracting professionals and spectators alike.
Is North Shore Oahu worth visiting?
Absolutely! North Shore Oahu is a must-visit for not only surf enthusiasts but also those who appreciate natural beauty, relaxed vibes, and unique cultural experiences. Its stunning beaches, delicious food trucks, charming old-town Haleiwa, and sea turtle sightings make it a memorable destination.
What is considered the North Shore in Oahu?
In Oahu, the North Shore typically refers to the area between Ka'ena Point in the west and Kahuku Point in the east. It includes renowned locations like Haleiwa, Waimea Bay, Banzai Pipeline, and Sunset Beach.
How many days should I stay in North Shore Oahu?
The number of days to stay in North Shore Oahu largely depends on your interests. However, a 2-3 day stay is generally sufficient to explore key attractions like the beaches, Haleiwa town, and the Dole Plantation, and even enjoy some outdoor activities like hiking, surfing, or snorkeling.
What is the most famous North Shore Beach in Oahu?
The most famous North Shore Beach in Oahu is arguably the Banzai Pipeline. Known for its powerful waves and hollow tubes, it's a hotspot for professional surfers around the world, especially during the winter months when the surf swells peak.
What is the best time of year to visit North Shore Hawaii?
The best time to visit North Shore Hawaii depends on what you want to do. If you're a surf enthusiast, winter (November to February) is best as the waves are most powerful. However, for calmer waters and activities like swimming and snorkeling, summer (May to September) is ideal.
How long does it take to get from North Shore Oahu to Waikiki?
The drive from North Shore Oahu to Waikiki takes about 1 to 1.5 hours, depending on traffic and the exact start and end points of your journey.
Can you swim in North Shore Oahu?
Yes, you can swim in North Shore Oahu, particularly during the summer months when the ocean is typically calmer. Always heed local advice and warning signs, as winter months can bring powerful waves and strong currents, especially at surfing beaches.
Do I need a car in North Shore Oahu?
While it's possible to get around North Shore Oahu using public transport or taxis, having a car provides more flexibility and convenience, especially if you plan to explore various sights spread across the region.
What is the hippie town in North Shore Oahu?
Haleiwa is often referred to as the "hippie town" in North Shore Oahu. With its laid-back vibe, art galleries, surf shops, local boutiques, and eateries serving organic and vegan food options, it's a haven for those seeking a bohemian atmosphere.
Do you see whales on North Shore Oahu?
Yes, during the winter months (December to April), you can often see humpback whales off the coast of North Shore Oahu. There are many whale watching tours available, or you can spot them from the shore with a good pair of binoculars.
Where can you see sea turtles on the North Shore Oahu?
Sea turtles, particularly the green sea turtles, can often be seen on many beaches in North Shore Oahu. Laniakea Beach, also known as Turtle Beach, is one of the most popular spots for turtle sightings.
What is the history of North Shore Oahu?
Ko'olauloa is the traditional name for half of O'ahu's North Shore. This district runs from Kawela Bay
near Kahuku Point, the northernmost point of the island, to Waimea, famous for its beaches' surf break
and its adjacent verdant valley. The other half of the North Shore's traditional name is called Waialua,
from just past Waimea at Kapaeloa out to the furthest west at Ka'ena Point.

This coast is infamous for its iconic surf spots from Kawela Bay, to Paumalū (Sunset Beach), 'Ehukai
(Banzai Pipeline) and legendary Waimea Bay. However, let's explore the cultural significance of O'ahu's
North Shore.

Perched high above Pūpūkea is Pu'u o Mahuka Heiau, a temple dating back to the 1600s dedicated to
human sacrifice. Accompanied by chants and prayers, offerings were made to the gods for success in
war. The temple was used until 1819 when the ancient religion was eliminated by the ruling chiefs, but
the site was always used as a lookout for visiting or warring canoes making their way from the island of
Kaua'i. Pu'u o Mahuka Heiau State Historic Site is open to the public, but please visit respectfully.
Waimea Valley, known as the "Valley of the Priests," was once home to the Kahuna Nui, or greatest of
priests for over a thousand years.

A kahuna is an expert in their respective field, a scientist, a healer, a
revered member of society. After King Kamehameha I added O'ahu to his growing kingdom in 1795, he
gifted the valley to his own kahuna known as Hewahewa Nui. Today Waimea Valley is a cultural and
botanical resource open to visitors.

Moving along the coast, we encounter Laniākea Beach, most famous for the sunbathing honu, or
Hawaiian green sea turtles. The true name of this stretch of beach is Kūkae'ōhiki. It refers to the little
piles of sand left by crabs' holes that resembles excrement scattered across the shore. Laniākea was the
name of the Thurston home that stood nearby, a family affiliated with the illegal overthrow of the
Hawaiian Kingdom. When visiting, keep a safe distance from the honu and direct all your questions to
volunteers with Mālama I Nā Honu there at the beach.

As we enter Hale'iwa from the east, you will see a large body of water across from Hale'iwa Beach Park.
This brackish (mixture of fresh and salt water) pond is an ancient Hawaiian fishpond called Loko Ea. An
amazing team of staff and volunteers continue to maintain the fishpond and volunteer opportunities can
be found at https://www.lokoea.org/hololea.html.

Just beyond Loko Ea, we cross the 'Anahulu Bridge erected in 1921, to the site that was once the
Hale'iwa Hotel, now Hale'iwa Joe's Restaurant. The Hotel dates to 1899, predating the hotels built in
Waikīkī. Prior to the hotel's erection, the area was undeveloped. If it weren't for the hotel, the retail and
residential neighborhoods of Hale'iwa would not exist. The name translates to "house of the 'iwa." The
'iwa is a frigate seabird that can be seen soaring over the bay looking for their next meal.
From the hustle and bustle of Hale'iwa town, we pass through the neighborhoods of Mokulē'ia and
Waialua. An indication of the rich resources in this area, Mokulē'ia translates to, "isle of abundance."

This is also the birthplace of iconic and influential Hawaiian historian Samuel Mānaiakalani Kamakau.
Last stop on our journey is Ka'ena Point, a very sacred site and most westerly site on the island of O'ahu.
Today Ka'ena Point State Park is the entry point to Ka'ena Point Natural Area Reserve, a sanctuary for
seabirds such as Wedge-tailed Shearwaters and Laysan Albatross. Hawaiian legend says that this was a
"jumping off" point for spirits in ancient times. A leina a ka'uhane, or "leap of the spirit or soul" is a site that draws recently departed spirits to "leap" into the next realm, transitioning from this existence to the next.
The North Shore of O'ahu was and is an important part of this vibrant island. Rich in natural and cultural
resources, it's the perfect place to live or visit.