Welcome to the dynamic world of the Waikiki real estate market, the long famed "pulse" of Honolulu that effortlessly combines the allure of tropical paradise with the convenience of urban living. This iconic neighborhood, famous for sun-drenched Waikiki Beach, views of Diamond Head crater world-class shopping, and a multitude of dining options, offers diverse investment opportunities ranging from upscale beachfront condos to mid-range apartments and boutique properties. guide delves deep into the intricacies of this unique Honolulu real estate market, providing you with valuable insights and detailed analyses that will help you navigate and understand your Waikiki condo options.
---
Living in Waikiki
Once a playground for Hawaiian royalty, Waikiki, which translates to "spouting waters," is now a vibrant neighborhood located on the South Shore of Honolulu, known worldwide for its stunning beaches and bustling city life. It's a unique fusion of local Hawaiian culture and global influences, making it a melting pot of different ethnicities, cultures, and traditions.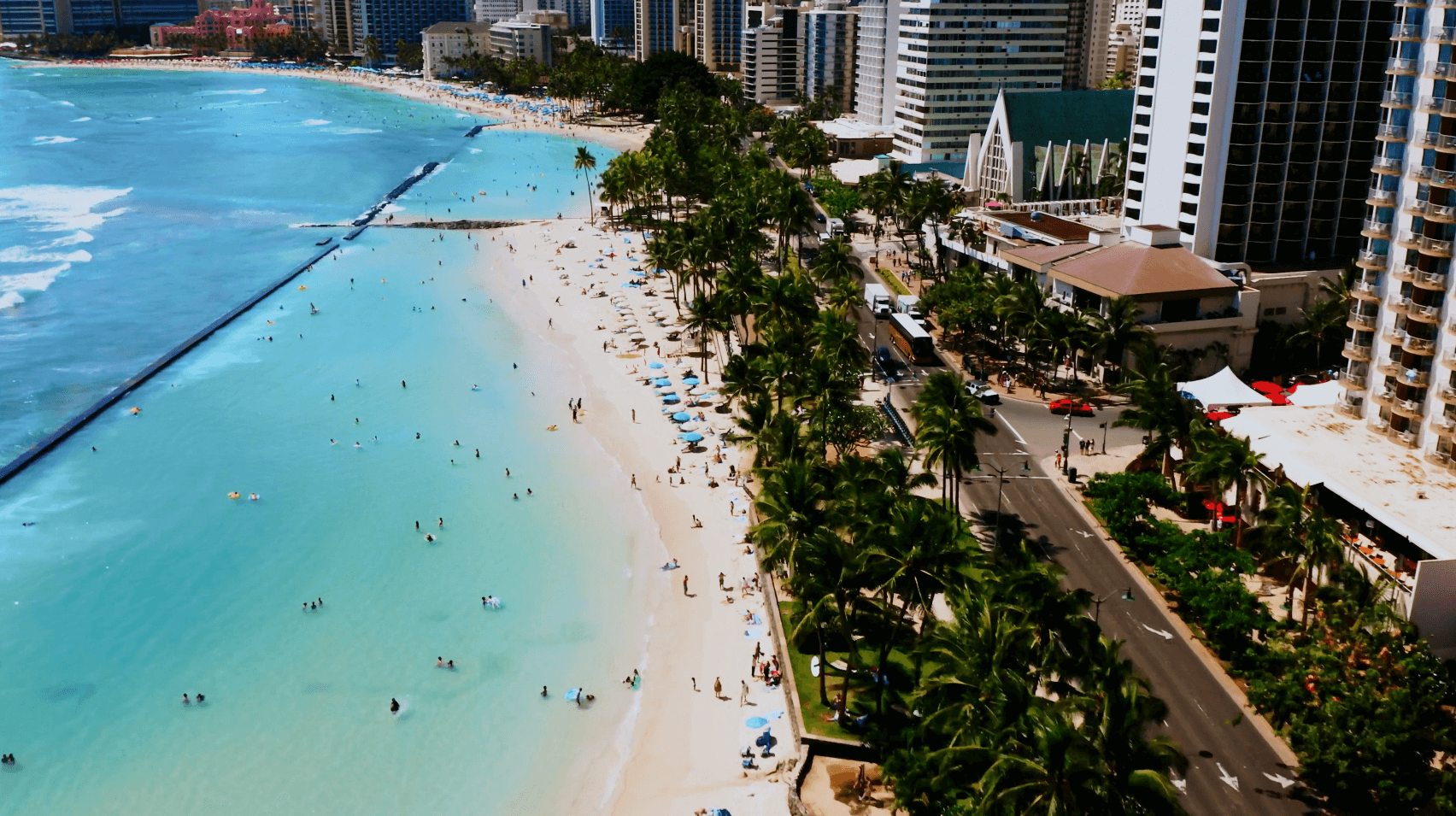 Living in Waikiki offers the allure of beachfront living combined with the convenience of a city lifestyle. Despite its reputation as a vacation hotspot, it's also a residential area filled with a range of housing options, from luxury condos overlooking the Pacific Ocean to quaint apartments just a few blocks from the beach. It's an ideal location for those seeking a vibrant, urban lifestyle within a stone's throw from the beach. Living in Waikiki isn't for everyone though. Here's 5 reasons Why and Why NOT to move to Waikiki to help you determine if its right for you.
What Waikiki is known for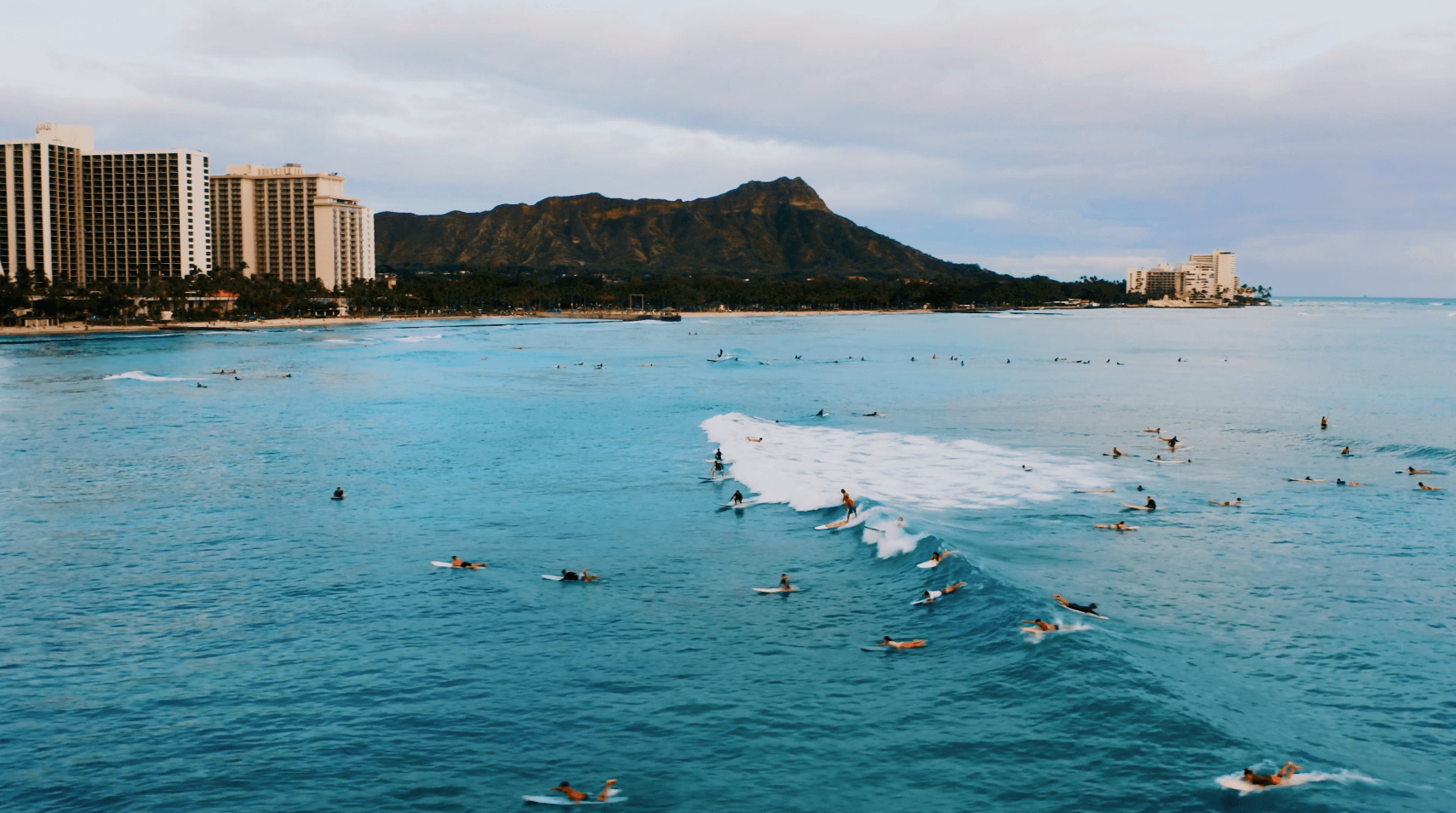 Waikiki is famously known for its beautiful stretch of beaches, including the world-renowned Waikiki Beach. It's an iconic destination for surfers, beach-goers, and vacationers alike, offering warm, gentle waters and soft golden sand.
The neighborhood is also known for its high-end shopping destinations like the Royal Hawaiian Center and the Waikiki Shopping Plaza. Here, one can find everything from designer boutiques, trendy retail outlets, to locally made products.
Location of Waikiki and Proximity to Key Places
Waikiki is nestled between the Ala Wai Canal and the Pacific Ocean, just east of downtown Honolulu. It's about 10 miles from Daniel K. Inouye International Airport, which is approximately a 25-minute drive without traffic but can extend up to 40 minutes during rush hours.
Honolulu Downtown: 3 miles (10 minutes)
Pearl Harbor: 13 miles (30-40 minutes)
North Shore: 40 miles (1 hour)
Honolulu airport: 12 miles (25-35 minutes)
Things to Do in Waikiki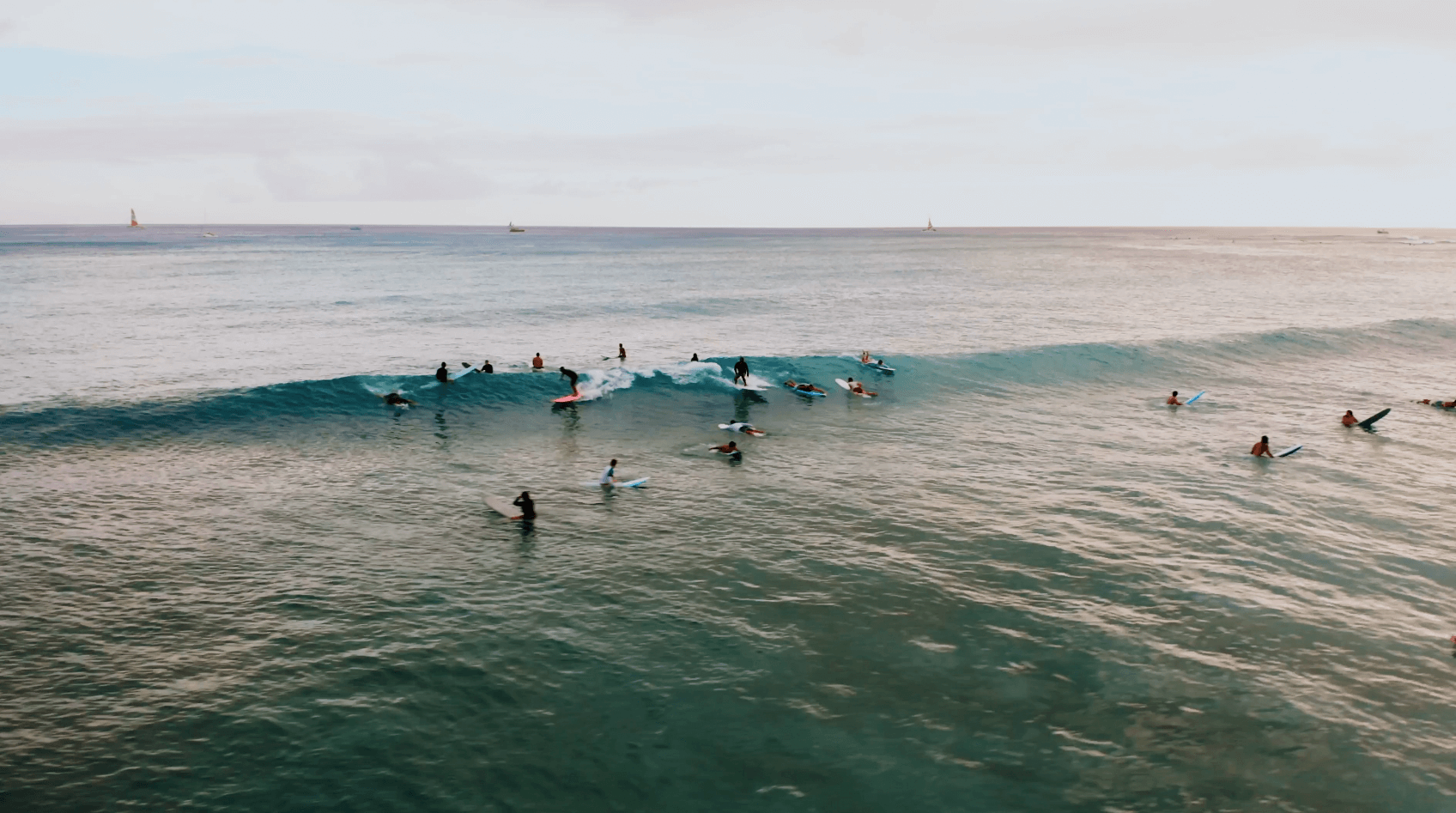 Waikiki is a hub of activities and experiences. You can learn to surf, paddleboard or kayak in the warm ocean waters or take a leisurely stroll along the Waikiki Historic Trail.
For history buffs, the U.S. Army Museum of Hawaii and the Duke Kahanamoku Statue are must-visits. Hike up to the Diamond Head State Monument for a panoramic view of the coastline or enjoy the lively street performances along Kalakaua Avenue.
Popular Restaurants in Waikiki
Foodies will be spoiled for choice in Waikiki, which boasts an array of dining options to cater to all tastes and budgets. Duke's Waikiki offers a taste of traditional Hawaiian cuisine in a beachfront setting, while Marukame Udon serves up delicious, freshly made Udon noodles. The Cheesecake Factory and Eggs 'n Things are also local favorites.
Weather in Waikiki
Waikiki experiences a tropical semi-arid climate, with ample sunshine throughout the year. The temperatures typically range between 65°F to 90°F, making it an ideal location for sun-seekers and beach lovers. Rainfall is moderate and primarily occurs during the winter months.
Healthcare
Waikiki is well-served by a range of quality healthcare facilities ensuring residents have easy access to medical services.
The Queen's Medical Center, the largest private hospital in Hawaii, is located just a few miles away in downtown Honolulu, providing a full range of services from emergency care to specialized treatments.
Straub Medical Center, a part of the Hawaii Pacific Health's network, is also within easy reach and is renowned for its excellence in bone health, cancer, cardiovascular and women's health services.
Moreover, Kapiolani Medical Center for Women and Children, Hawaii's only maternity, newborn, and pediatric specialty hospital, is situated nearby. For routine check-ups and non-emergency healthcare needs, numerous clinics and health centers are sprinkled throughout the area, including the Waikiki Health Center which offers comprehensive healthcare services to individuals and families regardless of their ability to pay.
Schools in Waikiki
There are several schools serving the Waikiki area, including President Thomas Jefferson Elementary School, Kaimuki High School, and Iolani School, a private K-12.
Waikiki Borders Ala Moana & Kapahulu Neighborhoods

Waikiki's unique charm can be juxtaposed against its border neighborhoods of Ala Moana and Kapahulu, each possessing distinctive features that make them stand apart.
Ala Moana, directly to the west of Waikiki, is famous for the Ala Moana Center, the world's largest outdoor shopping center. It offers an impressive array of high-end boutiques, department stores, and dining options, presenting an urban contrast to Waikiki's beachfront setting. The neighborhood also features Ala Moana Beach Park, a local favorite for picnicking, surfing, and taking in the beautiful views of Diamond Head and downtown Honolulu.
Kapahulu, on the eastern border, offers a more residential and local vibe compared to the tourist-centric ambiance of Waikiki. Here, the quaint bungalows and small-town feel provide a stark contrast to Waikiki's high-rise condos and bustling streets. Kapahulu Avenue, the main drag, is lined with diverse eateries, from local diners serving plate lunch, sushi spots, to contemporary bistros.
Condotels in Waikiki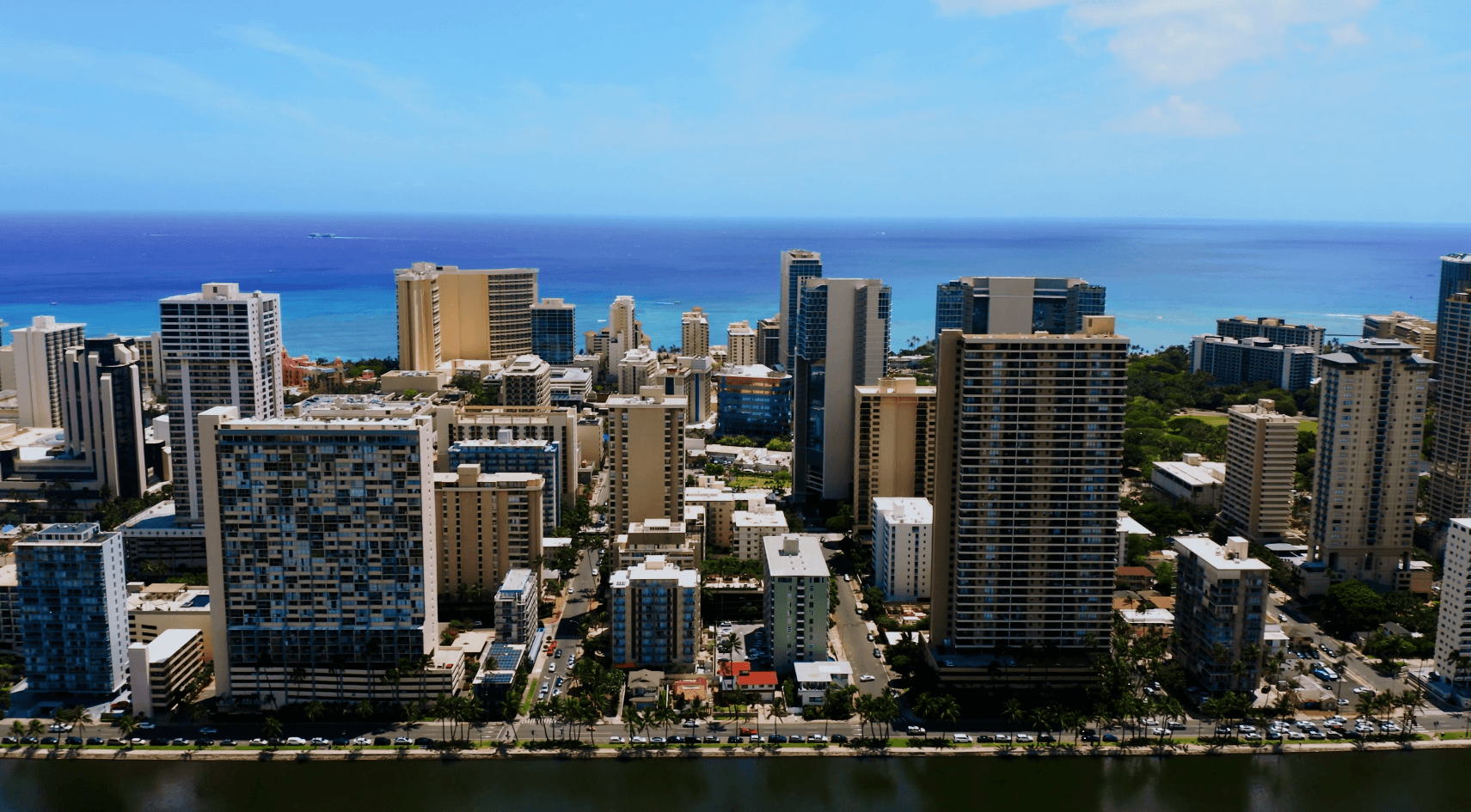 Waikiki is also home to a unique sector of real estate: condotels. Melding the world of condominium living with hotel-like amenities, condotels present an appealing investment opportunity. As one of the only neighborhoods in Oahu where legal short-term rentals are permissible, Waikiki stands as a prime location for such ventures.
A condotel, as the name suggests, is a fusion of a condominium and a hotel. This blend not only affords owners the ability to live in their units, but also grants them the opportunity to rent out these spaces on a short-term basis, much like hotel rooms. The flexibility offered by this model makes it an attractive option, particularly within a tourist hot-spot like Waikiki.
In the heart of Waikiki, condotels form a substantial part of the real estate landscape, fuelled by the robust demand for short-term accommodations. Most condos in Waikiki are zoned for such rentals, offering vacationers a home-like atmosphere coupled with the luxury of hotel facilities, from room service to swimming pools, fitness centers, and concierge services.
Investing in a Waikiki condotel can be a lucrative endeavor. Given Waikiki's standing as a top-tier tourist destination, the demand for temporary lodgings remains strong throughout the year. As an owner, you have the opportunity to meet this demand by renting out your property, generating a steady income stream while preventing long-term vacancy.
However, while they can be profitable, the condotel market comes with its unique challenges. There are specific rules and regulations governing condotels and managing occupancy and maintenance. Also, obtaining financing for condotel purchases is typically more complex than traditional condos, as many lenders consider these properties as riskier investments.
Nevertheless, the potential rewards of investing in a Waikiki condotel can be appealing. Whether you're drawn to the allure of resort-style living or the potential of a steady rental income, condotels provide an unparalleled opportunity to capitalize on the thriving tourism industry of Waikiki.
Before making any real estate investment, thorough research and due diligence are paramount. Understanding the nuances of the condotel market, from legalities to market trends, can guide your decision-making and optimize your investment potential.
Waikiki, where beach-side living meets urban excitement, is truly the heart of Hawaii's condotel market. Promising a blend of residential convenience and resort-style luxury, condotels encapsulate the unique appeal of Waikiki living, investment, and vacationing. For more comprehensive insights into the world of condotels, from rules and permits to taxes and eligible buildings, we invite you to visit our detailed Guide to Short Term Rentals on Oahu
Popular Waikiki Condos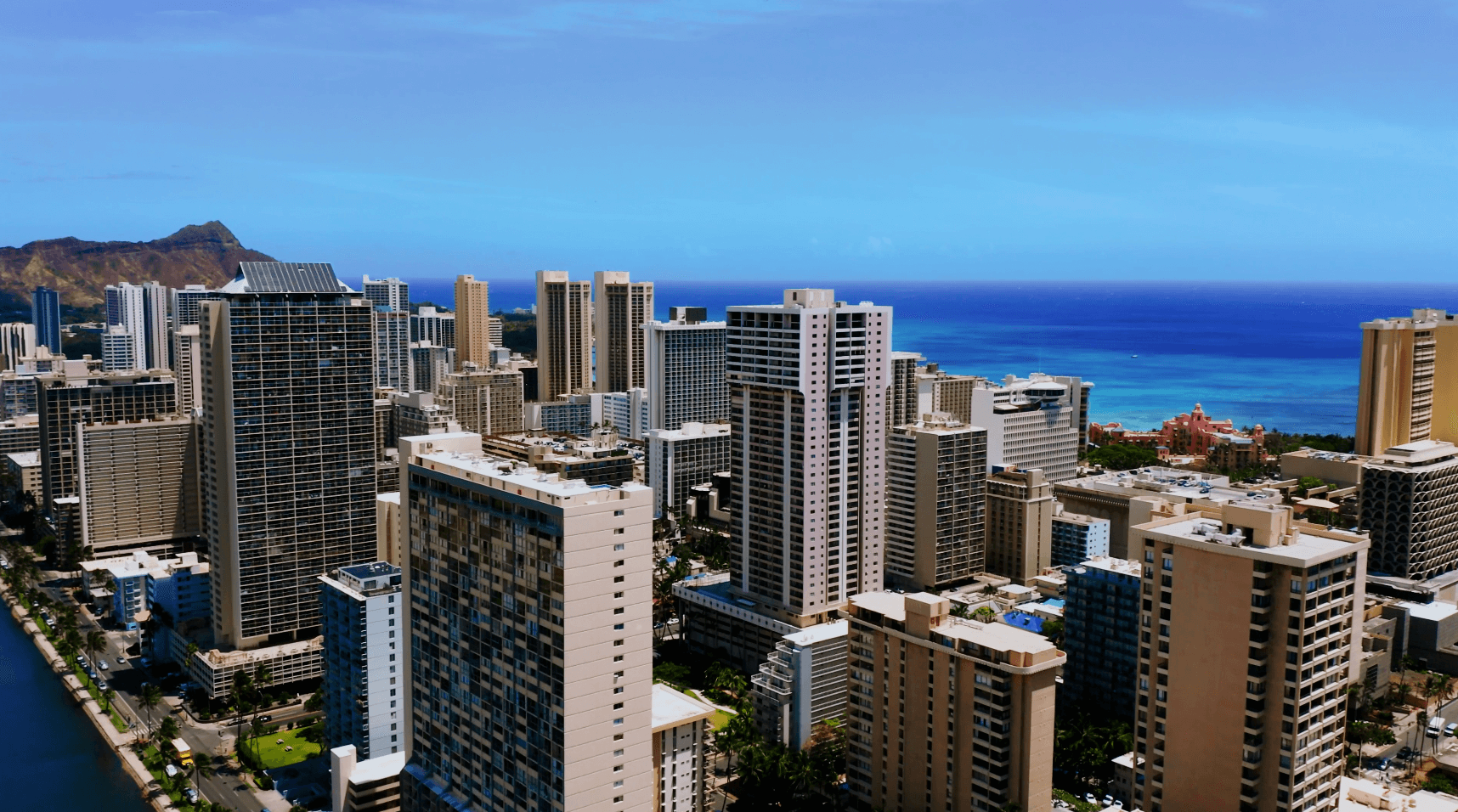 Waikiki is not just renowned for its beautiful beaches and vibrant lifestyle, but also for its diverse and luxurious condominium complexes. Here's a brief overview of some of the top condos you can find in this iconic neighborhood from entry level studio options, legal vacation rental condos in Waikiki, and luxury residences:

Allure: Allure is a high-rise condo with modern design elements and top-tier amenities. It's located at the edge of Waikiki, offering a slightly more tranquil living environment without sacrificing access to the neighborhood's attractions.
The Watermark: Set on a lush 4-acre property, this luxury condo offers resort-like amenities and spacious, well-appointed units. It's located away from the hustle and bustle, yet is just a short walk away from shopping, dining, and the beach.
Trump Tower Waikiki: This luxurious Waikiki condotel high-rise offers world-class hotel concierege services, gourmet restaurants on-site, and extravagant amenities. It is ideally located near the beach and the finest shopping destinations.
Ritz Carlton Waikiki: Offering the ultimate luxury living experience, this 5-star condo hotel in Waikiki provides spacious units with top-notch appliances and finishes, along with a wide range of high-end amenities.
Waikiki Landmark: As its name suggests, this high-rise is an iconic structure in the Waikiki skyline. The building is recognized for its luxurious units, which offer impressive views of the city, mountains, and ocean. Residents can enjoy top-notch amenities, including a pool, a Jacuzzi, and a concierge service, all located near the heart of Waikiki with easy access to beaches, shopping, and dining.
Ilikai Marina: Known as one of Waikiki's most iconic and historic condominiums, the Ilikai Building is a sought-after location for many homeowners. Standing at the gateway to Waikiki, it offers incredible views of the marina and the ocean. This building provides an easy walk to Ala Moana Center, Magic Island, and numerous nearby dining options. The Ilikai is not just a residential building, but also hosts several Waikiki vacation rentals and a hotel, and offers a range of amenities like a rooftop pool, restaurants, and shops within the building itself.
Waikiki HI Condos for Sale
December 3, 2023
$1,141.68
Avg. $ / Sq.Ft.
Waikiki FAQ's
What's the difference between Honolulu and Waikiki?
Honolulu is the capital city of Hawaii located on the island of Oahu, and it includes a wide range of neighborhoods and districts. Waikiki, on the other hand, is a neighborhood within Honolulu, famous for its high-rise resorts, sandy beaches, and vibrant nightlife.
Is Waikiki worth going to?
Absolutely. Waikiki is a must-visit for many due to its iconic beaches, bustling nightlife, diverse dining options, and historical sites. Whether you're a lover of nature, history, or food, there's something for everyone in Waikiki.
Why is Maui better than Oahu?
This is subjective and depends on individual preferences. Some people prefer Maui's more relaxed vibe, beautiful landscapes, and less crowded beaches. Others prefer Oahu's lively city life, rich history, and mix of urban and natural attractions.
Is Waikiki Beach touristy?
Yes, Waikiki Beach is one of the most popular and touristy spots in Hawaii. The area is filled with high-rise hotels, restaurants, shops, and entertainment venues, making it a bustling destination almost any time of the year.
What is the cheapest month to visit Waikiki?
The cheapest months to visit Waikiki are typically during the shoulder seasons of spring (April and May) and fall (September and October). These months are between the high seasons of winter and summer, when fewer tourists tend to visit.
What month is best for Waikiki?
The best month to visit Waikiki really depends on your preferences. For the best weather and least amount of rain, April, May, September, and October are ideal. These months also typically have fewer tourists, making them great for those who prefer less crowded conditions.
How many days do you need in Waikiki?
A three to five-day trip is often enough to experience the best of Waikiki. This gives you time to enjoy the beach, explore the local shops and restaurants, visit historical landmarks, and perhaps even take a short trip to other parts of Oahu.
What month is the cheapest to fly to Hawaii?
The cheapest month to fly to Hawaii is typically in the fall, specifically September and October, just after the summer rush but before the winter holiday season.
What is the rainy season in Waikiki?
The rainy season in Waikiki usually runs from November through March. However, showers are often brief and followed by sunshine, so they shouldn't significantly impact your vacation plans.
Is 4 days enough in Waikiki?
Four days in Waikiki can be enough to hit the highlights including visiting the beach, exploring the dining scene, shopping, and perhaps venturing out on a short day trip to a nearby attraction on Oahu.
What is the best amount of days for Hawaii?
The ideal amount of time to spend in Hawaii varies depending on your interests and the number of islands you wish to visit. However, a week to 10 days is a common recommendation to fully experience one or two islands.
What time of day can you see sea turtles in Waikiki?
Sea turtles can be seen throughout the day in Waikiki, but they are most often spotted in the early morning and late afternoon. Remember to respect these creatures and observe them from a distance as they are protected by law.
How late can you swim at Waikiki Beach?
Swimming is generally allowed at any time at Waikiki Beach, though lifeguards typically go off duty at 5:30 PM. For safety reasons, it is recommended to swim during daylight hours and when lifeguards are present.
Is the water warm at Waikiki?
Yes, the water at Waikiki is warm year-round, with average temperatures ranging from 75 to 80 degrees Fahrenheit.
Are beaches free in Waikiki?
Yes, beaches in Waikiki, like all public beaches in Hawaii, are free for everyone to enjoy.
Can you walk along the beach on Waikiki?
Yes, there's a lovely beach walk that runs the length of Waikiki beach. It's perfect for a leisurely stroll, jog, or simply enjoying the sunset.
Can you drink on the beach in Waikiki?
No, drinking alcohol is not allowed on the beach in Waikiki. Consumption of alcohol is prohibited in all public parks and beaches in Honolulu. Regardless, it happens.
Is it safe to walk around Waikiki at night?
Yes, Waikiki is generally considered safe to walk around at night. The area is well-lit, and there are often people around due to the numerous hotels, restaurants, and shops. However, as with any urban area, it's important to stay aware of your surroundings and avoid poorly lit or secluded areas.
Can you sleep on the beach in Waikiki?
Sleeping overnight on the beach in Waikiki is not allowed. The beaches are closed from 2 AM to 5 AM to prevent camping and ensure cleanliness and safety.
Do you need bug spray in Waikiki?
While there can be bugs in Hawaii, the prevalence in tourist areas like Waikiki is relatively low, especially in high-rise hotels. However, if you plan to hike or visit more natural, forested areas, bug spray could be beneficial.
Is Waikiki a walkable city?
Yes, Waikiki is a very walkable area. Many of the hotels, beaches, shops, and restaurants are within walking distance of each other. The city also has sidewalks and pedestrian-friendly features, making it easy and enjoyable to explore on foot.
Is it safe to swim in the ocean at night in Hawaii?
While there's no law against swimming in the ocean at night in Hawaii, it is generally not recommended for safety reasons. Lack of visibility, changing tides, and the absence of lifeguards can make it dangerous.
Can you smoke on the beach in Waikiki?
No, smoking is not allowed on the beach.
Can you Uber around Waikiki?
Yes, Uber operates in Waikiki and can be a convenient option for getting around. However, given the walkability of Waikiki and the availability of other forms of transportation such as buses and trolleys, you may find you don't need it that often.
What time of year is best for Waikiki?
The best time to visit Waikiki really depends on what you're looking for. If you prefer drier weather and smaller crowds, spring (April to June) and fall (September to November) can be ideal. Winter months (December to March) often bring bigger waves and are popular with surfers, while summer (June to August) can be a bit busier with families on summer vacation.
How far is Waikiki from the airport?
Waikiki is about 9 miles east of Daniel K. Inouye International Airport. Depending on traffic, the drive can take about 20 to 30 minutes.
Can you smoke on balconies in Hawaii?
Smoking policies vary depending on the property in Hawaii. Some hotels and vacation rentals may allow smoking on balconies, while others may not. It's best to check the specific policy of your accommodation. However, it's worth noting that smoking is generally prohibited in all enclosed or partially enclosed areas, including public places and workplaces, throughout Hawaii.