Aloha Surf Hotel Condos in Waikiki, HI
Jump To: Introduction | Neighborhood | Amenities | Features of the Residences | Contact Us | Create An Account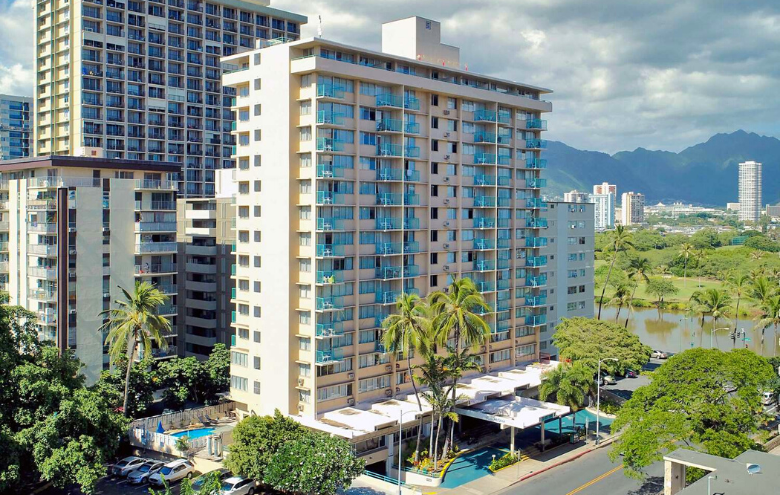 Located in Northeastern Waikiki and right across Ala Wai Boulevard from the Ala Wai Canal, Aloha Surf Hotel is an affordable location compared to other popular hotels in the area, offering access to a plethora of nearby restaurants, activities, shopping spots, and more. Right from outside the building, you can walk 5 minutes down Kanekapolei Street to Kalakaua Avenue, a large shopping strip that connects to Waikiki Beach and many famous tourist spots in the area.
Aloha Surf Hotel is also one of the few Waikiki condos that allows owners to operate legal Honolulu vacation rentals.
The Neighborhood
Though sitting at the edge of Waikiki near the Ala Wai Canal, the Aloha Surf Hotel is connected directly to Waikiki Beach via Kanekapolei Street/Ka'iulani Avenue. As a result, Aloha Surf Hotel guests can just walk a few minutes down the street to enjoy the most popular beach in the area- Waikiki Beach- alongside Kalakaua Avenue's plentiful shopping and dining opportunities. Not to mention, being located along Ala Wai Boulevard also means that guests of this condotel can easily exit the city without having to worry about the heavy pedestrian traffic in the main portions of Waikiki. For example, places like the Ala Moana Center and the general Midtown Ala Moana area are two of the many easily-accessible locations by traveling on Ala Wai Boulevard. This very large shopping center provides even more opportunities for shopping and dining with its hundreds of designer, fast-fashion, and local options, plus its popular cafeteria.
Before even reaching Kalakaua Avenue and Waikiki Beach, though, guests of the Aloha Surf Hotel will be able to take advantage of the International Market Place, which hosts many popular restaurants and stores. This indoor-outdoor shopping center is ideal for admiring its beautiful architecture while enjoying the Hawaiian climate and window shopping, all within a 2- to 3-minute walk of your condotel.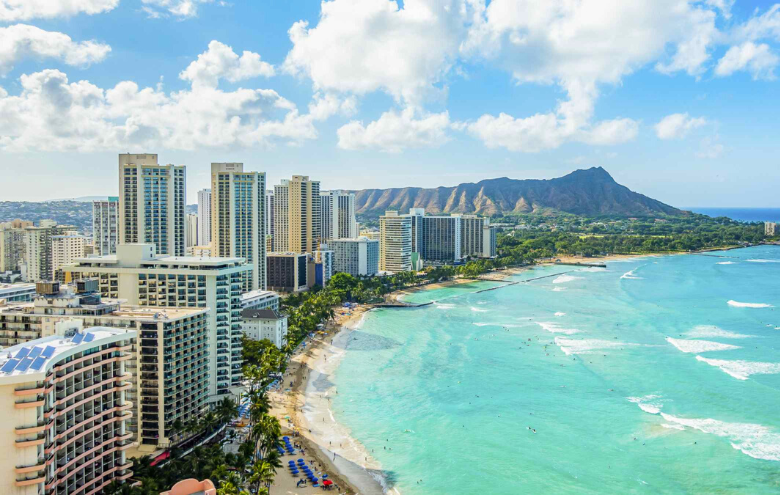 The Amenities
On top of the great amenities offered around the Waikiki area, Aloha Surf Hotel offers guests on-site amenities as well, including:
WiFi
A vending machine
An ATM in the lobby
BBQ grills
2 elevators
A front desk
Coin-operated laundry (extra cost)
Limited parking (extra cost)
A sundeck
A pool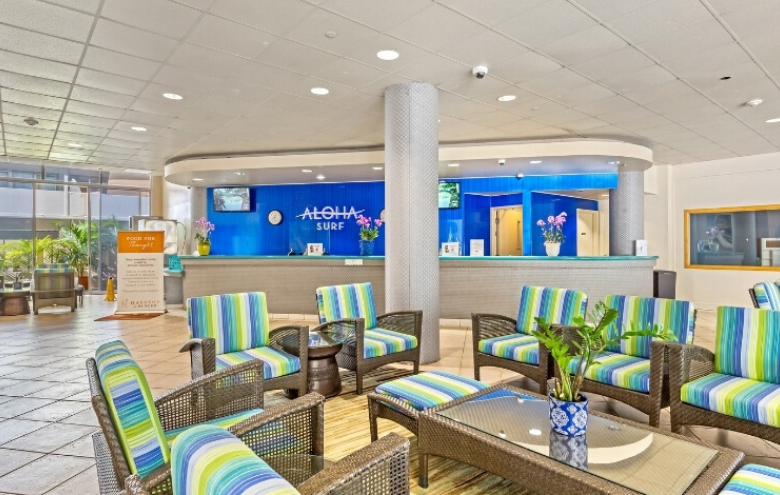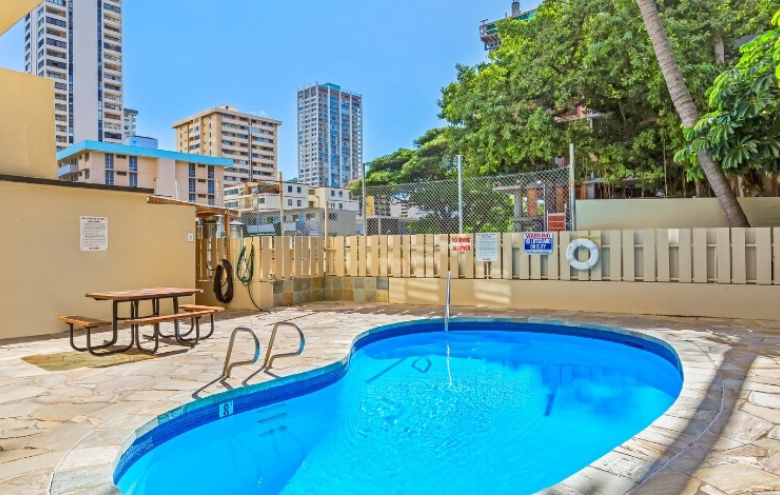 Features of the Residences
Aloha Surf Hotel has a surfing theme, and this is evident in the decorations and accents of the residences. This hotel offers 204 studio units over 15 floors, with 2 elevators available for guest use. There is also 1 1-bedroom penthouse suite. The majority of the units range from 220 to 320 square feet of interior space, while some are over 400 square feet.
Some of the larger units feature lanais, and some of these residences also have views of the ocean, the canal, the nearby golf course, or the cityscape.
Units at Aloha Surf Hotel also host in-suite amenities, including:
Air conditioning
A kitchenette (in some units)
A flat-screen TV
A coffee maker
An in-room safe
A mini refrigerator
A microwave
An iron and ironing board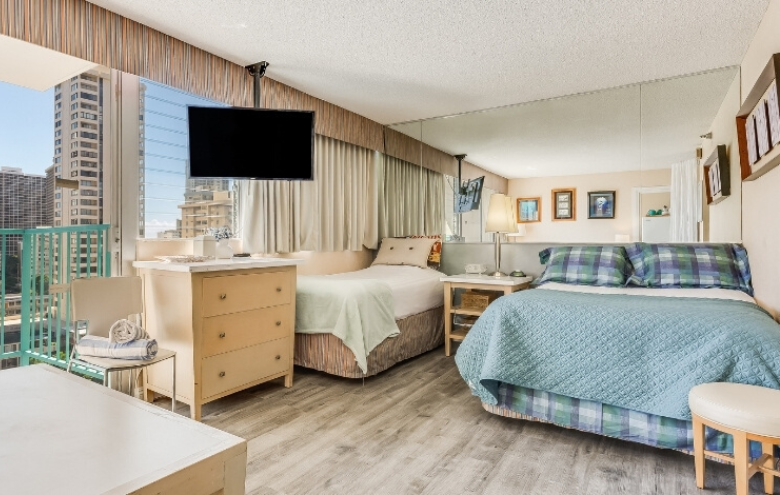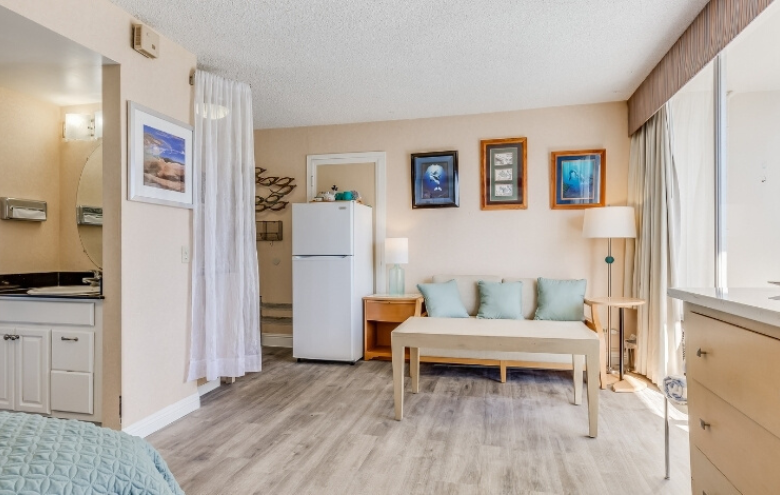 Condos For Sale in Aloha Surf Hotel, Waikiki, HI
November 30, 2023
$1,097.48
Avg. $ / Sq.Ft.